Business
Brilliant Business Lessons from the Netflix Series Money Heist (La Casa De Papel)
Introduction The Spanish TV series 'Money Heist' ("La Casa de Papel") has attracted a cult of enthusiastic followers who have helped it become popular on social media ever since its…
29 November, 2021
4 minutes read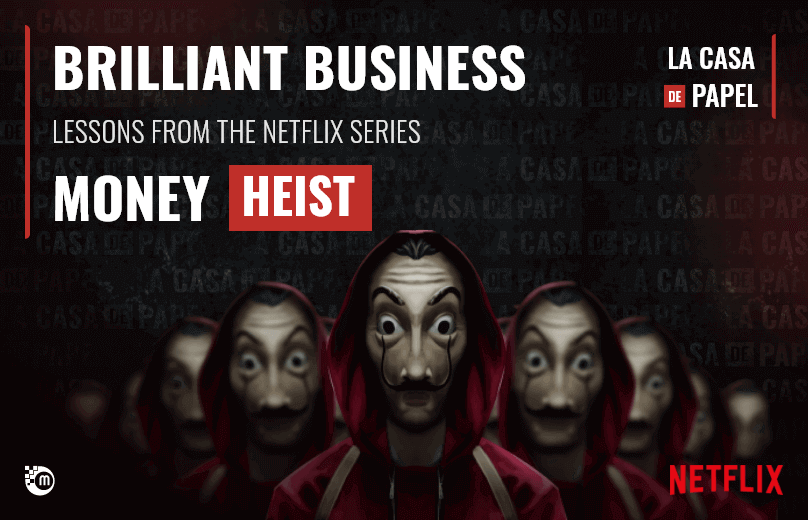 Table of Contents
---
Introduction
The Spanish TV series 'Money Heist' ("La Casa de Papel") has attracted a cult of enthusiastic followers who have helped it become popular on social media ever since its release in 2017. Spain's money-laundering thriller Money Heist depicts an elite band of thieves commanded by an eccentric professor as they commit heists at the country's royal mint and a national bank, respectively. The intricate and captivating plot of the series from the very first episode left the viewers curious. The convoluted narrative of the series raised several questions while several answers were left unsaid. 
The wide popularity of the series prompted Netflix to buy the series in late 2017 and distribute it on its platform, where it quickly has become the most viewed non-English series on the site to date. 
Despite the fact that the show is about a bank robbery, escaping the system, and surviving a heist, it taught us important life skills and business ideas. Let's take a look at some of the show's business concepts:
You Need To Be Consistent: 
Starting a business or company can be the most challenging task since it requires an investment of resources and time coupled with risk. Sometimes, businesses fail because their founders lose their early enthusiasm to persevere in the face of adversity. 
Throughout the procedure, you must maintain your composure.
When you have your goal ahead of you, you need to put your daily plans to work consistently. Success shall never come to you unless you are consistently working towards achieving it.
'The Never Surrender' motto of the series also reflects a similar idea, where we observe the character's perseverance in battling against all obstacles under all circumstances. 
Balance Your Work And Personal Life: 
Even though the professor had a lot on his plate arranging the theft, it was clear that he found time to work out and have a relationship. 
Workaholics who rationalize everything by claiming to be busy would most probably be exhausted and would quit. 
The professor also maintains his composure and attempts to logically investigate, handle, and carry out any plans that may arise. This is a lesson that all business owners may benefit from.
To remain objective, you must become adept at striking a balance between work and personal obligations.
Get Your Team On Board: 
Wouldn't it have looked weird to see the Professor in Money Heist performing everything by himself, starting from planning to hacking? 
You can't do everything on your own. You should think similarly to the professor, who connected with those who shared a similar line of thought.
Assemble a group of people to help you start your business and work toward a common objective.
Your dedicated team is essential, and the people together can make it happen. 
A competitive market requires you to work towards a common goal. To fulfill your goals, work in cooperation with your team.
Without his squad, the professor would not have been able to pull off the two huge heists. The Money Heist show was a success because everyone had the same mindset and shared goals. 
Instead of being a lone wolf, form a team!
Also Read: Top B2B Mobile Apps in 2023 to Grow your Business
Examine The Industry:
You can attain your objective if you are acquainted with the criteria.
Only when you are well aware and well knowledgeable about the market can you succeed there. You need to understand and analyze the market to survive in the market.
Creating and implementing your plan and strategies can be easy and efficient when you know your target audience's desire. You need to secure your business idea.
For instance: the professor comprehended the government and police tactics and devised a strategy to carry out his plan.
Before you dive into the market, conduct market research. You must be able to anticipate your opponent's next move and be willing to incur the risk.
Like a chess master, the professor planned every aspect and move of the robbery with painstaking precision. He accomplished this via meticulous research and, on occasion, by physically attending the theft scene and smelling out every vital individual there.
Shape your mind the way the professor did! Your idea shall pave the pathway for money.
Reward Them For Better Engagement:
A clever method to do this is to attach an incentive or reward to a charitable cause. This retains your team motivated and involved in the pursuit of a common objective. 
A team that has more than just a working connection and extends to emotional connectivity would stick together. This was the same case for Money Heist. The professor was effective in uniting the whole Money Heist crew under a common emotional purpose. This helped them connect better and come together.
Stick together with each other. Work collectively towards achieving the mission.
Survival Of The Fittest:
The series of Money Heist survived on Charles Darwin's idea of 'Survival of the fittest.' 
One of the basic human instincts is to survive and to survive, we are ready to struggle for it, and even though we fail and fall behind, we would still get up and work to do better.
In every business, there would be disagreement between the stakeholders, teams, investors, or employees, which can cause significant stress. 
The fundamental challenge for every business owner is to learn from failed negotiation talks and actions that backfire while operating. 
Surviving in the market is not easy because you need to put up a real fight to survive.
Get To Know Your Skills And Recognize Your Strengths:
Unless you realize your strengths and abilities, you cannot work up to them. 
The Professor in Money Heist is well aware that he is a poor planner. This makes him employ his intelligence to devise a strategy and his team to carry it out. 
Avoid attempting tasks at which you are not an expert. Rather than that, concentrate on your areas of strength. Rather than directing your efforts in the incorrect direction, recognize your strengths and work on correcting your weaknesses.
Wrapping Up
These are some of the few reflections of several business ideas that you can get a glimpse of from the series. If something goes wrong in your strategy, you need always to have a backup plan to help overcome the obstacle faced and bring it back to the trajectory.
The series relies on essential human qualities that are required for succeeding in life. Your goals, strength, time, and weakness all play a quintessential role in paving your path towards success. 
You should aim at securing your business idea since your idea is more significant than the money, and with an excellent strategic vision, the money shall come to you. 
Everyone wants to succeed in life, but the one who has mastered the art of balancing things in life and being consistent with hard work and acquiring knowledge is the one that excels the ground. While a business is a highly competitive area, your skills and actions would ultimately succeed in your business.
Let's Create Big Stories Together
Mobile is in our nerves. We don't just build apps, we create brand. Choosing us will be your best decision.
Your Trusted Tech Partner!
We develop digital products that enable you to embrace innovation and unlock opportunities.
Talk To Our Experts
Subscribe
Newsletter
Get our latest blog posts, research reports, and thought leadership straight to your inbox.