Mobile App
How Much Does It Cost to Maintain a Mobile App in 2023?
Overview The world revolves around mobile apps. The Google Play Store has approximately 3.48 million applications accessible in the first quarter of 2021, with 108 billion downloads. In comparison, the…
18 February, 2022
6 minutes read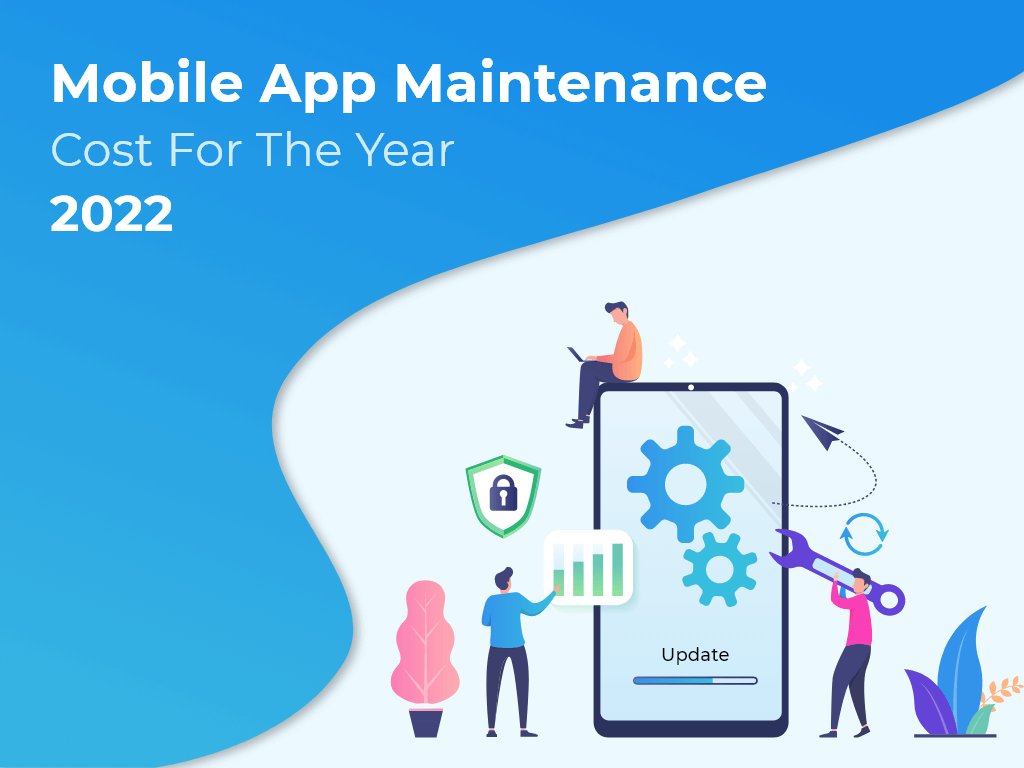 ---
Overview
The world revolves around mobile apps. The Google Play Store has approximately 3.48 million applications accessible in the first quarter of 2021, with 108 billion downloads. In comparison, the App Store had around 2.22 million apps in the same period. These figures indicate that the app sector is experiencing unparalleled growth and popularity.
But what happens when your app is ready with assistance from a mobile app development company in India and is released to the public? 
Is that the conclusion of the tale? 
Well, no! 
To solve issues, provide a better user experience, and reduce uninstalls, robust software requires long-term maintenance. To get new followers and maintain existing ones, you, as an entrepreneur, must continue to enhance and expand your software.
The most typical issue that arises when discussing the cost to maintain an app and expansion as well as how much to publish app on app store. The costs involve not just maintaining the software up and operating, but also keeping it safe and enticing to its users.
Why Is App Maintenance So Important?
Mobile App Maintenance is a vital segment to consider if you want to retain your users and keep them from uninstalling. Business owners must constantly engage in delivering long-term support and keep their apps in the best shape. 
Reduces Uninstallation by Regular Updates: 
It is critical to understand consumers' needs and select products that match their preferences. Over 20% of mobile phone users deleted apps in 2017 just because they did not log out of the app on their home screen. Notably, this demonstrates that consumers are meticulous in their utmost precision and that if something does not meet their expectations, they will remove the program. As a result, keep track of user preferences by upgrading the app. Users may opt to delete your app from their stores if your app's ranks are declining. As a result, add additional functionality to the program.

Provides Enhanced User Experience: 
The success of any application hinges on providing positive user experiences (UX). It helps to build long-term user connections and receive positive user comments and reviews which in turn, increase user trust and customer fidelity. 
Offers Security from Cyber Threats: 
As the popularity of mobile apps grows, so does the risk of cybercrime. As a result, there is a rise in the demand for CyberSecurity. As a mobile application developer, you must prioritize the security of your apps and websites. Android or iOS Developers must find solutions to deal with the challenge of hackers continually looking for vulnerabilities and innovative methods to steal personal or financial information. Install the most recent security standards in your apps.
Also Read: Importance of Mobile App Maintenance for an App's Success
Steps to Ensure Effective & Long-Term Maintenance of Your App
If you're working with a team to build an app, ensure you consult. You can guarantee that your customers continue to enjoy a flawless and interesting app experience by adopting standard app maintenance practices. Here are some things to think about if you want to get the most out of mobile maintenance app:
Start from Scratch: 
When developing an app, take app maintenance into account from the beginning. This necessitates the use of a scalable and functioning platform. Ascertain that the platform employs dependable and cutting-edge technology that will not become redundant as soon as construction is completed. Furthermore, you must spend on testing, which includes security, efficiency, and other sorts. Later on, you'll be able to use the testing documentation to assist with app service and upkeep. 
Also, don't forget to include features in your app that are actually useful to the consumers. You may prevent annoying your consumers by removing unneeded functionality from your software. Choosing between iOS, Android, or cross-platform app development at the planning stage can help you figure out which features will provide your consumers with an exceptional experience.
Consider Scalability: 
The structure and design of your program should be able to manage any amount of users. You may need to improve your app's features and functions in order to serve hundreds of millions of users at once. Instead, you risk losing both your new customers and the money you spent on promotion.
Stick to a Trusted Development Team: 
If you hire mobile app developer on a regular basis, they will require time to get to know your project and the technologies utilized. The procedure is straightforward and quick when your software is managed by the same team that produced it. Once an innovative operating system version is released or a new feature is planned, your engineers will know precisely what needs to be altered.
What Is the Cost to Maintain an App?
Once you are done with Mobile Application Development, you must look into examining your app's Daily Active Users (DAU) once it has been published on the Google Play Store or the Apple App Store. This will show you the number of people who have downloaded and used your app. Next, study the Monthly Active Users (MAU) statistic. The primary recipe for your app's success is to have both DAU and MAU operate at their best. Why? It is because the maintenance phase of app development follows the development and publication phases. Furthermore, it is a vital stage for the application to remain operational in the market.
Coming to the idea of cost, you should be very clear that the cost of app maintenance is complicated since it is dependent on a number of things. The average yearly Android or iOS app development cost, on the other hand, is half of the initial development cost. Additional costs are required for maintenance. As a result, app maintenance expenses may be significantly higher in the first year, accounting for up to 50% of the entire development cost, before falling to 25% in subsequent years.
The costs are also determined by the operating systems utilized. Android app maintenance cost, for example, is less expensive to maintain than iOS. On average, an app owner will need to pay between $300 and $500 each month to keep the app in good working order. However, market prices may differ from one location to the next across the globe.
What Factors Affect the Cost of App Maintenance?
Lastly, the price of app maintenance varies depending on the app type as well as app maintenance software. It depends on a number of things, including bug fixes and upgrades, the location of the mobile application development team, development server cost and hosting.
When calculating the cost of app maintenance, consider the following factors:
Bug Fixing and Updates: 
One of the most effective tactics for app growth nowadays is to update your app on a frequent basis. The cost of app maintenance is mostly influenced by two factors. They are the app's intricacy and modifications in functionality.
Managing the Hosting: 
App hosting and server expenses are influenced by a variety of factors. The server cost for mobile app is determined by the sort of mobile app you have or want to create. A mobile gaming app, for example, maybe hosted on a dedicated server for less money than a marketing automation tool designed to store your customers' data and customer care applications.

Studying Analytics: 
To assist you to determine what to do next in your iOS or Android app development journey, you'll need a decent analytics tool. Monitoring your users' app usage provides information into the app's performance and restrictions. There are several programs available, such as Google Analytics, which provide useful analytics.
Offering Customer Support: 
Your app is only as excellent as the customer service you deliver. This is when expenses begin to mount. Customer support costs, if any, should be factored into the cost of mobile app maintenance. When choosing a mobile app maintenance company, consider the complete cost of maintenance and give it to your clients so they aren't surprised by any unexpected app development costs.
Integrating Third-Party Services: 
If you want to improve the app's performance and feature set, you should concentrate on integrating a number of third-party subscription services. This will need your iOS or Android app developers to properly integrate data from many sources that the app may use.
Marketing the App: 
Engaging in marketing methods might be a fantastic step for your app's success if you want it to succeed. The main marketing factors to promote your app updates properly include communication and marketing methods like social media interaction, push notifications, community building, and so on.
How to Lower App Maintenance Costs?
Here are a few viable practices that can help you cut down on mobile app maintenance costs and yet provide your consumers with a seamless and outstanding app experience.
Invest in the Correct Development Platform: 
There are two approaches to app development. You have the option of using a native or hybrid platform. Make an informed decision!
Create the Minimum Viable Product (MVP): 
A minimal viable product (MVP) corresponds to the first edition of your software that only has the most basic functions, such as those that are essential to your business.
Connect with App Development Services Plan with Your Team: 
You can discuss the mobile app maintenance proposal strategy with your dependable team first. It will help you plan properly while staying inside your budget.
Also Read: Your Ultimate Guide to Mobile App Development in 2023
How Can MultiQoS Help?
The most crucial thing for your organization is to concentrate on an app's functioning once it has been released. You can choose to seek assistance from a reputed web and mobile app development company like MultiQoS for mobile app support and maintenance. 
Our highly-experienced team of specialists monitors your app's performance, user preferences, market trends, and cutting-edge technology to provide prompt and efficient changes, ensuring your app's long-term success. In a nutshell, we assure the long-term viability of your smartphone app considering your budget involving zero hassle. 
Summing Up
It's crucial to talk about app maintenance costs while you're building your app. Taking into account all of the aforementioned factors would be a sensible option. These points are used by Top Mobile App Development Company in India while creating apps for their clients. Following the normal processes and discussing your strategy with the developers will help you cut your costs down to a bare minimum. Additionally, you can also get in touch with the top app development company like MultiQoS if you want a rapid quote on app maintenance charges along with a rough estimate of the total cost.
Frequently Asked Questions (FAQs)
FAQ on App Maintenance Costs
Yes, of course! Apps, whether native or hybrid, require upkeep. There are a lot of aspects that go into designing an app, and they all need to be updated and serviced regularly to keep it working well. To keep your app safe, it's important to maintain it on a regular basis.
The cost associated with running an app nowadays is determined by the mobile app development services in India you pick. They are qualified to provide you with an accurate estimate of how much app creation and maintenance will cost.
Mobile app maintenance often entails a slew of steps to ensure that an app runs smoothly and without bugs. Monitoring, polishing, upgrading, and repairing problems and issues are all part of app maintenance and app store maintenance to maintain a smooth user experience.
Let's Create Big Stories Together
Mobile is in our nerves. We don't just build apps, we create brand. Choosing us will be your best decision.
Your Trusted Tech Partner!
We develop digital products that enable you to embrace innovation and unlock opportunities.
Talk To Our Experts
Subscribe
Newsletter
Get our latest blog posts, research reports, and thought leadership straight to your inbox.