Business
How to Start a Profitable Online Business That Grows in 2023 – [10 Steps]
Overview The epidemic has had a profound influence on people's lives, affecting the way they work and shop. When the world was locked down, people resorted to online mediums for…
2 February, 2022
11 minutes read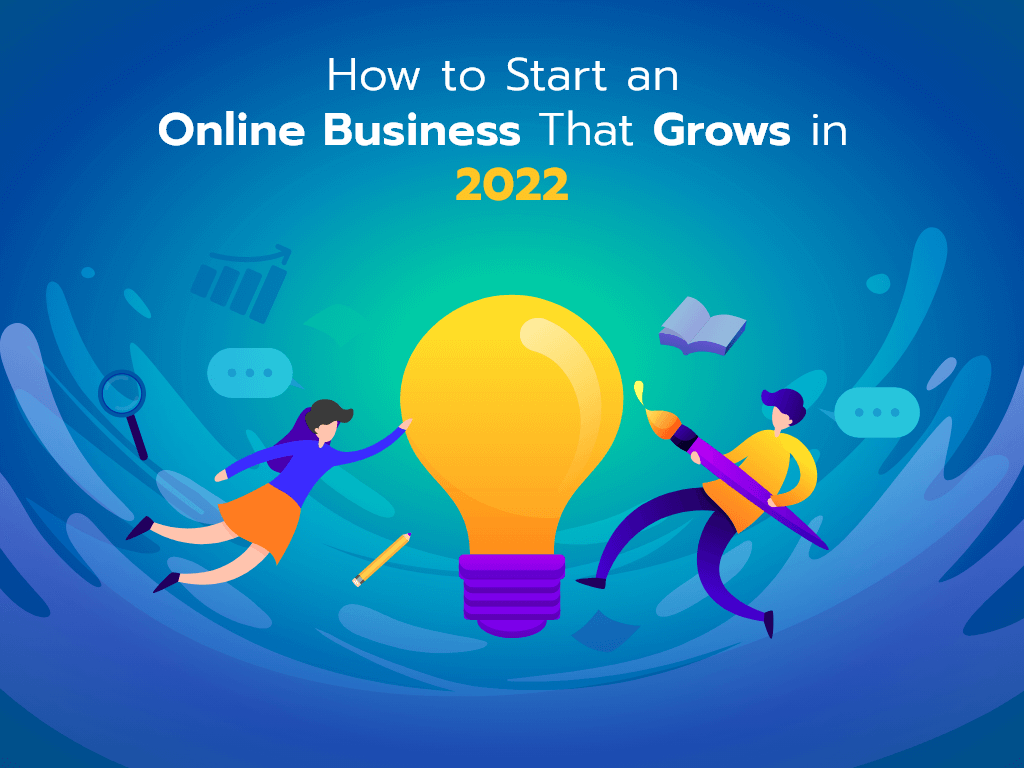 ---
Overview
The epidemic has had a profound influence on people's lives, affecting the way they work and shop. When the world was locked down, people resorted to online mediums for getting their tasks done easily and efficiently. The significant change in customer behavior led to huge bloom in online businesses. However, starting an online business is not an easy task and can have a huge impact on people's lives; however, when you plan on starting one, you need to learn how to start your own business online.
Today, every industry and sector is affected by the pandemic's looming economic downturn caused by the pandemic, which has made major sectors dependent on technology. As a result, when starting a business, you must be aware of the current methods that distinguish successful businesses from those that fail. Your company must also be improved to stay up with the latest technological advancements. You should be aware of new ways to use, inquire about, and integrate these items into your company.
In the year 2022, starting an online business is undoubtedly one of the biggest trends that will enable you to grow as an entrepreneur and earn money. However, you certainly would be pondering how to start your own online business or how to start a small business from home, and we are here to explain to you the steps via which you can start a business from home. 
Reasons You Should Start an Online Business
Here are 10 reasons you need to start with an online business right now. 
Flexibility of Time:
Depending on the online business that you choose to start with, you would find the flexibility in time for work. It depends on your schedule, and with an efficient business schedule, you can decide on the timings you can devote towards your online business. You need to find product options to engage yourself in your business to grow more. Because your revenue is typically defined by how efficient you can be with your time and how effectively your business operations perform, rather than the amount of hours you work, so aren't bound by a pay rate. You can efficiently devote time to all required work when you have a flexible schedule. 
Virtual Working:
One of the major advantages of starting an online business is that you get the flexibility of working from anywhere. You do not need to travel to the workplace and can work from the comfort of your home. Moreover, geographical location is no barrier for you. With an online business, you can develop your sphere and be independent without relying on anyone.
Personal Growth:
Nothing accelerates your maturation as an individual like the responsibility of running your own company. The business principles do not change with age; rather, you get more experience with time. Starting a company teaches you a lot of life lessons, and learning them at a young age will help you grow into a more balanced person faster. When you make errors and learn from them, you become a better person. 
Less Overhead Costs and Financial Commitments:
Earlier, starting a business was not only difficult but required taking high risks and financial commitments. However, an internet business typically has reduced overhead, resulting in lower financial investment. This helps younger entrepreneurs to pursue their aspirations directly after graduation or even before graduation.
24/7 Business:
Unlike many other traditional businesses or companies, an internet business can be operated 24 hours a day, seven days a week, even while the owner is not even active all the time. Furthermore, since webpages have always been available, others can always locate what they are looking for swiftly and conveniently. This gives companies a lot more freedom regarding how and when they operate because data, goods, and services are always available to those who need them.
Outsourcing:
As your internet business grows and you start to make money, you can start outsourcing some of your work, hiring contractors, or even hiring staff to help you expand your firm. Whereas many people would prefer to do everything themselves, being ready to outsource some of the labor can help you save a lot of time while getting your work done quickly and easily by professionals. You can hire Mobile App Development Services or Hire Dedicated Developers in India and outsource them any developmental work. 
Internet Business on Revenue:
Your revenue in an internet business is defined not just by the amount of hours you work but also by the degree of productivity you can achieve during those hours and the methods you put in place to generate passive income. Unlike most traditional occupations, your internet business can continue operating and connecting with other people to share knowledge and sell things while you sleep. You may considerably decrease the amount of hours you need to work to bring in a reliable livelihood by investing your time in the correct activities, such as establishing your website, advertising, and income-producing activities.
Easy Buying and Selling:
During the COVID period, the e-commerce economic model became rapidly adopted. Many traditional shops were forced to close, and many individuals were forced to shop online. Consumers are becoming accustomed to the purchase and sale of goods through the internet, which is a potential area to start your business.  People with company ideas can use various online forums and technologies to take their companies online and access a variety of audiences online. 
Advanced Technology:
If you are thinking of how to create a online business, it is pertinent to understand that the technology has advanced rapidly. Opening an online business and accepting payments is now easier than ever before. As a result, now is an excellent time to take advantage of all available tools and resources to launch a successful e-commerce venture.
Numerous Possibilities:
Because of the pandemic, numerous things can now be done on the internet, and now is the greatest moment to build a company from the convenience of your own home. Several opportunities arose from the epidemic, ranging from online exercise to online courses and home delivery, to meet people's shifting requirements. Online platforms connect businesses with the right clients, and you'll find lots of opportunities if you have the correct company ideas.
Aslo Read: Why Choose Angular For Building Digital Products?
Assess the Viability of Your New Business Idea
The term "market viability" refers to a market's ability to generate revenue. Determine whether or not starting a business in that market is financially viable by doing a viability study. You may use the product demand matrix to analyze the viability of your online business concept and develop a sustainable business strategy. Below-mentioned is a quadrant of the product demand matrix:
High Supply and Demand – this quadrant indicates a huge supply of your product on the market. The item is also in high demand, so you stand a good possibility of succeeding while taking fewer risks.
High Supply and Low Demand – when you have a large supply volume but little demand for your goods or services in the marketplace, your business plan is less likely to succeed.
Low Supply and High Demand – this quadrant represents goods and services that have a huge market demand but a low supply. As a result, your business idea has a good possibility of succeeding in this quadrant.
Higher revenue streams, efficient operations, and cheaper expenses are all promises of a scalable business strategy. This, however, necessitates extensive investigation and meticulous planning.
Further, it would help if you answered the following questions:
Do you have a product or service that addresses a problem that many potential customers face?

Is there a desire to put money into a solution?

How much will it cost you to get in touch with those who are in need of what you have to offer?

Is what you're offering an affordable solution to that problem?
How to Start Your Online Business in 10 Steps
Here are the tricks on how to be successful in business: 

Determine Your Niche and Business Concept First:
The term "niche" refers to a market sector or target population that your firm normally aims to serve or provide goods or services for. You'll need to pick a niche for your new business. You need to focus your attention on the problem you provide solutions for and the prices where people can afford your services. In addition, be sure you have adequate money to pay for the treatment. Avoid specializations that don't meet all three of these criteria. You can also hire a Web Development Company in India to help you with your business strategy planning. 
Conduct Product Research:
You need to conduct product research to sell physical goods or digital products. Profitability from physical goods might be modest when running expenditures aren't effectively managed. For digital items, profit margins are larger (compared to physical goods). It can be difficult to price them, though, because they are often viewed as having a lower worth than genuine goods.
Everything that can be sold online remotely. The quickest approach to establishing an online business is selling services (and turning a profit). It is, nevertheless, a business concept in which you earn money by selling your time to other people. With only so many hours in a day, your earning potential is constrained.
Learn About Online Business Laws:
When you start an online business, you need to research online business laws to understand better the laws regulating the marketplace. Internet business requires fewer permissions and licenses than a traditional one, but there are still a number of legal concerns that must be addressed. Specifically, queries such as: 
If you need to get a permit for anything? 

When starting a new business, what type of license (if any) would you need?

Are you need to pass any inspections?

Is a sales tax license required?

What legal structure (sole proprietorship, limited liability partnership, or corporation) makes sense?

Specifically, are there any rules that just apply to internet companies?

Where do you draw the line between hiring contractors and hiring full-time employees?
Conduct Market Research:
Your main product or service must land on the marketplace effectively. To do so, you'll need to spend time validating and reviewing your goods pr the product or service you are offering, considering and evaluating some trend product lines, undertaking keyword analysis, estimating the reaction of your prospective consumers to your product/service, etc. A variety of options exist for gaining an understanding of your upcoming market entry.
Define Your Target Audience:
To expand your business, you must know exactly who your target market is in order to generate sales. Examine both demographic and psychographic information to analyze their demands and preferences more. Basic socioeconomic characteristics, including age, area, ethnicity, earnings, and job title, are all part of demographic information. Values, beliefs, interests, views, and other psychological qualities are included in psychographic data. When aggregated, these observations aid in developing a detailed understanding of your prospective buyer's needs, interests, and purchasing triggers.
Source Products to Sell Online:
It's impossible to run a lucrative online business if your items are of poor quality. As a result of being on social media's trending sites for all the wrong reasons, think twice about how you buy your products.
Create Your Goods:

You can use this option if you want to sell digital goods. Physical product manufacturing, on the other hand, necessitates a great deal of effort in terms of features, interactions, material selection, and so on. In addition, the financial burdens are greater. Manufacturers have an advantage over their competitors in terms of product quality, selection, and brand awareness since they manufacture their own products.

Look for a Drop Shipper:

You need to find a manufacturer who will send their products to you via dropshipping. Numerous small business owners establish drop shipping agreements with foreign suppliers (mostly situated in Asia).

Working with a Wholesaler: Alternatives include working with a wholesaler that can supply your online marketplace inventory, which may be purchased and organized as you see fit. You have the option of selecting a distributor to assist you with the distribution of your products (if you plan to manufacture them).
Define Your Brand and Image:
Your company's entire "spirit" is defined by its brand. You want to project a cohesive graphic picture and message with your company name to your online design and copy. The same applies to your off-site presence, including email newsletters, products, and even social media. So, you would need to focus on the logos, brand name, color schemes, graphics, photos, page layouts so they can be able to communicate your brand to the users or customers and attract them. You can also mobile app developer or Hire Web Developer in India who will help you develop your brand and image for your online business.
Launch Your Online Store: Using an e-commerce platform is essential to selling goods and services online. A product catalog and payment processing are included in this sort of software. You need to choose an e-commerce platform for your goods or services. Once you've selected a platform and a design for your store, you can begin adding items to your catalog. Pay close attention to the photographs and descriptions of the products. Your product pages' conversion rates are greatly influenced by the quality of your product images and descriptions. As the last step, make sure that all of your items are delivered to your clients on time. Once your eCommerce store is up and running, make sure you thoroughly test it in every way possible. Ensure that the pages are accessible across all platforms and that websites are functional across all platforms.
Launch Your Online Store:
Using an e-commerce platform is essential to selling goods and services online. A product catalog and payment processing are included in this sort of software. You need to choose an e-commerce platform for your goods or services. Once you've selected a platform and a design for your store, you can begin adding items to your catalog. Pay close attention to the photographs and descriptions of the products. Your product pages' conversion rates are greatly influenced by the quality of your product images and descriptions. As the last step, make sure that all of your items are delivered to your clients on time. Once your eCommerce store is up and running, make sure you thoroughly test it in every way possible. Ensure that the pages are accessible across all platforms and that websites are functional across all platforms.
Aslo Read: What is the Difference Between B2B and B2C Mobile Apps?
Grow Your Business:
It's essential to begin bringing traffic to your eCommerce website once it's in place. Make the following outlets your top priority:
SEO:

You should double-check that each and every page of your website has been optimized for search engines. Next, for your blog, create a content marketing strategy that will aid in increasing your search engine rankings.

Paid Advertisements:

To increase the visibility of a new store's brand online, budget for pay-per-click (PPC) ads on social media and in search engine results.

Social Media Marketing: Create followers on Facebook and Instagram to supplement paid efforts with organic search traffic.

To draw in new clients, try a variety of social media marketing tactics.

Influencer marketing:

The phrase "influencer marketing" refers to the employment of celebrities and social media influencers to promote your products. One easy approach to get them next to your intended audience is to use social media.
Email marketing: Email marketing is a form of advertising that entails sending emails to those who have visited your online store in order to develop an email list. You could then use your email newsletter for marketing your products.
Develop and Implement Your Prelaunch Marketing Strategies:
While you're concentrating on each of the preceding processes, it's essential to advertise your web business. Marketing approaches for your target market will have been provided by your business concept. It's critical not to cut corners on implementation and execution, regardless of your chosen tactics. Launching your new product may be made easier by using social media and other promotional methods to raise the expectations of your target audience.
How Can MultiQoS Help You in Online Business?
We are the leading Mobile App Development Company in India, providing React Native and Flutter Mobile App Development and Web Development Services in India at affordable prices. We also help individuals with concepts of the best businesses to start in 2022 and how to be successful in business. We can also suggest easy businesses to start or suggest the top 10 most successful businesses to start, which can help you succeed easily. MultiQoS provides entrepreneurs with a storefront to sell their products and reach a large audience. We can assist you at every stage of the project, whether you need to start from scratch or redesign an existing one. We can assist you with developing, designing, and building a prototype to take your project from concept to reality, or we can assist you in building a prototype. You can now delegate the burden of how to start an online business with us, and rest assured. 
Aslo Read: Top Business Challenges and How MultiQoS Is Solving Them
Wrapping Up
There are several options for starting an internet business. Many office jobs may now be done from the comfort of your own home via freelance work or remote employment. Profitable online businesses will continue to grow as a result of technological marvels, transforming the world into a fantastic worldwide marketplace. Check out our list of business ideas and see how you can start a lucrative online business now if you're thinking of quitting your job and establishing your own company. Ensure that you're aware of your competitors' current digital developments and how they're leveraging them to make your sector more competitive. To be viable as a business owner and secure the sustainability of your online business, you must stay on top of the competition. There are several options of best online business to start, and you need to conduct your research on steps to starting a business to better understand what you need to start a business. You can hire for Web Development Services or Hire Mobile App Developer in India if you want to develop an application or design a web page for your online business. 
Frequently Asked Questions (FAQs)
FAQs About Starting an Online Business
You don't have to understand how to code a website to start an online business. Several companies now offer website development services. In a nutshell, especially if you have little technical experience, you may be able to demonstrate the ability to start an online e-commerce business.
If you are wondering how to start a small online business, you need to begin a modest online business, and you must first decide if it will be a B2B or B2C business, services, or products. After that, you need to start setting up a website. Using a SaaS website developer, anyone can make up a website. Add information, photos, and products to your website, link a payment method, and start selling.
Ecommerce is among the most lucrative internet business models since it allows you to scale indefinitely. You can begin with tiny niche business and expand to a cross-country or even cross-border enterprise that serves customers across the world.
Beginning a business online without a proper business plan would surely lead you to failure. While a comprehensive, business school-style plan isn't required for a small eCommerce firm, it's preferable if you write at least a brief roadmap paper outlining your key milestones prior to launch.
A digital service business, an online services business, or a dropshipping business are the three finest internet businesses to start from home. Both may be run effectively from a home office with little to no additional equipment or space.
Dropshipping is an excellent online business concept for newbies who don't want (or can't afford) to invest in inventory or deal with logistics. These two responsibilities are handled by a dropshipping partner, allowing you to focus on marketing and brand development. The disadvantage is that profit margins are frequently smaller with dropshipping, and differentiating your products from the competition is more difficult.
Let's Create Big Stories Together
Mobile is in our nerves. We don't just build apps, we create brand. Choosing us will be your best decision.
Your Trusted Tech Partner!
We develop digital products that enable you to embrace innovation and unlock opportunities.
Talk To Our Experts
Subscribe
Newsletter
Get our latest blog posts, research reports, and thought leadership straight to your inbox.