Web Development
What Are the Benefits of HubSpot CMS and CRM as an Inbound Marketing for Your Business?
The inbound marketing platform is a technique for growing your business by building lasting and meaningful relationships with customers, prospects, and consumers. Why? This is because when your customers are…
27 October, 2021
7 minutes read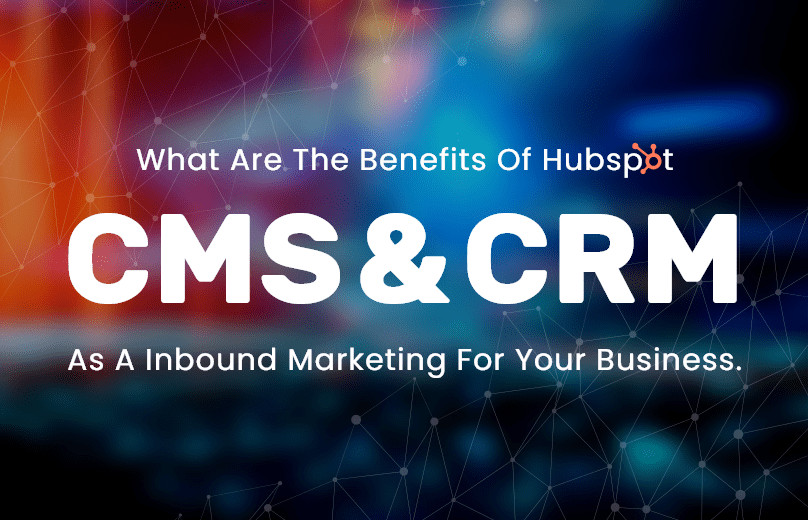 ---
The inbound marketing platform is a technique for growing your business by building lasting and meaningful relationships with customers, prospects, and consumers.
Why? This is because when your customers are successful, you are successful. The inbound methodology can be implemented in the following ways:
Attract – Bring in the right people with good content and conversations that help you become a trusted advisor to the customers you want to engage with.
Engage – Present deep insights and solutions that are suitable for their pain points and targets so that they prefer buying from you.
Delight – Providing support and help to your customers to empower them to find success with their purchases.
Why Go to HubSpot?
HubSpot offers a variety of benefits that serve as an all-in-one tool package you will find nowhere else. Obviously, no marketing automation platform is perfect. If you want a social media management tool, then buffers may provide you with more features. Like mail-chimp provides better email marketing functionality, and WordPress offers a more functional CMS and Salesforce CRM.
What Are the Benefits of HubSpot?
HubSpot is an All-In-one Platform
What does HubSpot do? After working with several marketing roles, one of the constant challenges that are experienced in managing the multitude of systems, tools, and platforms that various organizations generally use.
HubSpot Marketing Offers Everything a Marketer Needs to Stay Focused on the Task
Just as stated earlier, this is an all-in-one platform that offers every tool that a digital or inbound marketer will need. It provides marketers a CRM, CMS, an email marketing tool, an SEO tool, a chat tool, ad tools, a social scheduling tool as well as data and analytics for all of the above, and plenty more. All the features needed for inbound and compelling content creation are available in the marketing hub package.
HubSpot Has Good Analytics
Data-driven marketing, illustrating cause and effect, has become more critical than ever before. Interpreting and managing data is obviously not easy. However, in the case of HubSpot, gathering metrics on the platform is much easier. HubSpot offers general Analytics for all of its tools which are more than capable of dashboard reporting needed for inbound campaigns.
HubSpot Has Good SEO Feature
Search engine optimization or SEO is a complex task. A significant number of tools are available on the market that help you become more reachable to search engines during the research, optimization, writing, and sharing of your job site content. But generally, it isn't easy to do everything if you have fewer people on your team or are not experienced in SEO. If you hire SEOL in this case, you would benefit from it.
HubSpot Offers Great Support
Issues are commonly encountered when we use complex services and drugs. With a significant number of ways to access real support through the HubSpot support team, a knowledge-based section on the HubSpot blog along with training certification is Courses, HubSpot makes it very easy for users to solve these issues. If that does not work, there is also an abundance of HubSpot and general inbound marketing user groups and networks along with HubSpot agencies such as ourselves that you can utilize to talk to other inbound professionals.
The HubSpot Community is Friendly
Inbound marketing has a friendly nature. If you have just a quick look at the HubSpot website or have a small chat with the staff member or vision of the HubSpot partners, you will sense friendliness and warmth. Just write an email or chat message our way to find out! This friendly community offers excellent exposure for doing and learning business with inbound best practices. This approach also helps you with your clients who will form the building blocks of friendly relationships.
How HubSpot Help Your Company Marketing Thrive?
Most often, content strategists, marketers, or business owners do their research and know what they need to attain success in inbound marketing. While implementing these new measures, they often encounter obstacles. Define themselves as messed up when they face large volumes of data collection and scheduling activities that help in achieving success in inbound business. Hence HubSpot is a great platform that provides you with an automated approach for managing tasks like data collection and scheduling.
It is an undeniable fact that every business owner wants a simple solution to a problem that has the right tools along methods. HubSpot simplifies input marketing by combining all the tools that you need in one place. HubSpot looks after everything, including lead nurturing, right down to analytics and blogging.
Social media is a very vital and vibrant part of any inbound marketing strategy. Amid the hustle and bustle of day-to-day activities, it becomes very painful to execute these strategies. The secret behind staying on top of your social media is scheduling your posts or tweets ahead of time so that they are running in the background when you are too occupied to work on them. HubSpot offers a great social media calendar and scheduling system with sabulous visibility that makes social media execution a breeze.
It would help if you were unable to find a business that does not care about tracking, generating, and converting leads. Eventually, leads mostly turn into revenue, making them separately valuable for any company wanting to grow. HubSpot is like an arsenal of weapons during a fight to optimize your lead generation, tracking, nurturing, and converting. By using these tools, you can get deep insights into how visitors are visiting your site, what types of search engines are being used, what all activities they are doing, and how often they are leaving.
Fundamental Reasons Why You Should Use HubSpot
The world of marketing is loaded with different inbound software that promises to help your business. Sure, they might be a great help, but there is a reason behind why HubSpot is the king of inbound marketing. Old tactics are useless now, and businesses need a breath of fresh air with customers in control. So here are the fundamental reasons why you should use HubSpot for your inbound strategies.
It is a comprehensive CRM platform that offers everything.
A HubSpot is a dream for marketers. With the help of HubSpot, you no longer have to struggle between different platforms to market to existing and potential customers. You can easily optimize and create your content, monitor contacts, and nurture leads. You can also monitor your customers and observe how your marketing progresses.
Image Source: HubSpot
Isn't it so good to do all these tasks with the help of just one tool? Your marketing site is totally sorted with the help of HubSpot get deep insights on your sales prospects and then use the service hub to expand customer satisfaction. Later you can use the CMS hub to focus on the improvement of the website.
Hubspot CRM Is Flexible, Empowering And Cohesive.
A HubSpot is programmed to help your organization run better so that you can expand quickly. It is carefully generated in-house and not mixed together through acquisitions; it brings along various unique benefits to you.
You can easily customize the HubSpot according to your business needs without adding useless complexity. You are free to purchase individual hubs or many of them together, and you can even use simple features like custom objects to use what is good for you.
HubSpot is a collaboration of powerful features that are developed in very easy-to-use software that you and your team shall love. The UX is clean, it is easy to follow, and the rich insights you shall find may help tweak your business strategies for the good of your company.
Visit to Our UI/UX Design Projects and you'll be astounded at what's available.
All the hubs, integrations, and tools connect seamlessly in a HubSpot that provides a more cohesive experience you cannot get anywhere else. The level of alignment helps you create more personalized and remarkable experiences that shall help your business to expand quickly.
Benefit From CRM-Powered Marketing
Recently, HubSpot has started putting a significant focus on how CRM strengthens marketing and ads. It is not easy to get noticed by users who are already having loads of content. Hence HubSpot fine-tunes the marketing hub and makes it easier to deliver CRM-powered marketing.
Numerous new features include custom objects mentioned above and also make paid efforts more effective. No, HubSpot aids in optimizing ads that convert so that users not only click but also buy from your company.
To do so, HubSpot adds an optimization feature that sends a signal to Google whenever customers stage changes to better inform the algorithm. If that is not enough, it also makes sure that your budget is not wasted.
How to Use Both (CRM & CMS) for Your Online Business?
While building a website for your online business, you should quickly learn that it requires much more than a front sheet page. You require workflow for posting and editing your websites, tracking the content of your performance, and also keeping track of your customer base. Just imagine if all these laws could function in harmony, wouldn't life be so easy?
Just two important technologies can be a great solution in website development: a CRM and a CMS. It does not matter if you are similar to both or neither of these two terms. They have a position at a chorus of many successful online companies and most probably yours. It is never too late or too early to add a CRM and a CMS to your software ecosystem.
HubSpot CRM vs. CMS
CMS and CRM are software tools for online companies. Customer relationship management software tracks all of your needs and customers, and it also records and reports their interactions with your company's website. A content management system helps in building and managing your website.
In other words, CMS helps you create an experience for visitors, while a CRM helps in tracking visitor experience.
Various online businesses use CRM software to track how everyday customers interact with your website. CRM stores contacts in the form of records in which every document contains relevant Customer information like company name, customer name, and contact information.
A good CMS-CRM integration shall collect all the activity on your website straight into your CRM for quick analysis, actionable insights, and reporting. You can also see how your site is performing along with your other online sites, which informs your content and marketing strategy in a better way.
Integrating Your CMS With the CRM
CMS hub is generated on top of HubSpot CRM which gives you access to tools for lead capture analytics and contact management in the same place as your content management system. All the interactions on your CMS hub website are stored in the CRM for easy reporting. New leads from your website are automatically stored in your CRM as contacts which you can organize into lists and easily track from the very first interaction for buying.
CMS hub is generated on top of HubSpot CRM which gives you access to tools for lead capture analytics and contact management in the same place as your content management system. All the interactions on your CMS hub website are stored in the CRM for easy reporting. New leads from your website are automatically stored in your CRM as contacts which you can organize into lists and easily track from the very first interaction for buying.
Conclusion
While using an inbound marketing platform, you need people who are most likely to become leads and, finally, happy buyers. So you need to attract more of the right customers with relevant content at the perfect time. Use the content strategy tool to build your authority in search and ranking for the most critical topics for your prospects.
Use hubs for conversations to create long-lasting relationships with prospects on the website they prefer through bots, live chat, email, or messaging apps. You should use all the prospect and customer information in the CRM falls, personalizing the website experience with the help of intelligent content and the entire buyers' journey using workflows and email. It would help if you tried to create brand loyalty by aiming at specific audiences with your social content and ads.
It shall be best if you also try to use email and marketing automation in conjunction with HubSpot conversations to deliver the correct information to the right people at the right time. You can also use the discussions inbox to align with your sales and service team members to create contextual conversations with the people you do business with.
Let's Create Big Stories Together
Mobile is in our nerves. We don't just build apps, we create brand. Choosing us will be your best decision.
Your Trusted Tech Partner!
We develop digital products that enable you to embrace innovation and unlock opportunities.
Talk To Our Experts
Subscribe
Newsletter
Get our latest blog posts, research reports, and thought leadership straight to your inbox.