Digital Transformation
Creating NFT – Best NFT Marketplace Tool for Analyzing, Collecting, and Trading NFTs
What Is an NFT? Non-fungible tokens (NFTs) appear to have exploded from the ether, this year. These digital assets, ranging from music and art to burritos and newspaper sheets, sell…
7 February, 2022
6 minutes read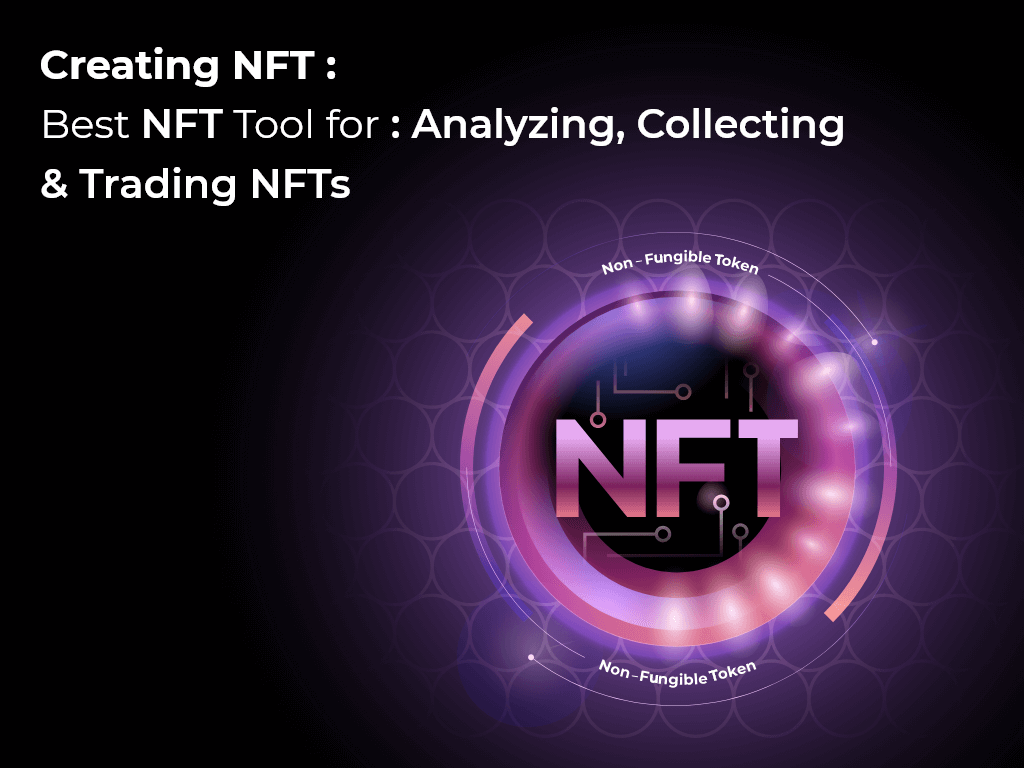 ---
What Is an NFT?
Non-fungible tokens (NFTs) appear to have exploded from the ether, this year. These digital assets, ranging from music and art to burritos and newspaper sheets, sell like 17th-century unique Dutch tulips, with some fetching hundreds of thousands of dollars. Despite the fact that they are not new, having been around since 2014, these trinkets are becoming more popular as a more accessible means to acquire and sell digital artwork.
"Non-fungible token" is the abbreviation for this term. All kinds of digital stuff, from art to music to GIFs, may be stored in a USB drive. Non-Fictional Objects (NFTs) are digital representations of real-world objects, such as artworks, music and gaming items. Coins may be purchased and sold on the internet utilising cryptocurrencies, and they're typically encrypted using the same encryption as many other cryptos. NFT allows us to own a digital thing, such as an image file, a tweet, music, website content, a physical item, or any other digital format. So it may be a real-life artwork or a collectible figure, but the blockchain will maintain records of who owns the data.
Working of NFTs
It's crucial to understand that purchasing an NFT is not like purchasing the underlying asset. The intellectual ownership of the artwork, including the copyright, are often retained by the Dedicated Developers of the digital asset symbolized by the NFT. The NFT holder has restricted access to the asset but does not own it. So they might purchase the NFT of a particular graphic painting, but it doesn't imply it'll be pulled off the market. It is still available for everyone to view and download as many times as they like.
One of the most significant benefits of buying a digital collectible over a physical collectible like a Nintendo card or a one-of-a-kind minted coin is that each NFT contains unique data that allows it to stand out and be easily authenticated. Since every piece can be linked back to the initial issuer, the fabrication and distribution of counterfeit collectibles is futile.
Ethereum's ledger contains several non-fungible tokens (NFTs). Cryptocurrencies such as bitcoin and dogecoin exist. Still, its blockchain also permits these NFTs, which contain extra details that allow them to function independently of an ETH coin, for example. It's worth noting that different blockchains can employ NFTs in different ways, and they can also work on marketplaces using Marketplace Development tools.
What Is an NFT Marketplace?
There are a number of online markets where NFTs may be bought, sold, exhibited for trade, and minted (created). For non-traditional merchants, these markets are like Amazon and eBay for consumer goods. It's not just about the data in the existing NFT Marketplace Development initiatives. For NFTs to be commercially viable, there must be a market for them to be traded on. NFT markets combine an easy-to-use front-end interface for viewing and negotiating data with a secure backend environment. They'll also require a well-designed blockchain backend development. 
You'll need the following if you want to participate in and manage multiple markets:
A User Account:

To purchase NFTs, you'll need to sign up for a merchant account on the site you choose.

Crypto Wallet:

To work with NFTs, consumers and traders need crypto wallets. NFTs or digital currency are not saved in these digital programs in the same way that files on a hard drive are.

Instead, they serve as a repository for data on the owner's files stored on the distributed ledger. To reach a more extensive clientele, marketplaces will want to engage with various crypto wallet providers, such as MyEtherWallet or WalletConnect.

You Should Have a Specific Number of Coins in Your Wallet:

The wallet must be funded before you may list, mint or purchase an NFT. You'll need to double-check which cryptocurrencies the marketplace you're contemplating accepts once more. 
The majority of NFT marketplace platforms charge a blockchain network cost for showing and producing NFTs, which is worth mentioning. The fee varies depending on whatever blockchain-based solution you select. 
Source: NFT Marketplace Web UI Concept
Growth of NFT Marketplace
According to data provided by research, NFT sales range from $10 million to $20 million every week on average. However, there were a few weeks in 2021 when weekly sales totaled more than $170 million. According to studies, the market capitalization of non-fungible tokens increased nearly tenfold between 2018 and 2020. Furthermore, these figures are still regarded as cautious because gathering statistics on such a new and unpredictable sector is difficult. Undoubtedly, one thing is undeniable: the NFT market is fast expanding.
Data shows that sales during the first half of 2021 totaled $2.47 billion. NonFungible.com, on the other hand, puts the figure at only $1.3 billion. Whatever number you choose, the total is still in the billions of dollars, a significant rise over the previous year. According to Cloudwards, NFT revenues for the same period in 2020 totaled "just" about $250 million. It shows that now is the perfect time to Develop an NFT Marketplace App.
List of Top NFT Marketplaces Tools
NFTs are currently radically transforming the landscape of digital ownership. NFTs are becoming increasingly popular. This is the best time to Develop your own NFT marketplace. Hence, this makes finding the correct non-fungible asset to invest in extremely challenging for investors. The nicest part is that NFTs can be made or collected by anyone. The popularity of NFTs is on the rise, and no one expects it to slow down anytime soon. Everyone seems to be discussing the metaverse and NFTs. Every day, new NFT trends emerge in the marketplace. Investors will find it practically impossible to maintain track of the trending NFTs as a result of this.
If you want to profit from NFT investments, you must conduct thorough research and look into Custom NFT Development. You should look into the backstory of that particular NFT piece. We've researched for you and curated a list of some NFT tools to assist you in selecting the best NFTs.
Zapper
Zapper has been a lifesaver when it comes to quickly scanning through your wallet's non-financial assets (NFTs). The total projected net worth of your NFTs provides a quick indication of the floor prices at which your collections are trading. Converting ETH to USDC and vice versa is also a breeze with Zapper.
BitDegree
BitDegree can be used to discover and analyze various NFT collections available on the market. You can search for accessible NFT collections and examine their data for further information. On top of that, you may use a variety of metrics to improve the analysis of any NFT. BitDegree allows you to create your portfolio and keep track of all of your favorite NFTs in one place.
BitDegree also gives you a breakdown of the most popular NFT collections. As a result, you'll be well-informed on which NFTs are currently gaining traction in the market.
Rarity.tools
A non-fungible token's rarity is one of the most significant elements to take into account while purchasing one. The best NFTs are extremely rare and highly sought after by collectors, which drives their price. rare.tools is an amazing NFT rarity tool for examining the NFT domain. On rarity.tools, you may sort NFTs by their volume in ETH, average price, and market collections. Here you can find and study the best NFTs. Each category has its page, which lists all NFTs in that collection. Each item has its detailed card, on which you can view the asset's distinct characteristics. Rarity offers the added benefit of assigning a rarity score to each NFT.
Crypto.com
Another tracking tool is Crypto.com, which can supply you with all the necessary information about the top NFT collections in the blockchain world. You can also get data depending on the price and volume of any NFT. When you go to the official website, you'll see a majority of the best NFT collections, together with information on their asset value, collection worth, floor price, volume, and sales. On Crypto.com, you can also look for upcoming NFT collections to see if there are any exciting projects to invest in.
Nansen
Many investors have long desired to identify opportunities in the NFT industry, and Nansen.ai was one of the first NFT platforms to do so. This NFT analysis platform displays a leaderboard of NFT wallets ranked by total earnings. The analysis' findings can assist you in managing your assets and developing a strategy. Nansen displays the leaderboard for each project, making it simple to identify and analyze owners. Furthermore, with this NFT mobile application, you can track these wallets and their investments over time.
Also Read: What is the Development Cost of NFT Marketplace in 2023?
Conclusion
If you're interested in working in the NFT industry, you'll want to maintain the count of all the prospective NFTs. There are numerous NFT tracking tools and marketplaces available to ensure that you never lose out on any popular or trending NFTs on the market. But you can also Create Your Own NFT Marketplace and be prepared to invest in the proper NFTs and make money by using these tools to analyze them. This list of NFT tools should hopefully assist you in identifying the best NFTs to invest in. Several premium options are handy for regular consumers who need an NFT tool to stay on top of their portfolios. Overall, these NFT platforms can provide you with a wealth of information to aid in developing your personal NFT investment plan.
Frequently Asked Questions (FAQs)
FAQ on How NFTs Marketplace Works
NFTs are usually purchased via various curated sites that specialize in digital assets. For buying and exchanging NFTs, open marketplaces such as OpenSea.io are popular. Nifty Gateway, MakersPlace, KnownOrigin and SuperRare are all excellent places to look for digital art. It should be noted that while some platforms accept both USD and crypto, others, such as OpenSea, exclusively accept bitcoin.
Despite the fact that NFTs are not a kind of cryptocurrency, they are based on technology similar to Ethereum and Bitcoin. As a result of the blockchain technology used to store NFTs, their unique identity and ownership may be verified. Additionally, the blockchain records all transactions involving the NFT and the property it represents. On the Ethereum blockchain, several NFTs may be detected.
A NFT's value changes significantly based on the digital asset being exchanged. Due to the increasing popularity of NFTs as a method of purchasing and selling digital art, evaluating an NFT would take into consideration an artist's popularity and prior NFT transactions.
The historic auction of Beeple's digital artwork was not just a watershed moment for all digital artists and NFTs. Still, it also has far-reaching consequences for all types of artists working today. Because NFTs may be programmed to pay a royalty to the creator every time the item is sold, crypto art may finally solve the problem of artists not being compensated. By establishing explicit and secure ownership criteria, NFT has enormous potential to produce value in the physical world as well. The elimination of intermediaries makes using NFTs a desirable, economical, and quick choice.
Let's Create Big Stories Together
Mobile is in our nerves. We don't just build apps, we create brand. Choosing us will be your best decision.
Your Trusted Tech Partner!
We develop digital products that enable you to embrace innovation and unlock opportunities.
Talk To Our Experts
Subscribe
Newsletter
Get our latest blog posts, research reports, and thought leadership straight to your inbox.