Mobile App
How Much Does It Cost To Build Your Own Cryptocurrency Exchange App?
Overview A cryptocurrency is a form of payment via which the exchange of online goods and services is possible. For example, companies have their currencies, commonly called tokens, which are…
14 February, 2022
6 minutes read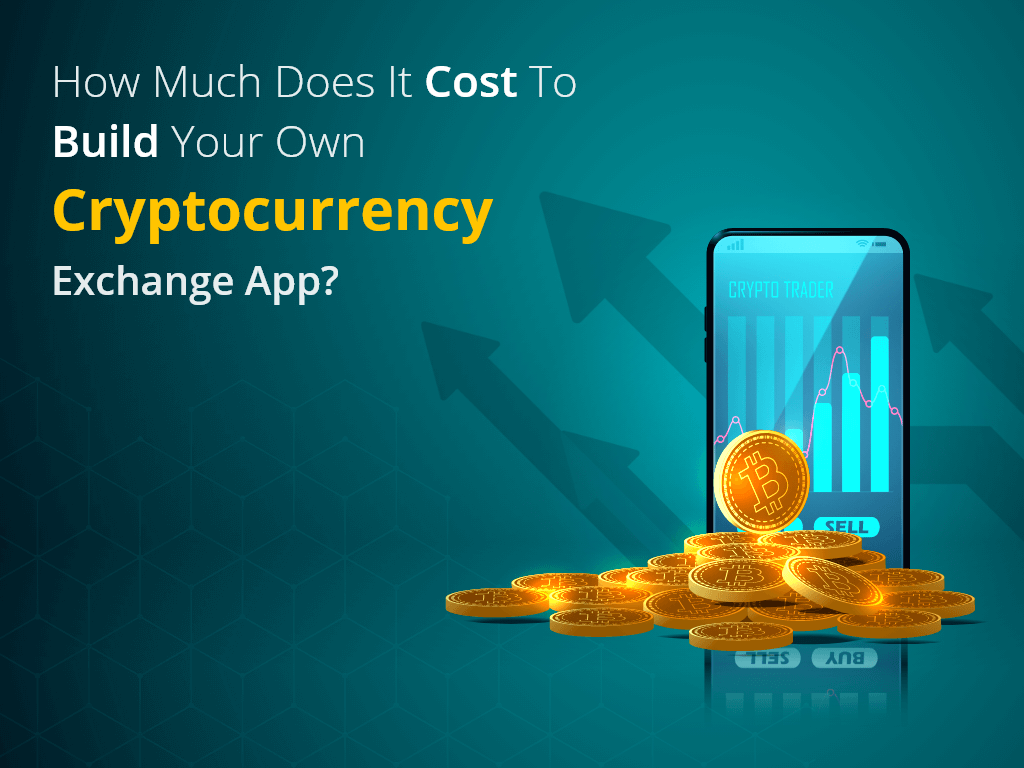 Table of Contents
---
Overview
A cryptocurrency is a form of payment via which the exchange of online goods and services is possible. For example, companies have their currencies, commonly called tokens, which are then exchanged for the service or product that the company provides. The transactions made through these types of digital payment systems are not verified by financial entities such as banks. This is because it functions in a manner similar to the peer-to-peer system allowing anyone to make and receive payments from anywhere across the world. 
Cryptocurrencies are based on blockchain technology, a decentralized system distributed across numerous computers and allows for the management and archiving of all transactions. It is a type of digital asset that operates on a network and can be accessed from a large number of computers. As a result, they are not subject to the whims of any centralised authority or governments.
Cryptocurrency payments are digital additions to a unique online database that describes unique transactions rather than real cash transferred across the world and traded. The transaction records are maintained in a public database every time the cryptocurrency funds are exchanged. It is most commonly held in a digital wallet. 
The term 'cryptocurrency' signifies that the transactions are verified in an encrypted mode. This alludes to the significant amount of coding that goes into the entire process of sending cryptocurrency information between public ledger accounts and digital wallets. The goal of encryption is to ensure security and safety.
Why Are Cryptocurrencies Regarded to Be So Popular?
The cryptocurrency market is largely popular in the entire world, and there are millions of people investing in cryptocurrencies. According to a Statista analysis, bitcoin was the market leader in 2015, with an estimated 86 percent market share, but due to the introduction of a flurry of other cryptocurrencies, it plummeted to 66 percent the following year.
Needless to mention, there are already over 700 cryptocurrencies available across the world. The escalating popularity of cryptocurrencies attracted people to invest in it as a solution, which resulted in a considerable surge in demand for the companies that provide for Cryptocurrency Exchange iOS and Android App Development. People believe that cryptocurrencies shall take over the future, and thus, they are largely popular.
List of Other Cryptocurrency Apps in the Market
Some of the other Cryptocurrency Exchange App Designs in the marketplace are:
CoinCap:  It is a cryptocurrency trading application for those who want to trade cryptocurrencies successfully and effectively. You may easily get real-time market statistics with all the necessary details on this application. This software will also keep you up to date on recent price fluctuations and the current value of your assets. Further, the customers will receive daily and weekly notifications, ensuring they do not miss any essential information.
Crypto Pro:

If you wish to deal with a variety of cryptocurrencies, the Crypto Pro is the finest option. It contains a news section for each coin and will keep the user up to date on the newest updates.

Coin Stats: If you want to keep track of your bitcoin investment and keep informed, Coin Stats is the most effective and appropriate tool for you. You may get an insightful view of market information and the value of other cryptocurrencies in a matter of seconds. In addition, this software can send you price alerts and updates from over 20 different exchanges.
Cryptocurrency Exchange Platforms in the Market
There are currently two types of cryptocurrency platforms available on the market. These are the following:
Centralized Cryptocurrency Exchange: The centralized cryptocurrency exchange

is a web-based marketplace for buying and selling cryptocurrency. It can be said that this is one of the most prevalent ways for investors to purchase and sell cryptocurrencies through this method. However, the trading costs of the intermediaries are generally very high in these centralized cryptocurrency exchange platforms. Still, there is the convenience of use, with complex capabilities such as exchange and graphing.
Source: Crypto Dashboard Design
Decentralized Cryptocurrency Exchange: The Decentralized cryptocurrency exchange is the peer-to-peer cryptocurrency trading system that allows traders to exchange cryptocurrencies with each other. These systems are less susceptible to cyberattacks and are also more transparent. In addition, a third-party provider does not hold the customer's assets under this service.
Tech Stacks for Making a Cryptocurrency Exchange App
An app development companies for an application like Coinbase is developed using Node.js or Java. Therefore, these can be considered useful libraries for faster development, such as BitcoinJ, Chain-Java, and others, that provide all the necessary capabilities for Cryptocurrency Exchange iOS App Development. 
The web-based application development usually requires React or Angular to develop the front-end. The use of React Native generally allows the developers to develop modern interfaces and save a lot of work quickly. This also makes possible the development of a single application that can operate on both the Android and iOS platforms using React Native. This can be achieved by hiring an android mobile application developer or iPhone mobile application developer.
Moreover, considering the worst situation, you can start by developing a Minimum Viable Product or MVP or a functioning prototype which shall enable the developers to test the hypothesis initially with the customers and exhibit the concept to the prospective investors. 
How Much Does It Cost to Build a Cryptocurrency Exchange App?
The crypto business model is thriving, and the research indicates that it shall potentially grow and develop three times faster in the future than any other model. In addition, developing a cryptocurrency application allows you to spread your business all over the world, 24 hours a day, seven days a week. Most of all, comparable to other enterprises, creating a cryptocurrency is risk-free and simple.
The Mobile Application Development in india for a cryptocurrency app might cost somewhere between $2000 and $5000, based on your requirements and objectives.  If you require a cryptocurrency with a lot of features, it can cost $5,000 or more. In case you want to develop both a website and an application produced for your cryptocurrency business, the cost for the app development will be in the range of – USD 1,32,000 to USD 1,45,000.
Salient Features That Shape the Cryptocurrency Exchange Development Cost
The following are some of the factors that will influence the cost of developing a cryptocurrency exchange:
Easy Singing Up: No one enjoys having to sign up or log in repeatedly when using an app or platform.

Make the signup and login processes as easy as possible as a consequence. This mostly makes the user's job easier, but it also assures no illegal users or hackers to trade. Hiring blockchain developers with prior experience developing such solutions and providing Two-Factor Authentication might be beneficial.

User Verification: This feature ensures that not all users should be able to trade on the platform. Those users who have been verified and are real should be authorized. As a result, when developing the inclusion of the feature is quite necessary to avoid fraud cheating. 
Integration with APIs: API Integration is a fascinating feature that enables users to develop automatic trading strategies. These can be utilized to develop multiple language support systems. Further, they encourage user ingenuity and ensure that their ideas are preserved on the cryptocurrency exchange. 
Administrative Panel: The admin panel would enable the administrator to oversee the trades and transactions of each trader. Further, it also enables you to customize your site and add additional features that may be useful to your users.
Simple Dashboard: Providing users an appealing and easily navigating dashboard is an excellent way to ensure they can keep track of all of their transactions. Extensive metrics must also be integrated so that customers can immediately construct and examine various graphs and charts due to the ongoing trade.
Transactions and Balances Record: This feature enables the customers should be able to view information about their past financial transactions and see the balance through the app. This shall enable them to keep track of their transactions. They should be able to check whether they transferred or purchased the money using comprehensive information like the date and time.
Deposits and Withdrawals: Maintain a simple deposit and withdrawal process feature as easy and feasible as possible. The more difficult the procedure becomes, the more likely people will abandon the site. Customers should be able to deposit funds into the wallet and make withdrawals from it using simple processes on your platform. To detect fraud, you also can set deposit and withdrawal restrictions.
Secure Transactions: Cryptocurrency is not regulated by any rules or laws, and trading in such digital money is prohibited in some nations.

Therefore, you must guarantee that every transaction is totally secure and safe. You can hire a cryptocurrency development company if you are not sure of how to go about it.
How Long Will It Take to Launch Your Cryptocurrency Exchange App
A complete Cryptocurrency Exchange App usually takes roughly 24 weeks for the process of React or Flutter Mobile App Development. Moreover, it is essential to understand that the Cryptocurrency Exchange Applications are generally run in two different formats in the marketplace. Therefore, various professionals will be required to participate in each project format, depending on the project's requirements.
Exchange Mobile App and Web-Based App:

This web-based application generally runs on PCs, tablets, or desktops

. Mobile applications that run on mobile phones are included in this format. 

A Simple Web Portal and Mobile Application: This format is generally quite similar to the previous format with a few changes.

This format will be accessible via a web-based portal. However, the same shall be accessible through a Desktop PC with a decent internet connection. There will be a smartphone app to go along with it that will work on mobile devices
Conclusion
Cryptocurrency is the new global demand, and the development of your Cryptocurrency exchange application can do wonders since they have high scope. A large population is increasingly investing in cryptocurrency and trading in digital currencies. You can hire any Mobile App Development Services in India for native mobile app development to develop the application for you. You need to research the company you hire to ensure that you have an appreciable portfolio and success rate, and they can promise to provide the best.
Frequently Asked Questions (FAQs)
FAQ on Cryptocurrency Exchange App
The government is concerned about two things: firstly, the use of cryptocurrencies for illegal purposes like tax evasion, financial fraud, and terrorism financing; secondly, the loss of authority over financial regulation and capital flight abroad.
Bitcoin is the first successful application of blockchain technology in the real world. Blockchain technology is simply a distributed ledger that is open, transparent, trustless, and secure. It utilizes the correctness of the proposed consensus and public-key encryption methods to aid in the secure transfer of property of value units. Furthermore, blockchain relies on decentralized consensus to sustain the network, removing the need for middlemen like the government, banks, and companies.
Blockchain technology provides a wide range of benefits for both major corporations and small enterprises. The most commonly cited advantages of a blockchain are secure information coordination, attack resistance, shared IT infrastructure, text classification, and built-in incentives.
Let's Create Big Stories Together
Mobile is in our nerves. We don't just build apps, we create brand. Choosing us will be your best decision.
Your Trusted Tech Partner!
We develop digital products that enable you to embrace innovation and unlock opportunities.
Talk To Our Experts
Subscribe
Newsletter
Get our latest blog posts, research reports, and thought leadership straight to your inbox.