Mobile App
How to Develop Buy & Sell Apps Like LetGo or OfferUp?: Local Marketplace Guide
Introduction Buying and selling apps like Letgo and Offerup operate on an essential bracket of e-commerce, making the order and payment of small items and services affordable and possible.  By…
15 March, 2023
6 minutes read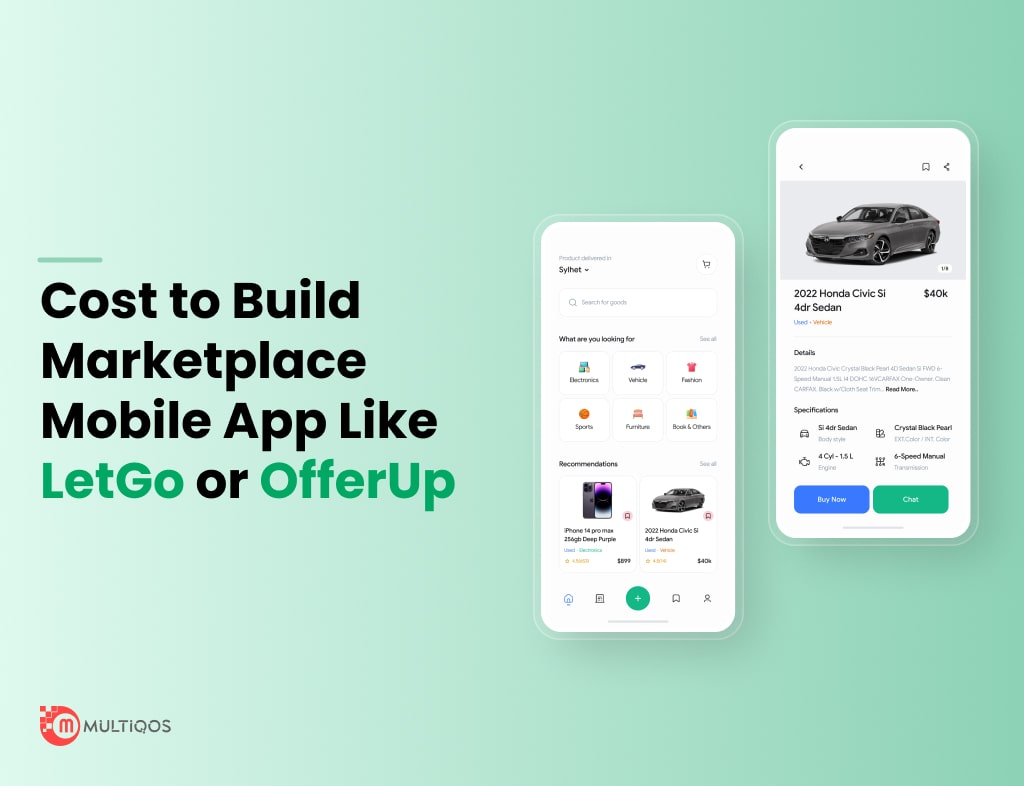 Table of Contents
Introduction
Buying and selling apps like Letgo and Offerup operate on an essential bracket of e-commerce, making the order and payment of small items and services affordable and possible. 
By building apps like Letgo, you can jump on the trend of excellent marketplace platforms online and create the following hot website or app where anyone and everyone can list about the mobile application development services in India that they are offering.
Creating such sites is highly profitable today as both a research-generating app and a side platform for established brands to increase their relatability and approachability among potential customers. 
This article will show how apps like Letgo build successful organizations and what it will take for you to do the same.
A Quick Overview of Buy & Sell Apps
What even are buy-and-sell apps? Buy and sell apps allow users to look for suitable buyers who will purchase used and unused goods from them. These platforms directly welcome customers who first come to sell but later become avoid buyers. The popularity of these applications and websites is also due to being able to directly connect with those users from which you are purchasing a second-hand item and the possibility of purchasing expensive luxury goods at a lower cost. You can look at buy-and-sell apps as drifting stores where that selling can directly connect with that buying.
What is LetGo & OfferUp App?
The application has a creative and attractive user interface, allowing you to buy and sell used goods like electronics, clothing, cars, and furniture. This app helps sellers declare and find a buyer for their essential items who will care for them just like they have. 
Offerup is another app that was created for the same motive. Applications like these are visited by people in their middle ages looking for a cheap buy as well as college students and first-time professionals who have just moved out of their houses in search of a new life. Both these applications are the same regarding the style and technique of performance. Letgo also uses its AI assistant to make looking for items more convenient. 
How Do Apps Like Offerup and Letgo Work?
Buying and selling apps like Offerup and Letgo work through the following steps:
The seller picks out an item of daily use that they no longer require. They post about this item on the app or the website, along with details like the expected price, condition of the item, and demographics like colour, size, etc. They can even mention what kind of home they want in the item in question.

Other apps like Offerup have a team that evaluates the listed items for authenticity and allows an automatic algorithm to determine their relevance and list them accordingly. 

When a buyer visits an app like Letgo or Offerup and types in their required second-hand item, this list is presented to them.

The buyer selects the one item they want to purchase from thousands on the list and clicks on the button to enable them to buy the product. The seller will be notified, and they will be able to connect. 

After they have talked with each other and realized they want to be partners in owning the same item, the app is notified, and teams help the seller pack and ship the item in question to the buyer's place.
Why Build Local E-Commerce Marketplaces App Like Letgo and Offerup?
There are several advantages and benefits to opening local e-commerce sites like Letgo or Offerup. Let us briefly discuss this before we move on to make this a reality.
Creating an affordable online place for local sellers and buyers to connect
Often, local sellers only want to sell to buy us in their city or state. It is common for bios and sellers to want to connect personally before purchasing any item. Everyone likes to do things online these days. You can make it happen by creating a simple website that might grow into the next big thing in the buying and selling industry this year. 
A foundation where you can introduce sustainable brands later on
You can further enhance your business by introducing these brands on a platform with a healthy collection of customers looking for your offer.
Earn a commission on connecting customers.
Buying and selling apps are places where you are only helping customers connect and providing the certification and assurance of authenticity that buyers and sellers need from the opposite party. In this case, you are earning a commission simply by helping wires and sellers make the trade happen and help properly sell, pack the goods and transport them with your help.
Ensure the safe delivery of trustable goods online.
As we noted above, the essential service you will be providing is to ensure the safety and trustability of the trade. You will generally attract customers who feel uncomfortable purchasing goods online. You will be the sharings that will be adequately testing out the reliability of the seller and the Bible looking forward to you for the safe delivery of the goods they have ordered – along with an assurance of quantity and quality.

Source: Marketplace Mobile App Design Concept
How to Create a Buy-And-Sell App Like Offerup and Letgo?
Can you create apps like OfferUp and LetGo, and sites like Offerup at a low cost and get them running within a limited period? 
Connect with an

app development company India

and state clearly that you want to create a mobile app or website with a similar business and operating structure to

sites like Offerup

and Letgo. 

Conduct a proper consultancy where you can express in detail what you expect from this app development process. Mention the critical objectives of your brand and help the developers understand your brand image. Also, be clear about your budget.

Marketplace app development solutions in India are internationally acclaimed and follow all scientific steps toward a goal-oriented creation. The developers will conduct in-depth research from their end and get back to you with a rough draft along with a development and operation strategy.

Work with them a few times till the strategy is foolproof and the design is acceptable. Come together to brainstorm new, more effective ways to get done what you need in a limited amount of time.

After creating the application, get involved in the testing and feedback if your budget allows you to conduct a pilot survey.

After the pilot survey, launch the application alongside a unique marketing campaign and incentivize new users to use your application for the first time.
Business Model of Offerup and Letgo App
The business model of buy-and-sell apps like Letgo and Offerup relies on a successful C2C operation, i.e., it connects consumers to other consumers and allows them to trade used goods. Offerup collects a fee of 1.99 USD for each listing or 12.9% of the sale price. 
The mission of buy-and-sell apps is to encourage self-sufficiency among consumers and to find a sustainable use for goods in excellent condition but no longer required by the owner. They have a fast growth model and focus on providing unique solutions rather than developing algorithms and connecting to more and more potential customers.
The revenue generation of buy-and-sell apps has slowly changed. For example, Offerup could offer free listings to sellers for the first five years of its operation. It was a great strategy, and when the brand made a name for itself, it started charging a fee for the listing. At the same time, the company has partnered with the US postal service, which has considerably reduced the shipping cost. Friends can also make a bit of revenue from the shipping fee it charges the buyer.
Also Read: Hyperlocal Marketplace Business Model – A Complete Guide
Tech Stack required to Build a Buy-And-Sell App Like Offerup and Letgo.
Offerup app development requires some specific tech stack as resources to create a smooth functioning platform. The main languages to focus on would be CSS, HTML, JavaScript, etc. Bootstrap server-side development requires you to focus on functions like Node.js and Express.js.
How Much Will It Cost to Develop Marketplace Apps like LetGo And OfferUp?
On average, the approximate Letgo app development cost will be around 10000 USD and 25000 USD. 
MultiQoS Expertise in Marketplace App Development
MultiQoS is a specialized mobile application development service in India that has catered to some of the biggest names in e-commerce today. Also, MultiQoS is adept in delivering results that are customized and unique to each brand's requirements and creates apps like Letgo and Offerup that cannot only successfully incorporate the unique mechanism of the original applications in a lesser amount of time but also improve upon those strategies keeping in mind the present day trends.
Conclusion
An effective marketplace app development company can quickly turn all your broad to specific goals related to buying and selling apps into a reality keeping in mind the competitive nature of the marketplace industry. 
It can build other apps like Offerup at an affordable cost and also build automated software to help make the smooth operation of this application possible. Hire mobile app developers who understand your needs and value you on a client-first basis throughout your long-term partnership!
Frequently Asked Questions (FAQs)
FAQs on Local Marketplace App Development
Buy-and-sell apps do not require much maintenance, and most of the procedures carried out on these apps can be automated. However, consumer-to-consumer applications are required to be backed up by excellent customer service.
There are two primary methods that you can use to earn revenue through buying and selling apps. Firstly you can charge a commission from the sellers for listing their items on your platform. Secondly, you can charge a shipping fee and profit from that.
To know how much does it cost to design an app like Letgo is 10000 USD.
Ready to build your own local marketplace app?
Let us help you get started with our expert development services.
Your Trusted Tech Partner!
We develop digital products that enable you to embrace innovation and unlock opportunities.
Talk To Our Experts
Subscribe
Newsletter
Get our latest blog posts, research reports, and thought leadership straight to your inbox.