Mobile App
How to Create an Online Food Delivery App Like Talabat?
What is Talabat? Talabat is a famous food delivery application that allows customers to order food from nearby restaurants which is delivered to their doorsteps. It is one of the…
20 March, 2023
5 minutes read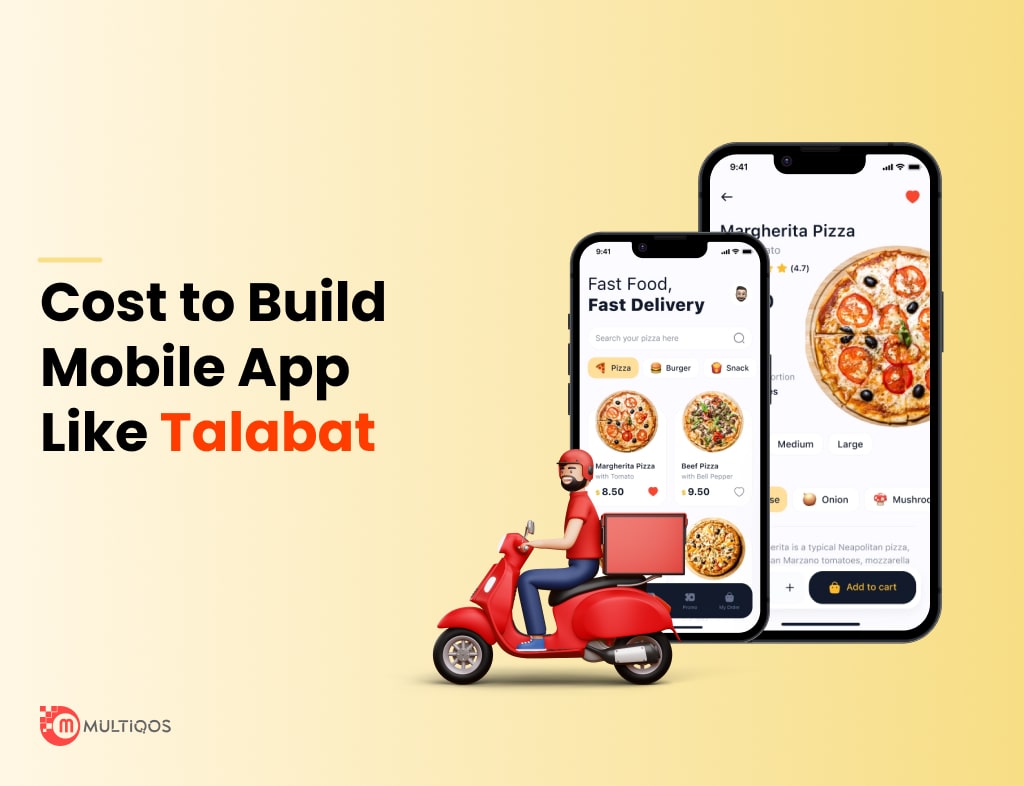 Table of Contents
What is Talabat?
Talabat is a famous food delivery application that allows customers to order food from nearby restaurants which is delivered to their doorsteps. It is one of the leading food delivery services in North Africa (MENA) and the Middle East serving customers from countries like Oman, Qatar, Bahrain, Jordan, Saudi Arabia, and UAE.
If you are looking to start a business in the food industry then creating a food delivery app in Dubai would be a great choice. However, creating a robust food delivery app like Talabat requires a lot of technical expertise, strong business strategies, and local market understanding. Hence in this blog, we would answer all your questions and provide complete steps to build online food delivery apps like Talabat.
Middle East Food Delivery Market
Looking at the statistics and reports, the Middle East Food delivery market is rapidly growing and is quite a dynamic market in the world. With ongoing urbanization and a growing population, a lot of people look for food delivery on-demand app solutions. 
The food industry in the recent few times has significantly grown in the middle east. The key driving factor is the increasing internet usage and mobile phone penetration, resulting in easy access to the food delivery app Dubai and ordering food online. 
The rise of on-demand app solutions in the food industry has made it quite easy for people to order food and get it in a span of a few minutes.
Why Invest in Talabat-Style App Development?
Investing in a Talabat-like application is one of the best opportunities for businesses that are looking forward to entering into the on-demand food delivery business. With the increase in usage of the internet and smartphones, along with the need for good food has led to huge growth for such applications.
One of the key advantages of investing in Talabat-style applications is the ability to reach one of the fastest-growing customer bases and offer them a user-friendly and convenient experience. If you are looking to invest in Talabat-style app development, it is essential to work with the best mobile app development company in Dubai that has got good experience in building on-demand food delivery applications to ensure that your application meets the end demand of the customers.
Also Read: How to start your own meat delivery business in 2023?
Business Model of Talabat
The business model of Talbat, one of the leading online food delivery apps, is based on offering a convenient and seamless food delivery experience to the audience. By connecting people with their choice of restaurants, Talabat makes food delivery an enjoyable and effortless experience.
For developing a robust online food delivery app like Talabat it is quite important to know certain things about the Talabat business model.
Talabat partners with both local and international restaurants to provide diversified food options.

They have built an efficient delivery network to offer seamless and fast delivery to customers.

They have enabled monetization through commission which is charged from the restaurant for each order.

It utilizes advanced technology to offer the best class experience to the customers.
Currently, Talabat is exploring some new and innovative solutions like food deliveries by drones to offer more efficient delivery service to the users. Overall it has got all the key features of any online food delivery business model.
How to build an online food delivery app like Talabat in UAE?
Building an online food delivery app like Talabat in UAE involves different important steps and collaboration with different stakeholders. Here is a step-by-step guide for developing an online food delivery app like Talabat.
Step 1:

Conduct market research before starting the development of a food delivery app to understand the needs of the customers and get insights about opportunities and different challenges.

Step 2: Define the features and functionalities of the application after you get a clear understanding of the market. It includes user interface and backend development.
Step 3: If you don't have your development team then you need to hire a food delivery app development company

that would help you with the complete development process. A good app development team would make your work easy so you can concentrate on other business-related work such as customer acquisition and much more.

Step 4: Choose the correct technology stack for developing the app as the success of your app is highly dependent on it. The technology stack should support all the functionality and features that you want to include to provide a seamless user experience.
Step 5: After the application is completely developed, you should test and do quality assurance so that it is functioning properly. This step would help you to identify any bugs or improvements needed.

Technology Stack Used in Talabat App Development
The technology stack used for food delivery app development includes both backend and frontend technologies. For the backend, the app is built using MongoDB, Express.js, and Node.js. For frontend food delivery app development, the company uses React Native and AngularJS. Talabat also makes use of different APIs like Stripe API and Google Maps API to offer a convenient and seamless food delivery experience.
Team Required
You need to hire food delivery app developers who hold experience in Frontend and Application Developers to ensure that they know DevOps, Databases, and Frontend technologies. Along with this, it is important to have Project Managers, UI/UX Designers, and Quality Assurance Testers.
How much does it cost to build an app like Talabat?
The cost of developing the food delivery app in Dubai can range up to 100,000 USD and 20000 USD minimum. The cost may also depend on the restaurant's mobile app development company and its location. Moreover, there are also other factors like the technology stack used, the complexity of the application, and much more.
If you opt for the app with basic functionalities the cost is lower as compared to the cost for a complex app with advanced features like a payment gateway, real-time tracking, and much more. It is important to ensure that the cost of an app like Talabat is a good investment that can offer huge ROI if developed correctly. 
It is quite important to collaborate with the best and most experienced mobile app development company to ensure that the quality of the app is great and provides the best user experience to the customers.
How can MultiQoS help build a profitable food delivery app?
MultiQoS can help you with the complete end-to-end development of an on-demand food delivery app by providing a wide range of services for the success of your food delivery application. They got an experienced app developer in Dubai to provide complete end-to-end solutions including research, design, app development, testing, and deployment. Some of the services MultiQoS offers are as follows.
Mobile Application Development: MultiQOS has got good expertise in building end-to-end on-demand food delivery applications.

Have got experience working at Robust Technology Stack to build reliable and scalable applications. The technology stack is chosen based on the client's requirement and keeping security into consideration.

MultiQoS has got a dedicated team of UI/UX experts who carefully understand and analyze the demand of the end users and design a user-friendly application for a seamless and smooth app experience.

The development team can help with the Integration with third-party APIs like maps, logistics, payment gateways, and much more to offer convenience to the food delivery app users.

MultiQos offers Regular Maintenance and Support of the Application even after the delivery of the application to ensure that the app is up to date with the latest functionalities and features, resulting in the app working smoothly.
By working with MultiQoS you can be assured of a profitable and best-in-class food delivery application that meets the end needs of your customers and offers good ROI.
Frequently Asked Questions (FAQs)
FAQs Related to Talabat App
Talabat is an online food delivery platform that bridges the gap between restaurants and customers in the Middle East and nearby countries. Customers can order food from nearby restaurants and Talabat would deliver it.
There are several counties where Talabat operates like UAE, Saudi Arabia, Oman, Qatar, Bahrain, and Kuwait.
When creating an on-demand delivery application, you need to ensure that user experience, partnerships, payment options, and delivery logistics are well-designed and easy to avail. You can hire mobile app developers to help you with building all the components.
You can partner with the restaurants by offering them competitive commissions, robust delivery logistics, and easy-to-order systems. With the help of a mobile app development team, you can work on these elements to increase restaurants' sales and visibility.
Yes, Talabat has the feature to track food delivery in real-time through an app. Customers can get complete information about the time and real-time location of the food delivery.
Want to Grow Your Food Business with a Restaurant Delivery App?
We offer top-notch customized restaurant app development solutions for startups, restaurants, and aggregators.
Your Trusted Tech Partner!
We develop digital products that enable you to embrace innovation and unlock opportunities.
Talk To Our Experts
Subscribe
Newsletter
Get our latest blog posts, research reports, and thought leadership straight to your inbox.