Mobile App
How To Launch Your Meat Delivery Business in 2023? Market Analysis And Cost
Introduction The COVID-19 outbreak has led people to opt for a new normal and adjust according to it- place orders online and get your favorites delivered at your doorstep. The…
14 March, 2022
6 minutes read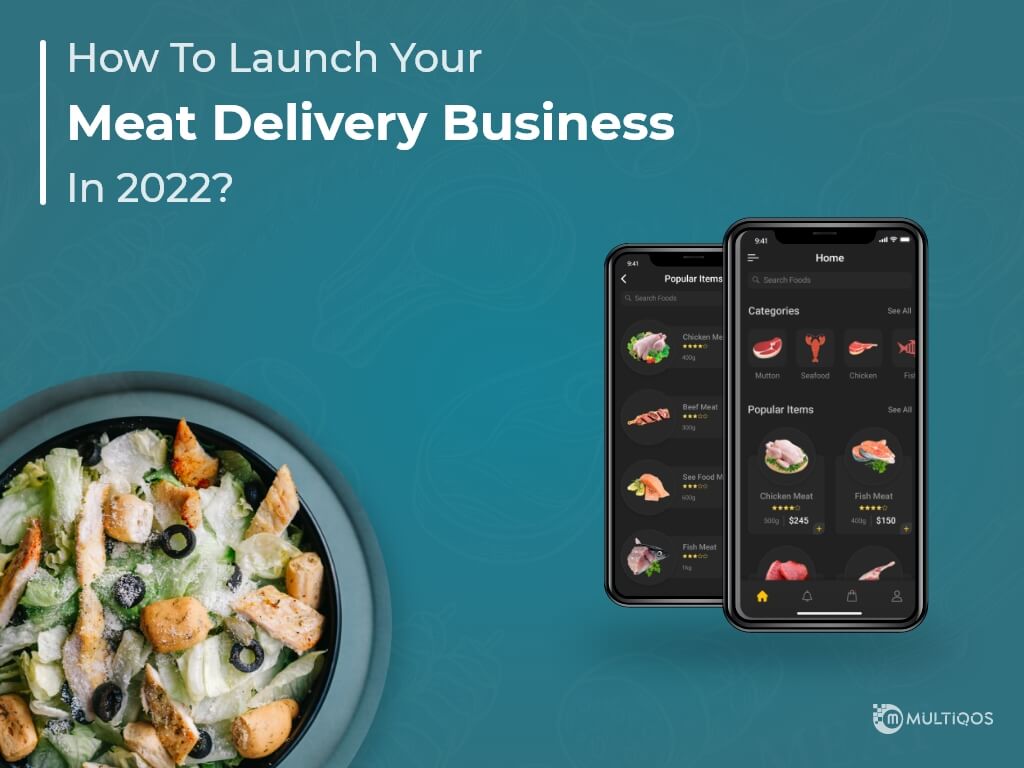 ---
Introduction
The COVID-19 outbreak has led people to opt for a new normal and adjust according to it- place orders online and get your favorites delivered at your doorstep. The food and grocery distribution business showed potential development during the lockdown era when many enterprises and organizations throughout the world were suffering severe challenges. Many entrepreneurs and company owners are interested in building a food delivery industry that focuses on producing on-demand Meat delivery app Development, such as meat delivery app development with the necessary capabilities.
What Is a Meat Delivery App?
That's as easy as using any other meal delivery app. You can get your favorite food and groceries in a few clicks, just as you do with a food and shopping app—with meat delivery, one can purchase meat. Shoppers will use the on-demand meat home delivery app to search for the preferred meat kind using various criteria and make an order with a single click.
Two of the most essential reasons why people prefer buying meat through a raw meat delivery app are comfort and easiness. To try this, you don't need to go to an indigenous market or discover among the few existing indigenous butchers. All you should do is grab up your phone and use the fresh meat online app to place an order.
Purchasing high-quality meat through an online meat delivery solution adds up rapidly, and some options are much more cost-effective than others. The meat comes frozen and packed totally in recyclable and biodegradable materials, irrespective of the option you select.
According to Statista's report on online food ordering apps and the sector, revenues in the United States alone would reach US$29.2 billion by 2024. According to the same report, by 2020, this demand will create sales of $23.9 billion. With a CAGR of 5.1 percent, an internet food business is a successful venture worth exploring.
It reflects the increase of online food ordering application in areas such as food, grocery, meat, and seafood delivery.
What's the State of the Meat Delivery Market?
Between 2019 and 2025, the worldwide fresh meat packaging market is predicted to rise at a pace of 2.7 percent, but we may expect further growth owing to increased demand.
The frozen meat business, which includes all meat delivery services, was worth $73.3 billion in 2018, with a projected growth rate of 4.4 percent through 2025. The processed meat industry, on the other hand, was valued at $519.41 billion in 2019 and is predicted to increase at a 6.24 percent annual pace.
In order to start a meat delivery business, you must conduct extensive market research. The problem is that there is no single study that can give reliable market information. That is why, in order to have a better grasp of the meat industry, we have compiled several publications.
As a result, the worldwide market for meat may see an increase in demand. We'll try to locate some useful data by taking into consideration various research in the sections below.
Due to the epidemic, Uber observed a 30 percent spike in independent drivers trying to sign up for services in the United States. We were able to gain a better grasp of the food delivery demand thanks to two thorough reports.
According to the conclusions of research titled "Impact of COVID-19 on Home Delivery Purchases and Expenditures" by researchers at Portland State University, Canada's online food delivery demand increased during the shutdown, and the pattern continues.

Another study from the United Kingdom found a 2x growth in internet sales channels when comparing online and physical sales. UberEats and Deliveroo partnered up with major meat processing firms such as Waitrose, Sainsbury's, Aldi, Co-Op, and Morrisons to meet increased demand and assure speedier last-mile distribution of meat in the United States.
So, in every way, the online meat delivery app sector is expanding, breaking new ground, and laying the groundwork for something greater. To build such a platform, nevertheless, you need to follow proper development procedures.
Also Read: The Cost Estimation to Build Food Delivery App like UberEats in 2023
A Complete Overview of App Development
Programming The Goals and Requirements
The creation of a basic and obvious business strategy should be the first stage in the development of an online meat delivery service. The core problem, solutions, resources necessary, service channels, cost projections, income streams, and other factors should all be included in your business model.
You should also pick what kind of business you want to start online. You have three options for your meat delivery business: aggregators, branding with a smartphone app, or white labeling.
Putting Together An Aggregator Model
Enabling many other merchants to showcase their things on your meat delivery app is what an aggregator model entails. Customers will be able to select from a variety of merchants represented on the app and place orders with the one they like, allowing the app to meet logistical service demands. The nicest aspect about creating an aggregator app is that you can only need partners, not meat stores.
Using An App To Rebrand Your Company 
If you currently have a meat/seafood business or have recently launched one, you may rebrand it in the marketplace by having a mobile application designed for it. This will help you in a variety of ways, including automating processes, managing your firm, and keeping accurate records. The benefit of this step is that you can manage all of your business's outlets from one single admin panel.
Development Of A White Label Meat Delivery App
You can enable many other retailers to channel the position of their meat/seafood goods on your app by picking a white label for your meat delivery app development. By enabling the other meat establishments to sell their products, you may earn a considerable amount of money.
Which Are The Top 5 Best Meat Delivery Apps?
Licious
The service brings along a wide range of products to pick from, including chicken, beef, goat, fish, and spreads for cooking, veggies, meat, and more. After surviving 150 standard examinations, they promise to generate a plentiful production from the initial batch. Not needing to go to the butchers saves you time and money. Following its popularity, businesses are seeking a licious mobile app developer.

FreshToHome 
It is app-based commerce that delivers raw fish and meat to your door. It sells chicken, organically raised mutton, and duck, among other foods. The company claims that its marinades are preservative-free and that it sells ready-to-cook ingredients.
Meatigo
It has a wide variety of meats to suit all tastes and employs a tight cold chain administration system to maintain the uniformity and quality of each product from the point of origin to the user's doorstep.
Mastaan
The firm arose from a Sunday morning ritual of two friends buying fish at the Kukatpally fish market. They understood that high-quality raw beef, mutton, and fish are difficult to come by in Hyderabad and most Indian towns.
Meat Distribution
Meat Delivery is a sophisticated online marketplace that delivers chicken, mutton, eggs, fish, cold cuts, and exotic non-veg items to your door (Home Delivery).
What Is The Cost Of A Meat Delivery App Development Like Licious?
When you consider it from a business standpoint, it is the most essential factor. As a result, the cost of developing a meat ordering app is determined by the demands and functionalities. When you engage a good meat delivery app development company, you can expect to pay somewhere between 15000 and 50000 dollars.
Key Benefits To The Owner By Meat Delivery App Solution
It Provides Critical Analysis
It helps service providers to swiftly comprehend the existing and future state of the market. Different things on the marketplace must be assessed and adjusted as needed in order to be on the market. You can use these sources to distribute and locate resources as needed.
Expands Your Customer Base With Online Delivery Software
Everyone wants to broaden their consumer base. You may connect with more customers, particularly the meat industry, while using the modern meat ordering app development features. If the number of consumers grows, there is a big danger of making even more money.
Payment Processing Made Simple With Online Options
The key benefit of developing a online meat and fish delivery app is that it allows meat vendors to pay in a variety of ways. It's a great option to be able to afford to pay for such online delivery companies while ordering them. Customers can pay instantly using online methods such as digital payment gateways, lines of credit, debit cards, and so on.
How Much Does It Cost to Build a Meat Delivery App?
We offer a price quote for ready-made app creation, such as on meat delivery app development, at MultiQoS. Let us have a look at the price options we provide.
Basic Plan – $149/month + One-time Set up Fees $299

Pro – $299/month + One-time Set up Fees $299

Premium – $499/month + One-time Set up Fees $2499
To Sum It Up
With the recent rise in stay-at-home orders as a result of the Covid-19 outbreak (and broader societal changes), it's a wonderful time to expand your business online. You may also empathize with business-minded individuals who use various kitchen hacks to solve the meat supply deficit in their area by launching your own online grocery business.
Meat delivery services have the potential to be profitable. All you have to do is use the web to provide the most in-demand items to your consumers and prospects.
Some people have harder time making money than others. People frequently resort to starting their own businesses to generate enough money to make a livelihood. One way they accomplish this is by establishing a local delivery service.
To succeed in the online meat delivery service, you'll need enough information and the correct platform to carry out your large ambitions, as well as be competitive enough to benefit from the local meat delivery market. The greatest method to do so is to expand your business online. For so, we propose that you have a look at our fantastic and user-friendly eCommerce platform.
Frequently Asked Questions (FAQs)
FAQ About Meat Delivery App Development
Your consumers may search for the fresh and tender meat items they want, then check out and pay. After an order is placed, the administrator oversees it and assigns it to dispatch. Using a route guidance tool, the delivery partner delivers delicate meats to customers' doorsteps.
Yes, at MultiQoS, we provide custom meat and seafood app solution with features tailored to your on-demand company. Text, color, picture, and style may all be customized before the meat app goes live on the internet.
Don't be taken aback! Dedication and time are necessary to build a successful app. Within one working week, nevertheless, we built the greatest meat delivery app development solutions (customer app + driver app + admin panel).
Let's Create Big Stories Together
Mobile is in our nerves. We don't just build apps, we create brand. Choosing us will be your best decision.
Your Trusted Tech Partner!
We develop digital products that enable you to embrace innovation and unlock opportunities.
Talk To Our Experts
Subscribe
Newsletter
Get our latest blog posts, research reports, and thought leadership straight to your inbox.