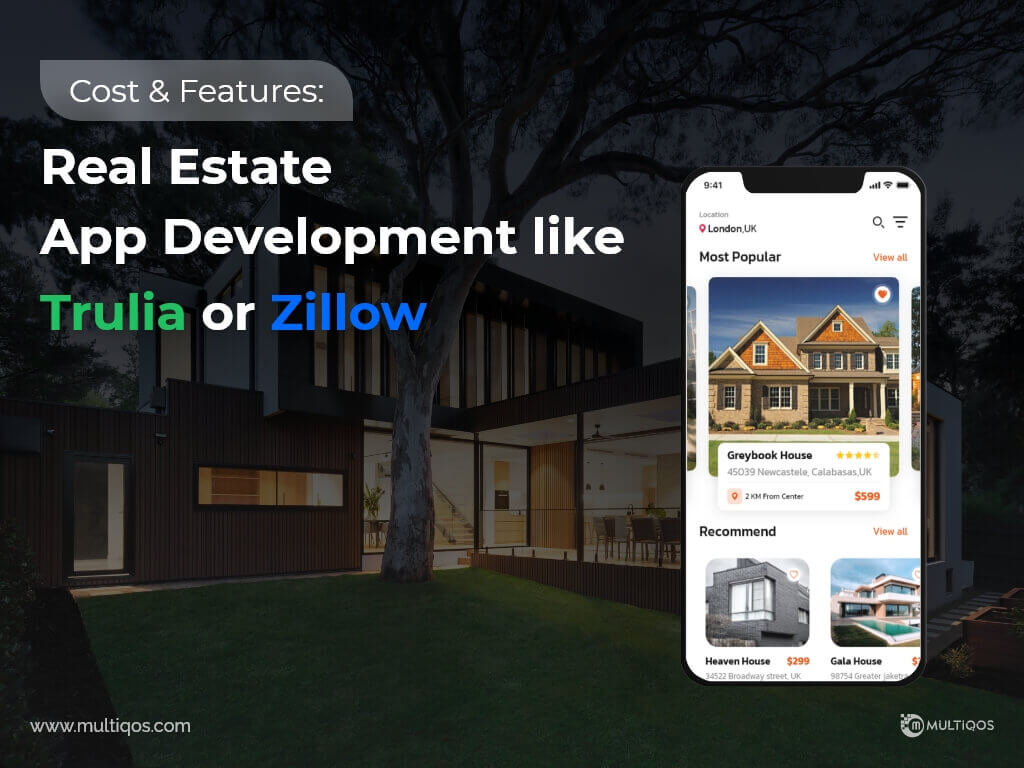 Mobile App
How to Build a Real Estate App Like Trulia Vs Zillow: Cost & Features
Introduction Real Estate applications are a promising sector for businesses to invest in where they can generate revenue. Who doesn't love technology? And when the technology does your work, you…

Parth Thakkar
Introduction
Real Estate applications are a promising sector for businesses to invest in where they can generate revenue. Who doesn't love technology? And when the technology does your work, you become more stress-free. While real estate agents are still present, however, those who do not have a digital presence, on the other hand, are losing potential clientele. Real estate professionals can benefit from an internet experience by enhancing client loyalty and sales at the same time. Smartphones have increased the profitability of the real estate sector, making it even more so. The real estate market is expanding significantly, and in numerous cities, there seems to be a sticky topic about whether it is better to buy or rent. This indicates that the real estate app development solutions can be a potential area to invest in. Consumers like it when a company values their work, so do everything you can to assist them in solving difficulties with minimal effort on their part. It's a win-win situation: you gain competition by embracing digital, and your client's requirements are satisfied by your real estate mobile applications solutions. Read further to understand better the aspects of real estate mobile app development and the factors surrounding it. 
What is Real Estate App?
Buying their dream house can be the biggest accomplishment for some people. However, to find the best deal for your buying, you conduct a lot of research and search for real estate agents and builders who can provide you with the best options. This can be a lot of tasks for you, and this is where the real estate mobile app comes to the rescue. In the world of real estate, a real estate app is a mobile application offers a wide range of services to its consumers. You can seek houses commercial properties to accommodate your business, hire a realtor, or check the value of your current residence. Real estate applications bring together real estate machinery and skills in a user-friendly style. Each property investment app has its selection of characteristics and features that appeal to distinct areas of expertise. Some aspects are better suited for commercial property seekers, while others will assist you in determining house values, and still, others will help you become a better landlord.
Why are Real Estate Apps So Popular?
Unlike years ago when people required assistance with buying and selling properties, these days, people no longer require the assistance of real estate agents and brokers in their real-world searches. These are being replaced by mobile applications available at any time and do not rely on third parties. So it's no surprise that individuals prefer fast access to an extensive database of homes than scheduling viewings all across town. This has led to a steep decline in the demand for traditional brokerage in the digital era, significantly promoting real estate agents to predict a rise in technological investments in the coming years.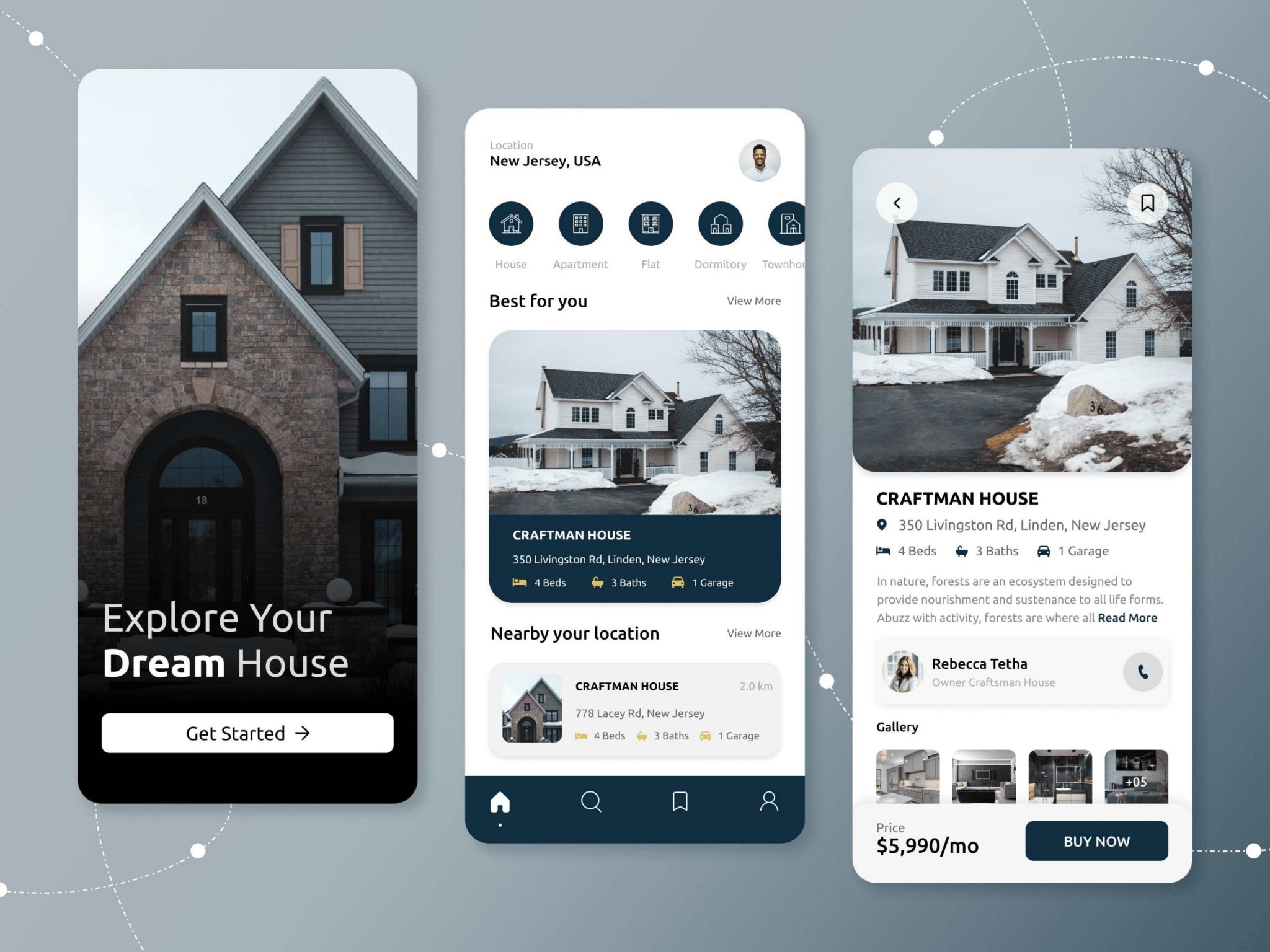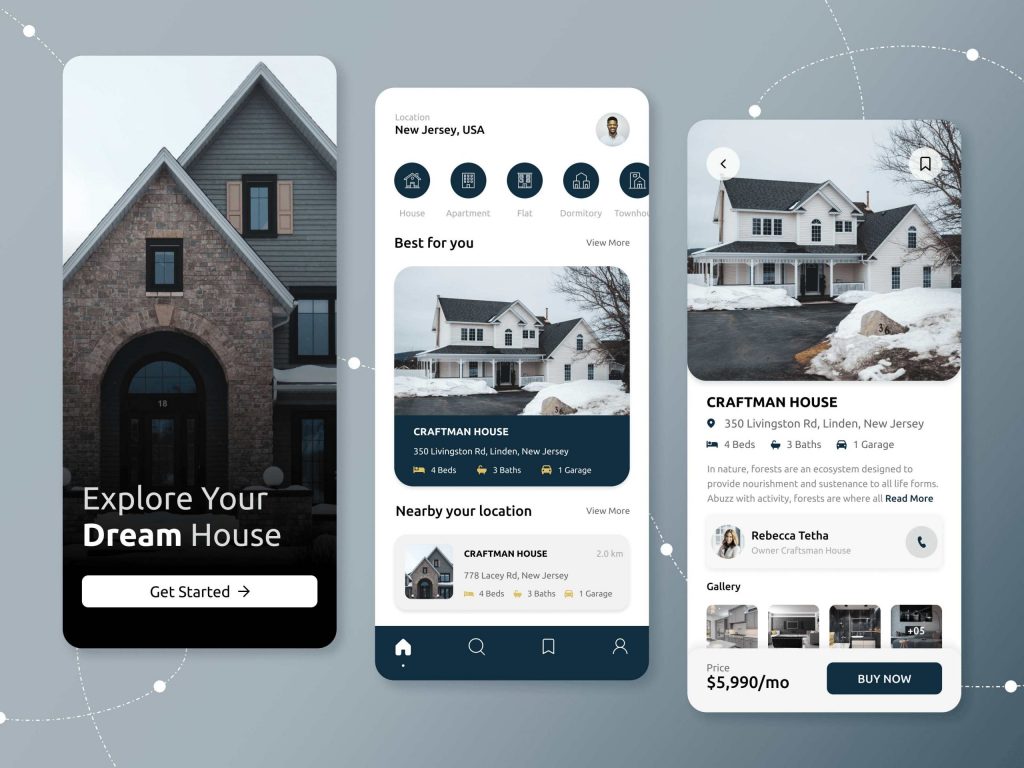 Source: Home Rental App UI Design
The value of real estate technology deals in the United States is expected to reach $7.3 billion in the year 2020. Zillow was the most popular real estate and rental site in the United States as of October 2021, according to Statista. It received almost 36 million monthly visitors, which is undoubtedly outstanding. The real estate market is growing faster than anyone could have predicted. In the same month, October 2021, Zillow halt fresh acquisitions.
Why Do We Need a Real Estate App?
The purpose of real estate mobile apps is to provide immediate and eye-catching results to customers. If you're in the real estate industry, these applications can be really useful since they offer you accurate listings that are presented attractively. In addition, intermediaries such as the brokers and the agents may now contact customers visually throughout the day owing to the emergence and popularity of these real estate applications. Furthermore, the application runs both regionally and abroad, so you can read notifications and messages right away for immediate action. 
Many activities have become simple to complete with the services of a trained and high-performance real estate mobile app. Agents, for example, can manage their listings, track transactions, host open houses, close deals, and more, all from the comfort of their couch. However, even if you provide these features, real-estate applications can drastically affect your firm. Real estate is a fast-growing sector these times, and having an application like this can guarantee that you get more leads and remain connected with them in real-time. In addition, consumers and purchasers choose to learn about real estate holdings because the app offers all of the specific data.
Also Read:Top Mobile App Development Trends to Watch for in 2024
Types of Real Estate Apps
Here is a list of different types of real estate applications that you can consider for real estate mobile app development. 
You can develop a real estate app that targets the buyers and the renters who can use the site to look for their next property by entering parameters by filtering the location, facilities, and prices. This serves as an avenue for organizations and owners to promote their offerings while homebuyers have easy access to all available options. The listings will update dynamically depending on their criteria and provide extensive information about every posting.

Property Management Systems (PMS)
These applications provide facilities to the landlords to easily handle the payment of rents, move-outs, and move-ins of tenants or utility payment processing. This streamlines the communication with the renters in order to automate common tasks and save time.
A mobile rental app helps in assisting the users in finding rental lodging for long or short periods, such as for a short holiday, for weekends, or trips. The more criteria the application provides, the easier it is for customers to find the appropriate lodging – by location, price, and facilities.
Vacation Rental Management Apps
These applications are targeted towards the hosts and the owners of properties. Owners can use these technologies to handle hotel reservations and services, connect with customers, and automate various other tasks.
Real estate investing is a typical source of passive income, and real estate investment applications make it simple to get started. Users can invest in actual land parcels in only a few minutes. An investment smartphone app aids users in making decisions, calculating risks, and calculating future taxes. Trusts, crowdfunding campaigns, and auctions are just a few of the features you can include in your app.
Construction and real estate development applications are developed for construction companies and offer a wide range of functions, such as bidding and cost estimates, as well as time tracking, property maintenance tools, and money planning. A real estate construction application follows the company through significant property development phases, from project planning to closeout.
Custom applications for realtors typically include all underlying elements that make communicating with customers easier. Having access to real estate papers is made easier, and paperwork is reduced as a result.
Household Management Apps
Users can utilize property listing applications to select different houses and apartments that are available. Every real estate item is usually covered in depth.
Advantages of Real Estate Mobile Apps
Few advantages of real estate mobile application development are:
Easy Property Search and Sale
The applications make the property search easy and streamlined since the app displays all relevant information such as prices, asset photographs, location, etc. All of such information can be accessed using a retail app. Instant and simple searches are possible with the applications, as well as a better user experience is also guaranteed, which assists you in increasing your prospects. Longer showings might be cut short, and the paperwork could be adequately documented and exchanged. Using virtual tours in mobile apps for real estate agents, homes could be identified more rapidly.
Improved Communication and Customer Service
As a business professional or real estate app developer, you may believe that effective communication is vital to success. A real estate app may help you keep in touch with your consumers at all times, therefore this is a fact. Furthermore, you can also keep them informed about new listings and other pertinent information.
Everyone wants to be a part of instant gratification, which also helps improve sales pace. As a result, speeding up the home-buying process is essential. Because the industry is growing, the mobile app can help consumers speed up the procedure with the help of cutting-edge technologies.
Better Customer Experience
Clients will like the ability to store searches and favorite properties and access thorough neighborhood information, a mortgage calculation, and 3D views.
Creates Strong Brand Identity
The fundamental objective of a company is to connect out to a broad range of potential customers, and many company owners consider that real estate applications may help them establish a distinct brand identity. It is also essential for creating a strong brand identity and helps in drawing more customers.
The waiting time for the customers are decreased with the in-app communication channel that guarantees 24/7 availability of the service to clear any queries of the customers and address their issues. 
Trulia Vs. Zillow – Best Real Estate Apps in the Market
Real estate applications are most popular in the United States on Trulia and Zillow. Mobile apps with millions of unique users are available for each of these real estate companies. In addition, they're currently owned by the same corporation, as the Zillow Group purchased Trulia in 2015 for $3.5 billion. However, these are still two distinct products for users. Real estate databases, such as those for rent and sale, are made available to users.
Zillow
Zillow app connects sellers and buyers directly, eliminating the requirement for a broker to facilitate the deal. A property seller makes an account on the platform and enters information about the property such as the land area, build-up region, quality, age, maintenance costs, uploads images of the property, create a virtual video tour, and estimates the price. On the homeowner's web or app page, the properties accessible on the location are displayed. The user examines the property facts and a virtual tour based on the icon images. If the property is worth considering, they contact the seller directly within the application for a real tour of the property. Because this real estate platform is regarded as the greatest in the industry for a reason, there is a considerable demand for producing real estate applications similar to Zillow. If you're in the market for a property, Zillow is your one-stop shop for finding out its value and keeping track of your finances.
Trulia
Trulia, another popular real estate database for consumers and landlords, has a simpler layout than Zillow, but it provides customers with complete area data. The real estate app allows you to narrow your search by property characteristics. It boasts hardwood floors and a fantastic "neighbors" function that allows you to look at statistics such as crime rates and even natural disaster information. The virtual neighborhood tours can provide you with drone video as well as citizen ratings. In addition, the apps provide 30 interactive map overlays and the ability to check the vicinity of local hotspots.
Must-Have Features in Real Estate App
One of the essential steps towards app development is listing down the features that shall form a part of the application. Here are a list of certain essential features that can be included in your application during real estate app development.
The users can use the registration features to sign up or log in to the application. This shall enable the users to be able to rent, purchase, or sell property only after registering, based on the app's function. The user's identity, email address, and passwords are required for the normal registration process, and this information is sufficient to use an app and is also kept private. In addition, the user's personal information can be added to their profile. In addition, allowing individuals to log in using their social media accounts is also a good feature, such as Facebook, Google, Twitter, and other social media platforms.
Each user position will require access to their specific functions. Agents give us access to their property, as well as appointments, timetables, and buyer profiles. A property profile must contain a lot of details about the business. It includes images, a summary of the properties, a price for sale or rent, and a phone number for purchasers to call to inquire about the property.
The process of exposing your application to others is known as onboarding. It aids in informing users of the real estate app's primary attributes and functionality. Users stay to register or check-in using social networks once onboarding is completed. It could be a great idea at this point to enable people to skip the registration process if they want to check out your app.

This feature will enable the user to choose and shortlist their favorite options on your applications which they can come back and look at later. They might use this information to their advantage in making future judgments. In their own accounts, users may see all of the information, including their favourite houses that have been nominated. 
The calendar feature is one of the essential features that shall benefit both the real estate brokers and the property buyers or the customers. It aids in selecting an acceptable day and time for offline meetings. This also makes easier the booking of appointments or acquiring selling of property.  
The listing feature is a frequent and intuitive technique of showing databases to users. The customer expects a listing of housing options with details on pricing, location, and facilities from your application. Longer listings ensure maximum retention and boost the possibilities of users finding work that meets their demands.
When a real estate broker has to calculate a property or a home or evaluate what loan is best for a client, a real estate application that can provide precise information on mortgage interest rates and installments is the best feature.
Maps can give buyers a plethora of data. You may display information and facts across several areas in addition to demonstrating the whereabouts of properties. These figures aren't difficult to come by: most of the time, all you have to do is conduct research on official websites before developing your real estate app. Then, you can show the property's location and demonstrate certain important information when it comes to choosing a property.
Separate applications for property assessment are all still in need because customers generally utilize apps for one particular element. Adding a value estimator to your application, on the other hand, makes more sense unless your software is still in the MVP stage.
Visual tours, sometimes known as immersive tours, have recently gained appeal in the real estate sector. The software users can view the interior of a property in 3D and even get a realistic view as if they were there. It's possible owing to images of rooms that have been combined to create a seamless image.
The electronic signature is one of the quickest methods to get the documents signed, and this is what the realtors do. It's also useful to have an application that can import and save files from cloud services such as Dropbox, Evernote, and Google Drive and track their progress and give reminders.
Homeowners may develop a sense of confidence and commitment as a result of ratings. An app becomes much more dependable and transparent if prior customers can offer comments for agents or landlords, and users may rate neighborhoods.
Customers could get on-demand replies using a chatbot or online chat. Users will know so much about a given topic without having to hunt for it through the program if frequently asked questions are automatically answered.
One approach for simplifying the search process is to use categories and filters. While creating a real estate application, ensure that you know which features your clients want the most and include them in the categories and filters.
Push notifications are an effective marketing tool. This is a functionality that your real estate application necessarily needs to have if you want to be successful in the long run. You can keep your consumers in the loop by sending them push alerts. It can also aid in the promotion of your services. For example, you can utilize push notifications to communicate with your prospects or send out business news regularly. You may even notify users when prices change, or a new property in a specific location is introduced.
As a part of every mobile app, analytics is vital. Using analytics, you can see how well your app is working and where improvements may be made. You can find out a lot about your consumers and their in-app activity, such as how long they spend on each screen. To help you make better app decisions, this information is available.
Many other types of material are included, such as text descriptions, photos, videos and other types of rich media. There is also information on the property's worth, location, and who owns it.
How to Develop a Real Estate App: Tech Stack
Your real estate app development will be hampered without a solid backend. Listed below are some helpful resources for creating real estate software:
Utilize CoreData or Realm frameworks to keep track of a list of stored properties.

The Google Places API delivers users information about the local area and neighborhoods.

Zillow API – gives you access to Zillow's neighborhood listings and information.

Mapbox or the Google Maps API can be used to create bespoke maps.

Spatial Neighborhood APIs from the Onboard Informatics Community give demographics and information about specific districts.

Android development languages include Java and Kotlin.

Swift or Objective C are two iOS development languages.

Apple's Push Notifications Service or the Firebase SDK are also options for integrating push notifications.

MLS data flows are normalized using SimpleRets, iHomeFinder, and Spark APIs.

The Facebook SDK makes it possible for your app to sign in using a Facebook account.

Cloud-based storage for listings can be found on Amazon S3.
How Much Does It Cost to Develop a Real Estate App?
Producing a real estate app costs the same as developing any other app because of the features, complexity, and measurement factors that go into it. In addition, the number of hours worked by the real-estate application developer, the time spent on developing apps, and the developer's location all play a factor in determining the cost. For example, the US-based real estate app developers would charge $100 to $250 per hour, and Indian developers may charge $25 to $50 per hour, whilst the Europe-based developers may charge $80 to $180 per hour.
These are only estimates, and they may differ from one application to other and from developer to the other. For example, a real estate mobile application with many features will set you back between $20000 and $30000. However, if you want to add the most advanced technology features, such as various integrations, you'll have to pay more.
MultiQoS Expertise in Real Estate App Development
MultiQoS is the best mobile app development that provides Real estate app development services to clients at affordable prices. Our full-stack mobile app development experience will assist you in turning your real estate business concept into new chances. You can take benefit of the digital marketplace and smoothly extend your consumer reach with our scalability on-demand app development designed utilizing agile methodology. We used industry best practices and our knowledge of real estate mobile app development. MultiQoS guarantees that you are fully equipped to enter and remain competitive in the app industry. We'll assist you in unlocking the digital possibilities of your real estate industry and bringing your vision to life.
Final Thoughts
The market's escalating property value has also triggered the IT industry, and it does make sense for the sector to be digitized. The real estate applications shall be the best option for helping people streamline their searching ways and methods and increasing awareness and revenue in the housing sector. A real estate application should take account of innovations and customer requirements and incorporate all best practices to attract more customers. You can hire a real estate app development company or a Mobile App Developer who has the expertise and the knowledge of implementing features and technologies properly and provide you with the best outcomes.
Interested in Real Estate App Development?
Boost your real estate business growth with our mobile app development services.
FAQ On Real Estate Application Development
It's a good idea to research competitors in the market, their apps, income sources, and features when you start building a real estate application. Making another Zillow clone is pointless: without even a fantastic idea, you'll never catch up with the company and cannot complete it without proper research and execution.
A real estate app can be monetized in a variety of ways. The following are the most common:
Advertisements within the app
Labeling in white (license your code and sell it to other companies)
Model of a freemium service (all people can use the app, but premium users have access to more features)
Hiring a Business Analyst: Assume you only have an idea and no information. With just that situation, you'll have to hire a Business Analyst to support you in analyzing rivals, creating a scope statement, and creating documentation. The same can be said for the current UI design of the upcoming app.
Development: The price is determined by the number of hours and programmers required to develop the features on your wish list.
Support and Maintenance: You'll need someone to address issues and monitor the app's functionality after it's released. If the product is a success, it's a smart option to extend its functionality in the future.
Investigate the market. Examine your competition (Trulia, Zillow) and develop a general idea for your company.
Make a list of characteristics. Generate a checklist of characteristics your real estate application ought to have depending on your research. The use of search, filters, descriptions, and photographs is necessary.
Gather rental and sale proposals. Your real estate app must be populated with offers as soon as possible when it is launched. That means you'll require a specific inventory of available rental and sale real estate.
Locate a software development firm. If you aren't an expert developer, collaborate with a development team or hire a real estate mobile application development company. If you're on a tight budget, consider outsourcing.
One of the most difficult aspects of building any real estate management solution is maintaining the existing and well-known brand image while presenting it in a fresh light in a way to attain out to new audiences.
It will be determined by a number of factors, including your app requirements. It would be more expensive than a normal app if you wanted a hybrid app with sophisticated features and the most up-to-date tech stack.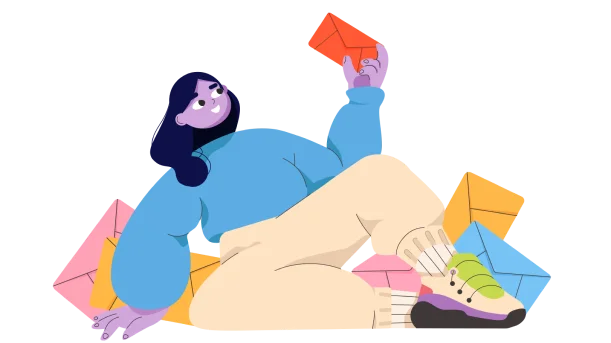 Don't Miss Out!
Your Inbox's New Best Friend. Subscribe Now and Never Miss a Beat!
Read More Blogs