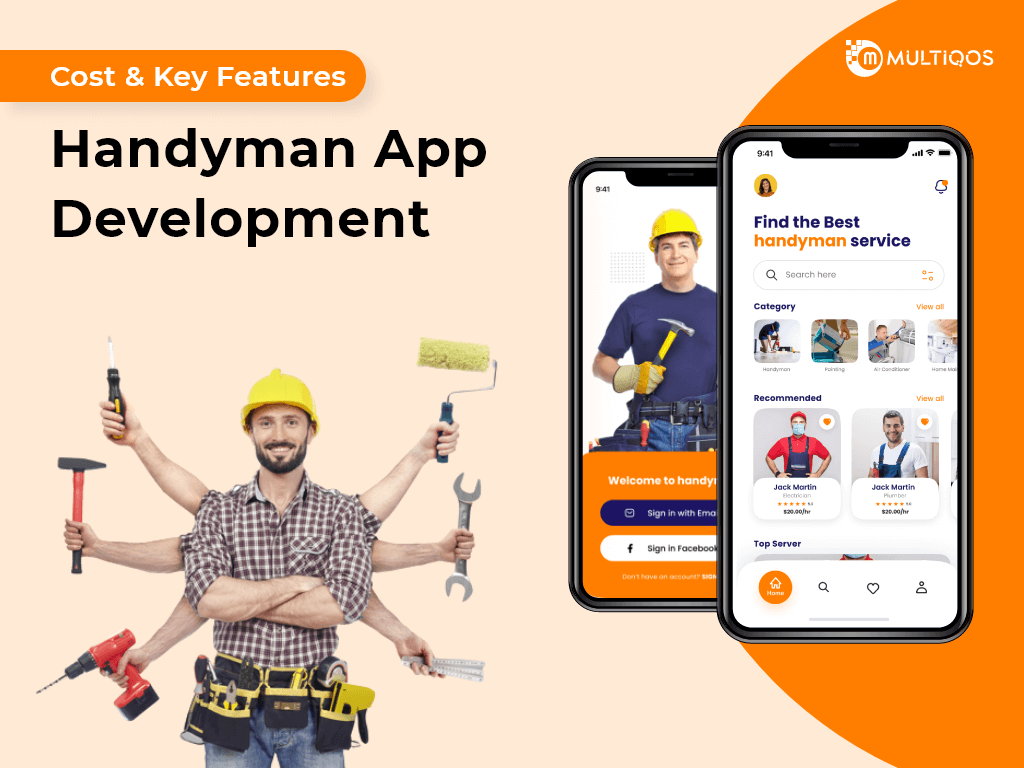 Mobile App
How Much Does It Cost to Develop an App Like Handyman in 2023?
Overview Repairing a broken faucet in your shower or rebuilding your old pantry space is no more a hurdle to cross. With the advent of on-demand applications, the process of…

Parth Thakkar
---
Overview
Repairing a broken faucet in your shower or rebuilding your old pantry space is no more a hurdle to cross. With the advent of on-demand applications, the process of getting hold of experienced contractors and designers has become quite quick and efficient. These apps for handyman services serve as a medium to cut down the time and effort and yet get hold of the best handyman services at your doorstep. 
In the past few years, these applications have become quite popular. 
Why? 
When you're unsure who to hire for repair or cleaning services, handyman services app like Uber are a reliable and secure option. Days are gone when one would have to comb the internet for such specialists, chat with a few, examine their credentials, and employ the experts.
Perhaps the apex of global automation and digitalization of all current services has arrived. Also, there are no longer any individuals who are shocked by online grocery shops, industrial online stores, and other internet-based services offered on desktop, mobile, and other ultra-modern devices, all of which are meant to relieve life of mundane activities.
The consumer services industry has not escaped the effects of globalization. Anyone may now use the app, search and read the reviews about any expert or services in general, calculate the cost of the procedure, schedule it, or even see purchase history using a smartphone.
Why Are On-Demand Handyman Service Apps Becoming Popular?
The demand for smartphone apps has soared during the covid-19 epidemic, which cannot be ignored. The one good thing that came out of this epidemic was that it increased the importance of digital solutions. 
In these tough periods, where individuals are cooped up in their houses with zero social activities, on-demand service applications have proven to be a lifesaver. It's the only thing that's kept us sane in the face of self-psychological isolation's torment. Although online shopping has been available for decades, the desire for handyman on-demand has increased in recent months. To sustain delivering items and services, most industries, including fashion, entertainment, manufacturing, and hyper-local marketplaces, are engaging in on-demand delivery apps.
Also Read: Best Techniques Every Startup Can Use to Retain Customers
Why Should You Invest in On-Demand Home Service Application?
With the Internet era, the tide of digitalization has moved dramatically, making it more difficult for enterprises to exist. With people's lives getting busier and the desire for easy-to-access services at home increasing, it wouldn't be incorrect to conclude that on-demand handyman services applications are the next big thing for companies.
UrbanClap and Uber are ideal instances of companies that have taken advantage of this business model and profited by simply assigning the right employees to the right jobs. On-demand home services, which were formerly considered a luxury, are now becoming a need in many parts of the world. 
Let's take a look at the numbers to see how home services apps may continue to grow.
What Kind of Services Can You Offer Through an On-Demand Home Service App?
Whether you're a startup or a well-known brand, you're intending to establish a home service app, but one of the most important decisions you'll have to make is what kind of on demand service apps you'll be able to construct. So, in this case, the question comes down to some million-dollar app concepts that you can turn into a viable solution.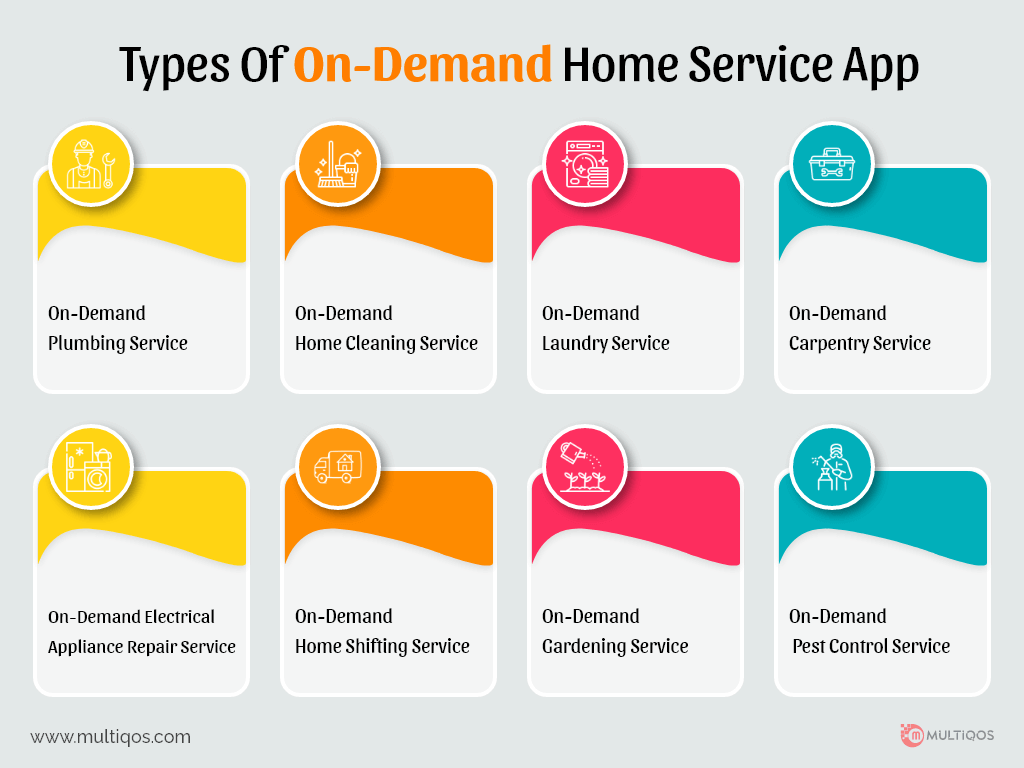 Let's look at the many types of services you may provide with on-demand handyman app development:
Home Cleaning and Repair Services include services like plumbing and electrician, geyser repair, washing machine, carpentering, TV, and fridge along with deep home cleaning. 

Tutoring and Teaching Services including online tutoring, home tutors, English tutors, mathematics tutor, commerce tutor, and subject tutor

Packers and Movers Services include services for packing and moving things, shifting homes, pest control, sofa shifting, and even kitchen shifting. 

Health and Wellness Services including Dietician, Yoga Trainer, Fitness Trainer, Body Wellness, Physiotherapy

Salon and Beauty Services include services like Spa, Massage Therapy, Nail Extensions, Facials, Hair coloring, etc. 

Miscellaneous Services include home interior and designing, modular kitchen development, architect, painters as well as CCTV camera and smart devices installation. 
What Are the Must-Have Features of an Ideal Handyman App?
Our specialists have compiled a list of essential handyman app features that must be included when developing on-demand handyman applications.
Easy Access to Services
Consumers would always like to have things done promptly, so finding a handyman in their area is a good idea. As a result of the GPS integration, clients will be able to find a handyman in their area without having to wait long. No service provider, on the other hand, would like to travel large distances for a task.
Variety of Payment Options
Since you're building Uber for handyman app, you'll need to provide a variety of payment choices. Customers will choose online payment methods since they are more convenient. As more individuals rely on digital payments, the situation has altered. As a result, incorporating digital payments is no longer an option, but rather a must. In addition, the payment system must be fully protected using the most up-to-date encryption technology.
Transparent Prices
Users do not want to use an app that has hidden prices, so make sure your handyman pricing software structure is clear to them. Every little price, such as a service fee, a price list, and so on, must be included in your app. It is preferable if you consider every part of the business and thoroughly assess the clients' expectations.
How Much Does It Cost to Develop an App Like Handyman?
To be honest, it would be difficult to identify all of the cost influencing variables for an app until it has been fully developed. An approximate estimate of Mobile Application Development Services, on the other hand, is always useful. The following are the most essential aspects that impact the overall cost of a TaskRabbit-like application:
Mobile application designing

Platform of choice
Developing on-demand handyman app with all of the features listed above will cost between $30k and $40k. However, because of the platform chosen, the design process, and a variety of other considerations, this is only an approximate estimate. 
Further, when implemented on native ecosystems, such as Android or iOS, the overall cost of producing the on-demand service provider app would be substantially greater. Also, when a cross-platform mobile application development framework like Flutter or Reactive Native is used for Mobile App Development Services, the cost gets significantly reduced. The UX design is yet another contributing factor to the overall cost as more detailed, fluid, and innovative the design is, the cost subsequently rises higher.  
Furthermore, regardless of whatever categories you want to include in your app, when you  building a handyman app you need a team of Dedicated Developers that can quickly turn your on demand handyman app development company concept into a flawless solution.
MultiQoS Expertise in On-Demand App Development
MultiQoS can help you construct an on-demand professional services app like Handyman. We are a dependable on-demand app solutions supplier with a focus on online B2B marketplaces applications, such as beauty services and food delivery.
Several businesses including TaskRabbit, Urban Company, Handyman, Ola, Uber, Zomato, Swiggy, Netflix, Amazon Prime, Airbnb Hire Mobile App Developer from MultiQoS to help them establish a strong online presence and increase income. Our team of experienced developers provides a slew of tips to build an on-demand handyman app that cater to a wide range of demands and expectations. 
Using our prior experience and technological skills, our skilled consultants can help you develop your idea and turn it into reality. We've previously assisted various firms in creating specific mobile applications for on demand handyman services, such as uber, so we're confident in our ability to provide value to your concept.
Conclusion
Currently, an on-demand mobile application service similar to Handyman is a very successful business concept. Launching an app that connects consumers to service providers is a brilliant concept, especially with the growing need for on-demand services and the growing desire of users to gain access to solutions quickly. If you want to pursue your ambition of becoming an entrepreneur by way of an app, this may be your greatest chance of success.
Do you want to create an for your company? Get in touch with us, discuss your ideas, and see the finished project take shape! Begin working on your ideal project right now.
Let's Create Big Stories Together
Mobile is in our nerves. We don't just build apps, we create brand. Choosing us will be your best decision.
FAQ About On-Demand Home Service App
Build Your Team
Book a Consultation Now!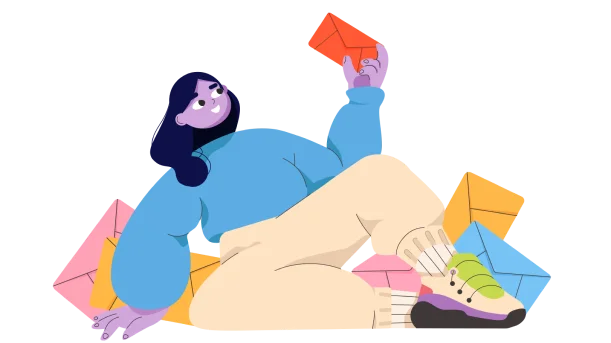 Don't Miss Out!
Your Inbox's New Best Friend. Subscribe Now and Never Miss a Beat!
Read More Blogs