Mobile App
How Much Does It Really Cost to Develop a Vehicle Inspection App?
The automobile industry is swiftly moving to the next level of intelligence with the development of autonomous vehicles and connected vehicle applications. Innovative connected car applications, in particular, are leading…
31 May, 2023
5 minutes read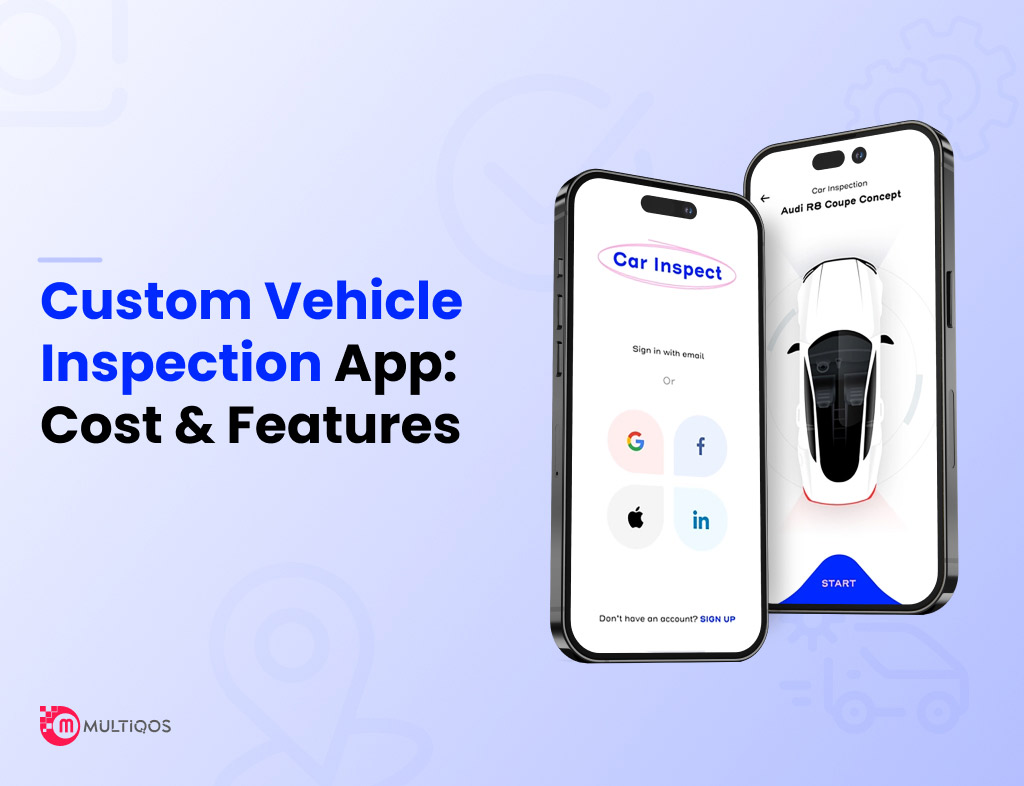 Table of Contents
The automobile industry is swiftly moving to the next level of intelligence with the development of autonomous vehicles and connected vehicle applications. Innovative connected car applications, in particular, are leading the charge to digitize the automotive sector fully. It offers numerous benefits, including high levels of security, an improved driving experience, car-to-car contact, and parking spot locating.
So, are you planning to go for vehicle inspection app development?
If yes, then this weblog is for you. In this thorough guide, we will discuss the development cost of car inspection applications and the factors which influence it. But before that, let us start by understanding the vehicle inspection app. 
What is a Vehicle Inspection App?
An on-demand service application that streamlines the repair and inspection operations is a car inspection app. Specialized car inspection software can automate several processes, such as creating inspection reports, sending real-time inspection notifications, collecting money, etc.
A specialized inspection software may additionally automate reports import/export, user notifications after services, discounts, and inspection scheduling. There are no words to describe the incredible advantages you receive regarding customer happiness and mobile-friendly services while increasing your business revenues.
Market Overview: Statistics
You should look at some facts concerning automotive mobile app development before digging into this blog post.
The automotive software industry is anticipated to grow to 13.9 billion USD by 2025, up from 2020 (USD 12.5 billion).

The globally connected car industry will reach 121 billion USD in 2021. 

In 2021, worldwide automobile income reached 66.7 million units, with most vehicle companies having their own specialized automotive apps to service their clients.
These crucial details shed light on the evolution of automobile websites. Making use of these modern trends has an impact on how much it costs to build mobile apps for the automobile industry. So, here are some of the most recent trends so you may develop your car inspection app solution with the finest user experience in mind.
The Must-Have Features of Car Inspection App
Advancement of Connectivity
It is one of the areas on which most automakers are concentrating at the moment. It includes WiFi connectivity, wireless musical instruments, and app-based automobile connectivity. You need to be careful when creating the app to ensure you will like it. Additionally, you must focus on security since hackers continue to attack these apps. They can operate the car appropriately if a problem arises. Creating and delivering a safe app might take much work for developers of automotive mobile apps.
One of the main trends in the automotive industry is autonomous driving. Only a select few people have access to this idea, even though it has generated curiosity among some but has yet to be widely available. If you intend to release your app, you can incorporate autonomous parking, driving assistance, and other aspects of autonomous driving.

Telematics-compatible application
A telematics device is an electronic gadget that transmits, gathers, and organizes data. It keeps track of car inspection services, including driving style, vehicle speed, braking pattern, and distance traveled between two points. Insurance firms frequently employ these tools because they lower insurance premium costs. In this case, you must create an app compatible with telematics devices.
IoT and connected vehicle technologies are closely intertwined. Sensors are used to facilitate data sharing. It can detect the vehicle's speed, engine output, and other motions. IoT apps are the way of the future, and the car sector has much room for them. The cost of developing an automobile app will increase with IoT, but the returns will be remarkable.
Nowadays, the majority of ultra-modern cars have internet access. Accessing clouds for navigation or locating an efficient path that can assist in getting to the target in the interim is made more accessible.
You should consider the aforementioned significant trends while creating the app for your automotive company. The best course of action would be to seek the assistance of a seasoned mobile app development company in dubai.
Cost Analysis for Developing a Vehicle Inspection App
An automobile app requires around 800 to 1000 operating hours to build on average. Costs increase due to various features and embedded technologies like the Internet of Things. Mobile app development often costs $20 to $100 per hour. 
According to this, the overall development cost for an automobile app with basic functionality would be between $25,000 and $40,000. The price of developing an automobile mobile app will increase if you need a more complex version.
Factors Influencing the Cost of Developing a Vehicle Inspection App
The mobile automobile app is a great mobile application that offers consumers and company owners several functions. However, a few factors affect the cost of custom vehicle inspection apps:
One of the main elements influencing the price of mobile application development is the type of mobile app. The features and functionality of these applications continue to be unique. These applications might be for online shopping, car maintenance, maps & navigation, or anything else.
Your selected platform influences the price of designing a dedicated vehicle inspection app. While developing an iOS or iPhone app can be pretty expensive, android apps are more user-friendly and budget fitting. You can also opt for hybrid app development if you are aiming to target both Android and iOS users.
The intricacy of an automobile app also dramatically impacts how much it costs. Apps fall into three categories: superficial, medium, and complicated. More features and functions equate to more complexity. As a result, the cost rises along with the complexity.
UX/UI components and designing become more crucial when giving users something appealing. The best design results in the best user experience, but it costs a little money to implement.
Mobile App Developers Team
As their employment costs are included in the entire car inspection app development cost, the team of mobile app developers impacts the price of developing automotive apps. If additional specialists are involved, the cost will increase. You may think of it as the app's complexity, and since the team of app developers is proportionate to each other, the cost applies to both of them. 
The majority of contemporary apps include built-in third-party APIs. The API integration makes apps more functional. As needed, pre-built software like payment gateways, SMS APIs, push notifications, and other features may be added to the app. It raises the overall cost of creating mobile apps for automobiles.
Developing the app tech stack, including app development expertise, is essential. It includes the framework, database, frontend development tool, backend development tool, and cloud platform. 
Also Read: How much does it cost to develop a Car-Wash Application?
Tech Stack to Develop a Custom Vehicle Inspection App
Here are the functionalities above that you can use for the development of your vehicle inspection mobile app:
Android App:

Java, Kotlin

iOS App:

Swift, Objective-C

Cross-platform App:

Flutter, Xamarin

Backend Tech:

Java, AngularJS, ReactJS, Python

Front-end Tech:

AngularJS, ReactJS

Payment:

Stripe API, PayPal API

Database:

MySQL, PostgreSQL

Cloud Platform:

AWS, Google Cloud, Microsoft Azure
Why Choose MultiQoS for Vehicle App Development?
Every sector is transitioning to a mobile-friendly platform with the advent of digitization, and vehicle inspection is no different. Therefore, investing in on-demand app development is the right choice if you seek a contemporary strategy to increase your company's revenue. You can target your audience by providing them with a mobile-friendly approach and an online car inspection app. You can opt for hiring mobile app developers from MultiQoS and discuss your forthcoming project to estimate the average cost of creating a mobile app for the automotive sector.  
Conclusion
The car industry is one of the significant industries that is growing significantly. Owners of automobiles need creative solutions, and automakers must implement them. An excellent tool for this is a mobile app. Launching an on-demand services application is the finest thing you can do for your customers if you own an automotive company.
Frequently Asked Questions (FAQs)
FAQ about Custom Vehicle Inspection App Development
While it could take three to five months, the cost might change significantly depending on the rate of development and the engagement model.
Through the use of digital vehicle inspections, businesses may provide more outstanding customer service. The vehicle inspection procedure, including pre-inspection, damage detection, and claim evaluation, is expedited.
Modernizing automobiles, they deploy cutting-edge technology like cloud computing, information sharing, and IoT data analytics. You can measure variables like temperature and engine performance with IoT sensors.
Build Your Custom Automotive App Now!
Unlock Automotive Innovation with MultiQoS: Advanced, Feature-rich App Development for On-Demand Solutions.
Your Trusted Tech Partner!
We develop digital products that enable you to embrace innovation and unlock opportunities.
Talk To Our Experts
Subscribe
Newsletter
Get our latest blog posts, research reports, and thought leadership straight to your inbox.