eCommerce
How to Develop a Retail & eCommerce App Like Walmart?
A retail mobile app enables companies to connect vendors with customers and exchange services. Along with providing vital opt-in data collecting to learn more about client behaviors, purchasing preferences, and…
29 May, 2023
7 minutes read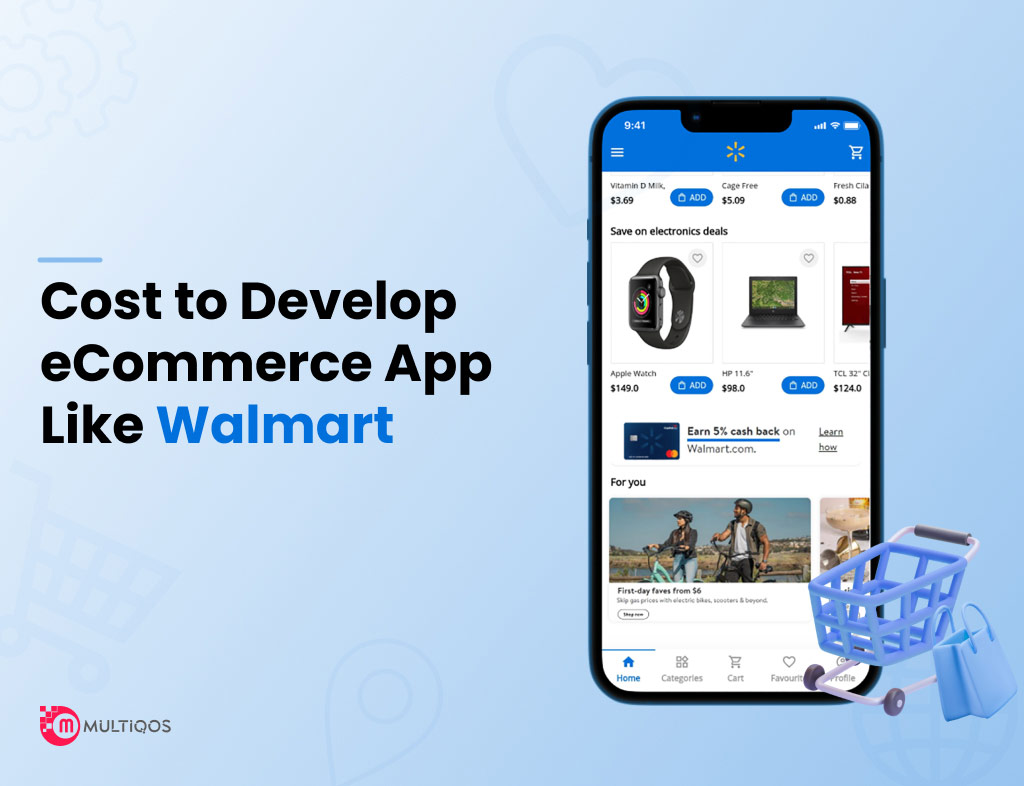 Overview
A retail mobile app enables companies to connect vendors with customers and exchange services. Along with providing vital opt-in data collecting to learn more about client behaviors, purchasing preferences, and patterns, these applications also make it simple for retail firms to up their online trading game. This allows businesses and other business owners to plan their strategies better and enhance the consumer experience. Further, retail app development works like a miracle when it comes to assisting customers and businesses. Shop owners may now quickly inform their customers of new services and goods.
Market Insights: Growth and Statistics of Retail Mobile Apps
Let's start by learning some fascinating facts and figures about Walmart and the online retail and food market. As the on-demand grocery market expands quickly, there is much to research and be inspired by.
According to MarketsAndMarkets, the size of the worldwide retail analytics market is anticipated to grow at a CAGR of 21.2% to $11.1 billion by 2025.

According to a Statista poll, 21% of respondents said they used retail apps more than once a day, while 22% said they used them very often.

Walmart topped the list of shopping applications in the United States in 2021, according to Statista, surpassing Amazon, which had 98 million monthly users.
After reviewing the primary market data for mobile retail apps, let's examine Walmart's operational structure and the various elements affecting the app development cost.
Advantages of Building Retail Mobile Apps like Walmart
Businesses now always invest in booming industries because they perceive them as secure. By developing an online retail application, you will get a clone of an already successful grocery app similar to Walmart. It can help you in the following ways:
Engaging a Wide Range of Audiences

Improving Brand Visibility

Increasing Sales and Profit

Utilizing Advanced Technologies

Improving Customer Experience

Discount & Loyalty Program

Analyzing Customer Behavior

Capturing Global Audiences

Offering In-App Brochures
Top Retail Mobile Applications: List of Noteworthy Apps
Around us, several applications resemble Walmart and are used by users from all over the world. Therefore, before Walmart's app development, every company that wants to enter the same market must consider these well-known retail applications. Learn more about them here.
Sephora:

The Sephora app is a well-known personal care and cosmetics retailer from France. With regard to the Sephora collection, its own private label, there are around 340 products included. Additionally, the app offers products in areas including skincare, cosmetics, manicure, fragrance, body lotions, and haircare. Genuine consumer testimonials and suggestions are available for Sephora. The app also allows users to virtually test out various cosmetic items like foundation, lip colors, etc.  

AR IKEA:

By allowing users to install 3D furniture or models of exact size in their homes, this software leverages virtual reality to assist users in deciding what they want. It is the most popular and successful method for assessing the house's appearance after adding furniture. The combination of IKEA's furniture catalog and augmented reality technology offers you a never-like-before experience. IKEA has made it simple for people to buy furniture for their homes or places of business.

Starbucks:

The best retail app in the world is said to be Starbucks. One-fifth of all sales are generated through its app, offering other advantages. Customers may quickly pay and earn stars and rewards through the Starbucks RewardsTM loyalty program with the help of the Starbucks app. This software allows users to order, identify the closest store, and make payments online. It enables clients to place orders right now and skip the long queue.

Target:

It is worthwhile to try if you are considering developing a retail app similar to Target. App users may easily shop from any location and on any device. Additionally, it enables app users to voice search their entire collection with compliance purchase choices and online advertising. They also offer their users the option of having their order delivered to their address or picked up directly from the store. The software, which has a rating of 4.9, helps users locate and scan products and notifies them when their chosen item is back in stock.  

Best Buy:

The Best Buy app is not only a fantastic mobile shopping app. Users may track their orders as well as make direct purchases here. Users may pick up their orders from the store at a specified time using the app. Users are saved from waiting in lengthy payment lines and shopping carelessly. Best Buy has ranked among the top 10 retail apps because it provides customers with product information. Users may also examine a 3D preview of the product if they'd want to be sure before making a purchase.   
Apart from these, another trustworthy and popular application in the world of online retail is WALMART. 
Also Read: How IoT is transforming the eCommerce industry in 2023
What Is Walmart's Mobile App?
American retailer Walmart is a well-known multinational brand with a huge chain of grocery shops, clothing stores, home goods stores, and other establishments. Users of their retail app may explore, purchase, and make payments for items from one or more online shops. Sam Walton founded Walmart specifically in 1962. Its headquarters are in Bentonville, Arkansas, and it runs over 11,438 stores and a club with over 27 different names in various countries. 'Walmart' is a retail app ranked as the second-most well-known and largest retailer globally.
The introduction of the Walmart grocery app has provided advantages for both customers and companies. Small- to medium-sized businesses increasingly release retail mobile applications to engage their customers significantly. The app has established a reputation as one of the top apps for grocery shopping lists since users have been using it to fulfil their food demands for a long time. When shopping, customers may utilize the app in two distinct ways. After placing their products in the basket, customers can have them delivered to their door or pick them up from the store.
How the Walmart App Works?
The Walmart app, one of the most well-known eCommerce applications, features straightforward and quick navigation for its consumers. Before hiring mobile app developers to construct a Walmart-like application, you must thoroughly understand how it functions. Here are the steps of how the app operates:
Register for the app and download it from the store.

Search for the things you wish to purchase or locate them using the category.

Add things to the cart and proceed with the next step.

Select either the option to "do payment" or the option to "pick it up from the store."
Users can buy groceries or other items while relaxing at home using this process. You are no longer concerned about lost opportunities, incorrect deliveries, missed opportunities to purchase anything, etc. You only need to launch the app and start shopping. The program offers several methods for paying for the goods, including GPay, debit/credit cards, and others.  
Critical Components to Include in a Retail App like Walmart
An app's features must benefit employees, consumers, and merchants. Some capabilities may only be available in grocery delivery apps, while others may still be restricted to most shopping apps. We will talk about the same topic in this part.
The following are the main elements that a grocery app should have:
Easy registration, sign up & login

Customer profile creation & management

Intuitive search, filter & navigation

Effortless ordering and delivery tracking

Multiple payment & shipping options

Review and rating collection

Multilingual & localization support

Loyalty & rewards program

Social media integration

Push notification scheduling

In-app chat support

Ad & monetization support

App usage data analytics

Step-by-Step Guide to Developing an app like Walmart
 With our detailed explanations and step-by-step instructions, you can learn how to create your delivery app similar to Walmart. You may launch your app using the strategy that best fits your financial constraints and company objectives. So, let's start!
Step 1: Carry Out Proper Research
Give adequate market research plenty of time. This will assist you in streamlining the procedure and directing your efforts appropriately. You may save valuable resources by avoiding resource waste by having a working understanding of the market, consumers, competitors, etc. The following should be the main areas of focus:
Knowing your competitors

Identifying the target audience

Learning about the latest trends
Step 2: Identify Your Business and Delivery Model
Once your study is complete, develop your company and service plan. Your business model will establish how you wish to operate your online grocery shop, and it should be based on things like logistics, company objectives, market demands, etc. Following are a few well-liked grocery business models:
Inventory model:

The platform is used to hold the inventory from various retailers or service providers.  Customers place the order, which is then provided via an internal or external distribution network. Regardless of the seller or vendor, orders are delivered with the platform's branding.

Online sales model:

This is The most often used online model. In this case, the platform primarily serves as an aggregator, and money is generated via commissions paid to vendors and delivery partners, membership fees, subscription fees, adverts, promotions, and even the sale of one's own goods.

Hyperlocal Model:

The hyper-local market is founded on the practice of selling within a limited area, as the name would imply. Local shops are the real competition here, and the USP (unique selling proposition) is often swift delivery and fresh, local products. This is a fantastic approach to start small and eventually progress to higher levels.

Multi-vendor marketplace:

This approach is comparable to the inventory model, except that the platform does not manage the supply. The software only links clients to nearby merchants and sends orders to them via an intranet. This is the strategy that Amazon uses.

Shopping model:

Although this approach is similar to multi-vendor, customers cannot choose which retailer to purchase from. The product, not the retailer, is the model for the purchase. The suppliers may also be responsible for shipping the products and fulfilling customer orders. Instacart adheres to this business strategy.
Step 3: Develop a Retail App with Your Preferred Method
App development is all about selecting the appropriate approach and strategy. Spend cautiously and keep an eye out for hidden fees, terms of growth, potential delivery delays, etc., since all of these things can either speed up or slow down your progress, depending on your decision.
You may design your grocery delivery app using any of the methods for app development listed below:
Utilize the code-free app builder at AppMySite to create your app.

Learn the fundamentals of programming and create low-code applications.

Hire freelancers or organizations to handle the development
Step 4: Market your grocery app
Once the app is operational, you may begin advertising it to increase downloads and provide a jumpstart. You must put App Store Optimization ideas into practice if you want your app to rank higher and be more visible. Start spreading the word about it among your email subscribers, current clients, website pages, social media handles & channels, and more.
Also Read: Cost to Build an E-Commerce App Like Idealz
How Much Does It Cost to Build a Retail App Like Walmart?
Without a doubt, creating a mobile app like Walmart will be costly. The development cost might range from $30,000 to $60,000, depending on the Walmart app features and functionality you want to incorporate into your app.
How can MultiQoS Help Develop Apps like Walmart?
Leading retail eCommerce app development company, MultiQoS, can provide you with a feature-rich solution that helps you with both consumers and business. While assisting consumers with the in-store customer onboarding processes will enable them to learn about the product's current condition. Our ecommerce app developers assist companies with choosing the best tech stack, developing an MVP, and broadening the app's scope. Increase the likelihood that your app will be successful by releasing and promoting it correctly with the assistance of a seasoned business like us.
Conclusion
You'll attract repeat business by providing consumers with a flawless buying experience through your app.  With all of the information provided above, it may be evident that retail apps are the upcoming IT industry hot trend and will be around for some time. Thus, as an enterprise, you should exercise extreme caution when choosing an app development firm, ensuring that they fully comprehend the information you have provided and can create an app that offers a beautiful shopping experience.
Frequently Asked Questions (FAQs)
FAQ about Retail & eCommerce App Development
The most common monetization strategies you can implement include Promotion, Affiliate Marketing, Data Monetization, Freemium Model, and Virtual Currency Implementation.
Yes. In this context, it is essential to emphasize the category algorithm and the keyword algorithm.
Several variables influence an app's development time. While traditional app development typically takes six to eight months, careful preparation and research will enable you to maximize the most of your time.
Start Retail App Development for your business!
Customized retail app solutions with advanced technology, quality delivery, and ongoing support from a reputable company.
Your Trusted Tech Partner!
We develop digital products that enable you to embrace innovation and unlock opportunities.
Talk To Our Experts
Subscribe
Newsletter
Get our latest blog posts, research reports, and thought leadership straight to your inbox.