Mobile App
How Much Will It Cost to Build a Fantasy Sports App in 2023?
In recent years, fantasy sports have surged in popularity, with approximately 100 million players currently engaged in them, and further growth is anticipated. The significant market size underscores the immense…
24 July, 2023
9 minutes read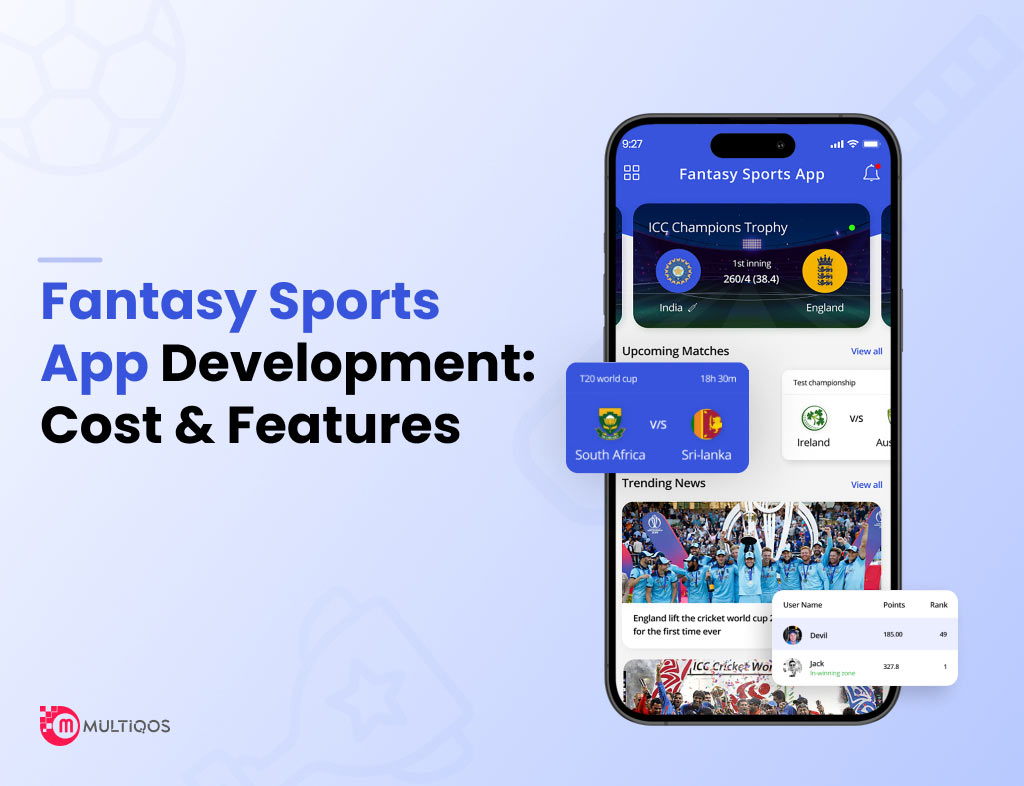 In recent years, fantasy sports have surged in popularity, with approximately 100 million players currently engaged in them, and further growth is anticipated. The significant market size underscores the immense potential. It presents a challenge for mobile app development companies to craft a strong and reliable solution for the ultimate fantasy sports app.
Fantasy gaming apps have gained immense popularity globally. Initially, they provided virtual indulgence in your favorite sports, but now the market has undergone a significant transformation. The sports betting industry is rapidly growing, leading to a surge in fantasy sports app ideas covering various sports like cricket, sports, basketball, and hockey. Fantasy sports app development is rising to cater to sports enthusiasts worldwide.
There has been remarkable success achieved by the top players in the field, such as Dream 11, DraftKings, FanDuel, and CBS Sports Fantasy. For those seeking to enter this market, the time to develop your own fantasy app has arrived. By collaborating with a fantasy sports app development company, a swift launch for your business can be ensured.
According to Statista, the online sports betting market is projected to grow at a 9.77% CAGR (2023-2027), reaching a market volume of US$2.47bn by 2027, with an estimated 17.38m users.
The current scenario highlights the market size and potential of fantasy sports. This presents a challenge for mobile app development companies to create the most comprehensive fantasy sports app.
Football & Cricket holds a prominent position as one of the most globally beloved sports. Its popularity transcends mere athletic competition, becoming an emotion and, for some individuals, an all-encompassing passion. The ongoing debate surrounding Ronaldo versus Messi dominates discussions, overshadowing all other comparisons. 
In this blog, a comprehensive exploration of fantasy sports app development awaits, with a thorough examination of the costs and features involved in bringing your dream app to life. Covering the latest technology stack and user-friendly design, we'll uncover the essential elements that guarantee your app's success among sports fans worldwide.
Get ready to excel in app development as we uncover the exact cost of turning your fantasy sports app dreams into reality!
What Is Fantasy Sports App?
Fantasy sports apps (DFS apps) let users create teams with real-life athletes, track their performance, and earn points based on in-game results. Fantasy sports goes beyond being a mere online game. It offers an exhilarating and immersive experience that delights sports enthusiasts worldwide. It serves as a virtual platform in the form of a premier league fantasy sports app where fans can unleash their inner team manager, strategist, and coach by hand-picking real-life sports players from professional leagues to form their dream teams and compete against friends. Fantasy sports applications offer a variety of fantasy sports, including Cricket, Soccer, Basketball, Rugby, Baseball, Golf, and more to suit your preferences.
What enhances the experience even further is the integration of real-world sports knowledge. It enables players to devise strategies and celebrate joyously upon victory with their virtual teams. Users may build their own leagues, play in matches, select players, participate in virtual leagues, win prizes, and even accumulate reward points based on how well their players perform in actual matches. 
In other words, fantasy sports applications present an incredible opportunity for users to indulge in competitive gameplay, strategize, and relish a replicated sports experience. These applications can be accessed through web browsers or mobile devices, catering to sports fans who relish the competitive aspect of managing their virtual sports teams.
Types of Fantasy Sports Applications:
Daily Fantasy Apps (DFS): 
Daily Fantasy Apps offer fast-paced and short-term fantasy sports contests. Users can draft a new team for each day or week, depending on the sport. These apps provide an exciting experience for users who prefer quick challenges and immediate results. Example: DraftKings.
Season-Long Fantasy Sports Apps:

 
Season-Long Fantasy Apps cater to traditional fantasy sports enthusiasts who enjoy managing their teams throughout an entire sports season. Users draft their teams at the beginning of the season and make changes as the season progresses. Example: ESPN Fantasy Football.

Multi-Sports Fantasy Apps:

 
Multi-Sports Fantasy Apps cover a wide range of sports, allowing users to participate in fantasy leagues for various games like football, basketball, hockey, baseball, and more. These apps attract users with diverse sports interests. Example: Yahoo Fantasy Sports.
Social Fantasy Sports Apps:

 
Social Fantasy Apps emphasize the social aspect of gaming, allowing users to compete with their friends, create private leagues, and interact through chat and leaderboards. These apps provide a fun and engaging experience for users who enjoy friendly competition with their social circle. Example: Fantrax.
Niche Fantasy Sports Apps:

 
Niche Fantasy Apps cater to specific sports or leagues, targeting a specialized audience. These apps offer a unique and tailored experience for users passionate about niche sports like golf, rugby, or esports. Example: SuperBru (for rugby fans).
Betting-Focused Fantasy Apps:

 
Betting-Focused Fantasy Apps combine elements of sports betting with fantasy sports, allowing users to bet on the performance of their fantasy teams or individual players in real-world games. These apps add an extra layer of excitement and potential rewards for users. Example: FanDuel Sportsbook.
Each type of fantasy sports app offers a different experience, catering to a wide range of preferences and interests in the world of virtual sports management and competition. Users can choose the app that best aligns with their gaming style and sports preferences to enjoy fantasy sports.
Top Fantasy Sports Apps Dominates in 2023
Before we proceed, let's shed light on the leading sports betting game that currently dominates the market. These apps serve a broad spectrum of users, including both newcomers and seasoned fantasy sports players. Offering features such as real-time updates, customizable leagues, draft tools, live scoring, and player statistics, these apps stand as formidable competitors in the industry.
To build your own fantasy sports application, it can be beneficial to draw inspiration from these five prominent sports apps that have established their dominance in the realm of fantasy sports:
ESPN Fantasy Football App

Yahoo Fantasy Football App

CBS Fantasy Sports App

DraftKings Fantasy Sports App

NFL Fantasy Football App

DraftKings Fantasy App
Essential Features to Include in the Fantasy Sports App
The notion that features serve as a fantasy sports app's essence and propelling factor is widely acknowledged. This understanding emphasizes the significance of incorporating fascinating features into your platform with the help of dedicated fantasy sports app developers. Therefore, it becomes crucial to meticulously consider the selection of fantasy sports app features for both apps: the user and the admin.
Must-Have Features for the Users

It is essential to carefully consider the information required during this step, ensuring that only necessary details like personal contact number, email address, and a unique username are recorded.
This page offers filters that allow users to customize their search based on preferences such as sport type, date, match type, and tournaments, among others.
In this section, users can view the details of the contests they participate in. It will provide filtered information based on criteria such as winning amount, entry fee range, number of winners, contest type, prizes, and contest size.
The "Join Contest" feature enables users to participate in fantasy sports games. Users must pay a certain entrance fee in order to participate in the competitions.
The profile settings feature grants users a unique identity within the sports app. Users may add personal details like profile images and names to personalize their profiles. Additionally, users can access their reward points, account details, transaction history, bonuses, referrals, and other relevant information within this section.
Must-Have Features for the Admin

The dashboard serves as an interface where the admin can access various statistical figures related to the number of matches played, total player count, and overall earnings generated by users in the app.
Thanks to this functionality, users now have total control over their accounts. Using this feature, administrators can amend their account information and, if necessary, take steps to delete or deactivate their accounts.
The contest management feature allows the admin to oversee and coordinate ongoing contests efficiently. It enables handling contest categories, making additions or modifications, and even deactivating contests if necessary.
This functionality enables the admin to view comprehensive earnings details of users, providing insights into their financial achievements.
The report management functionality empowers the admin to access various report types, including player ranking reports, earning reports, and more. These reports are essential for keeping users interested in and motivated by the application.
How Much Does It Cost to Create a Fantasy Sports App?
When contemplating the development of a fantasy sports app, the initial consideration is often the associated cost. However, as the price varies depending on several criteria, figuring out the precise cost of fantasy sports app creation takes work.  When considering the development of a fantasy sports app, the primary concern is the associated cost. Fantasy sports app development services costs can be challenging, as it depends on various factors. These factors include the number and complexity of features, the technology stack chosen, and the platform for deployment. 
Factors Affecting The Cost Of Building A Fantasy Sports App
Prior to commencing the development of a mobile app, it is crucial to decide on the platform. Android app development and iOS app development are widely recognized platforms for app creation. 
An application incorporates specific technologies tailored to meet the project's requirements. Metaverse, IoT, AR/VR, and AI in sports are notable examples of technologies that can significantly impact an app's performance and overall development cost. Choosing a programming language for an app's development also affects how much it will cost.
The type of sport is crucial to app development costs. Each DFS app varies in cost based on the sports it covers, with fantasy football and fantasy cricket applications being among the most demanding and expensive ones.
3rd Party API integration:
Furthermore, integrating your app with third-party platforms can also affect prices. The development cost will depend on the number of 3rd party integrations and the value of the platforms chosen.
The location of the selected development company is a crucial factor that impacts the overall cost of fantasy sports app development. For instance, app developers in the US or Canada often bill between $30 and $40 per hour, whereas those in Asia, such as India, typically charge between $15 and $20 per hour.
App features play a significant role in determining the cost of fantasy app development. Including various features and functionalities adds complexity to the app development process. Basically, the more features your software has, the more complex it is, requiring more time and work to create.  These factors represent just a few examples of what influences the overall cost of fantasy sports app development. 
These are just a few of the numerous factors that impact fantasy sports app development cost. We will explore these factors later. For now, it is reasonable to estimate that building a fantasy sports app may range from $25,000 to $50,000 for an MVP version. This may range from $35,000 to $60,000 for an advanced version.
Technology Stack for Fantasy Sports App Development
In the process of developing an exceptional fantasy sports app, selecting the right technology stack is just as crucial as focusing on design and user experience. By choosing the appropriate combination of technologies, you can ensure your application is fast, reliable, and enjoyable to use.
Familiarizing yourself with the right technological stack will enable you to create more informed and productive applications. Let us check the right tech stack for developing a fantasy sports application: 
Sports API:

GoalServe, RapidAPI.com
Front-End Development Languages:

 JavaScript, CSS, HTML
Back-End Development Languages:

Java, Ruby, PHP
Database Management:

MongoDB, MySQL, Cassandra, HBase
Front End:

JavaScript, CSS, HTML5
Cloud:

Google Cloud, Azure, SalesForce
Payment integration:

PayPal, NetBanking, E-wallets
Push Notifications:

Urban Airship, Amazon SNS, AdPushup
Real Timeout Analytics:

IBM, Cisco, Apache, and Big Data
Also Read: Top Sports App Ideas For Startups to Consider in 2023
What Are the Best Ways to Make Money with Fantasy Apps?
The popularity of fantasy sports apps is on the rise. It is common to find fantasy sports apps on mobile devices. Entrepreneurs aim to create their own apps and must know effective monetization techniques for success. Here are some effective ways to make money with a fantasy app:
Entry Fees and Contests: Charge users to participate in fantasy leagues or tournaments.
Advertising and Sponsorships: Display targeted ads and collaborate with sports brands for sponsorships.
In-App Purchases: Offer virtual goods or premium content for additional features.
Premium Subscriptions: Provide enhanced benefits through a subscription-based model.
Partnerships with Sports Leagues and Teams: Collaborate with sports organizations for exclusive content.
Data Licensing: License valuable app-generated data to sports analytics companies or media outlets.
White Label Solutions: Offer technology and platform licensing to other businesses.
Affiliate Marketing: Partner with sports retailers, ticketing platforms, or streaming services for commissions.
Remember to prioritize user experience and transparency to build trust and ensure success.
Why Choose MultiQoS for Fantasy Sports App Development?
Fantasy Sports app popularity has reached remarkable heights, making it challenging to enter the market. However, the industry offers tremendous potential and chances, and with a well-made product, it is still feasible to carve out a niche for oneself.  To achieve this, signing up for fantasy sports software development with distinctive features and an extraordinary mobile gaming experience is crucial. Partnering with the top fantasy sports application development company like MultiQoS can help you achieve exceptional results and assist you in establishing your product amidst fierce competition. 
No matter what sport or fantasy app idea you have in mind, our team is ready to turn it into reality. We have the expertise and experience to handle various sports and gaming concepts. This ensures that your app meets the highest standards of innovation and user engagement.
Partnering with MultiQoS brings a range of compelling benefits:
Vast Industry Experience:

Our expertise in fantasy sports game development ensures in-depth market knowledge.
Cutting-Edge Technology:

We consistently update your app with the latest features, providing users with a superior experience through advanced technologies.
Furthermore, we keep up with the latest trends and advancements in the mobile app industry. This ensures that your fantasy app stays competitive and relevant in the fast-paced market. Whether you want to focus on a single sport or create a multi-sport platform, we have the versatility to cater to your specific needs.
Wrapping Up
And there you have it! We trust that this comprehensive guide on the cost of fantasy sports app development has provided you with valuable insights into budgeting and cost management. Whether you're an experienced fantasy sports player or a newcomer, you now have everything you need to build the best fantasy sports app. Prepare yourself for an exciting journey into the realm of fantasy sports app development! So, if you're ready to take your fantasy app idea to the next level, our team at MultiQoS is here to make it happen. Let's collaborate and create a fantasy sports app that stands out and captures sports enthusiast's hearts.
Frequently Asked Questions (FAQs)
FAQ on Sports Application Development
To create a top-notch fantasy sports app, conduct thorough market research. Next, hire fantasy sports app developers, select the appropriate technology stack, and start the development.
You may generate considerable money through various monetization strategies, including adverts, in-app purchases, item sales, fees and commissions, and subscriptions by making excellent fantasy sports applications.
Building a fantasy sports app can take weeks to months, depending on complexity and features, including app development, testing, and refinements before launch. Timeline may vary based on functionality.
A. Fantasy sports app development costs vary based on complexity and features. MVP versions cost $25,000-$50,000, while advanced versions range from $35,000-$60,000.
Yes, MultiQoS lets you hire dedicated developers for your app project, offering expertise and efficiency. Our team is ready to collaborate on small or large-scale projects, delivering exceptional results to meet your app development needs.
Yes! We offer a wide array of innovative features, including AI capabilities and the latest visual enhancements, to elevate and enrich your fantasy sports app.
There are several frameworks for fantasy sports app development, such as React Native, Xamarin, PhoneGap, Titanium, etc. The choice depends on your specific project requirements and development preferences.
MultiQoS is the ideal choice for fantasy sports app development due to our skilled developers, impressive tech stacks, commitment to on-time delivery, focus on quality control, and all the essential aspects to build a fast and robust application structure.
MultiQoS highly experienced sports app developers can create fantasy applications for any sport, including football, cricket, basketball, golf, baseball, and more.
Got a Unique Sports Game Idea?
Our experts can turn your ideas into reality. Get in touch now for a complimentary consultation.
Your Trusted Tech Partner!
We develop digital products that enable you to embrace innovation and unlock opportunities.
Talk To Our Experts
Subscribe
Newsletter
Get our latest blog posts, research reports, and thought leadership straight to your inbox.