Mobile App
How Much Does Custom App Cost: Factors that Affect Your Budget
Introduction Over 100,000 and 30,000 new apps are launched each month on Apple App Store and Google Play, respectively, according to data. There is an app for everything nowadays. Users…
13 June, 2022
5 minutes read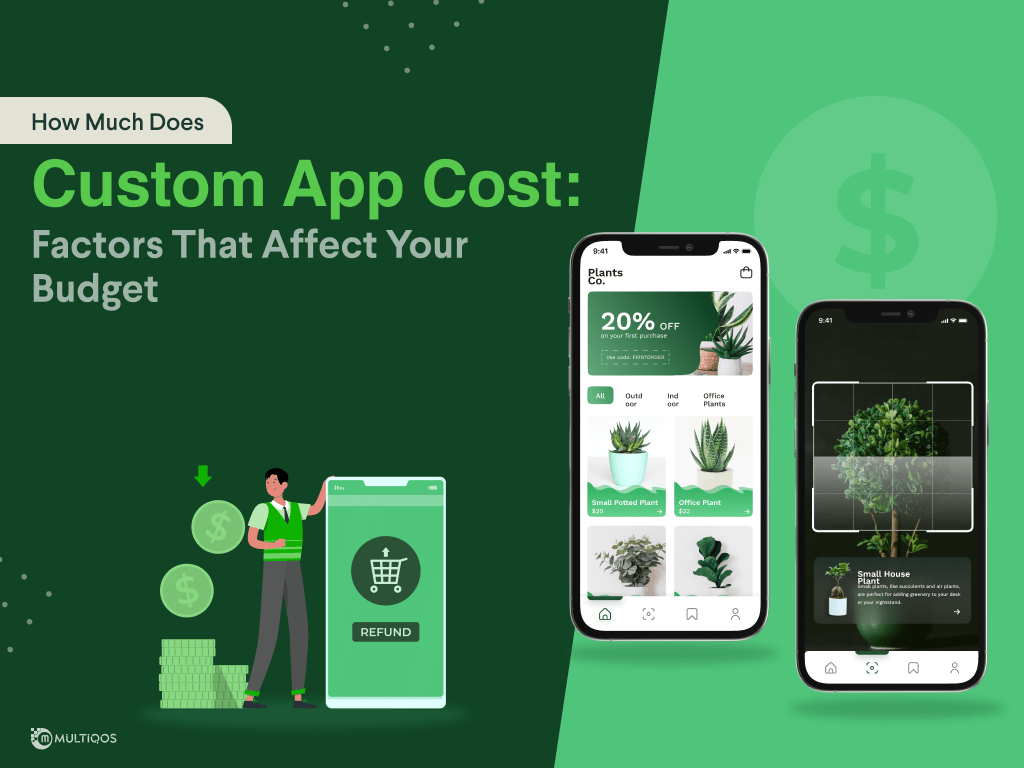 ---
Introduction
Over 100,000 and 30,000 new apps are launched each month on Apple App Store and Google Play, respectively, according to data. There is an app for everything nowadays. Users can use their smartphones to order, book, pay, and do other things. Furthermore, global mobile app revenue will reach $935.2 billion by 2023. These figures demonstrate that the mobile app sector is here to stay. Business owners all over the world are gravitating toward the idea of developing their apps. When it comes to designing a mobile app, the initial concern is how much it will cost.
The cost of developing a custom app is entirely dependent on your needs and expectations. The interface and purpose of an application, UX design, complexity and functionality, data migration requirements, and integrations with other services are just a few factors that influence its price. Read further to understand more about the Custom app development cost.
Critical Factors That Impact Custom App Development Cost
Some of the factors that impact the custom application development costs are:
A Platform for Developing Your App:
Native applications and Cross-platform apps are two main areas to consider when picking a platform to create your application on.  
Native App Development: Native applications are mobile applications that only operate on one platform, either Android or iOS. Since they are designed and optimized for a particular platform, they provide excellent performance. It is important to note, however, that native apps are quite difficult. You will need two distinct development teams to produce an app for iOS and Android. And the price will almost certainly double. As a result, native app development is costly.
Cross-Platform or Hybrid App Development: As the name suggests, these applications are developed using both native technologies. This is the best option for releasing your software to a greater audience. Furthermore, compared to native apps, the development and maintenance costs are low.
Complexity and Size:
The price of a software program tends to rise in direct proportion to the number of screens or pages it contains. Furthermore, more logically complex software will necessitate more development time as well as more QA and testing personnel to ensure that it functions properly and is error-free.
Complexity of UX/UI Design:
The overall software development industry has changed its attention to users, their needs, and user experience. Customers may select and choose from a wide range of apps that offer simple navigation, fast performance, and clear design. This is why budgeting for building design is an important step in custom software development cost estimation. The cost of custom mobile app development would include personalized UIUX design, including icons, fonts, buttons and other elements. Although UIUX designers are expensive, experienced designers will make your app look visually appealing and provide a positive user experience.
Migration of Existing Data:
After completing a task employing third-party software, you will likely wish to transfer the data from that program into your own. Creating the translation rules, trying to write the migration scripts, and executing tests and adjustments can all add to the project's costs.
iOS vs Android:
We recognize that choosing between an iOS app and an Android app might be tough. However, if your business requires an app for both operating platforms, you must create an Android and iOS app from scratch with separate development teams. The development time will be longer, and the cost will be higher. Android app development costs 30% more than iOS app development because Android app development necessitates more coding and the use of XML layout and fragmentation, which increases the number of hours of work and time required.
Apps Features and Functionalities:
The price will increase when you incorporate more features and functionalities. You must pay a substantial amount of money to develop a custom app to meet your requirements. Apps are classified into three types: simple, medium, and complex, and the price shall vary accordingly. Developing your app will be quite expensive if you need to provide a better experience and include graphics, 3D objects, and complex visuals.

Integration with Third-Party Software:
Integrations with off-the-shelf apps or accounting software are routinely requested by software development firms. Incorporating outer software can initiate many unknown factors into the equation, potentially increasing the project's cost depending on its complexity.
User Experience Complexity:
The custom app development cost will rise in tandem with the complexity of the user experience. Considerations regarding the user interface, such as bespoke animations and transitions, may increase the cost of development.
Hardware Specifications:
Hardware and software development may be required for IoT (Internet of Things) applications. Working with a company with great detail and experience in multiple skillsets is required, significantly increasing the project's cost and complexity.
Ongoing Maintenance and Assistance:
The cost to develop an app does not end with the application's release. If you abandon the application immediately after it is released and fail to monitor it on a regular basis, you may end up with outdated software. Without regular maintenance, updates, bug fixes, and the addition of new characteristics, your customers will lose all interest and opt for a relatively new and more innovative solution on the market. The average app maintenance cost should be between 15% and 20% of the total project app development budget.
App Security:
Despite the importance of app security, many organizations disregard it. Your application must store personal information retrieved from users secure, as losing data may make you appear untrustworthy to your current and prospective customers. While developing the application, it is prudent to invest in data security because a major security breach can bankrupt your company.
Also Read: Flutter vs Nativescript: Everything You Need To Know in 2023
How Much Does It Cost To Develop a Custom Application?
Because the factors listed above determine custom mobile app development pricing, providing a standard range or approximate without knowing about your project specifications can be difficult. The App Development Cost for a small mobile or web application with only a few features designed from scratch might reach $30,000. Nonetheless, bigger software applications will need continual product development beyond the "minimal viable product" A big, high-end application with various user kinds and permissions may be 10 to 20 times as expensive.
If you are wondering how much does a custom app cost, the cost of custom software development shall vary greatly depending on what your app does, how complex its functions are, and how it is developed. Simple application development would cost around $90,000, but composite programs can cost up to $240,000 or more.
When hiring an app developer, think about the type of application you want them to create. Do you want it to work with IOS, Android, or another program provider? iOS app developers are typically on the higher end of the pay scale, with hourly wages ranging from $45 to $75. Lower-level developers can earn between $16 and $55 per hour.
The cheapest app development takes about a month or two and costs between $5,000 and $10,000. Medium level application development costs would range from $10,000 to $50,000 and could take 2 to 6 months. Complex apps and lengthy development could cost $50,000 or more and take longer than 6 months.
Why Hire a Custom Application Development Partner?
Before picking the correct development partner for Custom Application Development, it is critical to conduct research and select the right team to minimize your costs. It's not as tough as you would think to outsource your app development. Communication with your international team may appear challenging, but it is not impossible. Even if you reside in separate time zones and have a 10 to 12-hour time difference, remote workers are inclined to make advancements and meet all organizational requirements. Mobile app development should be outsourced to India, a global leader in bespoke app development with the lowest price range and a team of professionals. 
Why Choose MultiQoS As your Custom App Development Partner?
MultiQoS is a leading custom app development company with years of experience and expertise. Our vast expertise and wide portfolio will aid us in creating a collaboration and providing an appropriate product. We understand how much does an app cost, how to manage risk, and how to capitalize on available opportunities. You can entirely outsource your initiative to our team, and then we will control the entire process, or you can use a dedicated development team, in which you hire our best professionals, such as mobile app developers, QA experts, program managers, and so on, for the project duration. MultiQoS Solutions can assist you in designing and developing the best app while retaining your budget and timeline in mind, from concept validation to stunning UI/UX design to choosing the optimum mobile platform, custom elements, and several other factors. 
Also Read: MultiQoS Has Been Awarded One of Best Flutter App Development Company by MobileAppDaily
Conclusion
Knowing the relevant costs in the design and development process can help you create a strategic plan for your custom mobile app development. Developing an application is a difficult process, but you can create a successful mobile application with the right guidance and assistance.
Frequently Asked Questions (FAQs)
FAQ on Custom App Development Cost
Creating software applications for users in a company to meet specific business needs is known as custom app development. Instead of using more traditional and standard software, designing and implementing your custom app addresses specific obligations.
No application development company will give the user an exact figure without describing your goals and possibilities. For example, an app similar to Uber would cost around $63,250 while an app similar to Tinder would cost approximately $38,875. Additionally, you may utilize one of the available online app development cost estimators.
A typical application development costs at least $10,000 and may cost even more if more advanced functions are required. Despite this, a number of app builders on the market make it feasible to build a simple app without writing a single line of code. These applications are not as functional or customizable as programmed apps, but they may be made for free or for a modest monthly subscription.
The start-up costs for an app with a limited number of features will range between $10,000 and $60,000.
Let's Create Big Stories Together
Mobile is in our nerves. We don't just build apps, we create brand. Choosing us will be your best decision.
Your Trusted Tech Partner!
We develop digital products that enable you to embrace innovation and unlock opportunities.
Talk To Our Experts
Subscribe
Newsletter
Get our latest blog posts, research reports, and thought leadership straight to your inbox.