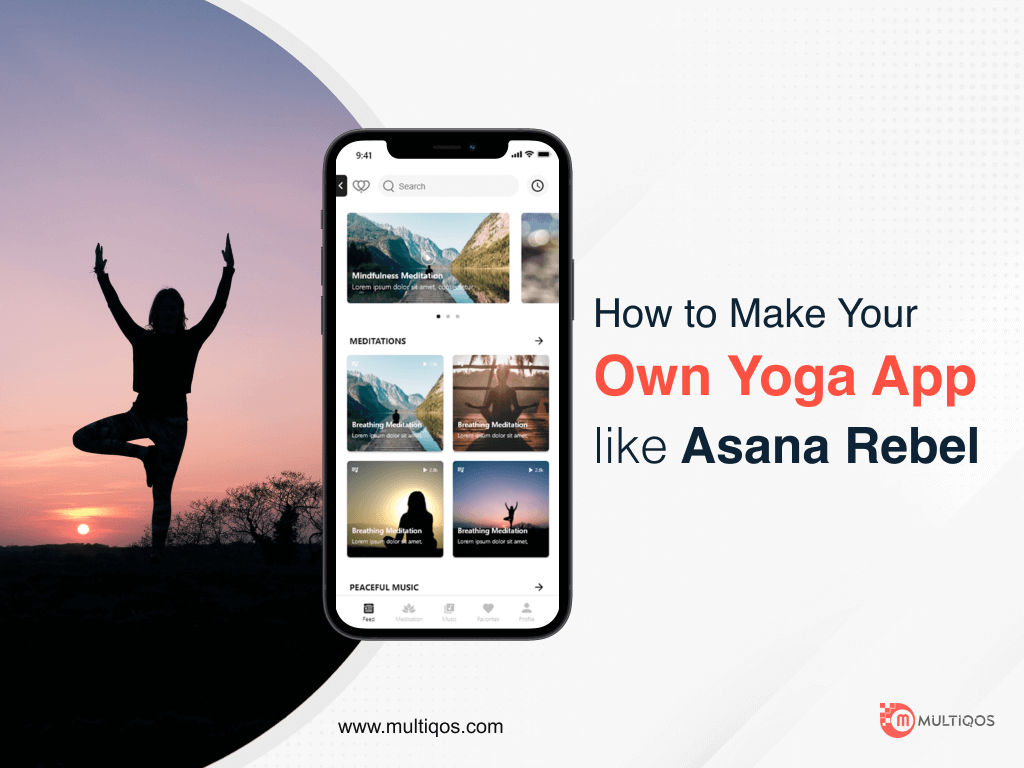 Mobile App
Yoga App Development: How to Develop an App Like Asana Rebel?
Overview There are now smartphone apps for yoga in our fast-paced world of media, games, entertainment, finance, and academics. As the number of people using yoga apps grows, this type…

Parth Thakkar
Overview
There are now smartphone apps for yoga in our fast-paced world of media, games, entertainment, finance, and academics. As the number of people using yoga apps grows, this type of app creation is becoming increasingly popular. People are now heading towards a healthier and more peaceful lifestyle, and here the yoga and meditation applications are helpful for the people. Let us read further about the application development process of yoga and meditation applications.
What is Asana Rebel?
To improve immunity, sleep, vitality, and physical appearance, Asana Rebel is a top pick among health and fitness apps. It's a yoga-inspired workout app that aids in the appearance of being in good physical shape and health. With the help of the yoga and meditation app Asana Rebel, you can practice yoga and meditation on the move, no matter where you are or what you're doing. It's possible to carry your yoga practise with you wherever you go using this software. If you're looking to reduce weight, get in shape, increase stamina, sleep better, and raise general productivity, this appears to be a lifesaver. 
This yoga app's USP is that it asks several questions regarding the user's current state of affairs, desired outcomes, and current state of health. Then it incorporates the good habits that users need to accomplish into the fitness regimen, making it unique to each user. Additionally, it has more than 100 workout routines. In addition to providing a dynamic user interface, they did this to increase the app's appeal to their target demographic.
Why Develop a Yoga App?
Demand and need are the most evident and essential factors for developing any application. Even if there are many yoga training applications on the market, there will always be a demand for something more user-friendly and better due to the expanding population of yoga aficionados. Yoga apps are a terrific way to share your love of the practice with others, especially those just beginning their journey as yogi or yogini. 
The yoga app development is a lucrative business in these times when people are searching for ways of being healthy and adopting a calm, peaceful lifestyle. Yoga's rising popularity is not a coincidence; it directly results from the numerous physical and psychological advantages it provides. First and foremost, it's good for your bodily well-being. Yoga classes, on the other hand, have an additional psychological advantage. Currently, people's primary focus in yoga is self-development, self-awareness, and spiritual practices. To create a Yoga App, you need to keep this in mind. 

Source: Yoga App Design
Examples of the Most Successful Yoga Applications
Some of the examples of successful yoga applications are: 
It has characteristics that allow gurus from around the world to communicate with one another. There are around 300 postures to choose from. They assist you in completing the yoga exercises properly. One of the most advanced apps for Android comes with many useful functions. Furthermore, this will not cost you a penny.
Anywhere in the world, it may be accessed at any time. It also lets you listen to music while you're working, which is a bonus. Once you've exceeded a certain threshold, you'll be able to get your hands on new things. Both iOS and Android smartphones are supported by this app.
Yoga videos and positions numbering more than 270 are available for viewing at this location. The video can also be shared with your friends.
For individuals who are new to yoga, this app offers a free choice. In total, there are over 200 different stances to choose from.
This is an excellent illustration of a specialized use case which is sacred sleep. For those who have trouble sleeping, this app has programs that assist users in improving their quality of sleep over time.
Five Minute Yoga Workouts
If you're short on time, this is the best option. You'll be able to swiftly recover and get back into the appropriate frame of mind if you take five-minute classes.
How Does Asana Rebel Make Money?
To make individuals happy, the makers of Asana Rebel aimed to increase their motivation and productivity. At least once a week, the app offers yoga and fitness workouts that may be done with the app's help. The Asana Rebel app may be downloaded for free. As a way of producing income, subscriptions are offered. These are teachings designed to help people overcome a specific problem, such as bad habits or a lack of productivity.
Also Read: How to Develop a Fitness App in 2024? -Cost & Features
How to Make an App Like Asana Rebel: Features to Implement
Admin Panel Features
Some of the must-have features of the admin panel are:
Log In/Sign up: Access to all of the app's activity and history should be available through a logged-in user account for the app's administrator.

Signing up should be an easy and straightforward procedure for consumers to complete. 

Dashboard: Admins will be able to see what's going on in the app through the dashboard, which includes the number of users and teachers. It's possible to see how many sessions were held and how much money was made from each one.
Organize Events: With this functionality, the administrator should be able to handle all of the event's details and information.

The time, speaker, date, number of students/attendees, and any other information that may be relevant.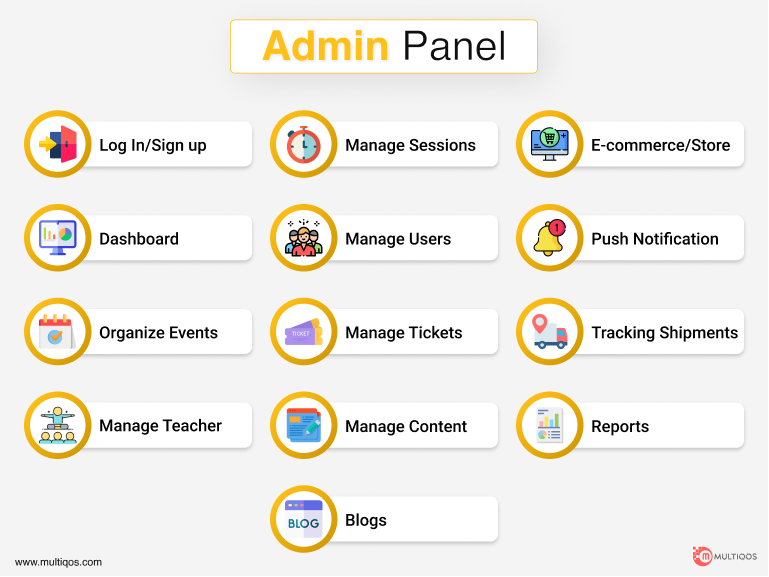 Manage Teacher: The Yoga Android and iOS mobile app development

should include the feature for the admin to manage the teacher. Admins can use the feature to set each teacher's role and manage them individually.

Manage Sessions: The feature should cover every aspect of the ongoing activities.

The total number of hours and sessions spent. Name, duration, kind, and name of the professional managing it should all be displayed.

Manage Students/Users: A teacher or administrator can use this tool to see and manage each student's progress and even communicate directly with them. The student's schedule and the number of classes he or she is taking should be included in the information provided.
Manage Replacements: The Admin is in charge of managing, allocating, and appointing substitutes for the various sessions.
Streaming:

Subscribers to the app receive notifications anytime a live session occurs. They can watch the footage if he wishes to do so. 

Manage Tickets: The admin has the ability to see, update, and create new ticket kinds for the users of the service. In addition, it gives the administrator the ability to add and manage more classes with ease.
Manage Content: Admins are in charge of the app's content management in this role. The contact us, about us, and aid for students and instructors sections are included. In this case, the material can be in the form of an image, sound, or video.
Blogs: Allow the administrator to create, maintain, and add blogs based on their intended readership. If it can be classified, it will have a wider audience.
Push Notification: Subscribers will receive a push notification each time an event's details are changed. Every time a function is planned, he'll be the first to know about it.
E-commerce/Store: It's possible to gain access to the yoga materials if you incorporate an e-commerce app in your Yoga and Meditation Mobile Application Development

. You can get yoga mats and a dress from there and other items. The admin shall manage the store from here. 

Tracking Shipments: The yoga app development company

can also incorporate the feature of tracking shipments made by students through the applications ensuring that they are delivered on time.

Real-time Analytics:

For the person in this instance, real-time metrics are entirely provided through a different dashboard. He can see both the updates and the payments at the same time because he has access to both.

Voice Instructions: Students are allowed to listen to the instructor's voice to learn the proper yoga movements.
Reports: Class reports, ticket reports, student reports, event reports, and other reports can be generated by the app administrator in this section.
Student Panel Features
Some of the must-have features of the student panel are:
Registration: The registration of a person in the application is part of this process. You'll need to provide the expected details for this registration, including your name and phone number.

The software will then be available for usage by the user.

Sessions: Yoga and meditation sessions are included in this section and are updated regularly.

It contains the name, ratings, duration, and number of pupils taught by each instructor. To proceed, he must first decide on all of these issues.

Events: The student is able to learn about upcoming events in this section. They can keep track of the events, timings, dates, duration, and other information. 
Notification: Students who have this app installed will be able to receive notifications for any new updates, events, or sessions that are added.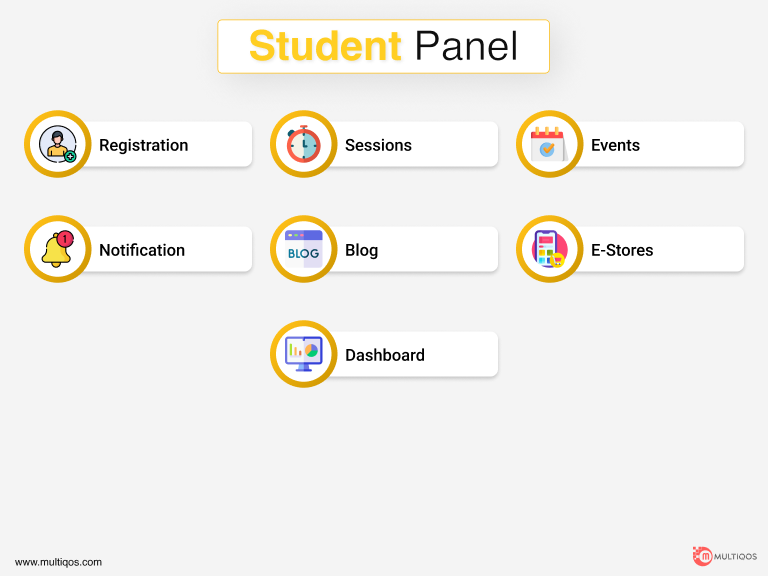 Blog: These students' blogs can be filtered based on the blog's title, content, and publication dates to provide engaging content for the target audience.

This section would provide diet regimens and other pertinent information. 

E-stores: Yoga mats, yoga gear, and other related items can all be purchased through our online store in addition to our yoga classes. The e-store must be able to showcase all of these items on the screen in order to get all of these clicks. Users have the option to purchase products or, if they prefer, they can put the items they desire on a wish list for eventual purchase.
Dashboard: They can keep a note of the relevant information or can also follow the experts they would like to follow. 
Yoga Expert Panel Features
Some of the must-have features of the Yoga Expert Panel are:
Registration and Login: Teachers and subject matter experts should be allowed to access their login page. As part of the registration process, users will be asked for their name, e-mail address, phone number, and other personal information.
Sessions: Experts can record and publish videos of their sessions using the functionality in my app. They can even participate in real-time chats. The app should be able to play back high-quality video.
Create Offer: Thanks to this new tool, teachers will be able to make customized offers depending on their students' goals and preferences.
Report: The user will be able to see how many followers they have and how well their videos and sessions are performing with the help of the report tool. They may also check out upcoming events and other ways to make money through the app.
Substitution: Students can be reminded of their upcoming classes using the function, and the teacher can assign them to specific classes based on the day or week of the week.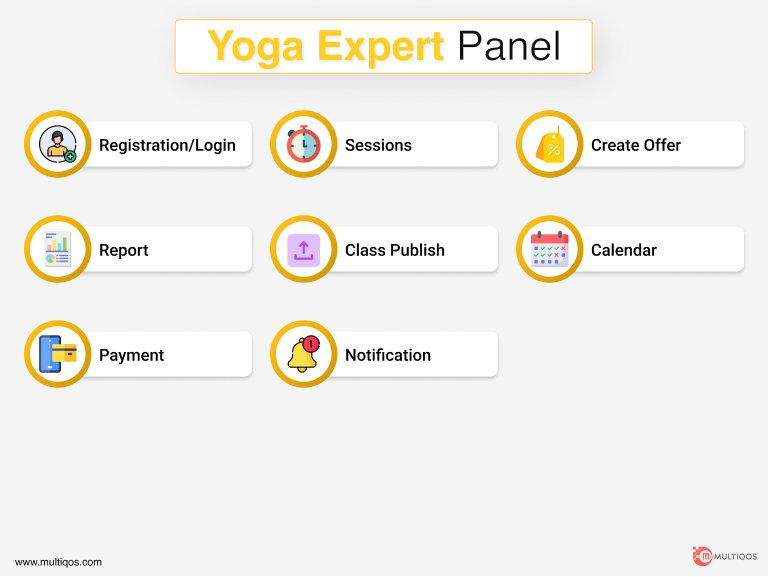 Class Publish: Publishing a class requires a wide range of features. Allowing teachers to describe their classes in more detail will help students better understand what they're learning.
Substitute Managers: The teacher should be able to assign substitutes or managers to handle the various classes and change the schedules.
Calendar: When a teacher's calendar shows that he or she is available, you know their entire schedule. There should be a calendar for every single teacher.
Brand Ambassador:

A brand ambassador's page should provide a photo, a brief bio, and the name of the session they will be assisting with, at least. The teacher should have access to all of this information.

Payment: The account record should indeed be recorded in the activity log, from the first session to the number of ambassadors appointed by a particular teacher and everything in between.
Notification: The notification tool allows the teacher to be alerted to impending sessions or the status of an ongoing session.
Event Organizer Panel Features
Some of the must-have features of the Event Organizer Panel are:
Registration and Login: Every user who wants to participate in the classes can register and log in independently. As a result, you can log in via social media or even an OTP sent to the phone number you supplied during the registration process.
Organize an Event: This includes the ability for users to create their events or amend the events that have already been created. On the other hand, the organization uses two different types of notifications, one from the user and one from the return path.
RSVP Notification: When you book a ticket, you'll receive an e-mail from RSVP notifying you of any changes. You'd be okay with knowing how many things are going on at any given time.
Admin Approval: You'll see the event appear on your phone's screen after you've finished all the steps to create it.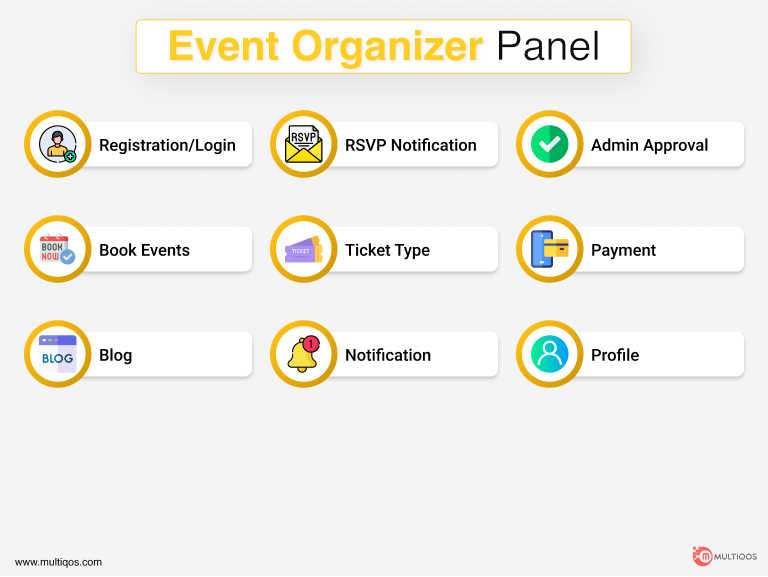 Book Events: Events can be booked through this app feature, which provides comprehensive details about upcoming events. The occurrences' date, time, category, and duration can all be checked.
Ticket Type: There are various ticket kinds, including VIP and standard tickets. A variety of options are available to suit a wide range of preferences.
Payment: You can use Braintree, PayPal, Stripe, a credit or debit card, or a debit card to make a payment.
Blog: Students are authorized to monitor the blogs at this location. You can chose a time, duration, and date for each blog.
Notification: Every new item in the app's world is covered here, including the admin notification, the profile update, and more.
Profile: This is the user profile from where the user can see the sessions, events and also edit them.
How Much Does It Cost to Build a Yoga App Like Asana Rebel?
If you want to create an app similar to Asana Rebel, you should pick your preferred plan. To begin, you must determine the sort of application and platform you desire. Several factors shall influence the Cost of Yoga App Development and some of which are:
Android, iOS, or any other platform you select.

Your choice of technologies.

There are two types of apps available: hybrid and native.

The user determines app complexity.

Location of the developer

The number of features you want to include in your design.

Whether you intend to use any third-party apps or not.
 It costs between $10,000 and $15,000 to construct a basic version of Asana Rebel. A more complicated version of the app can run you anywhere from $40,000 to $75,000 to design. When it comes to the cost of developing a Yoga app, the location of the development partner, the platform of choice (iOS or Android), functionality, features, UX and UI design, etc., are all key considerations. A reasonable estimate for the MVP App would cost between $15,000 and $35,000.
Additionally, it costs about $65,000 to hire a development team to create an app like Asana Rebel. The cost of development will vary depending on the location of the development team you engage.  In the United States, you may expect to pay $60 to $80 per hour for the services of a freelance developer.
MultiQoS Expertise in Yoga & Meditation App Development
We are the leading Mobile Application Development Company that shall provide you with the best yoga and meditation app development services. We have a team of expert app developers who have mastered the technologies required to produce top-notch health and meditation apps. They are available to support you throughout the development process. If you have any app suggestions, please do not hesitate to contact us. If you have an idea for a mental health mobile app, we can help you make it a reality. 
Conclusion
If you are wondering how to develop a yoga app, you can hire a hire yoga and meditation app development company to assist you in the Mobile Application Development process. The goal is to build programs specifically tailored to the wants and needs of the people who use them. Subscription-based plans, which are becoming increasingly popular in this business, let customers decide how much time and effort they want to put into their service. The Yoga Mobile App Development Services should assist you in every step of yoga and meditation app development. The app should provide professional consultations, counseling, advice for everyday activities, and the selection of meals. Everything is focused on achieving the stated or predetermined goal. It's important to make sure that your app, like Asana Rebel, has the ability to keep people engaged. All of the necessary and advanced features for a successful meditation app should be included.
Interested in Yoga App Development?
Boost your business growth with our mobile app development services.
FAQ on Yoga Application Development
If you are dubious about how to make a yoga app. In that case, the first and foremost step is to have a concept for the application and then have it tested by a reputable mobile app development company like ours. Next, cross-check your concept with the features and functionalities that will be included in the final product. For example, you'll learn how much it will cost to develop a yoga and meditation app. This is a straightforward process. Follow these below-mentioned steps:
Search for and research your competitors' websites and social media accounts.
Consult with a seasoned mobile app developer about your concept.
Choose between a custom or pre-built app solution.
Consult with a seasoned app development company about app development costs.
Design and implement features with the help of a seasoned software development firm
Your technology partner can assist you in getting your app into the Google or Apple app stores.
Mindfulness apps offer to alleviate the stress of everyday life by focusing on the here and now. It's up to you to customize a meditation software to meet your specific needs if you're curious about it. Stress, anxiety, and other mental health issues can be addressed with the help of some of the best meditation apps available. Before downloading and using an app, make sure to read user reviews, compare star ratings, and check out the program's features.
Registration, sign-in, user profiles, introductory courses, tutorials for newcomers, push notification search, app localization, and meditation library with live streaming are just a few of the essential elements your meditation app must have to be successful
The cost of development will be determined by your specifications, including features and custom needs.
In-app purchases, advertising, the freemium business model, and subscriptions are all viable approaches to monetize your meditation software. In addition, you can Hire Mobile App Developers who will guide you through the app monetization process.
When creating a meditation app, you may have to deal with issues like keeping the app simple and fast, localizing the content, being transparent, and getting a higher membership rate.
Build Your Team
Book a Consultation Now!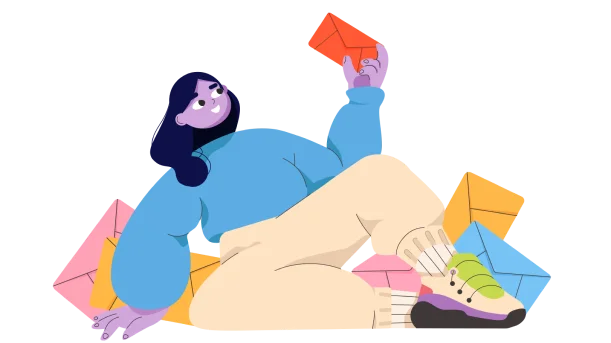 Don't Miss Out!
Your Inbox's New Best Friend. Subscribe Now and Never Miss a Beat!
Read More Blogs