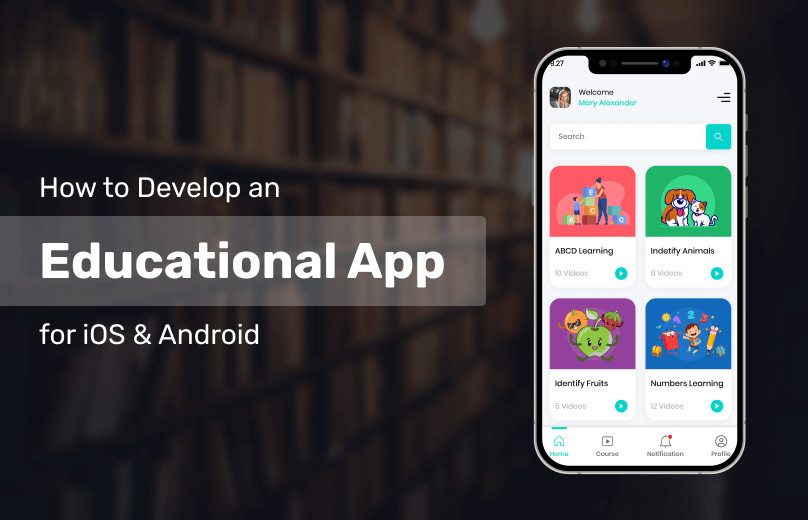 Mobile App
How to Develop an Educational App for Android and iOS: Features, Cost, and Business Models
Education was witnessed a great revolution with the advancement of technology, and it is no more tedious than the earlier times. With smartphones all around, learning has come a great…

Parth Thakkar
---
Education was witnessed a great revolution with the advancement of technology, and it is no more tedious than the earlier times. With smartphones all around, learning has come a great way from being physically complicated to virtually easy, where students can learn from anywhere across the world. Furthermore, the education market has also grown substantially, with better ideas and opportunities propping up now and then. Technological advancements have led to businesses investing in educational apps.
Companies such as Fujitsu. Samsung or Dell have been actively investing in smart education applications and e-learning. Moreover, the education application market is predicted to expand by more than $46 billion from 2020 to 2024. It is quintessential to note that the example of educational apps doesn't limit themselves to study applications. Rather, there has been an unprecedented increase in the number of education-related apps such as language learning applications, quiz apps, and educational gamification apps.
Market Prospects
The onset of the pandemic led to a significant shift in all sectors, including education, where online learning has been the new trend and has witnessed an unparalleled boost. For instance: prior to the pandemic and closing down of schools and physical classes, investments of global EdTech amounted to $18.66 billion, which can be essentially considered an outstanding success. And further, with the lockdown and non-commencement of physical classes, the predictions state that the global market for online education is expected to reach $350 billion by 2025.
There was also a steep escalation in the number of downloads of educational apps on the App store. Albeit the online classes are compulsory and need the time approaches, people and students had the opportunity to expose their educational boundaries and explore several other educational-related applications.
E-learning has also been an option of attracting students towards the method of effective learning, encouraging them to study more and engage in more activities. Furthermore, because online software fr frequently offers mobile learning, eLearning does not bind users to a single location. The educational market is up-and-coming and has the potentiality to develop significantly in the coming years.
If you ponder how to make an educational app, you should delve into further reading to understand the different aspects regulating the development process.
Types Of Educational Apps
Educational applications are available in a broad type in the market. You must determine the sort of application you want to build before you plan and invest in any schooling.
Essentially there are 2 types of educational applications:
For teachers: They're usually developed to aid the teacher with teaching and other such related work. The primary objective of this mobile app development is to assist tutors in developing more effortless and more effective ways to communicate with students. These applications center their development on the types and techniques of classroom teaching. These applications also have mechanisms for scheduling tests: curriculum, exams, quizzes, and other things.
For Students: They are primarily for individuals, students who are interested in academic material. These applications aid in bolstering the learning process and contain applications that can have question papers, dictionary apps, encyclopedia apps, etc.
Both type of applications, however, includes a variety of subtypes that cater to the demands of various user groups, such as:
Kids: (Quick Math. Jr, 123 Numbers, YouTube Kids)
College and University Students: (eDX)
Tutors and teachers: (TutorMe, Haiku deck, Google Classroom, Khan Academy)
Language learning: (italki, Duolingo)
Specialists in different fields: (Coursera)
Exams: (EduRev, IETLS Preps, Sat)
Lifelong learners: (Udemy)
Educational Apps For Teachers
While there is a wide array of educational applications for students, the apps for teachers are limited. These applications aim at making the teaching process easier and efficient. They focus on keeping track of students' progress or grade sharing to keep their parents updated, arranging classes, or assigning tasks for students.
Gamification Apps: Teachers employ a variety of programs to make the learning experience entertaining and fascinating. Kahoot is one such educational application designed for teachers that allow the tutor to prepare specific questions and give them answers for either tests or exams. After such questions have been provided, the software turns them into a game for the students.
Archiving educational materials apps: Cloud-based platforms are ideal for distributing educational resources to students. Both students and tutors will benefit from such solutions. Schoology is one such application that allows you to make notes and underline important information in the text in addition to file sharing. Google also has developed a learning tool called Google Classroom. Working with Google Documents, assigning tasks, creating deadlines, making a copy for each learner, and posting files and folders on Google Drive are all possible with this software. This is one of the best examples of school education apps.
Monitoring of Progress Apps: Teachers can use these applications to check their kids' progress and achievements and share them with their parents. Additio is an excellent example of this type of application. Grades, participation, and outline schedules can all be observed and controlled. Seesaw is another application that provides a learning management system that includes a learner's portfolio that enables the parents to keep track of their children's performance and progress.
Also Read: Top Reasons Why Android is Preferred Platform for On-Demand App Development
Educational Apps For Students
Educational applications generally revolve around apps that shall benefit the students and aid in learning. These kinds of solutions are popular among both children and adults since they make learning enjoyable. There are numerous instructional apps available for students and some of which are:
Online Courses Applications: Some apps provide classes that cater to all likes, inclinations, and fields. They frequently form partnerships with educational institutions to offer high-quality learning resources. Udemy and Coursera both provide a large number of different courses with easy classification to help you locate the most relevant ones to you.
Exam Preparation Applications: GradeUp and ExamPrep are two apps that help students in e-learning. These programmes provide common features such as practise exams and flashcards for remembering. TCY also provides a variety of examinations, like Mick Tests, MBA, CAT Engineering, Medical, etc. Maximum is another app that helps students prepare for various tests, including K-12 school topics, English language, IT and coding courses, and more.
Kids Applications: Children nowadays spend a lot of time on their tablets and smartphones, which can be effectively used for helping them play games that would make them learn.  Specific applications assist youngsters in learning, playing, writing, counting, and other enjoyable educational tasks. Poptropica English, for instance, allows kids to resolve mysteries whilst learning English. Fish School offers a variety of activities to help children learn their letters, numerals, shapes, and colors.
Language Learning Applications: Getting into the linguistic milieu is the most efficient technique to learn foreign languages. Apps provide this service by allowing users to study in a variety of formats. DuoLingo helps you learn new languages and recommends that you take a test to evaluate your understanding. At the same time, Memrise offers videos with native English speakers to help students improve their vocabulary.

See Here For More: Educational Apps Design Ideas
Required Features And Technologies
During the Mobile Application Development procedure, certain required features and technologies should be a part of your application.
Registration: Registration or Signing up is a necessary step in gathering and processing user information. You'll have to store and manage user progress because you're making a learning app. Aside from that, you could wish to construct a database to market your services and notify the user and other essential details to your subscribers.
Admin Panel: An admin panel is required if you want to create the best educational apps where instructors can track students' progress, assign tasks, and arrange group meetings. This application makes user management easier by providing all relevant information regarding learners and allowing easy accessibility.
User Profile: The user profile enables learners to customize their study paths and other personal options. This is one of the most basic approaches for businesses to learn who their users are, their requirements, interests, and choices to improve marketing. This also provides the opportunity to solicit feedback to enhance your services and foster long-term connections with your clients.
Payment Options: The payment option enables the user to pay for your services and avail them. Provide your users with various choices such as credit card payment, or UPI, wallet or debit cards, etc.
Feed and Menu: The feed and the menu are the most quintessential part of your iOS app Development and iPhone App Development, which acts as the user interface and enable content accessibility. Improve your app's user interface to keep users engaged and impact their behavior. Users will admire your attention to detail if the application is simple to use and they can navigate easily. Further, another appreciable factor is the robust recommendation algorithms.
Notifications: Notifications assist users in keeping track of their accomplishments and continuing to learn. You can increase user engagement by sending them updates about additional features, educational opportunities, offers and promotions, and other attractive features.
Editing Tools: Users will want content management features in programs that allow course designing and editing. This shall enable the users to upload and delete the materials and add learning components to existing courses and develop content from the start. They may also make use of the other editing services at the same time.
Courses: The contents and arrangement of your application are some of its most essential elements. It's preferable to provide customers with short courses that have been well prepared strategically and cover a common topic. Your educational app developer shall require to plan and prepare the details.
Gamification: Gamification is an eLearning movement that has significant business advantages. It employs game mechanics to make learning enjoyable and engaging, resulting in more user interaction with the application. This aids to boost knowledge retention and enhances the learning process via quizzes, leveling, progress levels, badges, rewards, and others.
How To Make An Educational App?
Step 1: Adopting the best layout: Start with developing an educational application and idea related to that. Think about the requirements, research the target groups and their demands, understand the market and your competitors. You need to then decide upon the layout for your application; however, remember to make the layout engaging and attractive so that the users can be get attracted to it.
Step 2: Adding features: Try to develop a unique application with new advanced features that shall help in engaging the user to your application. Your application development procedure shall commence with your developed understanding of your requirements and work on adding the features. Choose for features that are easy to understand, navigate, and advanced so that your users would have good user engagement and shall not struggle with understanding the features.
Step 3: Sharing and marketing: After your application development and testing, you would have to work on sharing and marketing your application. There shall be a proposed budget for marketing, and you should adopt unique ideas for marketing your applications. You can also hire a marketing team for the purpose of marketing.
What Are the Benefits of Building an Education App with MultiQoS Solutions?
You can rely on MultiQoS with your educational app development, and we ensure to provide you with the best results. We have clients from all across the world, and we promote active engagements with our clients to develop the best application that shall fulfill all their demands and requirements. You can trust our developer teams, who keep you continuously updated about the progress in your application development.
Wide Platform Assistance:
Students, teachers, or anyone would no longer have to limit themselves to the courses offered in their city or are forced to travel to anywhere specific to avail the courses. This is because MultiQoS solutions provide options of flutter app development that can be availed from anywhere across the world, and they are developed. They would have a wide range of courses and materials to choose from and can avail themselves at the convenience of their homes.  As a result, developing learning applications has never been more critical.
We have a team of expert professionals who would aid in the mobile app development process, thus ensuring a robust experience. We interact with consumers and clients to learn about their needs and implement them into application development. Our teams have experience in application development and have earlier been actively engaged with educational app development.
Designing Salient Features:
MultiQoS provides a wide array of salient features for your iPhone App Development and Android App Development with educational software. These features are well tested and are popular with being significantly in demand amongst the target audience.
What Is The Process Of Creating An Educational App?
The creation or development of your educational applications shall involve 2 steps, where either you hire an education app development company or any freelancers or developers.
By assisting an education app development company, hiring an app development company shall expose you to many choices and options. You can easily get in touch with their vast developer team, who can help you with different steps of your development process, and you can rest assured while they take upon the entire development task.
By hiring freelancers and local developers: You can hire freelancers or developers for either the entire development process or the development of any specific feature of an application. You would have fewer options compared to a company; however, if you hire an experienced professional, they can help you with a wide variety of features and efficiently accommodate your requirements.
How Much Does It Cost to Develop an Educational App?
An educational app developer will require 3-4 months to construct a customer value proposition for an educational app. Customers are frequently charged on an hourly basis. The location of the development team or the company and the experience level of the developers, and the complexity of the software architecture are all factors that affect the cost of software development. Some development companies or developers use a pay-for-performance model. You are not required to pay for all of it at once but rather after each breakthrough has been completed. Here is an MVP development estimation and cost analysis to assist you in planning your budget.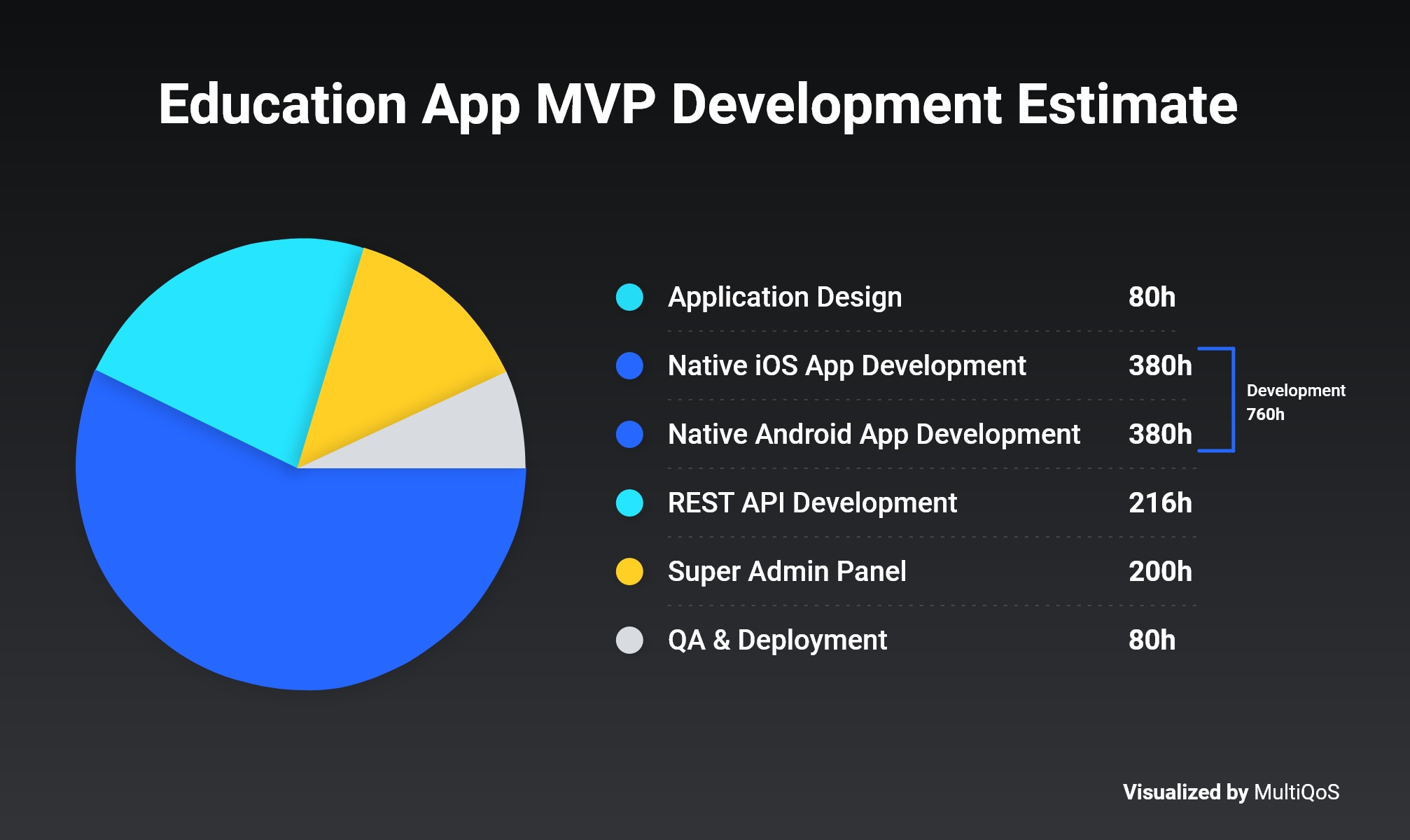 This is the MVP (minimal viable product) version. However, these time and cost estimates are estimated and might vary substantially; the whole app with extra features will require about 1200 -1800 hours and about a cost of $87 500-$91 000 approximately. However, the costs shall vary with the features and other regulating factors.
Successful Examples Of Educational Apps
Khan Academy: Salman Khan started the Khan Academy, a non-profit educational organization, in 2008. Its primary purpose is to use internet resources to assist in the instruction of understudies. The organization creates short workouts in the form of video recordings. Its website also provides educators with valuable activities and information. Customers of platforms have access to all resources for free. Its current subsidy amount is $10.2 million.
Duolingo: DuoLingo, one of the greatest educational applications, is an amazing tool for learning new languages. The software is also helpful because users can select their preferred language. It accelerates the learning process and attracts clients from all over the world. General Atlantic, CapitalG, as well as other corporations have invested in the platform. The overall amount of money is $148.4 million. In addition, by 2020, the total number of Duolingo app downloads will have surpassed 500 million.
Coursera: The platform has a massive user base of over 77 million people. The app has gained users' trust because of the inclusion of over 3000 courses in its database on topics such as data science, self-development, business, information technology, language learning, and more. In addition to expensive courses, the website includes free courses.
PhotoMath: Photomath has an elementary learning cycle. You take a picture of queries that have been transcribed or printed. The software then walks you into how to respond to those questions with step-by-step instructions and explanations.
How We Can Help: MultiQoS Expertise
MultiQoS has vast expertise in designing various EdTech and LMS solutions that are the foundation of education and are tailored to satisfy multiple requirements. At MultiQoS, we are ready to build a custom platform and app that combines our technical expertise with your brand's vision and meets all of your company's requirements. At MultiQoS, we can help you with app development, starting from children and kids to students and tutors. At MultiQoS, we ensure that our workers and clients grow aligned with the business by offering the best working atmosphere in the market. Our crew collaborates closely with the client to ensure that the solution they are developing ends up succeeding and also creates a positive impact on the customer by being simple to use and considering the needs of its consumers.
Also Read : A Complete Guide to Start your Hyperlocal Marketplace Business Model – The Rise of D2C
Our Experience in Educational App Development
At MultiQoS, we envision a bright future for firms working in digital environments, and we are committed to building fruitful, long-term business connections. Our development team has extensive expertise in producing one-of-a-kind educational apps. We can aid in developing the best educational apps for students and education apps for primary school. We aid in the development of educational apps for Android and iOS, and they are developed specifically for your needs. For virtual learning portals and other educational institutions, we've created a slew of instructional mobile apps. These applications span from the most basic to the most advanced, providing users with an engaging multimedia learning experience. We design the best educational apps for students and tutors that are simple to use, flexible, and fully functional for your school or university or institution, or digital learning portals. We specialise in employing educational applications to improve the efficiency and effectiveness of the educational process.
Wrapping Up
Education is one of the most popular sectors where the market is constantly in demand. Still, the Covid-19 outbreak has sparked a need for educational software, creating a potential for many companies and businesses to make money. Education app development solutions offer enormous prospects for the educational industry to service a wide range of learning activities compactly through the use of an app. Creating an educational app is a difficult task that necessitates the assistance of a professional, and to meet the present-day challenge, the applications should be advanced and well-equipped. You may create your bespoke app with the assistance of educational mobile application development and provide the best experience to the students and aid the teacher and contribute to the teaching-learning process. Using innovative educational app development solutions with MultiQoS, you can boost your performance and effectiveness.
If you're ready to create a unique educational journey for the world, please connect with us. We can make your trip a huge success by working together.
Let's Create Big Stories Together
Mobile is in our nerves. We don't just build apps, we create brand. Choosing us will be your best decision.
Build Your Team
Book a Consultation Now!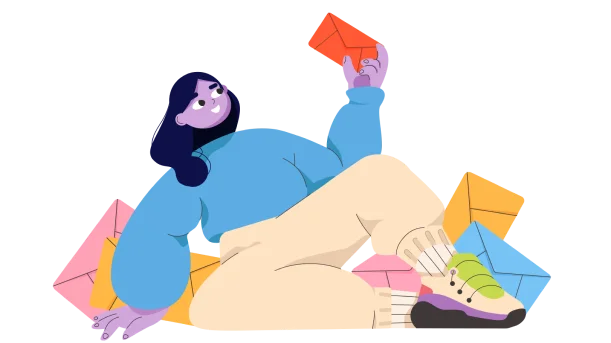 Don't Miss Out!
Your Inbox's New Best Friend. Subscribe Now and Never Miss a Beat!
Read More Blogs