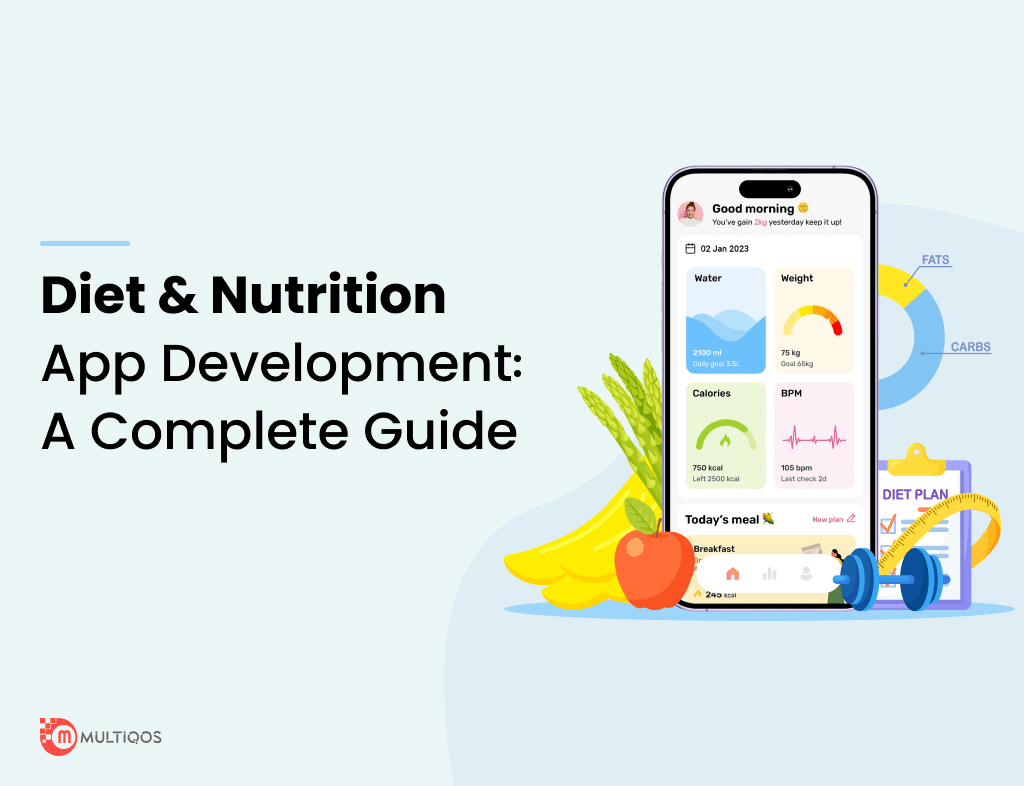 Industries
A Detailed Guide on Diet and Nutrition App Development – Cost & Features
Introduction There are already a lot of diet and nutrition applications in the market, and so are smart gadgets. But the Health lifestyle industry is booming and is predicted to…

Parth Thakkar
Introduction
There are already a lot of diet and nutrition applications in the market, and so are smart gadgets. But the Health lifestyle industry is booming and is predicted to touch $10,189.62 million. Thus, considering investing in the fitness app development solution industry, now is the best time. However, the kind of users must be considered before creating the application.
As per the reports of Statista Survey 2017, it is studied that the age group of 18 to 29 users of health lifestyle apps is about 26%. It is compared to the age group of 30 to 45 users, which is merely 17%. Also, every year around the globe, more than a million people make resolutions to reduce weight and start a healthy lifestyle. They plan a better diet; hence, one should consider these before entering the market.
Here's a complete guide on fitness app development:
What Are Diet and Nutrition Applications?
Health lifestyle deals with the concern of the healthy lifestyle of humanity. Nowadays, people have become cautious regarding their health and take precautionary steps such as walking, jogging, dieting, etc.
But to help humans with everyday tasks, counting the total steps walked and amount of calories burned and providing a proper diet plan is done digitally. It's done using the technologies of smartwatches and various other applications.
The vegan industry is trending nowadays, so people are looking for healthier vegan food. Therefore, one can also invest in a vegan mobile app development company.
Types of Diet and Nutrition Apps in iOS and Android
The health industry is massive, so obviously, there are different types of applications that come under this industry. There are various parameters on which health is based, so all the parameters are tracked down differently and are the base of other diet and nutrition applications. Let's look into the different types of Diet and Nutrition apps before opting for on-Demand App Development:
Countering Calories Application
The primary task that a countering calories application does is notifying the users about how many calories they have burned and different nutrition plans. These plans can help them in keeping their calories in check.
The recipe application will provide you with insights into the different meals which are healthy. In addition, it can help you with the objective of fitness and health preference. The primary goal of recipe applications developed by a wellness app development company is to provide recipes for the meals that best suit your health goals.
Diet planning apps help users plan weekly and monthly diets based on their conditions and choices. There might be users with health conditions or other ailments, and they must also consider what kind of food they prefer. A diet planning app developed by a custom wellness app development company plans the diet for the users for the upcoming days.
Fitness applications and healthcare app development services are meant to keep users' fitness in check. It also plans daily exercises for the users based on their requirements. They also provide lessons on exercises to inform the users of the right way to do the particular drill.
Wager applications by a leading mobile app development company make diet tracking more fun. It has a concept like a video game where users have to complete targets set, targets to reduce weight, etc. Otherwise, this will help the users enjoy and dedicate themselves to the task.
How to Create a Diet and Nutrition App?
Creating a diet and nutrition app is divided into steps like other tasks. Let's look into the best possible ways how to create a nutrition app without trouble and with the proper steps:
Firstly, one must decide what kind of application one is going to develop. To determine that, one has to attain as much knowledge as possible regarding that field. Once you have understood that, the only thing required is to inform the developing team how the application interface should be and how it should work.
Creating a Prototype of Your Nutrition Journal App
Once you have informed the developing team, they must create a model based on the information provided. Thus, it makes the work of the developing team easy, along with undertaking quick alterations based on the prototype.
Code development is the backbone of the entire process as it will develop the application based on the prototype of the application.
Once the application is developed, the only work left to do is to test the application to see whether it is working correctly and debug the software if any bug is found. Once the application clears this stage, it is good to go.
Also Read: Top mHealth & Wellness App Ideas for Your Startup in 2024
Tech Stack to Develop Diet and Nutrition App
In the present era, there are a lot of coding languages and software to develop different applications and websites. To develop a diet and nutrition application, various applications can be used.
Healthcare app solutions

like diet and nutrition apps have different sections to work on, such as the interface, where we use front-end development coding languages such as java, swift, angular, CSS, etc.

Moving on, we also have other sections, such as back-end, real-time analytics, push notifications, payment process, database, SMS, and voice verification. Additionally, we have different technology stacks for all these works, such as Python, Node.js for back-end development, push.io for push notifications, etc.
Hence, another thing that is required is to bring a developing team together with all the skills needed to be known for various works.
Cost to Develop a Diet & Nutrition App for Ios and Android
Some might be thinking about how much a diet and nutrition application costs them to develop, irrespective of the platform. So, the cost of development depends upon the features of the application. The estimated cost to develop a diet and nutrition app on IOS and Android can range from $10,000 to $50,000.
This amount varies depending on the complexity of the app, the number of features it contains, and the company's experience in creating mobile apps. Research into the necessary programming languages and design software can also rack up additional costs.
Aside from developing the app itself, marketing and market research are also necessary components of this process. Frequency of updates, affiliations, and advertising considerations are all factors that should be considered when calculating an estimated price tag.
How to Monetize Your Diet and Nutrition App?
Many would think, how will a diet and nutrition app earn them wealth? The answer to this question is very simple. It depends on how you want it to make money. There are different ways to earn money using diet and nutrition applications. Let's take a look into the ways,
Subscription

– One can ask the users to buy a subscription to the premium account, where they will have to provide much better service.

In-app Purchase

– It is a way where one has to buy the application from the play store.

Paid Apps

– Paid apps are apps that, after download, when the user tries to use, ask for payment after a few trials.

MultiQoS Experience in Developing Diet & Nutrition Applications
MultiQos caters to different kinds of app development and solutions, including Custom Wellness App Development. Their services involve app-making for every type of platform, like iOS, Android, and more.
Regarding healthcare app development services, MultiQuos has an experienced team of app developers, whether front-end, back-end, etc., to create a diet and nutrition app rich in features. Their other apps involve activity tracking apps, personal trainers' apps, workout and exercise apps, and more. Contact MultiQos for more details personally if you wish to invest in their team expertise.
Conclusion
A healthy diet provides your body with all the necessary nutrients to function correctly. The three significant nutrients a body requires are nitrogen, phosphorus, and potassium. These essential nutrients help create proteins and amino acids vital for growth and energy production. Additionally, calcium is needed for strong cell walls and healthy flower development.
Other essential elements to consider include magnesium and liquid nutrients. Nutrition apps can be a great way to track your diet and ensure you get all the vital nutrients your body needs. There are several apps available on the market that complement healthy eating practices, so take some time to explore them all!
Have an Unique Idea For Your Health & Fitness App?
Boost Your Nutrition & Fitness-Oriented Business With A Certified App Development Company.
FAQs on Diet & Nutrition Application Development
To hire a developer's team, one should study the skills required to develop a Nutrition and health application. If the developer's team possesses those skills and is efficient in their work, then go for them.
Yes, however, one should focus on one primary thing first as it will help them survive and compete and not confuse the Users.
Majorly one needs help with coding or prototyping. Sometimes the app does not go through the testing properly; one must code it once again. These are problems that one can overcome.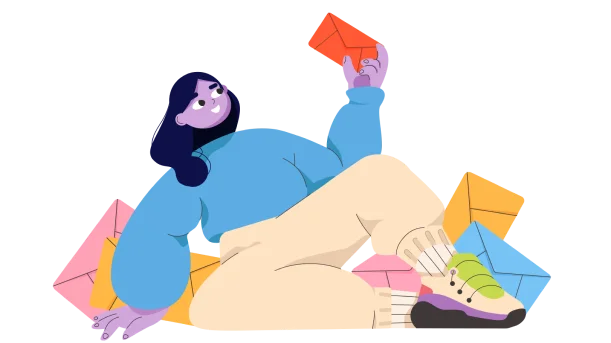 Don't Miss Out!
Your Inbox's New Best Friend. Subscribe Now and Never Miss a Beat!
Read More Blogs