Mobile App
A Complete Guide on Pet Care App Development: Market Overview
Introduction The use of technology has made things a lot easier. Pet care has also evolved because of technology. Nowadays, a pet's walk can be tracked, and its health conditions…
13 January, 2023
7 minutes read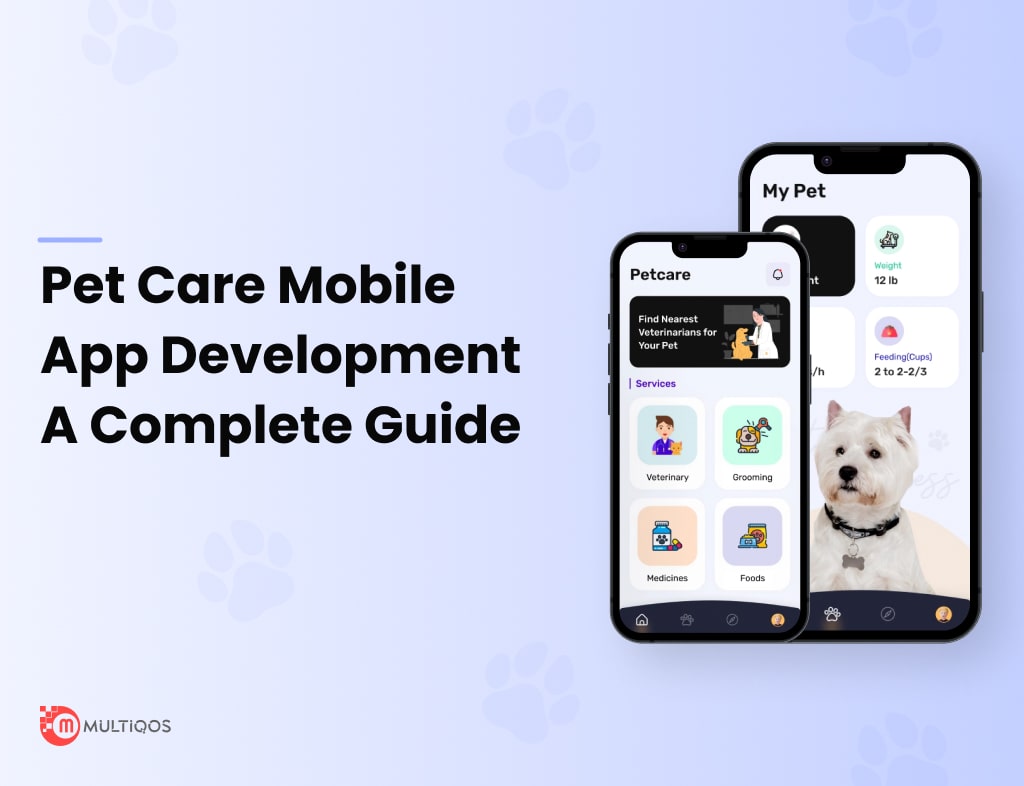 Introduction
The use of technology has made things a lot easier. Pet care has also evolved because of technology. Nowadays, a pet's walk can be tracked, and its health conditions can be monitored using pet care applications. People are fond of taking care of a pet, but their busy schedule can sometimes lead to the negligence of the pet's health conditions, etc. Nevertheless, custom pet care app development ensures that no pet is ignored and fully taken care of.
The pet care industry has grown to new heights with technology. Only dog walking service has been valued at $1.1 Billion in the year 2021. The entire pet care industry is expected to reach the milestone of $350 billion in the year 2027. Here's more to consider before investing in pet exercising app development:
Market Growth in the Pet Industry
The Pet care Industry is a massive industry with different services and goods. All the industry's market values are increasing every day. Various surveys have shown that pet guardians spend around $60 billion in one year on pet products.
In the United States, the pet market spending of pet owners has crossed the mark of $110 billion in the year 2021, and the pet care industry will become a billion-dollar industry in 2022. The stats show that the pet care industry expands by 11.6% annually.
Pet Care App Development Solutions
Developing a pet care app includes different steps, such as conducting research, understanding the demands of pet owners, then preparing a model, and then coding. Finally, it must undergo testing, and marketing plans must be implemented.
For different sections of the industry, other marketing actions and models must be prepared. Consequently, let's look into the different types of pet care markets:
A pet needs to take a walk out in the fresh air so that it doesn't feel suffocated living in a house and its health condition deteriorates. On the other hand, pet owners are very busy and cannot take their pets out for a walk.
In such cases, a mobile app development company in india that creates pet walking applications comes as a savior. Pet walking apps help you to book a pet walker around your surroundings.
Nowadays, pet owners need help finding economical pet trainers. But pet owners' struggles can be deducted when they see that pet care app developers have started to develop pet training applications.
On these apps that a pet care app development company makes, they can watch the daily lessons and train their pets accordingly. Everyday tasks are provided, and various parameters, such as progress, report cards, etc., can be found.
Pet tracking apps were created to assess pets' health condition, track down their location, monitor their diet, etc. It collects different data by observing pulse, heartbeat, movement, etc., using tracking methods such as GPS trackers.

Many must have come through pet accounts on social media applications such as Instagram. So, a type of application that genuinely belongs to the social presence of pets was innovated.
Here, pet owners can connect with other pet owners and plan outings for the pets together. Thus, a pet networking application helps create a community of pets and makes their lives more entertaining.
A pet health application is wholly dedicated to the health of a pet. It connects pet owners with veteran doctors. It also monitors the health conditions of pets by monitoring their pulse, heartbeats, etc. Apart from that, it provides insights into the diseases of pets and their symptoms and cures.
Pet exercise apps give a detailed exercise plan that can benefit a pet. It also plans the diet to provide the pets with the proper nutrition. For pets and owners, these are created as a game where they must clear different stages.
A pet product app saves time and can offer discounts to pet guardians. Furthermore, a pet product application is a marketplace application, just like various goods applications for humans. Although only pet products are available on this app, it makes the life of a pet owner relatively easy.
Key Features You Should Include in a Pet Care App
Understanding what things can be done to make your app look user-friendly is vital. Thus, let's look into all the features that will help you make your app easy to use and competitive in the fierce market.
A bio page is a section where pet owners can describe their pets. This is a frequently used feature for networking applications. It can also be used in other applications, such as health or pet walking apps which will help the pet walkers or vets to know about the pet.
Location Tracking Feature
A location tracking feature can be used to locate the pet. This feature is very much helpful for pet walking or tracking applications. It will also help the pet owners to quickly find the pet if, by any chance, they are lost.
Community creation is again a valuable feature that can create a community of pets in just one click. Further, this will create a space where pet owners can plan outings or other events and notify the whole group.
Why not add this feature to Pet networking app development?
A dashboard button should be provided in the Pet tracking app development. It's to lead the pet guardians to the dashboard section. A dashboard section plays a vital role in all pet care applications.
Else, it is a space where all the notifications can be viewed, and if any action is required, it could straight lead the pet owner there with just one click.
As we all know, push notification is a primary feature of any application and should be considered during dog training app development. Consequently, one should take care of the push notification so that pet owners get essential information from time to time.
Just like a dashboard, a report card section should be added to the Pet Training App development. This is to notify the pet owners about the health conditions of the pet based on the observed data collected by tracking features.
Vaccination and Medication Schedule
A pet is also a living being. It must also be frequently checked and vaccinated correctly to prevent severe disease. Therefore, one should seriously consider adding a vaccination and medication schedule to the Pet Health App. It is to notify the guardians about their medicines and vaccine schedules.
As the name suggests, a diet tracker will keep track of the nutrients supplied to the pet. It will finally release a report card to help pet owners understand the food provided. In consequence, ensure adding it to your on-demand dog walking app.
Emergency contact buttons should be provided in the dog walking app development. Pet owners can add all the numbers for emergencies, such as vets' or police contact numbers.
A pet store button will enable pet guardians to access pet products such as food, medicines, or other lavish items. Accordingly, ensure adding it to the pet care on-Demand App Development.
Advanced Features
The list of advanced features can be as follows:
A sorting or filtering option should be added to the dog-walking app development. This is required to filter the dog walkers, trainers, products, etc., based on different parameters such as pricing, quality, rating, etc.
Use of Artificial Intelligence
Nowadays, the use of artificial intelligence has made things much more manageable. Analyzing and assessing health conditions can be done accurately and efficiently using Artificial Intelligence. Based on the different symptoms, it can help diagnose the pet, which can be treated much earlier and saved.
Introducing chatbots in the Android or iOS App Development in india will help users interact with the service team easily. It will also make it efficient for the service team to sort out the applications. This is because the chatbots could clear doubts, and more complicated tasks could be handed over to the technical team. Further, it will make the app much more user-friendly.
Blockchain Backed Payments
Cryptocurrency is in trend nowadays, and many have started to receive their fees or payments in cryptocurrency. Hence, it will make pet care iOS or Android App Development popular among blockchain users.
If anyone is opting for bespoke pet care app development, the motive behind it must be to earn. Therefore, different services can be charged, and products will be charged. But how will the user pay? To avoid confusion, app developers should add a secure payment option through various means, such as wallets or UPI options.
A GPS tracker enables users to know the current location of the pet. The GPS Tracker feature can be used on any gadget nowadays. Thus, one should always consider adding a GPS tracker option during pet care app development.
Also Read: The best M-commerce app ideas for 2023
How Much Does It Cost to Develop a Dog Walking App?
Any business should begin with minimum capital, and with time and growth, more investment should be made to avoid heavy losses. Therefore, it is the same for pet care app development solutions. Let's Consider developing a dog-walking app. What could be the possible inputs where one will have to invest?
Starting from the research to the final product, one will require investing in

pet care app development services

, where one will have to

hire mobile app developers

.

Moving ahead, the investment will be required to hire the minimum number of dog walkers initially.

The launching of the application will require a small amount of money.
Overall, one can opt for pet care mobile app development at a justifiable cost.
MultiQoS Expertise in App Development Solutions
MultiQos is a leading app development platform and an expert in app development solutions. Here, they develop user-friendly applications using various features such as tracking and monitoring options. Their app development service also includes custom pet care app development. Their engineers can develop apps for both iOS as well as android platforms.
Additionally, regarding the Pet care applications, they can deliver the app with various features discussed, such as dashboards, trackers, GPS monitoring, etc. They are also able to create easy-to-use interfaces with their front-end developers. Moreover, they have developers with other required features such as back-end, push notification developers, etc.
Wrapping Up!
Creating an app requires various skills, but exceptional talent is understanding what features should be used. This is necessary so that the app becomes more user-friendly. As discussed, one should consider only some features since they will complicate the app. Many users, in that case, will dislike it.
Petcare industry is an evergreen industry that will keep booming in peaceful times. Thus, considering the targeted audience's needs and feelings, one can easily invest in the Petcare industry.
Frequently Asked Questions
FAQs on Pet Care Application Development
Any business can be profitable depending on the audience's strategies and needs. Hence, the pet care business is not only profitable but can earn you tons of money. It's because of the growing fondness of people towards taking pets.
It should include regular features such as a login/signup option, a dashboard, etc. Other features such as GPS Tracker or report card should be added to the particular industry based on the requirements.
There are many pet care apps, but a few popular pet care apps are Rover, Wag, Petdesk, etc.
Pet care walking apps can be monetized in three different ways:
App Purchase

Subscription

Charges per walk
Significant problems are faced in the developing phase when the apps on testing are found to have bugs. Many can also need help in research or implementing marketing strategies.
Looking for Certified Professionals to Develop Your Pet Care App?
Our free consultation service will ensure success for your pet care app development.
Your Trusted Tech Partner!
We develop digital products that enable you to embrace innovation and unlock opportunities.
Talk To Our Experts
Subscribe
Newsletter
Get our latest blog posts, research reports, and thought leadership straight to your inbox.