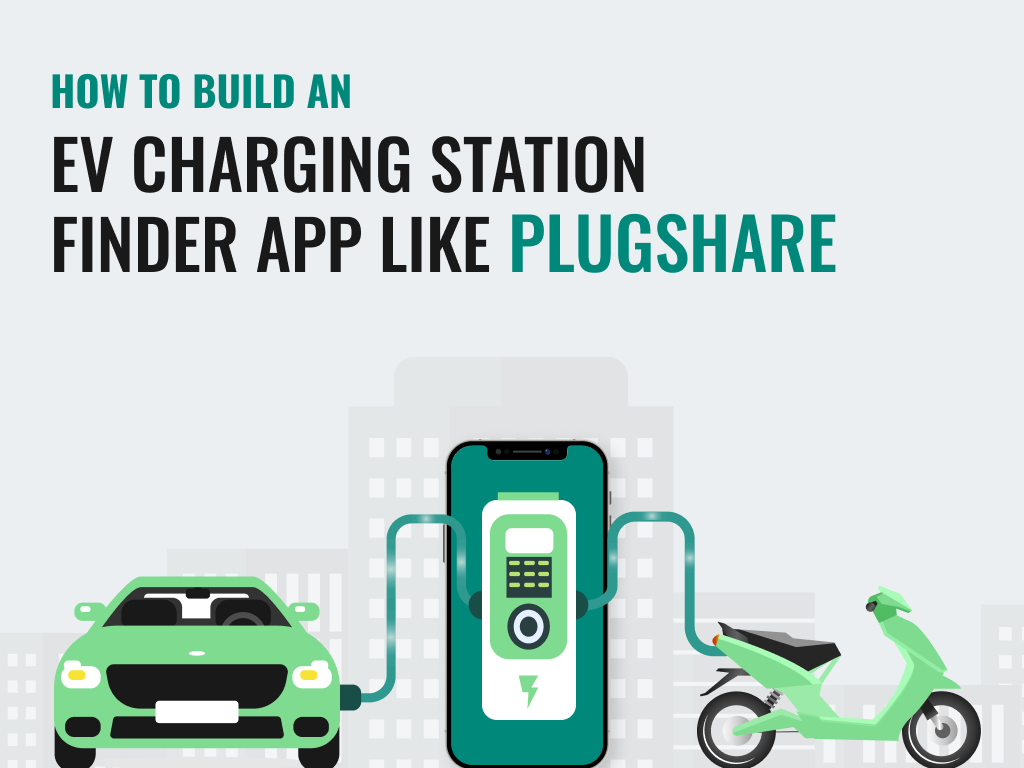 Mobile App
How to Develop an EV Charging Station Finder App like PlugShare: Cost and Features
Introduction As the automobile business is booming across the world, the electric vehicle sector has evolved significantly during the past decade. Taking this into account, governments all around the world…

Parth Thakkar
---
Introduction
As the automobile business is booming across the world, the electric vehicle sector has evolved significantly during the past decade. Taking this into account, governments all around the world have raised their awareness and demanded a healthier environment. As the number of vehicles on the road grows, so does the need for EV charging station finder app development.
Environmental conservation is the prime reason behind the widespread adoption of electric vehicles. These cars have grown in popularity in recent years for a variety of reasons, including the fact that they generate no carbon and do not pollute the environment. Furthermore, these cars are both energy and fuel-efficient as well as cost-effective.
Types of Electric Vehicles
Electric cars are divided into several categories. However, the following three are the most important:
Electric Hybrid Vehicle (HEV):

  A HEV (hybrid electric vehicle) is a vehicle that combines a traditional ICE (internal combustion engine) with an electric motor and battery bank to reduce fuel consumption. When the internal combustion engine (ICE) becomes inefficient, HEVs can minimize fuel usage by switching to an electric motor. When electric motors appear to be less efficient, a hybrid vehicle might convert to ICE. People find hybrid automobiles to be more pleasant to drive than ICE vehicles because they are more comfortable.

Plug-in Hybrid Electric Vehicles (PHEV):

Although Electric Hybrid Plug-in Vehicles are quite similar to hybrid vehicles, they differ in a few ways. In comparison to HEVs, plug-in hybrids have bigger battery packs and high-voltage electric motors. PHEVs may be operated in electric-only mode, which fully eliminates the need for the internal combustion engine. The automobile is designed to automatically transition from a TCE to an electric motor, or vice versa, depending on the conditions, and also recover energy. The driver has the option of filling up the car with both gasoline and electricity. If there is no gasoline, a PHEV may be driven solely on a battery charge, and on fuel if the battery is not charged.

Battery Electric Vehicle (BEV):

A battery EV is a completely electric vehicle. These cars have no internal combustion engines and run entirely on electricity, with their electric motors drawing power from the battery packs. As BEVs are all-electric vehicles, their batteries have substantially larger capacity and kWh outputs than HEVs and PHEVs. As a result, battery electric vehicles are more expensive than other electric vehicles.
What Is An EV Charging Station Finder App?
An EV Charging Station Finder App can show you where charging stations are located in your area. The app will provide you a range of details, such as the kind of plugs accepted by the stations. Cars like the Nissan Leaf and the Chevrolet Bolt, for example, use the same connector for Level 1 and 2 charging but a separate plug for Level 3 charging.
These applications allow you to look up the charging station's ratings, real-time availability, photographs, and descriptions. Users can additionally add EV charging stations when they come across them. Users may also enable alerts, which will send an alarm when a charging station is close by.
How Does a Charging Finder App for Electric Vehicles Work?
Well, an EV Charging Station Finder App is quite efficient and easy to use. It works in the following way:
If you own an automobile, you must register using your phone number, email address, and password on the app. Alternately, you may use any of your social media accounts to swiftly join up.

After logging in, you must provide your GPS (Global Positioning System) coordinates to allow the program to locate you. It also assists you in locating a nearby charging station.

You may also reserve a time slot ahead of time to save time, or you can charge your car at the nearest charging station.

This app's advanced slot booking function will allow you to monitor your app's charge level and progress.

You may also view how much you owe by using the app or visiting a charging station.
Why Invest in EV Charging Locator App?
Investing in EV Charging Stations Mobile App Development in USA is advantageous in multiple ways, as it is currently a relatively untapped industry with little competition.
From 2021 to 2030, the worldwide EV market is expected to grow at a pace of 26.8% per year. More than 4,093k electric vehicles will be sold in 2021. By 2030, this number will have risen to 34,756 thousand. According to Meticulous Research, the global electric vehicle market will develop at a rate of 33.6 percent per year starting in 2020 and would reach USD 2,495.4 billion by 2027.
More than 1.3 million EV chargers were available to the public in 2020, with 30% of them being fast chargers. As electric vehicles become more popular and widespread, the number of EV charging stations will increase dramatically. These industry figures illustrate that the electric vehicle market is fast growing. The demand for zero-emission transportation and the government's measures to assist zero-emission cars through incentives, tax refunds, and other means are the key drivers of this trend.
As the number of electric vehicles grows, so will the number of EV charging stations. Despite the low level of competition, the app concept is not widely used. As a result, establishing an EV charging station finder software might be a great way to start a profitable business in the future.
Also Read: Top Mobile App Development Trends to Watch Out in 2023
Top EV Charging Station Finder Mobile Apps
There is no denying that cell phones have become an integral part of our daily lives. Consumers who use electric automobiles may find that they have a new purpose. They can use the EV charging station app to locate a charging station when they need one. Here are the top smartphone applications for finding electric vehicle charging stations:
PlugShare:

Over 300,000 charging stations are listed in the PlugShare app throughout the world. Vehicle owners can rapidly explore by adjusting parameters, checking information, rating their service, sharing images, and so forth. PlugShare is more popular across Europe and North America and is compatible with iOS and Android users.

NextCharge:

With over 200K charging stations included in this app, NextCharge provides a better and natural user experience in a variety of languages, including English, French, Spanish, German, and Romanian. It is available on both iOS and Android.

ChargePoint:

It is more than just a charging station app; it's also a massive network with over 114K stations. It displays only its charging stations which implies that other networks' stations will not be listed on this app. Filters, online slots, cost calculation, and other features are available to EV owners which can be accessed using both Android and iOS devices.

Chargemap:

With over 166K charging stations, Chargemap is one of Europe's major players. It allows users to connect within the app, form groups, and seek help in addition to providing EV charging services. It's compatible with both iOS and Android devices.

ChargeHub:

It is a popular app for discovering electric vehicles (EV) and Tesla charging stations. It is more popular in the United States and Canada. This software was formerly known as EV Charger Locator and it contains all of the important functions and is available on both the Play Store and the App Store.
Future of EV Charging Stations
Observing the evolution of electric cars in the automotive and technological sectors, it's evident that they have enormous potential, and there's still a lot to learn about them. They can certainly provide a sustainable future. By converting automobiles to HEVs or PHEVs utilizing technology, we can reduce our reliance on foreign oil by 30 to 50 percent while simultaneously reducing carbon emissions by 20 percent. Furthermore, the statistics reveal that the majority of the world's top countries have taken the problem of decarbonization seriously and are moving toward electric cars. 
By 2030, the major car sector will have switched to electric. Electric car adoption is estimated to attain 45 percent of the objective under the predicted regulatory targets. Without a doubt, with the aid of AWS IoT, the future roadways of the leading nations will be governed by electric vehicles, EV charging stations, and EV charging applications; as a result of electrification, the globe will no longer be susceptible.
EV Charging Station Finder App Tech Stack
Due to varying development needs, database, functionality, cloud requirements, server, and many other factors, the technology stack might vary from application to application.
Here is the EV charging stations app's tech stack, which was created with the basic and expected requirements and features in mind. Let's take a look at the development requirements for what should be included in an EV charging station locator app.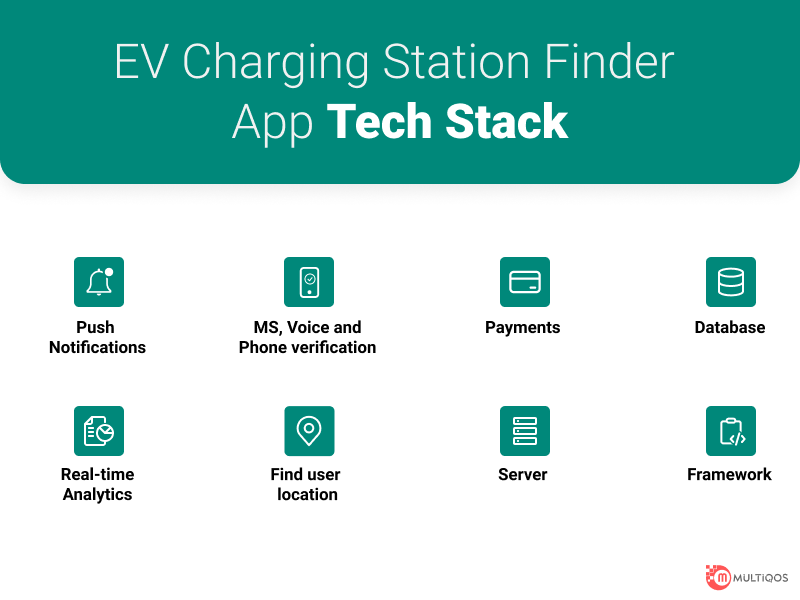 Push Notifications:

Twiiio, Push.io, Amazon SNS, Urban Airship, Firebase, Cloud messaging
MS, Voice & Phone verification:

Nexmo, Twiiio
Payments:

Braintree & PayPal, Stripe, EWallets
Database:

MongoDB, Hbase, Cassandra, Postgress, Mail Chimp, Integration, MySQL, and Redis
Real-Time Analytics:

Hadoop, Spark, BigData, Apache Flink, Cisco, IBM
Find User Location:

Core location framework, Google places API, Google Maps
Benefits and Key Features of EV Charging Station Locator App
An EV Charging Station Locator App serves numerous benefits, including:
Helps to save time:

The program enables you to reserve a charging session ahead of time, allowing you to avoid waiting in line.
Serves emergency:

In the event of an emergency, it goes without saying that the app will find nearby stations.
Easy Transaction:

You may effortlessly transact the money and maintain track of your transactions within the app.
The key features of a fully-functional electric vehicle charging locator app includes:
User sign-up and profile

List of nearby charging stations

Station details

Slot booking
Advanced Features of EV Charging Station Finder App
Chatbot Integration to provide help and support to the users and cut down the hassle of waiting for an executive to respond.

Filters to enable smooth search and easy browsing for charging stations as per the location and required service type.

CRM Integration ensures your business runs efficiently for a longer period and allows building healthy relationships between existing and new customers.

Geolocation to allow the user's smartphone to access location and show nearby charging stations

Loyalty Programs to draw in the interest of the customer and ensure their return.
Also Read: Mobile App Testing Scenarios & Test Cases for iOS & Android Apps
EV Charging Station Finder App Development Timeline
The creation of an EV charging place locator app is not as difficult as you would imagine. It needs a clear vision and a commitment to creating something that addresses a real problem for the company's users. However, the skill of the app development business you choose will have a significant impact on the outcome of the development process. Let's have a look at the timeframe for developing a Android and iOS mobile application.
Market Research: Work with an app development business to do market research to identify potential opportunities, target audience expectations, current rivals, and more.

Before you start developing, figure out how many EV charging stations are in the area, how many electric vehicles are on the road, and so on. Examine the current EV charging applications and how they operate. Considering all of these aspects is critical for your app's success.

Choose Features: With the features, we've discussed thus far, you may go on with app development. These include both basic and complex elements that enhance the user's experience and ensure that their expectations are met. To stay competitive in the market and attract new users, your app should have some innovative and distinctive features like the internet of things (IoT).
Decide on Platforms:

You will know whether the bulk of your target audience utilizes Android or iOS based on your market research. You may have the app produced for both operating systems and distribute it through Google Play and Apple App Store. However, if only a small percentage of your audience uses iOS, you would be better off sticking with Android.

Hire an App Development Company:

The functionality, performance, user experience, and user interface of any mobile app all play a role in its success. You should seek out a reputable app development firm with experience in developing such apps if you want to guarantee that your app is strong and high-performing. Additionally, seek a firm that can handle

UIUX design

as well as app testing. This will save you time because you will have a one-stop-shop to turn your company concept into reality.

App Testing: Before the app is published, it must pass this stage. A group of experts mobile app developers

uses their approaches and tools to detect and solve any flaws that remain in the app after development. Users will encounter a variety of challenges if these faults and defects are not addressed, and they may abandon your app. As a result, make sure your application is thoroughly tested before releasing it.
Monetization Opportunities for EV Charging Station App
It is natural that after creating a mobile app, you'll want to monetize it. Advertising, subscription fees, transaction commissions, and other revenue streams can all be used to monetize an electric vehicle charging app. We'll go through each of these strategies in further depth.
Promotions:

The most frequent way to make money in mobile apps is through advertisements.

In the applications, pop-ups, sidebars, videos, and other types of advertising are employed.

Many EV Charging Station Finder Apps do not charge users anything to use them; instead, they display advertisements and make money from advertising fees.

E-commerce Integration: The revenue model's purpose is to produce money without annoying or stealing people. You can generate money by including e-commerce features through membership. The user must pay a subscription fee to use the app. As a result, you will receive money every time a user subscribes to your app. If you wish to provide free membership, you may charge them for making a reservation at a charging station, and you can reimburse both users and charging stations.
How Much Does It Cost to Build an App That Locates EV Charging Stations?
We must first assess your requirements and the features and functions you desire to estimate the cost of building the EV Station Finder app.
The overall cost of producing such an app is governed by several crucial aspects. The important considerations include the app development company's location, the features you wish to include, the platforms you pick (Android, iOS, or both), and the program's complexity. The typical cost of establishing an electric car charging point app will be between $10,000 and $40,000, depending on the parameters.
Are You Ready to Build Your Own EV Charging Station Finder App?
There will be a plethora of fantastic electric cars with incredible capabilities and features in the future. With an increase in the demand for electric vehicles, the need for charging stations will rise as well, resulting in a rise in the demand for charging spot finding applications. 
Users of this genre anticipate a high degree of quality as well as a high level of practicality. If you are looking to create a charging place discovery app that meets customers' expectations and outperforms the competition, a leading mobile development company has got the right option for you.
Let's Create Big Stories Together
Mobile is in our nerves. We don't just build apps, we create brand. Choosing us will be your best decision.
FAQ on EV Charging Station Finder App
Build Your Team
Book a Consultation Now!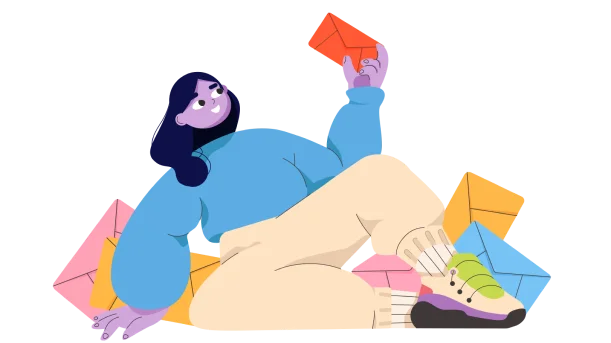 Don't Miss Out!
Your Inbox's New Best Friend. Subscribe Now and Never Miss a Beat!
Read More Blogs