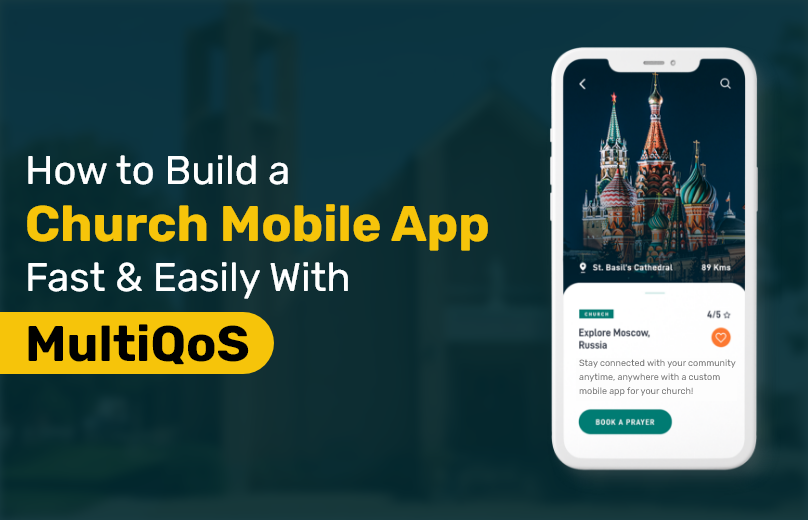 Mobile App
How to Build a Church Mobile App Fast and Easily With MultiQoS – Cost & Features
Introduction In today's 21st century, regardless of the size of your company or business, your mobile application shall be a fundamental factor in promoting your business. Businesses may be small…

Parth Thakkar
---
Introduction
In today's 21st century, regardless of the size of your company or business, your mobile application shall be a fundamental factor in promoting your business. Businesses may be small companies, entrepreneurs or big companies, rely on mobile applications to succeed in the competitive market. The majority of us spend a significant amount of time on our phones, which have become crucial in our everyday lives. However, they can occasionally divert our focus away from more important matters. But it is quintessential to note that any device can be used as a spiritual, material, or educational advancement if used with prudence. 
A church app is not only easy to use, but it also receives positive feedback from users. Most churches in the market have established their customized mobile apps, which have yielded outstanding results in terms of boosting contact with the congregation and other objectives. The primary objective of developing church applications is to create a digital presence. There is great potential in Church app development. Let's take a closer look at some of the variables and features that go into creating a Church app.
Why Do You Need a Church App?
Church Mobile Applications is one of the latest contributions in the field of Mobile Application Development. Church applications are a fantastic method to keep everyone connected on one platform while ensuring seamless and effective communications to communicating about activities and raising funds. According to a study, the marketplace for church application development will expand by around $126.48 million by 2020. However, it isn't just limited to that; research indicates that the same market will grow at a CAGR of more than 3% in the future years.
Here are some of the reasons as to why you would need a Church application: 
Effective Communication:

Church Application aids in improving communication, making it more streamlined and effective. With the rise of the pandemic, the people have remained indoors, and an application can be the most efficient method of connecting and communicating with the Church and its followers. 

Spreading the Teachings:

Church Application aids in effective communication with the followers, and thus, you can spread the preaching and teachings of the Bible via the application. This ensures that people are safe from human contact whilst effectively connecting with the Church. 

Spreading Messages and Information:

There might be delays in communication or sending messages or invitations; however, a church application ensures that you can send out invitations easily to several people in an easy manner. 

Live Streaming:

One of the biggest advantages is that you live to stream your events in the mobile application, which can attract people outside of your Church to join. Furthermore, in the event of a pandemic, devotees may be unable to leave their homes to attend prayers and church sessions. In this case, live streaming may be the greatest alternative for staying in touch with the devotees. People from all around the world may readily participate in all of the Church's meetings and prayers.

Secured Access:

The post-pandemic reality demonstrates the necessity for churches to become more adaptable and to go online. Priests and nuns can use church software to virtually conduct religious services and meetings without being bound by specific locations or times.

Reaching to a Larger Audience: Everyone has access to smartphones. Thus, one of the best advantages that you can take is to promote your Church's name and brand through the application, which can reach out to the devotees and the others who are away from their homes. This would ensure effective participation and engagement of people and would provide you an opportunity to share any messages or events, or stories. 
Donations and Fund Raising:

The application streamlines the process of raising funds and asking for donations. The methods of social media sharing, digital payments, and e-mauls can ensure that people can reach out to you easily and make payments.
Why Custom Church Apps?
Mobile App Developers cannot still ensure either work reliability or full functionality using out-of-the-box systems and applications. However, the only method of maintaining a high level of user experience and keeping the users engaged is via designing a custom application. Custom Church apps enable you to conduct live streaming, start donations online; charity and volunteering are also possible whilst they aid in overcoming the challenges that are faced via online medium.
Types of Church Applications
While you plan on developing church applications, you would also need to think of the type of church application. There are a variety of Church Apps, including:
App for Church Members:

The mobile application for church members would enable you to share the teachings of God and spread the messages via the mobile app itself. You could also stream the meetings, events and other important programs via YouTube or Vimeo for a larger audience. The members of the Church can register for the events virtually, donate through the church communications applications, live stream videos and events, be a part of the daily church prayer, and save or download daily sermons.

App for Church Clerics:

This mobile app enables the Church leaders and the clerics to have fruitful discussions to conclude, and each has individual access to the database.

When the leaders enter the database, the application notifies the clerics.

Furthermore, the clerics can also check the modifications made to their profiles. It also enables clerics to keep track of attendance, involvement levels, and much more.

App for Children:

Children's applications vary from those intended for adults. There seem to be a lot of unique aspects to creating a church app for kids. It's important to remember that children shouldn't get bored when using the program. As a result, the best method to entertain comparable children's applications is to provide kids the chance to play games and complete fascinating activities. This should be coupled with their engagements and learning of spiritual teachings. 

App for Spiritual Leader:

These types of apps are mostly used to manage the members of the Church and parishioners. It may check attendance and assist spiritual leaders in keeping track of participation in various meetings and groups. The app should be password-protected so no one else may acquire parishioners' personal information.
How to Develop a Church App in Easy Steps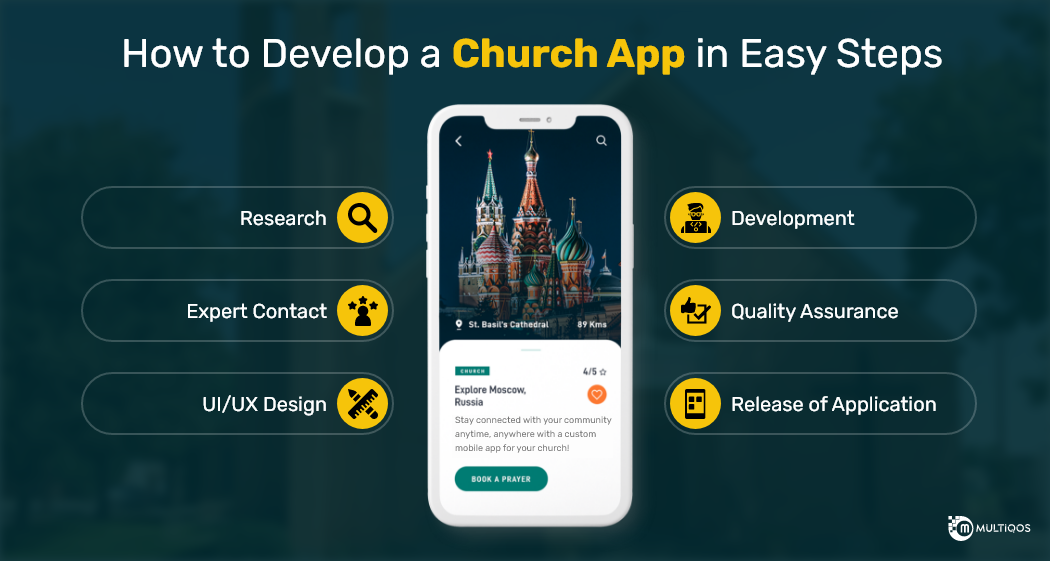 Research: The Research phase entails sessions in which a business analyst gathers information about your company, objectives, and project concept to comprehend the app's objectives fully. The business consultant prepares a design specification that defines all of the features and technology stack once all of the data has been analyzed. For each app screen, UI/UX designers generate wireframes for the app.
Expert Contact: An professional consultation can assist you in determining the viability of your project ideas as well as the current industry trends. You'll learn about the technology stack and tools that help your app successfully compete in the market. A professional can also walk you through the entire church app development process and help you arrive at a decision.
UI/UX Design: In today's competitive business environment, UI/UX design services

have become the most important and important part of market development. It's no wonder that almost every marketer nowadays spends money on app development. But, usability and design are two factors that determine whether an app is a success or a failure. Remember that the appearance of your church app must be in accordance with the rest of your community. You can personalize it with your Church's logo and add personalized features to make it look more interactive.

Development: Mobile app Developers

turn mockups into functional social networking sites. The development process is divided into sprints (two-week periods) in which developers must complete a certain component of the website's function. 

Quality Assurance: Your program must be bug-free to give an excellent user experience. As a result, quality assurance engineers conduct tests to check that the church application works as intended and adheres to the testing plan. If problems arise, they document them in a bug report and submit them to developers for resolution.
Release of Application: The software developers make the last modifications and refine the application to confirm that the church application is set for distribution. After the product has been refined, the developers pass that over to the customer together with all materials and equipment.
Challenges in Building Church Apps
Some of the challenges faced while building the church app online are:
Cost: The cost can be a major hindrance while building church applications since the costing factor is regulated by a plethora of factors such as the platforms, the complexity of the applications, the organization/company your hire for development and several other features. When making selections, it is important to keep your budget in mind.
Updates: When nothing changes or improves, the bulk of users will exit the app. A great way to maintain your users is to regularly keep your church app updated and relevant by checking for any faults. It's possible that people will delete your platform if they don't find it useful. However, please remember that the updated app will only be available to users after being certified by App Stores.
Security: In the virtual world, security is a major problem. There are chances that the data of the parishioners can be hacked, or the information of the users can be leaked. To prevent unwanted access to sensitive information, use multi-factor authentication and encrypt connections and offer the maximum level of security to your clients, use an SSL certificate. To ensure total protection, you must also undertake a cybersecurity self-evaluation and check security flaws after each update.
Marketing Strategy: Your church app might drastically fail without proper marketing techniques. Make sure you execute a marketing effort prior to the release of your software. This method makes it simpler to attract new members and build trust in your church website.
Church App Features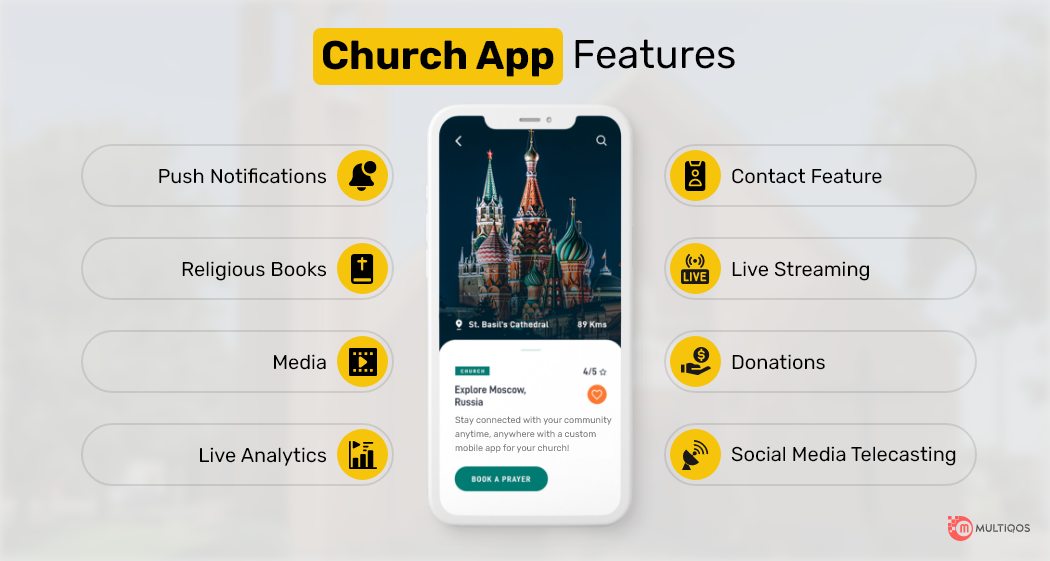 Some of the essential features for your Church Applications are: 
Push Notifications: The feed can inform the users of any events and send notifications to them. Developers of church apps can create a notification system using push notifications.
Religious Books: The feature of providing the comfort of reading the book from mobile devices is one of the best features. As a result, you can give them this opportunity through your personalized church app. Allowing for personal messages is also a great idea.
Media: You can add videos to your media collection by connecting with video streaming websites like Vimeo or YouTube. Furthermore, you can also add the feature of audio sermons and can create a feature of your podcasts and audio files for download.
Live Analytics: The Live Analytics functionality will aid the app's owner keep track of consumer activity and improve the user experience. You can also use tools to measure the app's success and global influence.
Contact Feature: This feature shall enable the users to contact the parishioners, ask questions in chat, contact the churches, or even make phone calls. This shall facilitate the communication process.  
Live Streaming: You can perform live coverage from your church app using Live Stream or Ustream services. This functionality will assist parishioners who cannot personally attend church services or particular events in keeping up with events organized in the Church.
Donations: Churches or any Non-profit organizations generally rely on donations and funds. You can add the feature for sending notifications or reminders to the parishioners to donate to the Church. You can include online payments that can make it easy for the users. 
Social Media Telecasting: This feature would enable the user to live telecast the events or programs on social media to attract a large fan base.
What Does It Cost to Create a Church App?
Android and iOS mobile app are the most widely utilized platforms by users across the globe, and thus, the platform you pick for the church app development impacts the cost of app development. However, if you choose to launch your application on multiple platforms, the cost of development shall significantly rise. The number of platforms an app development company wants to construct, whether single or several, is totally up to them, and the complexity of the application also regulates the cost. Mobile applications are generally classified based on their complexity levels, i.e., whether they are high-end complex, medium, or simple. Generally, the medium and the high-end tend to be comparably expensive than the simpler version. Thus, it is quintessential that you keep note of your budget while you decide on the functionalities and the features of your applications. 
Cross platform app development services can reduce the projected development time by up to 50%, lowering costs. The reason is that the native projects account for both platforms' development cycles and time. You might also explore outsourcing application development to one of the best outsourcing companies to acquire a high-quality application at a low cost. The final cost of creating a church app will be substantially lower, with average hourly fees ranging from $25 to $50.
Furthermore, if you choose a startup company, the cost is minimal, but if you choose a multinational corporation, the cost is very expensive. The decision to hire a mobile app development team is made by the person or company who wants to create an app. Aside from the development company, their location impacts the price of your Church app. The cost of an app developer differs from one location to the next and from one country to the other.
Tech Stack for a Church Application
Some of the most advanced technologies are accessible for church app creation. Native mobile apps are built using a programming language like Swift (for iOS) or Kotlin for Android (for Android). Programmers use flutter for cross-platform programming.
Some of the essential required technologies are: 
Flutter Based apps: Chopper (Networking) & Dart (Programming language)

Android Applications: OkHttp 3 (Networking) & Kotlin (Programming language)

iOS Apps: Alamofire(Networking) & Swift (Programming language)
Team Required for the Church App Development
It takes in a team for the development of a Church app, and this team should be inclusive of a 
Project Manager

Business analyst

Web/Mobile App developers

Quality Assurance Engineers

UI/UX designers

iOS/Android App developers
Your app development team can be chosen depending on the needs of your project and the objectives and demands of your project, thereby also being regulated by your budget. You can prefer choosing a high-end or medium or small-sized company or multinational company to outsource. If you choose a startup company, the cost is minimal, but if you choose a multinational corporation, the cost is very expensive.
MultiQoS Expertise in Making Church App
There are a plethora of mobile app development services that can aid you with church app development; however, you need to think about the deciding factors before arriving at a conclusion. You need to look up their portfolio and see their reviews and their experience in the field. MultiQos is the top Mobile App Development Company that excels in mobile app and cross-platform app development services. We can help you develop the best church app with unique features. Our Mobile app developers develop the best solutions and management applications for your Church App. In addition, I've worked with a number of well-known companies. In addition, we have received a lot of excellent feedback and reviews. We have years of expertise in the field of mobile app development. We accomplish this by developing cutting-edge media and technology resources that enable the whole ministerial team and all ministry platforms to engage and teach effectively. We uniquely approach each project and give unique features. We also adhere to a fixed deadline.
Conclusion
Mobile app development is time-consuming work that requires the effort of a team of developers who devote themselves to developing an application from scratch. It takes a team of organized developers and workers to develop an application with perfection, and this is where you decide to choose the best plays a quintessential role. Application development is a critical business in today's fast-changing competitive world because nearly everybody spends time on their cellphones than anyth So, if you're ready to make your Church more popular and accessible to its members, a church app is the best investment you can make.
Do you want to learn more about church app development? Contact Us today to get answers to any of your queries.
Let's Create Big Stories Together
Mobile is in our nerves. We don't just build apps, we create brand. Choosing us will be your best decision.
FAQ on How to Build Church App
Build Your Team
Book a Consultation Now!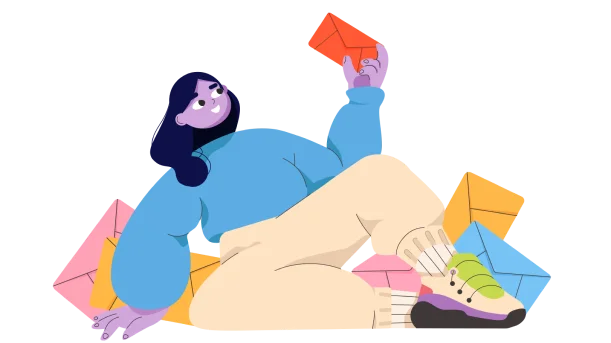 Don't Miss Out!
Your Inbox's New Best Friend. Subscribe Now and Never Miss a Beat!
Read More Blogs