Industries
How Internet of Things Is Transforming the Ecommerce Industry in 2023?
People have started to favor e-commerce over markets due to the convenience it provides them. Although this rise of e-commerce was seen, there were a few loopholes. However, with the…
23 January, 2023
4 minutes read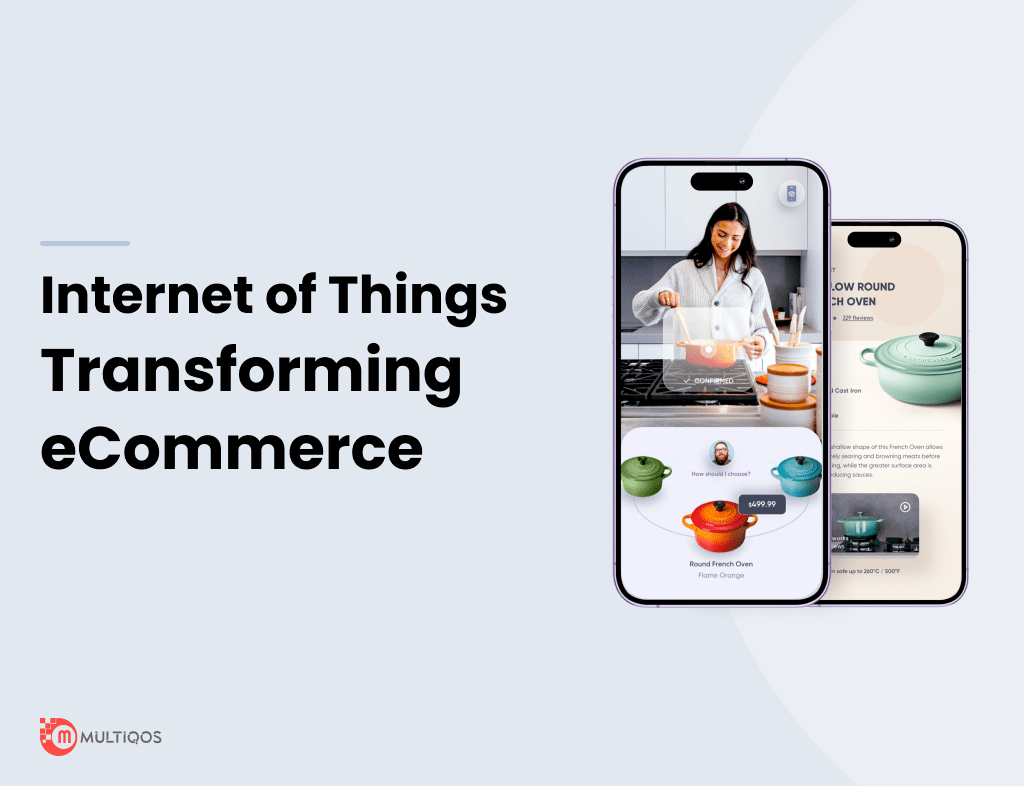 People have started to favor e-commerce over markets due to the convenience it provides them. Although this rise of e-commerce was seen, there were a few loopholes. However, with the innovation of the Internet of things (IoT), those drawbacks, such as improper logistics tracking, inefficient inventory management, etc., were easily solved. The Internet of things is transforming the eCommerce industry completely.
Also, people have started selling different things not bought online earlier because of the positive outcome of using IoT. 
The survey says the United States has seen a surge of 14.2% in the sales of eCommerce. 

The online marketing of flowers and groceries has increased by 18% and 62%, respectively. 
Now, these figures have started intimidating more people to start their venture in the eCommerce industry. This guide is for you if you also wish to build an eCommerce app. 
Benefits of IoT in eCommerce Business
Enlisted are the four best benefits of IoT when it comes to running an eCommerce business:
Better Tracking and Logistic Process
When the orders were placed, they weren't accurately tracked earlier. However, with the help of IoT technologies such as GPS, from the pick-up of the order to the delivery of the parcel, shoppers are accurately informed of the parcel's location.
Efficient Inventory Management
Inventory management is a crucial factor for goods industries. Earlier, inventory management was a manual process. However, with the use of RFID tags and IoT sensors, inventory management has been eased. It has speed-up the ordering process.
With the evolution of E-commerce, people have found a new way to commit fraud by exchanging ordered items for old items. However, with the help of sensors and tags, IoT helps reduce fraud and support the business's survival.
IoT has eased the shopping method; once a customer has processed the order, IoT technology deducts the amount straight from the smartphone used to order. It also comprehensively analyzes shoppers' choices and shows them the relevant products.
What To Consider Before Using IoT in eCommerce Business?
Have you considered investing in eCommerce app development services or implementing IoT in your e-commerce business? If yes, here are some tips to get started: 
What does IoT technology allow your business to do that it can't do otherwise?

What opportunities does IoT present for your business?

How will IoT technology impact your business, and what steps will you need to take to mitigate the risks?

Are there any regulatory restrictions unique to implementing IoT in eCommerce businesses?
Also Read: A Comprehensive Guide On IoT For Predictive Maintenance in 2023
How Is IoT Revolutionizing the eCommerce Industry?
Today, the eCommerce industry is experiencing a revolution thanks to technology. In particular, apps and mobile devices have allowed customers to have a more seamless and convenient shopping experience. IoT (Internet Of Things) is one app that allows users to find the nearest store and make purchases without leaving their smartphones or computers.
IoT also provides consumer behavior data so merchants can better understand and anticipate their needs. This precise knowledge allows merchants to offer more personalized services and product recommendations. 
Additionally, IoT enables retailers to be more efficient by pinpointing inventory shortages. Besides, they are making faster decisions regarding pricing, promotions, and inventory levels. Over and above, the studies are indicating a massive surge in the e-commerce business.
Reports of GrandView Research suggest that by the end of 2025, the retail eCommerce industry will spend around $94.44 billion on IoT.

Statistics suggest that investment in IoT in e-commerce has increased by more than 75% from 2014 to 2025.
Well-known Companies Using the Internet of Things in eCommerce
Amazon

: It has been utilizing

IoT application development services

to enhance its eCommerce operations. A smart refrigerator that will place orders for you when the contents run low is currently being developed. Additionally, they created a door lock that an app can control.

Pizza Hut

: With IoT, Pizza Hut is working to enhance customer service. Customers receive coupons for a free pizza when their wait time exceeds 20 minutes, which is tracked by sensors.

Walmart:

They have sensors in their checkout lanes that track how quickly customers are checking out, and they subsequently modify the line's pace as necessary.

Ikea:

All of their businesses have cameras that observe consumers while they browse the merchandise. They feed information about what they are looking at to a computer program. This enables Ikea to tailor offers to each passing client.

Starbucks:

Instead of attempting to upsell customers on things they don't need or desire, they utilize sensors. They use these in their coffee shops to track how many cups individuals consume every visit. They then provide them with nutritional information about the coffee.
How Much Does It Cost to Build an IoT-Based eCommerce App?
Building an eCommerce app costs between $20,000 and $65,000. It's dependent on multiple factors, like complexity in terms of features you are trying to embed, the technology stack being used, etc. Not just that, the cost of developing an eCommerce app is influenced by the number of hours put into making it and maintenance, etc. 
It further includes testing, geography, types of apps, design part, and location of the developers (if hiring from another place than yours).
In South-East Asia, the cost ranges between $20 and $40.

For East Europe, the cost ranges between $30 and $50.

In India, the cost ranges between $20 and $50; in East Europe, the cost ranges between $50-$25.
MultiQoS Expertise in eCommerce App Development
With every passing day, the eCommerce business is getting more demanding and challenging because of the high competition. In order to grab the attention of customers, you need to think something out of the box. MultiQoS is an IoT application development company that will increase your traffic, and the sale will also be enhanced. 
Further, the various IoT app developers are well-equipped with the experience of developing hundreds of eCommerce web and mobile applications at MultiQoS. Moreover, they have expertise in producing different applications such as B2B, B2C, wholesale markets, reselling platforms, etc.
Besides, for availing of eCommerce app development services, reach out to MultiQoS and opt for building an eCommerce app. Their expertise in the field will be required for a better, innovative, creative, and profitable application for your business.
Key Takeaways
Like every other business, building an eCommerce app development company in India involves risk. Sometimes, people commit fraud by replacing the parcels and asking for a return or exchange. Also, customers sometimes prefer to avoid the product on arrival and wish to return it. Now, in that case, it becomes essential for the parcel to return safely and sound. Else, it will be counted as a loss.
Consequently, it becomes crucial that people start considering the Internet of Things for their e-commerce websites or applications. This is also why opting for a company with expert eCommerce app developers is hugely required.
Frequently Asked Questions (FAQs)
FAQs on IoT in eCommerce Business
Warehouse robots

GPS trackers in vehicles 

Remote monitoring systems
Inaccurate product information or spelling mistakes are among the leading causes of errors when purchasing online. By automatically delivering messages when an item goes on sale or becomes available again, the IoT could help decrease those errors.
Customers no longer need to leave their homes to shop. It's because eCommerce has fundamentally changed. Customers purchase now using their fingertips via desktop and mobile devices.
Customers finish a purchase if it is simple for them to do so. Ensure your customer service is outstanding enough to quickly resolve customer issues related to a purchase or a complaint soon.
Want to Employ IoT to Transform Your Ecommerce App?
We provide exceptional ease to end-users on the go by building mobile-centric apps that support the eCommerce model.
Your Trusted Tech Partner!
We develop digital products that enable you to embrace innovation and unlock opportunities.
Talk To Our Experts
Subscribe
Newsletter
Get our latest blog posts, research reports, and thought leadership straight to your inbox.