Tech
List of Top 10 Mobile App Development Companies In India 2023
In the rapidly evolving digital landscape, mobile applications have become indispensable for businesses to thrive and connect with their customers. India, renowned for its tech prowess, houses several exceptional mobile…
7 August, 2023
11 minutes read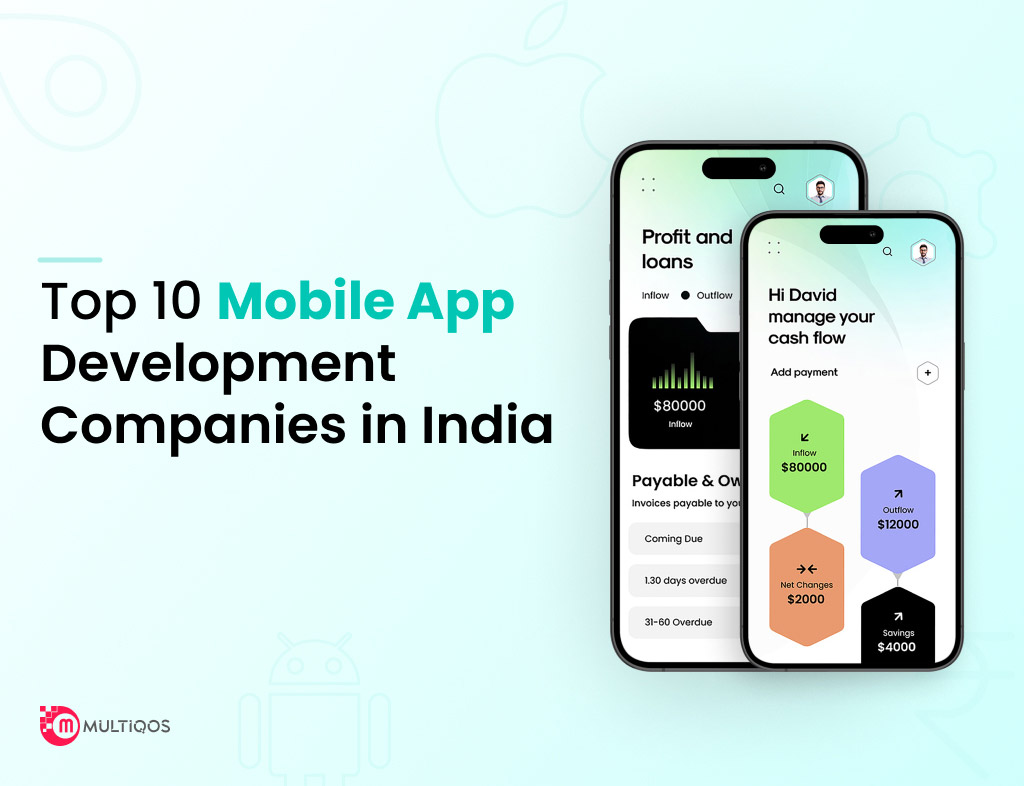 In the rapidly evolving digital landscape, mobile applications have become indispensable for businesses to thrive and connect with their customers. India, renowned for its tech prowess, houses several exceptional mobile app development companies. This blog delves into the top 10 Mobile App Developing Companies In India, their services, and their contributions to the mobile app development industry in 2023.
Mobile applications, also known as apps, are software designed for mobile devices. They are compact in size, offering specific functions to meet users' needs. These apps have become integral to our daily routines, setting alarms and creating to-do lists.
Mobile application market valued at $208.5 billion in 2022. Forecasts suggest a remarkable increase to $777.4 billion by 2032, driven by a robust compound annual growth rate (CAGR) of 14.4% from 2023 to 2032.
These apps are powerful tools for connecting with customers and establishing a brand identity. They provide unique user experiences and enable businesses to improve their services based on user feedback. Push notifications, among others, leave a lasting impression on customers. Integrating the latest technologies creates more possibilities.
Mobile app development involves various trends, such as on-demand apps and Progressive Web Apps (PWA). Developers need diverse skills, including proficiency in programming languages, familiarity with various tech stacks, and proficiency in using different tools. This ensures efficient app development, delivering promising results for users.
Market Stats of Mobile App Development In India
Mobile App Development Companies In India are experiencing remarkable growth, fueled by the widespread use of smartphones and a flourishing start-up ecosystem. Recent reports position India among the leading countries for app downloads and usage, highlighting the immense potential and opportunities for app developers.
In 2022, the global mobile application market was valued at approximately $208.5 billion.
The market is expected to experience substantial growth, with projections indicating a surge to $777.4 billion by the year 2032.
As per Statista data for the third quarter of 2023, the collective global consumer expenditure on mobile apps reached a sum of $33.7 billion USD.

Compound Annual Growth Rate (CAGR)
The market is set to witness a robust compound annual growth rate (CAGR) of 14.4% from 2023 to 2032, contributing to its significant expansion.
Statista projects that the total revenue within the App market is anticipated to achieve a value of US$3,147.23 million in the year 2023.

The app ecosystem encompasses various types, including gaming, social networking, productivity, e-commerce, and more, catering to different user needs.
App distribution is facilitated through major platforms like the Apple App Store and Google Play Store, enabling developers to reach a global audience.
Developers need to cater to different operating systems, primarily Android and iOS, often requiring platform-specific development.
Advancements like AI, AR, VR, and IoT are being integrated into mobile apps, enhancing user experiences and functionalities.
These statistics highlight the dynamic and ever-evolving nature of mobile app development, as well as the opportunities and challenges it presents to developers and businesses alike.
Benefits of Using Mobile Apps For Modern Businesses
Mobile apps offer an array of advantages for modern businesses. They enhance customer engagement, boost brand visibility, streamline operations, and cultivate customer loyalty as they hire mobile app developers in India. By delivering a convenient and accessible experience, mobile apps significantly improve user engagement, leading to increased sales and revenue. Embracing apps is no longer an option but a necessity for businesses aiming to stay competitive in the market. Mobile applications offer direct and personalized customer communication via push notifications, in-app messages, and tailored content, boosting real-time engagement with updates and promotions.
Apps ensure 24/7 accessibility, fostering reliability for customers to interact, browse, and purchase at their convenience, irrespective of time zones.

User-friendly apps create immersive experiences, fostering brand loyalty and repeat business through added value like loyalty programs and exclusive content.

Efficient customer support via chatbots or in-app messaging enhances satisfaction and resolves concerns promptly, improving the brand image.

Apps yield valuable insights into customer behavior, refining marketing strategies, optimizing offerings, and tailoring approaches.

They provide a competitive edge, showcasing innovation and attracting a wider audience in the digital age.

Apps serve as a targeted marketing channel for new products, yielding higher conversion rates.

Seamless purchasing through one-click options and personalized recommendations boosts sales and order values.

Apps adapt to trends like augmented reality (AR) or virtual reality (VR), offering unique and captivating user experiences.
What To Look For In Mobile Application Development Companies in India?
Selecting the right Mobile App Developing Firms In India is pivotal to a successful project. In order to achieve success in your digital venture, it is crucial to choose the right mobile app development company in India. With the abundance of options available, it's crucial to identify the key factors that ensure you partner with a capable and reliable team. Here's a comprehensive list of points to consider when evaluating mobile application development companies in India:
Prioritize companies with a proven track record of developing mobile applications across diverse industries. Their experience should align with your project's requirements, whether it's iOS, Android, or cross-platform development.
Review the company's portfolio to gauge its quality and versatility. Look for applications that demonstrate creativity, innovation, and user-friendly design.
Assess the company's technical skills, including the programming languages, frameworks, and tools they use. Ensure that their expertise aligns with your project's technological needs.
User experience (UX) and user interface (UI) design are crucial for app success. Look for a company that prioritizes intuitive and visually appealing design elements.
Client References and Reviews
Reach out to past clients to gain insights into their experiences with the company. Online reviews and testimonials can provide valuable information about a company's professionalism, communication, and project management.
Clear and efficient communication is fundamental to a successful and productive partnership. Ensure the company maintains clear and consistent communication throughout the development process.
A company that follows an agile development approach can adapt to changing project requirements and deliver incremental results, fostering transparency and collaboration.
With the increasing risk of cybersecurity threats, ensure that the company follows best practices for securing sensitive user data.
While cost is a consideration, it should not be the sole deciding factor. Look for a company that provides transparent pricing and avoids hidden costs.
By thoroughly evaluating these factors, you can make an informed decision that will lead to a successful and rewarding partnership. Furthermore, assessing the company's grasp of cutting-edge technologies and its capacity to deliver innovative solutions is crucial for making an informed decision.
List of Top 10 Mobile App Development Companies In India
We have prepared this guide to assist people in choosing the best and most reliable app development partner for their business needs. Below is a list of mobile app development companies with development centers in India. There are quite a lot of app development companies out there, but when it comes to the Best Mobile App Development Companies In India, here's the list: 
1. MultiQoS Technologies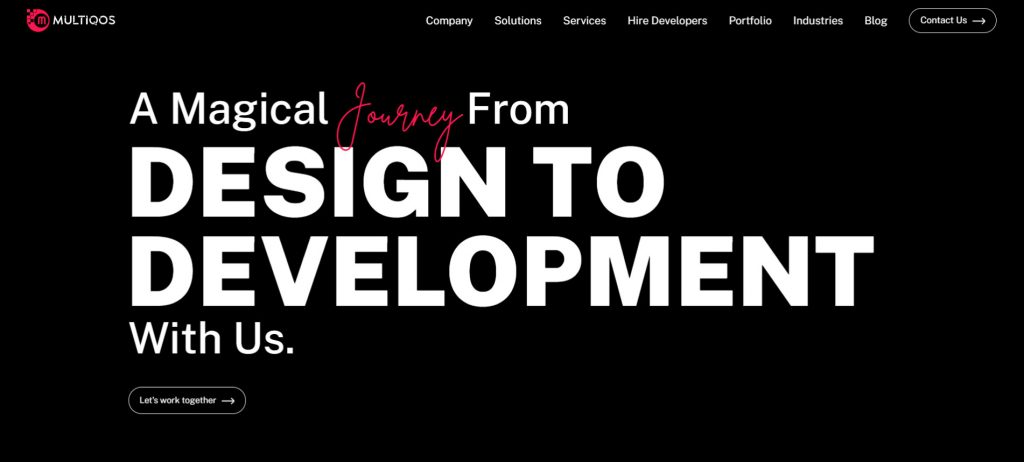 MultiQoS Technologies is a trailblazing mobile app development company in India. With a rich history of innovation and commitment to excellence, MultiQoS stands at the forefront of transforming app ideas into reality. Driven by a team of highly skilled and experienced professionals, MultiQoS Technologies has earned its reputation as a reliable partner for businesses seeking cutting-edge mobile app solutions. Their expertise spans a wide range of industries, from e-commerce and healthcare to finance and entertainment. They meticulously analyze each client's unique requirements, ensuring that every app they craft is tailor-made to meet specific goals. By seamlessly blending creativity with functionality, MultiQoS creates apps that provide exceptional user experiences and drive tangible results. One of MultiQoS key strengths is their dedication to staying at the forefront of technological advancements. They consistently embrace cutting-edge technologies, such as AI, AR/VR, and blockchain, to empower their clients with apps that are current but also future-ready.
Founded Year : 2020
Average Hourly Rate :  < $25 / hr
Minimum project size : $1,000+
Location : India, United States & Germany
Core Services : Mobile App Development, Web Development, Custom Software Development, Web Design, E-Commerce Development, UX/UI Design, Application Testing
2. Capital Numbers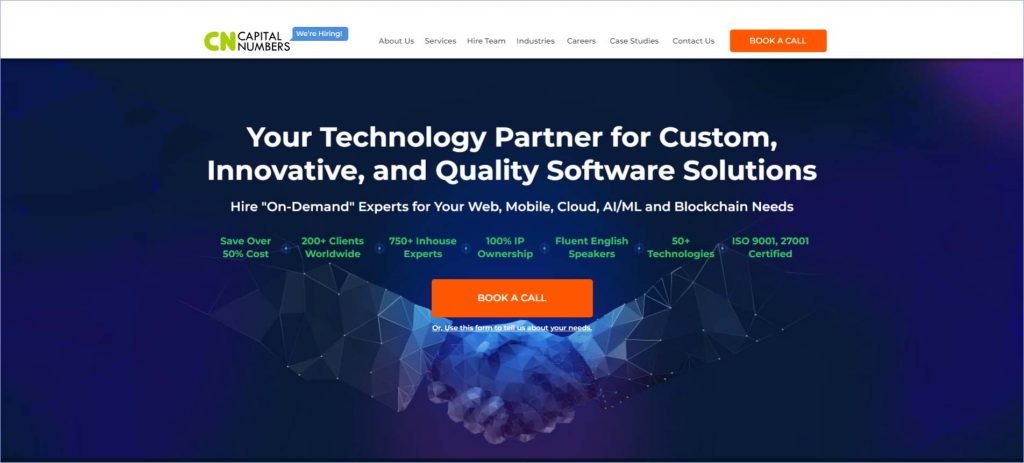 Capital Numbers is a highly reputable mobile app development company among App Developers India, known for visually stunning and functional apps. Their expertise covers both iOS and Android platforms, catering to diverse businesses. They excel in strategic app marketing and prioritize client satisfaction through open communication. Capital Numbers impressive portfolio spans industries like eCommerce, healthcare, finance, and entertainment, showcasing their ability to create tailor-made apps that drive growth. 
Founded Year :  2012
Average Hourly Rate :  < $25 / hr
Minimum project size : $5,000+
Location :  India & United States
Core Services :  Custom Software Development, Web Development, Mobile App Development
3. Experion Technologies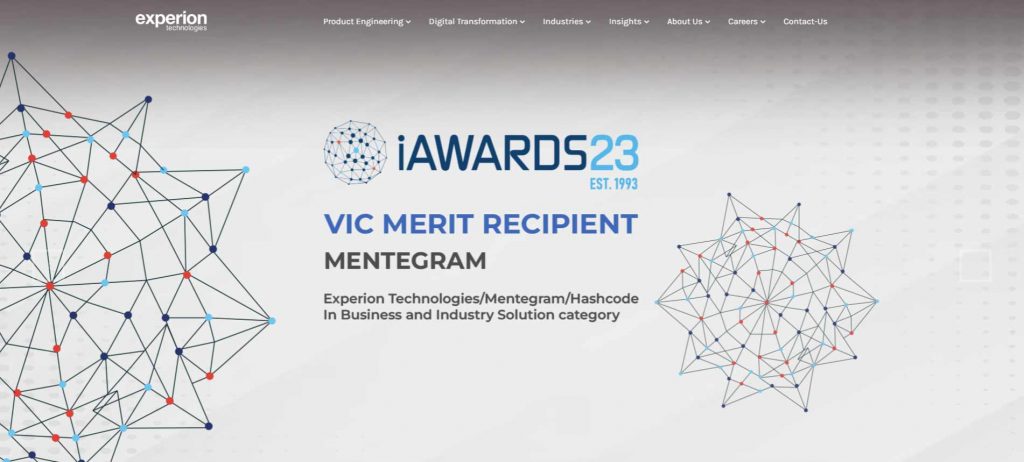 Experion Technologies stands as a dynamic force driving business growth through innovative digital solutions. With a remarkable global presence and exceptional tech expertise, they cater to diverse industries across 35 countries. They boast a dedicated team of developers for hire in India. Their wide-reaching global presence allows them to serve clients from various industries across continents. This extensive experience catering to diverse markets gives Experion Technologies valuable insights and a broader perspective when developing solutions for their clients.
Founded Year :  2006
Average Hourly Rate :  $25 – $49 / hr
Minimum project size : $10,000+
Location :  United States, India, UAE & UK
Core Services :  Custom Software Development, Web Development, BI & Big Data Consulting & SI, Mobile App Development
4. Simform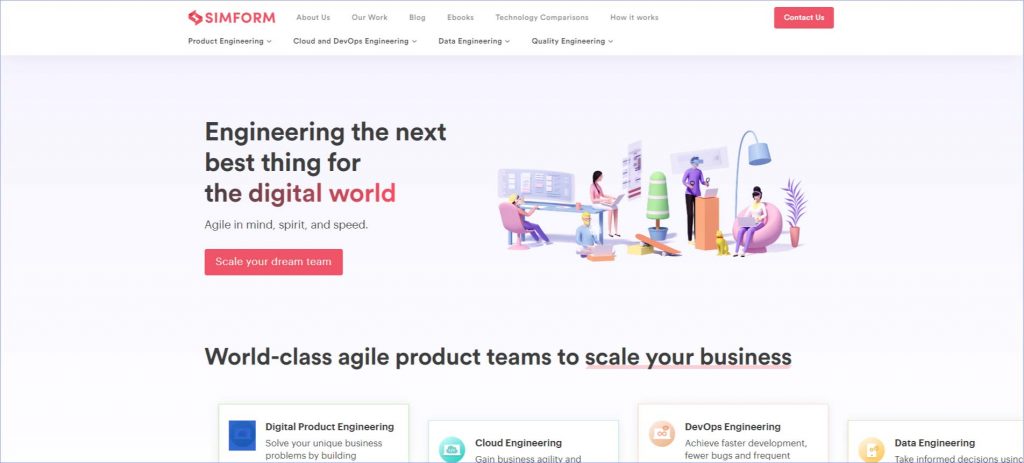 At Simform, their core focus lies in empowering businesses to embrace digital transformation and stay ahead in a competitive landscape. They leverage their tech expertise to craft innovative solutions that address critical business challenges and streamline operations. They opt for plenty of brilliant Mobile App Developers For Hire. The hallmark of Simform ios mobile app development lies in the seamless and intuitive user experiences they deliver. Their team of skilled developers and designers works diligently to understand user behaviors and preferences, ensuring that the apps they create are user-friendly and engaging. In addition to creating intuitive apps, Simform greatly emphasizes ease of maintenance. They employ robust development practices and technologies that simplify app updates and enhancements, enabling businesses to adapt quickly to changing market dynamics.
Founded Year : 2010
Average Hourly Rate : $25 – $49 / hr
Minimum project size : $25,000+ 
Location : United States & India
Core Services : Cloud Consulting & SI, AI Development, Web Development, AI Consulting, Mobile App Development, Custom Software Development
5. Kellton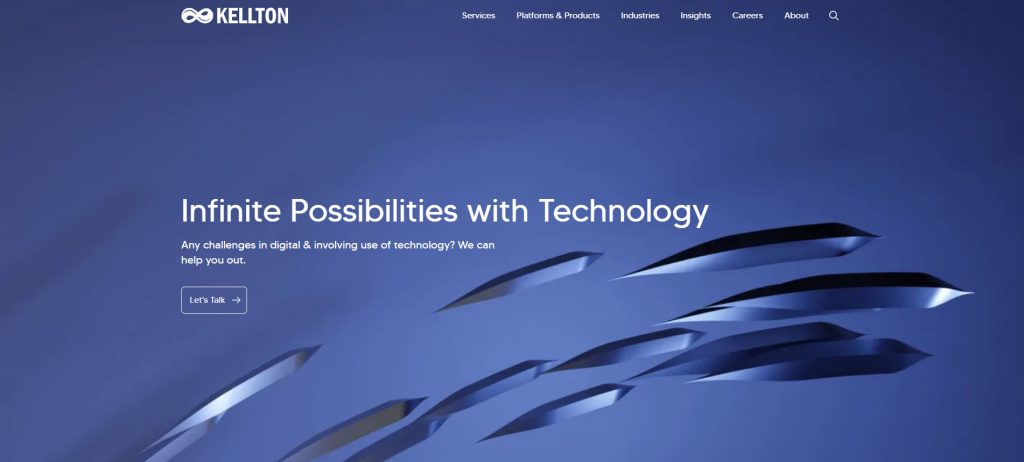 Kellton stands out as a trailblazing company, leading the charge in digital transformation for startups and Fortune 500 enterprises. They offer comprehensive solutions tailored to diverse industries, facilitating seamless progress and growth. Kellton forte lies in spearheading digital transformations for businesses of all sizes. Their innovative approach revolves around harnessing cutting-edge technologies to drive impactful changes that optimize processes, boost productivity, and amplify customer experiences. As a prominent player in the digital transformation landscape, Kellton caters to startups and Fortune 500 companies. Their ability to adapt their solutions to suit businesses' unique needs and challenges across various scales underscores their versatility and expertise.
Founded Year :  2009
Average Hourly Rate : $50 – $99 / hr
Minimum project size : $50,000+
Location : India, United States, UK & Singapore
Core Services :
AI Development,

Cloud Consulting & SI,

Mobile App Development,

Custom Software Development
6. RichestSoft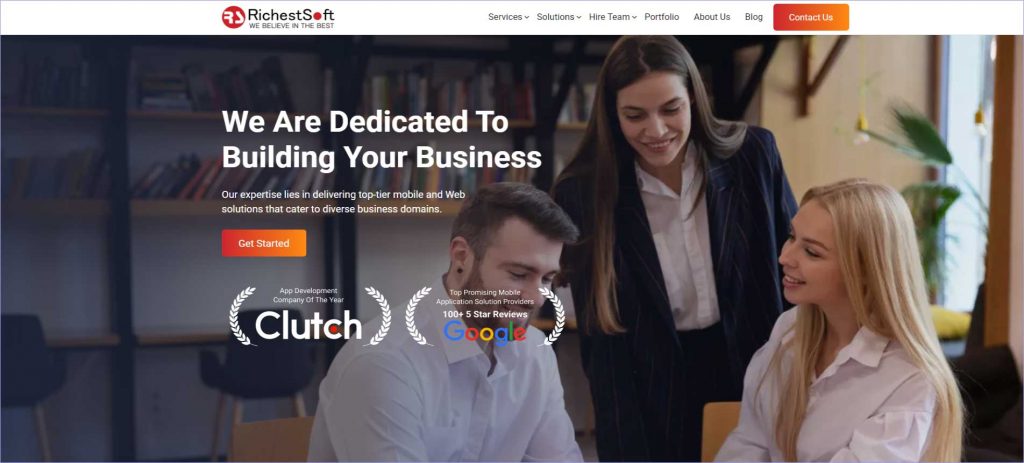 As a leading Mobile App Development Company, India expertly guides clients through the digital transformation journey using the power of cloud-powered solutions. The success stories of numerous clients across different industries stand as a testament to RichestSoft prowess in driving digital transformation. Their solutions have empowered businesses to optimize operations, enhance customer experiences, and seize new opportunities in the digital landscape.
Founded Year :  2007
Average Hourly Rate :  < $25 / hr
Minimum project size : $1,000+
Location :  India & United States
Core Services :  Web Design, Mobile App Development, Custom Software Development, E-Commerce Development
7. Konstant Infosolutions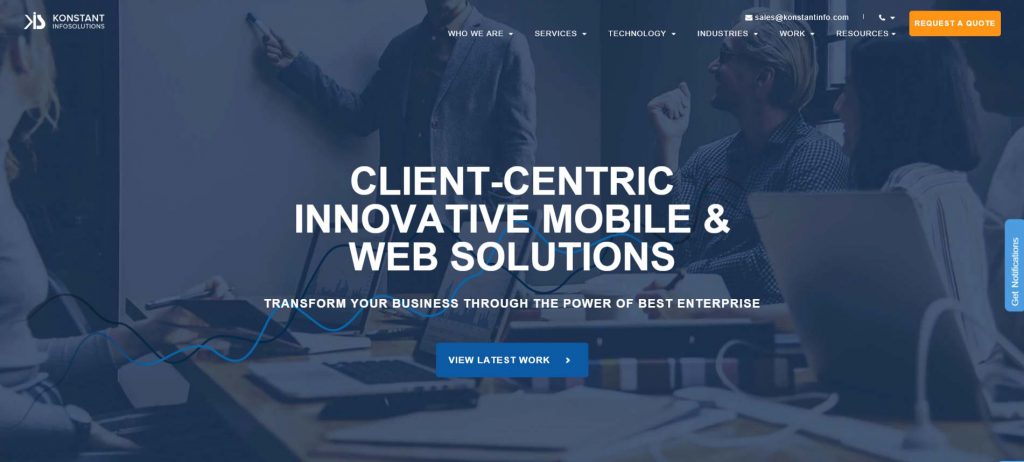 Konstant Infosolutions is a leading digital innovation and one of the top software development companies in India, delivering top-notch solutions to industries like healthcare, on-demand services, real estate, eCommerce, and more. They cater to startups, SMBs, and enterprises worldwide. They have a team of some of India's most skilled Mobile App Developers. With a commitment to excellence and a track record of success, Konstant Infosolutions has earned a reputation as a reliable partner for digital transformation and software development projects.
Founded Year :  2003
Average Hourly Rate :  < $25 / hr
Minimum project size : $5,000+
Location :  India, United States & UK
Core Services :  UX/UI Design, Mobile App Development, Web Development, Custom Software Development
8. QBurst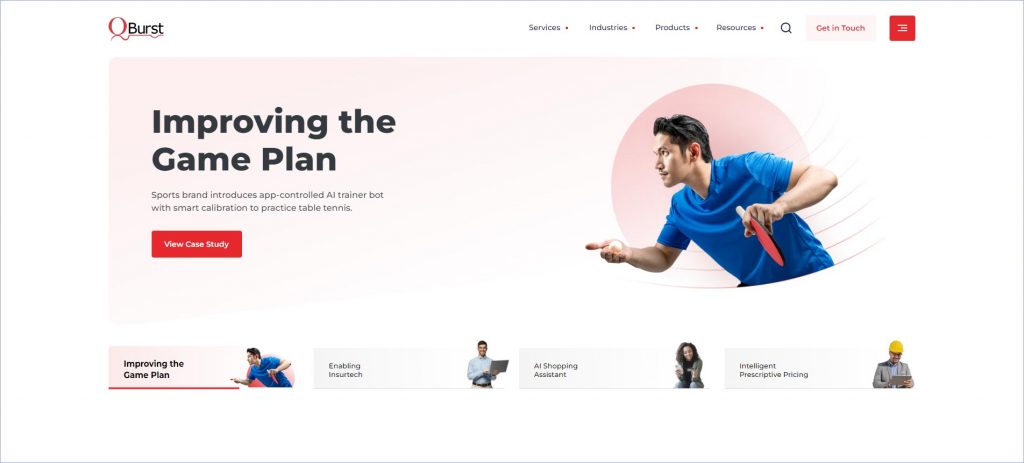 QBurst is a distinguished company with a wealth of software, web, and android app development expertise. They cater to a global clientele, encompassing startups, and Fortune 5000 companies, providing comprehensive solutions that drive digital success. Collaboration is central to QBurst approach, as they actively engage with clients throughout development. This ensures a clear understanding of project goals, seamless communication, and the successful realization of clients' visions. With a strong foundation, a dedicated team, and a proven track record, the company continues to make its mark by enabling businesses to leverage technology for growth and transformation.
Founded Year :  2004
Average Hourly Rate :  $25 – $49 / hr
Minimum project size : $5,000+
Location :  India, United States, Poland & UK
Core Services : Cloud Consulting & SI, AI Development, BI & Big Data Consulting, Mobile App Development, Custom Software Development
9. The NineHertz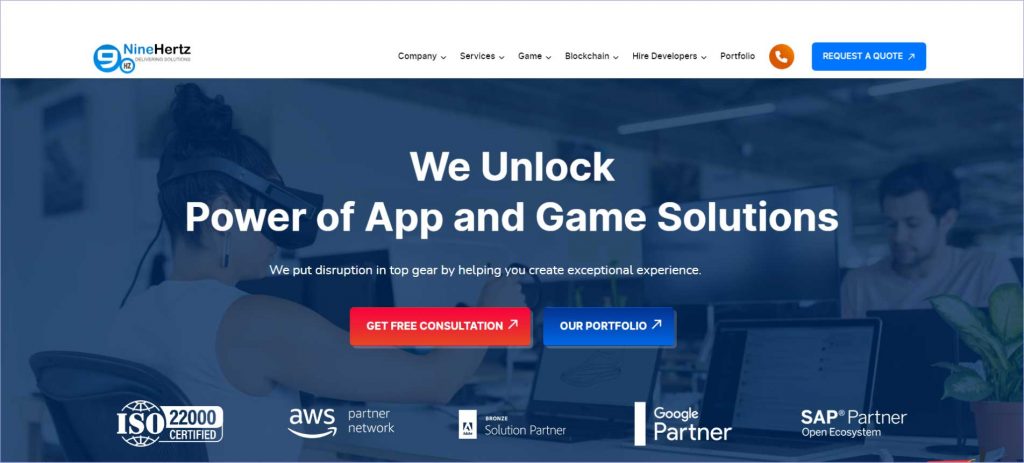 The NineHertz extensive experience, customer-centric approach, and dedication to innovation make them a top choice as Mobile App Development Agencies In India for businesses seeking cutting-edge and tailored digital solutions. With their deep understanding of industry intricacies and commitment to staying at the forefront of technology, The NineHertz continues to excel in delivering impactful results for their clients.
Founded Year :  2008
Average Hourly Rate :  < $25 / hr
Minimum project size : $5,000+
Location :  India, Australia & UAE
Core Services : Mobile App Development, E-Commerce Development, IT Staff Augmentation
10. Mobulous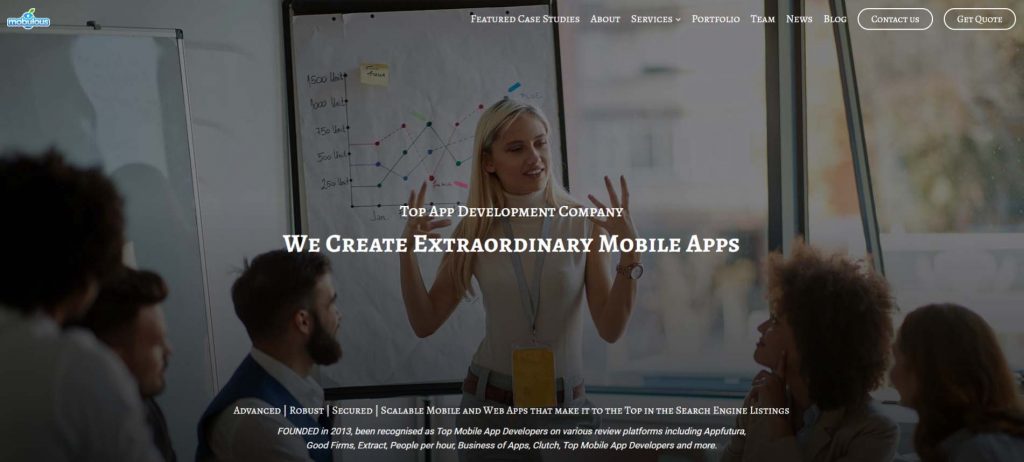 They continuously explore emerging trends, adopting cutting-edge tools and methodologies to create future-ready apps that resonate with modern user expectations. Their extensive experience catering to startups, SMBs, and Fortune 5000 companies grants Mobulous invaluable insights into the unique challenges and opportunities businesses face across various scales. This in-depth understanding allows them to craft solutions that align precisely with each client's objectives and requirements.
Founded Year : 2013
Average Hourly Rate : < $25 / hr
Minimum project size : $5,000+
Location : India & United States
Core Services : UX/UI Design, Web Development, Mobile App Development
Emerging Trends in Mobile Software Development
The world of Mobile App Development Firms In India is witnessing a transformative phase with several key trends that actively enhance mobile app experiences for users. AR-powered apps enrich user engagement and offer unique value propositions from gaming and entertainment to retail and education. Mobile software development is constantly evolving, driven by rapid technology advancements and the changing demands of users. These trends enhance the user experience but also provide new avenues for innovation and growth. Here, we delve into some of the most notable emerging trends in mobile software development:
5G Technology and Enhanced Connectivity
5G technology revolutionizes mobile app experiences with higher speeds, reduced latency, and real-time data processing. It enables immersive AR/VR, cloud integration, rich multimedia, and enhanced interactivity.
Edge Computing for Improved Performance
apps leverage edge computing, processing data closer to the source for reduced latency and better performance. Ideal for real-time responsiveness in IoT, gaming, and streaming.
AI and Machine Learning Integration
AI enhances mobile apps with personalized experiences, predictive analytics, and automation. From chatbots to image recognition, AI adapts apps to user behavior.
Progressive Web Apps (PWAs)
PWAs merge web and mobile technologies, creating fast, user-friendly apps accessible through browsers. Improved offline experience, faster loading, and less data consumption.
Enhanced App Security and Privacy
Mobile app security improves with biometric authentication, encryption, and secure APIs. Addressing data breaches and privacy concerns.
Internet of Things (IoT) Integration
IoT-enabled apps connect with smart devices, offering remote control and monitoring. Opportunities in home automation, healthcare, and the industries.
Cross-Platform Development Frameworks
Flutter, React Native, etc., enable seamless multi-platform app development. Single codebase reduces time and cost, widening audience reach.
Enhanced User Experience Design
UX design focuses on intuitive interfaces, gestures, and microinteractions. Emotionally and functionally resonant apps through design thinking principles.
What Makes MultiQoS A Top Mobile App Development Company In India?
One of the key elements that distinguish MultiQoS is its customer-centric focus. The Mobile App Development Agency India places its clients at the core of every project, actively engaging with them to understand their requirements and objectives. This collaborative approach ensures that the resulting mobile app aligns perfectly with the client's vision and delivers tangible value to its target audience. The company's significant contributions to India's app development industry speak volumes about its expertise and impact. Through its innovative projects and successful collaborations, MultiQoS has played a pivotal role in shaping the digital landscape in India. Its work benefits clients and contributes to the growth and advancement of the entire app development ecosystem in the country with the Best Mobile App Developers In India.
MultiQoS adept professionals – developers, designers, and strategists – craft user-centric mobile solutions. Their expertise ensures robust apps that resonate with clients and users.
MultiQoS thrives by understanding clients' visions, fostering open communication, and reflecting brand values in each project.
Innovation and Adaptability
MultiQoS embraces tech trends, from AI to IoT and AR/VR, ensuring apps meet evolving digital demands.
Rigorous Quality Assurance
MultiQoS upholds app quality with rigorous testing, ensuring functionality, security, and seamless experiences.
MultiQoS commitment to on-time project completion is facilitated by efficient management and streamlined processes.
Advantages of Hiring Mobile App Developers From MultiQoS
Hiring mobile app developers from MultiQoS offers clients a myriad of advantages that make them valuable and strategic partners for successful mobile app development projects. Firstly, MultiQoS expertise in app development is unmatched. Secondly, innovation lies at the core of the MultiQoS approach. Cost-effectiveness is another key advantage that clients gain by choosing MultiQoS. Post-development support is a hallmark of MultiQoS services. They provide ongoing maintenance and updates to keep the app performing optimally and free from technical glitches. This continuous support enhances user experiences, allows clients to adapt their apps to evolving market demands and changing user preferences, and ranks them among the Top Mobile App Development Firms In India.
Conclusion
India's mobile app development industry thrives with top-notch companies leading the charge. These companies leverage emerging trends like AR, VR, AI, IoT, and 5G to redefine user experiences and drive business growth and have employed Top Mobile App Developers In India. Mobile apps offer numerous benefits for modern businesses, including enhanced engagement, brand visibility, and streamlined operations. Choosing the right app development company is crucial, and the top 10 listed in this blog exemplify excellence in their respective domains. MultiQoS stands out for its customer-centric approach and innovative solutions. With these companies at the forefront, India's mobile app development landscape continues to flourish, empowering businesses to thrive in the digital age.
Frequently Asked Questions (FAQs)
FAQ on Top Mobile App Development Companies in India
These companies offer an extensive array of services, encompassing custom mobile app development, UI/UX design, cross-platform app development, native app development, IoT integration, AI and machine learning integration, and more.
These companies showcase remarkable versatility by catering to diverse industries, including e-commerce, healthcare, finance, entertainment, among others. Their capacity to tailor their services to various sectors highlights their expertise.
Achieving optimal outcomes demands a substantial investment in time, coupled with the right blend of talent and technology. Many enterprises repeatedly procure tools and expertise, leading to challenges and escalated costs. Therefore, enlisting a mobile application development company becomes imperative, as they offer a comprehensive team and tech infrastructure, all at a cost-effective investment
Mobile app development expenses can vary based on features, the chosen tech stack, and business scale. On average, app development costs range between $15,000 to $30,000, but this figure can escalate based on specific demands and necessary adjustments.
India houses a multitude of mobile application development companies. However, for a company to stand out as the finest, it necessitates years of experience, a certified and proficient team, and a focus on cutting-edge technology. In this regard, our recommendation is MultiQoS, the foremost mobile application development company in India.
To hire app developers in India, we believe you should use the most reputable mobile app development companies in India. These companies have top mobile app developers & professionals who deliver scalable & feature-rich solutions. To know more about Hire Mobile App Developers, click here.
Mobile applications boost customer engagement, enhance brand visibility, and streamline operations, increasing sales and revenue.
Mobile app development companies showcase India's tech prowess globally by delivering innovative solutions.
Businesses should assess experience, expertise, portfolio, and client feedback to select the right company.
Ready to Transform Your Vision into Reality?
Empowering businesses through expertly crafted apps for growth, competitive edge, and sustained success.
Your Trusted Tech Partner!
We develop digital products that enable you to embrace innovation and unlock opportunities.
Talk To Our Experts
Subscribe
Newsletter
Get our latest blog posts, research reports, and thought leadership straight to your inbox.