Web Development
Top Angular Development Company to Hire in 2023
Introduction Businesses in today's digital landscape continuously seek effective and dependable technology for web development initiatives. AngularJS is a leading framework for developing powerful and dynamic online applications. AngularJS continues…
26 June, 2023
5 minutes read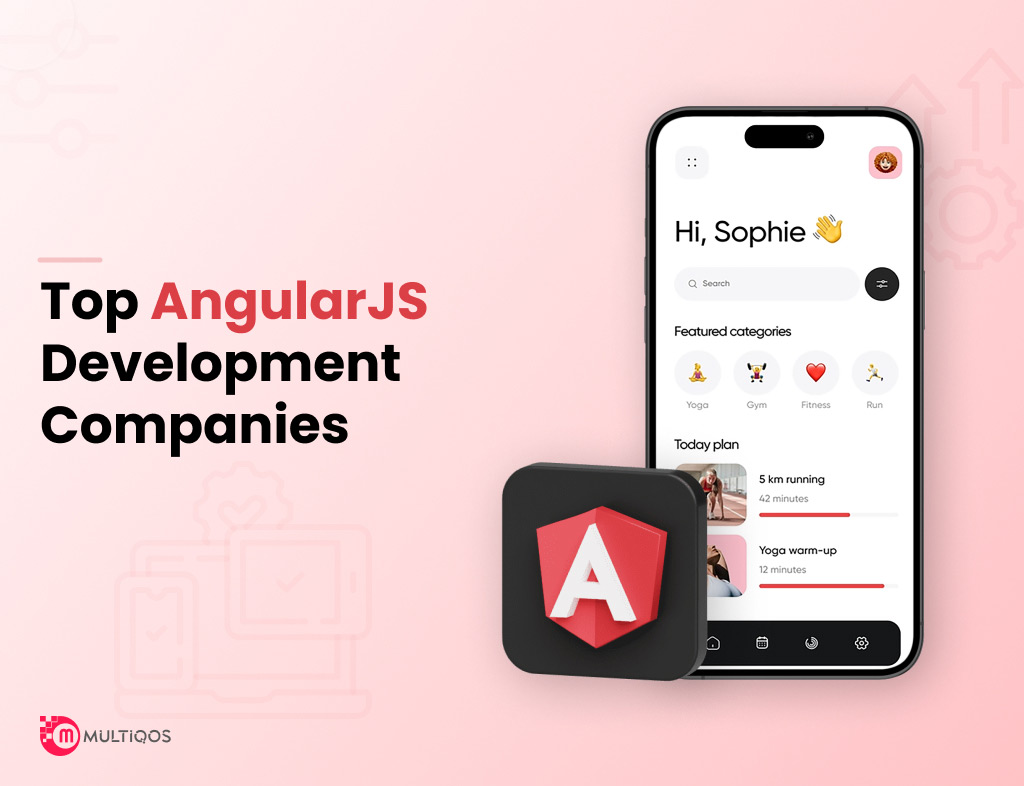 Table of Contents
Introduction
Businesses in today's digital landscape continuously seek effective and dependable technology for web development initiatives. AngularJS is a leading framework for developing powerful and dynamic online applications. AngularJS continues to dominate the industry due to its tremendous features, scalability, and community support. Lets look into the top Angular development company in 2023, highlighting its experience, offerings, and why it is a desired choice for organisations all over the world.
Angular's Market Popularity
Because of its capacity to simplify web development and improve user experience, AngularJS has seen a huge increase in recognition. With a large developer community and frequent updates from Google, AngularJS has established itself as one of the most popular JavaScript frameworks. Its popularity is evidenced by its use by well-known firms such as Google, IBM, Microsoft, and many more. Thus they Hire Angular Developer.
The success of Angular Development Services can be given to traits like two-way data binding, dependency injection, modular architecture, and declarative templates. These characteristics make it simple for developers to create scalable, maintainable, interactive web apps.
Benefits Of Selecting Angular For Web Development Projects
Before we get into the Top Angular Development Companies, let's look at why Angular is the ideal framework for Website development services. Among the many advantages are:
Improved User Experience

:

AngularJS Development

provides dynamic, responsive, and interactive online apps, which improves user engagement and satisfaction. It includes features such as data binding, form validation, and routing to help you design user-friendly interfaces.
Code Reusability:

The component-based architecture of Angular supports code reusability, which reduces development time and effort. Reusable components and modules can be created by developers, increasing productivity and maintainability.
Model-View-Controller (MVC) Architecture:

Angular's Model-View-Controller (MVC) pattern provides a structured approach that simplifies code maintenance and scalability. It separates the application's data, presentation, and logic, allowing for more effective developer cooperation.
Seamless Integration:

AngularJS connects smoothly with various tools and frameworks, allowing developers to take advantage of existing resources. It works well with libraries such as TypeScript, RxJS, and UI component libraries, which expands its capabilities and flexibility.
MultiQoS Technologies: A Leading Company In Angular Development
MultiQoS Technologies is a top-tier company in the industry for Top Angular development company. MultiQoS has gained a reputation for producing cutting-edge web apps thanks to a proven track record and Staff Augmentation Companies of highly skilled Angular engineers. Their dedication to quality, innovation, and customer happiness has made them a favoured choice for organisations all over the world.
MultiQoS Technologies thoroughly understands AngularJS and its ecosystem, staying current on upgrades and best practices. Their knowledge enables them to take on challenging projects and create solutions corresponding to their client's business goals.
Our Top Angular Web Development Services
MultiQoS Technologies provides a comprehensive range of Angular web development services to meet various corporate requirements. Among their primary services are:
Angular online Application Development:
MultiQoS uses the advantages of AngularJS to construct scalable, high-performance online apps tailored to clients' needs. They adhere to industry best practices and coding standards to produce secure and efficient apps.
Angular UI/UX Development:
They specialise in creating user interfaces that are both intuitive and visually beautiful, guaranteeing a consistent user experience across devices. MultiQoS Technologies recognises the value of a well-designed UI/UX and provides user-friendly interfaces.
Angular Migration Services:
MultiQoS helps businesses migrate their legacy systems to Angular, allowing them to use cutting-edge technologies and frameworks. They carefully plan and carry out the migration procedure to ensure the least inconvenience and maximum advantages.
Angular Support and Maintenance:
They provide continuous support and maintenance services for Angular applications to ensure maximum performance, security, and bug fixes. MultiQoS Technologies provides regular upgrades, monitoring, and troubleshooting to keep the apps functioning well.
Industries Catered To By MultiQoS In Angular Development
MultiQoS Technologies serves many industries, including but not limited to:
E-commerce: Using AngularJS, create feature-rich and scalable e-commerce platforms. They develop secure payment methods, shopping carts, and personalised customer experiences to improve online shopping.
Healthcare: Creating HIPAA-compliant online apps for medical providers and institutions. MultiQoS Technologies recognises the importance of healthcare data and assures its privacy, security, and compliance.
Finance: Creating safe and dependable financial apps, payment gateways, and banking platforms. They use strong security measures to protect sensitive financial information and follow industry regulations.
Education: The development of e-learning platforms, student management systems, and educational portals. To improve the learning experience, MultiQoS Technologies focuses on user-friendly interfaces, interactive features, and seamless information delivery.
Also Read: Angular vs React: Which One to Choose for Your App
The Angular Development Process At MultiQoS
MultiQoS Technologies employs a systematic and comprehensive Angular development approach to ensure the project is completed on time. The essential steps are as follows:
Requirements Gathering And Analysis
Understanding the client's vision, business objectives, and project needs. MultiQoS Technologies works directly with clients to define their projects' scope, features, and deliverables.
UI/UX Design And Wireframing
Producing aesthetically appealing designs and wireframes for smooth user experiences. They prioritise user-centric design concepts to provide intuitive navigation, consistent branding, and appealing aesthetics.
Frontend Development & Implementation Using Angular
Frontend development services using AngularJS while adhering to coding standards and best practices. MultiQoS Technologies uses modular and reusable components, resulting in clean code design and scalability.
Testing, Quality Assurance, and Bug Fixing
Thorough testing, quality assurance, and bug fixing are required to ensure the programme is bug-free and performs well. In order to offer a reliable product, they execute functional testing, performance testing, and cross-browser compatibility testing.
Deployment and Maintenance
Assisting with deployment, server configuration, and continuing maintenance and support. MultiQoS Technologies assures a seamless deployment and continuously monitors application performance, correcting any issues as they arise; there are many Frontend Development Solutions.
Why Choose MultiQoS As Your Angular Development Partner?
There are various reasons why companies should collaborate with MultiQoS Technologies for Angular development:
Expertise and Experience

: MultiQoS has a team of skilled Angular developers who have delivered successful projects across sectors. Their extensive expertise in AngularJS and its environment allows them to deliver unique and customised solutions.
Quality Assurance

: They prioritise quality and ensure that apps are solid and bug-free. MultiQoS Technologies uses rigorous testing procedures and quality assurance systems to maintain high standards and exceed client expectations.
On-Time Delivery:

MultiQoS sticks to project deadlines, ensuring on-time delivery without sacrificing quality. They emphasise good project management, communication, and agile development approaches to achieve deadlines.
Advantages Of Hiring Angular Developers from MultiQoS
Businesses that hire AngularJS developers from MultiQoS Technologies can profit from the following:
Businesses gain access to a dedicated team of Angular professionals who are fully devoted to the success of their projects. MultiQoS Technologies ensures that developers are knowledgeable about Angular development and are up to date on the newest trends and technologies.
Scalability and Flexibility:
MultiQoS offers flexible recruiting models, allowing organisations to scale their development staff as needed. They can give skilled Angular developers for either a small project or a large-scale application.
Conclusion
As AngularJS continues to dominate, the Web development company want a reliable collaborator to realise its potential fully. In 2023, MultiQoS Technologies emerges as a top Angular development firm, providing a wide range of services, industry experience, and a dedication to client pleasure. MultiQoS Technologies is well-equipped to offer great web apps that match the ever-changing company requirements, thanks to its professional Angular developers, disciplined development process, and cheap pricing structures.
Frequently Asked Questions (FAQs)
FAQ on Top AngularJS Development Company
Google created and maintained AngularJS, a JavaScript-based open-source framework. It makes web application development easier by offering a structured framework and a set of tools for creating dynamic and responsive web apps.
AngularJS has various advantages, including improved user experience, code reuse, MVC architecture, and seamless integration. Because of these characteristics, AngularJS is popular for creating scalable, maintainable, and interactive web apps.
MultiQoS Technologies has an experienced team of Angular developers who specialise in Angular web development. They provide various services, such as web application development, UI/UX design, migration services, and support/maintenance.
Are you looking for Angular Application Development?
Our skilled Angular developers provide excellent Angular development services with optimal application structure.
Your Trusted Tech Partner!
We develop digital products that enable you to embrace innovation and unlock opportunities.
Talk To Our Experts
Subscribe
Newsletter
Get our latest blog posts, research reports, and thought leadership straight to your inbox.