Mobile App
How Much Does it Cost to Develop an App Like Dubizzle?
In recent years, the classifieds international has been revolutionized with the aid of using systems like Dubizzle, prioritizing innovation. No longer do we rely on newspapers or bulletin boards for…
28 June, 2023
8 minutes read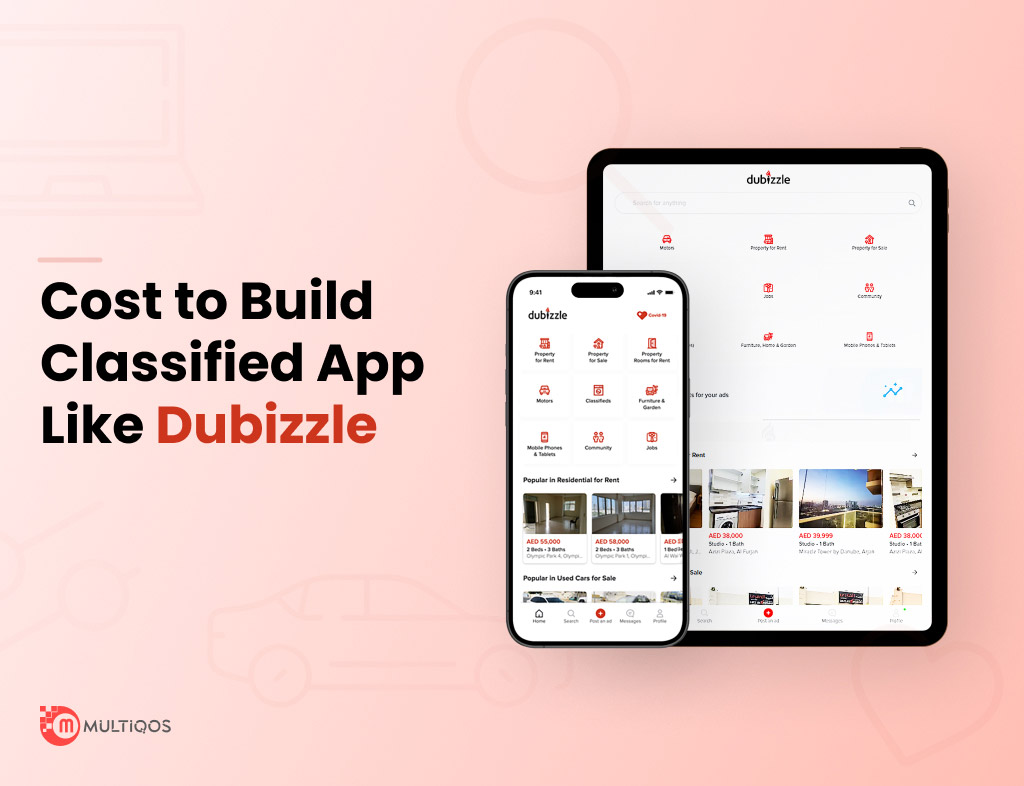 Table of Contents
In recent years, the classifieds international has been revolutionized with the aid of using systems like Dubizzle, prioritizing innovation. No longer do we rely on newspapers or bulletin boards for our needs. The digital age has brought sleek websites and user-friendly apps, transforming how we engage in commerce. As a pioneering force, Dubizzle has successfully utilized technology to create a seamless and intuitive marketplace, catering precisely to the demands of today's discerning consumers.
Online classified markets have completely transformed online product and item offerings. These platforms provide an efficient and effective hub for buyers and sellers alike. Sellers can effortlessly post their ads, while buyers can browse through a diverse array of listings and make purchases easily. By utilizing these platforms, you can reach a wide audience in a specific location but also connect with a large number of individuals. This approach proves to be an excellent technique for maximizing awareness and engagement, allowing you to make the most of your online presence.
If you're planning to create a mobile app like Dubizzle, this article is essential. Before we delve into the development process, let's examine some enlightening statistics about Dubizzle and classified applications.
Dubizzle, a UAE-based classifieds app, has amassed a massive user base in popular cities such as Dubai, Abu Dhabi, Sharjah, Ajman, Al Ain, Ras Al Khaimah, Fujairah, and Al Quwain. With millions of users, it has become the go-to platform for classified ads in these regions.
What is Dubizzle?
Dubizzle is an online Classified Marketplace App founded by Sim Whatley and J.C Butler in May 2005. It is an online business service available across 31 countries in the Middle East and North Africa. It is an advertisement-free website where several services are sold and bought. Dubizzle is an advertisement-free website with organic daily traffic, making it profitable. Read on below to understand how to build an app like Dubizzle and ways to make profits through it!
Unveiling the Success Story and Popularity of Dubizzle
Dubizzle's popularity can be attributed to several key factors that have contributed to its remarkable success in the marketplace. By offering users a wide variety of categories for buying and selling goods and services, the platform has rapidly gained popularity. Let's examine some informative statistics that illuminate Dubizzle's growing popularity and the factors contributing to its success.
According to

SEMrush

, Dubizzle has approximately 7.6 million users, ranking #41 in the UAE.

According to

Bayut

, Dubizzle generated annual revenue of approximately $75 million in 2022, and it is expected to experience further growth in the coming years.

According to

Statista

, ad spending in the classifieds market is projected to reach of-word suggestion 1.05 billion in 2023. According to projections, the advertising industry is expected to experience an annual growth rate (CAGR 2023-2027) of 2.22%, which will lead to a market volume of USpf-word suggestion 2.98 billion by 2027.
These statistics clearly demonstrate that Dubizzle is a leading global classified app. It operates in more than 40 countries and serves a vast user base of over 330 million monthly users.
In mid-2023, Dubizzle reported impressive results, with over 217 million monthly visits and 250 million page views on its platform. The platform has gained widespread recognition and popularity on various social media platforms. It has earned accolades, such as being ranked as the top category for eCommerce and Shopping Classifieds.
Dubizzle's success in the MENA region underscores the growing trend of eCommerce and online marketplaces. Co-founded by JC Butler and Sim Whatley, the platform identified a gap in the market for expatriate real estate and developed a user-friendly platform that facilitates seamless buying and selling.
With its secure and trusted platform, Dubizzle has emerged as the preferred choice for online buying and selling in the region. This is evident from the increasing number of mobile users who are actively using the Dubizzle app.
Overall, Dubizzle's popularity can be attributed to its comprehensive range of offerings, secure platform, and responsiveness to the evolving needs of buyers and sellers in the MENA (Middle East and North Africa) region. These factors have undoubtedly contributed to its immense success in the competitive online marketplace.
Also Read: How Much Does it Cost to Build an Online Marketplace?
What Are the Benefits of Developing an App Similar to Dubizzle?
Dubizzle, like classified Mobile Apps, allows businesses and customers to avail products over a secured online platform. Dubizzle Like Apps are increasingly being preferred for Business-to-Business (B2B), Business-To-Customers (B2C), and Customer-to-Customer (C2C) and classified app development transactions. Such platforms offer properties, home rentals, kitchen and home appliances, furniture, garden accessories, electronics, and mobiles, to name a few.
Targeted Development:

Customize your app for your audience's needs, increase engagement, and drive revenue. Hire experienced developers for a feature-rich app.
Thriving Community:

Build an app like Dubizzle to nurture loyalty. Offer a one-stop solution with accessible information and services. Use push notifications and personalized messages to engage users.
Enhanced Engagement:

Utilize advanced features and messaging to improve customer interaction and communication.
Brand Boost:

Reinforce brand awareness with targeted messages, appealing design, and attractive visuals. Consider mobile app design costs.
Sales Optimization:

Streamline the buying and selling process with a comprehensive range of services and seamless transactions.
Building an app like Dubizzle optimizes operations, engages customers, and boosts sales. Partner with experienced developers for a platform that resonates with your audience and strengthens your brand.
Top Features to Include in an App Similar to Dubizzle
To ensure the success of an app similar to Dubizzle, it is essential to include key features that directly impact its usability and functionality. This will shape the user experience.
To provide a satisfying user experience, focus on intuitive and user-friendly features. Here are some essential features to consider.
In-app chat

Advanced Search

Social Media Login

Profile Management

Category selection

Push notifications

Location preference

Selling and Buying Options

Buyer Connections

Image Upload

Wishlist

In-app payments

Social Media Integration

Reviews and feedback

Analytics and reporting
By integrating these features, you can develop an app that meets your target users' expectations and enhances their overall satisfaction.
How Much Does It Cost To Create An App Like Dubizzle?
The cost to build a Marketplace App Like Dubizzle depends on several factors, like the features and functionalities required. The targeted operating systems such as app development cost in Dubai, UAE is stated below.  Calculating the cost of developing an app similar to Dubizzle can be a complex process due to the extensive features involved. Several factors need to be considered in order to determine the total cost.
The complexity and sophistication of UX/UI design can have an impact on development costs. Incorporating additional features and functionalities, such as search filters and real-time messaging, may result in higher development costs. Choosing between native, hybrid, or cross-platform development can also impact the cost.
The location of developers plays a significant role, as development rates vary across different regions. While lower labor costs may save money, it is important to ensure the quality of the development team.
Additionally, ongoing support and maintenance services contribute to the overall cost of a project. Bug fixes and updates are crucial for the functionality of apps.
The average cost of Building An App Like Dubizzle would be around US dollars, $15,000 to $32,000, or Arab dollars 55,096 AED to 117,539 AED.
Application development services should be sought if an individual has the framework for the Dubizzle clone. There are several Mobile App Development Companies in UAE providing their services which are priced based on several factors.
Factors Influencing The Cost Of App Development
App Features and Functionality
Many features of Dubizzle Clone Solution apps will also influence the Cost of Building A Marketplace Like Dubizzle.
Accessibility via social media logins
The app can be accessed by login to social media accounts. This makes it very popular amongst the users.
Range of product categories
Online Classified Marketplace offers a wide range of e-commerce products, including property, motor vehicles, furniture, electronics, and even jobs.
Website Like Dubizzle allow the facility of selling, leasing, and renting properties such as flats, buildings, and villas.
User interfaces that are easy to understand and interact with can be developed. Mobile App Development Process can be used to create UI/UX interface, iOS or Android app or Launch A Dubizzle Clone.
The customers and sellers can interact via chat on the website and the app.
Users can manage their profiles and view the features, orders, and account information.
There is the availability of online payment via the app after placing orders.
The facility of tracking the location of orders is available in Online Classified Marketplace Like Dubizzle.
Design and User Interface
The design of the mobile app plays a huge role in determining the final cost of the Android app development services. The cost for common templates would be lower as compared to the use of customization for templates. 
The user interface refers to how the app will appear to the users. It includes the use of visual elements such as layout, screen, typography, shapes, and colors. Using a more complicated design in the user interface will make the Mobile App Development Process comparatively costlier.
Platform Compatibility (iOS, Android, Web)
Classified marketplace apps are a very easy-to-use solution for users. Almost all functions as interaction to the development of a brand presence can be achieved by a Dubizzle clone solution. Developing an Dubizzle Like Classified App can be performed by using the services of an expert mobile app development team. Android or iOS app development services, can be availed, which makes it convenient to maintain interaction with your users. Development cost will depend on the platform compatibility required in the Dubizzle Clone Solution for Android, iOS, and the web or the inclusion of all.
Backend Development and Database Management
Backend development and database management will also be a major costs associated with the Cost Of Building An App Like Dubizzle. It includes services such as server-side web application logic and integration and activities, writing APIs, creating libraries, and system components. Backend development will produce code for databases and application communication. The price will depend on the languages used, such as MySQL, SQL SERVER and PostgreSQL, MongoDB, and Oracle Database, and the required experience and expertise.
Integration of Third-Party APIs and Services
Dubizzle Like Marketplace will require the integration of third-party APIs and services to make functioning more efficient. Integration refers to the connection of websites or applications programming interfaces (APIs) that allow data access. The mobile app development services will allow an online marketplace to connect with the shipment order tracking and cost estimation programming to ensure complete information is provided to the customer. It allows online classified marketplaces to access all information from their business partners and present it on the same website.
Why Choose MultiQoS For Dubizzle App Development?
MultiQoS is a classified app development company which deals with on demand app development solutions. The goal of How to create an app like Dubizzle or  Build An App Like Dubizzle is easily achievable by using MultiQoS, as it is ranked among the top application development companies.
The services offered by MultiQoS include web development and design, mobile application development, and custom application development will help to Launch Your Own Dubizzle Clone. The benefit of using this platform to Build A Marketplace Like Dubizzle is that the services and development are completely customizable. The services offered by the expert mobile app developers team of MultiQoS include mobile app development, web development, and UI/UX design. So, for Developing an app like Dubizzle, choose us always!
The benefits to hire classified app developers of MultiQoS, a mobile app development company in UAE includes-
Free installation – The dubizzle clone app is installed free of cost.
Free app submission – The app will be uploaded to Google Play Store and other platforms along with being stored.
Customer support – Technical team and assistance is available round the clock for managing the platform.
Customization – Every service is customized according to the needs of a custom software development company.
Scalability – The platform can provide support in expanding business operations.
Now think less, and hire mobile app developers in Dubai from us!
Conclusion
To successfully launch an app similar to Dubizzle, it is crucial to understand market demands and current trends. Dubizzle has gained recognition by offering a platform that caters to users' diverse needs for a wide range of products and services. The user-friendly interface and intuitive navigation contribute to a seamless user experience.
The development process of an app, such as Dubizzle, involves several stages, including market research, design, development, and thorough testing. To achieve the best possible outcome, it is recommended to collaborate with a trustworthy mobile application development company such as MultiQoS Technologies. Their expertise can assist you in developing a responsive and scalable application that can securely handle high volumes of traffic, ensuring seamless payment transactions. Dubizzle Clone Solutions offer a very lucrative option to use a marketplace app to allow easy and widespread customer use. Development of a dubizzle-like app may lie on the costlier side, but in the long run, it is an economical and time-saving choice.
FAQ on Online Classified App Like Dubizzle
Frequently Asked Questions (FAQs)
To Make a marketplace app like Dubizzle, you need to focus on major revenue and profits depend upon the corporate advertisement and property section.
Dubizzle is owned by OLX and Bahut Web Publishing Group.
When it comes to web development services in the UAE, MultiQoS Technologies stands out from the competition. With our expertise and commitment to excellence, we deliver superior results and ensure a hassle-free process for our clients. Choose us for a seamless and successful web development experience.
A classified marketplace app enables users to purchase and sell goods and services across diverse categories, such as real estate, jobs, electronics, and others. Sellers can post advertisements, and potential buyers can contact them for purchases or inquiries. Popular classified marketplace apps include Craigslist, Dubizzle, OLX, and others.
To create an app similar to Dubizzle, follow these steps:
Please define the features and design of the app.

Choose a reputable mobile app development company.

Develop both the front-end and back-end of the application.

Implement a user verification system to enhance security.

Incorporate a secure payment gateway.

Test the application thoroughly for functionality.

Publish the application on the appropriate app stores.
Dubizzle is a marketplace application that facilitates connections between buyers and sellers. Users can sign up, browse categories, and either purchase items or list their own for sale. If users have any questions, they can contact the sellers for further information. Once a transaction is agreed upon, the buyers and sellers arrange for payment and the pickup of the item.
The cost of developing an app similar to Dubizzle can range from $20,000 to $40,000 for a horizontal application with basic to advanced features. For a basic vertical app, the cost ranges from $15,000 to $32,000. The final cost will vary based on the complexity of the project and its specific requirements.
There are various methods to monetize an app like Dubizzle:
Premium listings offer paid options for enhanced visibility.

Advertising: Utilize the app for generating revenue.

Subscription services provide premium plans with additional features.

Transaction Fees: Charge a small fee or commission for successful transactions.

Partnerships: Collaborate with third parties to explore promotional opportunities and revenue sharing.
The development time for an app like Dubizzle can vary depending on factors such as the level of complexity, team size, platform selection, and development methodology. On average, it may take 5 months to a year to develop a similar app. The timeline, however, depends on the specific project requirements and the capabilities of the development team.
Looking for classified app development?
MultiQoS creates exceptional classified apps, delivering excellence and perfection for all.
Your Trusted Tech Partner!
We develop digital products that enable you to embrace innovation and unlock opportunities.
Talk To Our Experts
Subscribe
Newsletter
Get our latest blog posts, research reports, and thought leadership straight to your inbox.