Mobile App
Top 10 Flutter App Development Companies to Hire in 2023
Introduction Flutter is an open-source framework. Google developed it to create universal applications supported on multiple platforms. The applications created by Flutter use the programming language Dart.  Flutter was first…
3 July, 2023
8 minutes read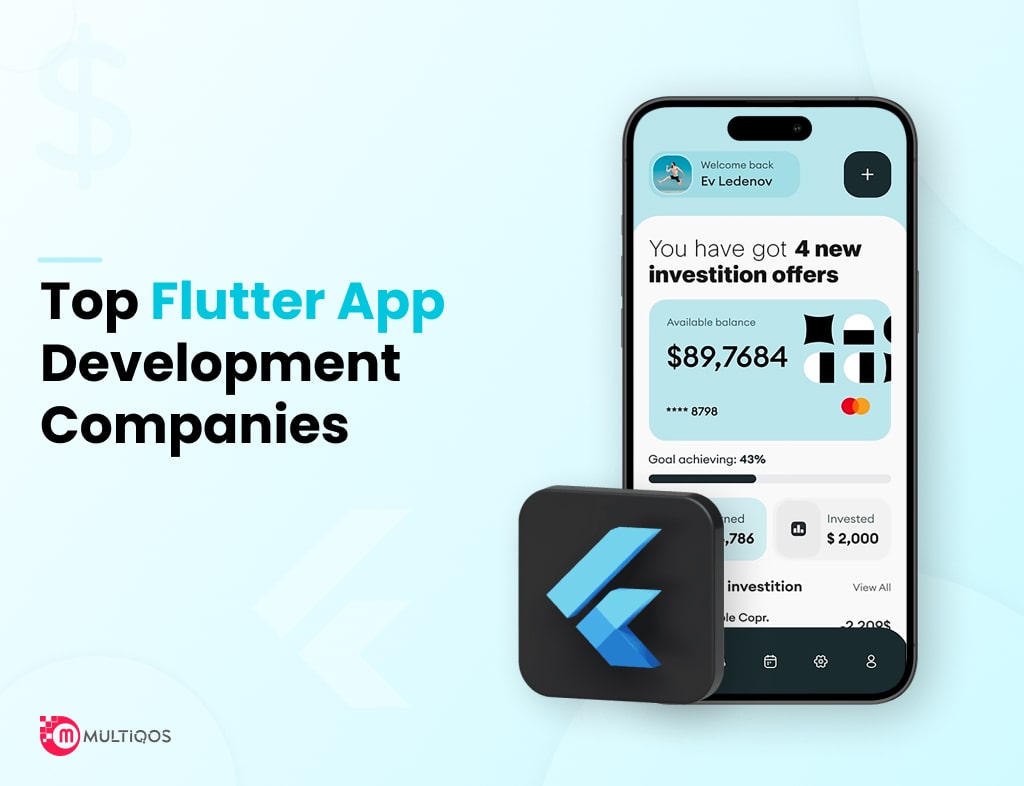 Table of Contents
Introduction
Flutter is an open-source framework. Google developed it to create universal applications supported on multiple platforms. The applications created by Flutter use the programming language Dart. 
Flutter was first launched as the alpha version in 2017. The stable version was introduced in 2018, and the third generation was released in 2020. The original version of Flutter supported Android, iOS, and web Windows while the third version also added support for macOS and Linux desktop applications.
Market Popularity of Flutter for App Development
Flutter has become increasingly popular for Mobile application development ever since its launch. It has been used not just by startups but by established multinationals as well to develop their applications. Such companies include Toyota, BMW, eBay, Alibaba Group, Groupon, and Etsy.
The popularity of Flutter can be attributed to its features which allow the development of applications in a time-effective manner and at a cost that is comparatively lower than the traditional route. It allows you to design user interfaces more freely and has an overall better experience. The framework of Flutter allows the development of apps quickly, reduces costs, provides a more flexible app, enhances the UI experience and provides plenty of plugin options.
Why Should You Invest In Flutter App Development Services?
Since the launch of version 3 in 2020, Mobile App Development Companies have been increasingly offering Flutter for app development services around the globe. It allows a cost-effective solution for cross-platform app development. Flutter App Development Companies have been hailed as the latest step in mobile app development technology. Flutter app development services provide high-quality apps with excellent performance and a good interface for reasonable investments.
What Do Flutter App Developers Develop?
Flutter app developers refer to programmers using the Flutter framework to develop apps. Top Flutter Developers create productive Murli platform applications. The developers give innovative ideas and fasten the launch time using Flutter for development.
Flutter App Development Company creates apps for various platforms, such as iOS and Android, using the same codebase. They develop apps that would run on all supported systems as native apps along with a customized user interface. Hire flutter developers who have a set of competent technical and soft skills for effective development.
The Importance of Choosing the Right Flutter App Development Company
Selecting the best Flutter application development company requires careful consideration of several key factors. These factors guarantee the success of your project. Here are some key considerations to remember. It is impossible to emphasize enough how important it is to make the right choice. Considering their experience and expertise in Flutter is essential, as it directly impacts your application's quality and efficiency.
Unfortunately, not all development companies have Flutter experience. Therefore, it is vital to choose a company with a proven track record of delivering high-quality Flutter applications. Only app developers with the necessary skills can create an app that meets international standards.
Additionally, it is advisable to evaluate the company's portfolio, client reviews, and the team's proficiency in other tools and technologies. Flutter is widely embraced in mobile app development because of its unique features and advantages.
How to Choose the Right Flutter App Development Company?
One must consider a set of requirements to choose the Top Flutter App Development Companies.
Examine the portfolio and prior work of the company

Check the site hosting service

Go through the companies reviews and ratings

Being verified by Google is appreciable

Enquire if prior experience with a similar project is present

Check the standards and track record of previous work.
List of Top 10 Flutter App Development Companies And Developers
To curate a list of the top 10 Flutter app development companies, we conducted thorough research. We relied on credible sources, such as Clutch, and explored the official websites of these companies to gather detailed information about their services. In addition, we carefully examined their portfolios and studied client feedback.
Our evaluation and ranking of these 10 Flutter app development companies took multiple factors into consideration, including their geographical location, hourly rate, portfolio quality, and client ratings on Clutch. By carefully considering these criteria, our goal was to offer a thorough and dependable evaluation of the top Flutter app development companies.
Considering the common requirements, below is a list of the Best 10 App Development Companies In The World has been compiled below:
Best Flutter App Development Companies in 2023
MultiQoS is a reputable Flutter app development company in India that offers comprehensive mobile and web application solutions. Founded in 2020, MultiQoS is headquartered in Ahmedabad, India. Apart from its main office, MultiQoS also maintains additional branches in the United States and Germany. Our skilled team of app developers and designers leverage Flutter to build visually appealing and high-performing cross-platform applications. We distinguish ourselves through our dedication to excellence and customer-centric approach. Our dedication lies in crafting superior Flutter mobile applications that cater to a wide range of industries. These industries include sports, healthcare, real estate, finance, e-commerce, education, and fitness. We strive to deliver customized solutions that align with industry requirements and objectives.
Location: Ahmedabad, India
Founded In: 2020
Company Size: 50 – 249
Hourly Rate: $20-$25 / hr
Clutch Rating: 5.0
Nintrivia is a software development company that creates innovative mobile applications. With a team of skilled developers and designers, they aim to deliver engaging and user-friendly solutions. Their expertise lies in developing highly interactive and feature-rich Flutter apps.
Location: Kochi, India
Founded In: 2010
Company Size: 50 – 249
Hourly Rate: $25 – $49 / hr
Clutch Rating: 5.0
Surf provides exceptional Flutter mobile app development services, known for its cutting-edge solutions. They excel at crafting scalable and robust applications that deliver exceptional user experiences. With a strong emphasis on innovation and cutting-edge technologies, Surf aims to turn ideas into reality through Flutter development.
Location: DE, United States
Founded In: 2011
Company Size: 50 – 249
Hourly Rate: $50 – $99 / hr
Clutch Rating: 5.0
Ekerative is a reputable custom mobile app development company with a strong focus on client satisfaction. Their team of skilled developers excel at building feature-rich, cross-platform applications using Flutter. Ekerative's attention to detail and commitment to delivering high-quality apps make them the preferred choice for businesses seeking reliable Flutter solutions.
Location: TN, United States
Founded In: 2009
Company Size: 50 – 249
Hourly Rate: $50 – $99 / hr
Clutch Rating: 5.0
Estatic-Infotech is a renowned Flutter mobile app development company known for its commitment to excellence. They offer end-to-end solutions, from app design to development and deployment. Their team of skilled professionals leverages Flutter to create high-performance and visually appealing apps that cater to clients' specific requirements.
Location: Ahmedabad, India
Founded In: 2011
Company Size: 10 – 49
Hourly Rate: $50 – $99 / hr
Clutch Rating: 4.0
TechAhead is a globally recognized flutter mobile app development company India known for its exceptional services. With a team of experienced developers and designers, they create stunning and high-performance applications using Flutter. TechAhead's customer-centric approach and commitment to innovation make it a trusted partner for businesses of all sizes.
Location: CA, United States
Founded In: 2009
Company Size: 50 – 249
Hourly Rate: $25 – $49 / hr
Clutch Rating: 4.8
Droids on Roids is a top-rated custom Flutter app development company focused on mobile solutions. Their expertise in Flutter development enables them to create feature-rich apps with seamless performance. With a strong emphasis on user experience and client satisfaction, Droids on Roids is renowned for reliable and high-quality app development.
Location: Wrocław, Poland
Founded In: 2011
Company Size: 50 – 249
Hourly Rate: $50 – $99 / hr
Clutch Rating: 4.9
BinaryStudio is a well-established Flutter application development company that caters to clients' unique needs. With their Flutter expertise, they create scalable and robust applications for various industries. BinaryStudio's focus on delivering top-quality apps and ability to adapt to changing technologies make them a reliable partner for businesses.
Location: Wimborne, United Kingdom
Founded In: 2005
Company Size: 50 – 249
Hourly Rate: $50 – $99 / hr
Clutch Rating: 4.9
Miquido is a leading Flutter mobile application development company renowned for its innovative solutions. They specialize in creating highly functional and visually stunning applications using Flutter. Miquido's team of skilled developers and designers work closely with clients to deliver custom-tailored apps that drive business growth.
Location: Kraków, Poland
Founded In: 2011
Company Size: 50 – 249
Hourly Rate: $50 – $99 / hr
Clutch Rating: 4.9
Nexapp is a reputable Flutter app development company that offers comprehensive mobile solutions. With their Flutter development expertise, they build robust and user-friendly applications that align with clients' business goals. Nexapp focus on quality, reliability, and timely delivery makes them the preferred choice for businesses seeking top-notch Flutter app development.
Location: Quebec, Canada
Founded In: 2014
Company Size: 50 – 249
Hourly Rate: $100 – $149 / hr
Clutch Rating: 4.8
Also Read: How to Build Business App With Flutter
MultiQoS: A Leading Flutter App Development Company
Overview of MultiQoS Technologies
MultiQoS is a Mobile app development company in India. It provides services globally, but its main operations are in India, germany and the USA. The focus of MultiQoS is innovative solutions to business needs. It provides Mobile application development services which are fully customizable. Key services include Mobile App Development, Web Development, UI/UX Design, or Hire mobile app developers.
Unique Offerings and Specializations
MultiQoS offers some unique features, making it a popular choice as a Top Flutter App Development Company.
Free installation:

The app is installed free of cost.
Free app submission:

The app will be uploaded to Google Play Store and other platforms and stored.
Customer support:

Technical team and assistance is available round the clock for managing the platform.
Customization:

Every service is customized according to the needs of a custom software development company.
Scalability:

The platform can provide support in expanding business operations.
Tools & Technologies Used for Flutter App Development
The various tools used for Flutter app development include:
It is an HTTP client for Dart. It provides an API for advanced networking tasks and integration with additional libraries
It is a lightweight database created especially for Flutter.
It is a state management library for the implementation of Business Logic Components.
It is a service locator for Dart that helps isolate widgets and organize the code for maintenance.
It is an abstract class that supports the implementation of the '==' operator without offering code generation.
Industries Served By MultiQoS
MultiQoS serves industry verticals, encompassing almost all service industries, including sports, real estate, e-commerce, travel, business apps, education, fintech, healthcare, logistics, social networking, OTT and E-vehicle.
Flutter App Development Services Offered By MultiQoS Technologies
MultiQoS is very popular for Mobile app development services. It provides client support both during and after development. The development process at MultiQoS can broadly be streamlined as follows-
It is essential to pick the type of app and detail the strategy.
Flutter App Design Services:
It refers to the efficient and quick development of the Flutter app by hiring professional developers.
Custom Flutter App Development:
Every app is customized according to the needs of the client.
Cross-Platform App Development:
The app development is compatible with multiple platforms such as Android, iOS, the web etc.
It allows the conversion of apps for multiple platforms and operating systems.
API Development & Integration:
The team develops and deploys REST APIs by either optimizing current ones or creating new ones.
The app is developed using various libraries for best results.
How Much Will Flutter App Development Cost in 2023?
Several factors influence the cost of Flutter Mobile App Development Services, which include:
UI/UX Design

Server Space

App Complexity

Native or Hybrid?
App Deployment
Cost of Hardware
Location of the Agency
Support and Maintenance
Costing Distrubtion by Diverse Industry Sectors
The average cost for development of Flutter is $11,200, with a time frame of approximately 2 months.
The average cost for the development of Flutter would be around $16,800 – $22,400 with a time frame of approximately 3 – 4 months
The average cost for development of Flutter would be around $22,400 – $33,600 with a time frame of approximately 4 – 6 months.
Why MultiQoS Stands Out in the Flutter App Development Industry?
MultiQoS has been widely recognized as one of the best for Mobile Application Development. The approach used by MultiQoS makes multiple smaller milestones in the project, ensuring structured development. MultiQoS provides multiple services, including development solutions, UI/UX, API integration, customization, testing and deployment. It also offers post-development support to the client, ensuring that the app stays current.
Closing Thoughts on Selecting the Top Flutter Development Company
All of the mentioned organizations offer a wide range of services, including app design, development, quality assurance, testing, and deployment. If you are seeking to develop a high-quality Flutter application for your business, you can depend on these leading Flutter app development companies.
We hope that our list of Flutter development companies has been helpful. While we have highlighted several exceptional companies in this article, one standout is MultiQoS Technologies. Choosing a reliable Flutter app development company can be challenging. However, our list simplifies the process by helping you identify the right company to meet your needs. MultiQoS has earned an exceptional reputation in the industry for its remarkable ability to develop outstanding and scalable apps using Flutter.
As you embark on your journey of developing a Flutter app, we trust that this article has provided valuable insights and information. This will help you make an informed decision.
Frequently Asked Questions (FAQs)
FAQ on Top Flutter App Development Company
An approximate cost would be around $20-$30 per hour.
Since Flutter is an open-source program, it is free for developers worldwide for private and professional use. Commercial use of Flutter is free of cost as well.
An app size of almost 7MB is the minimum size of a Flutter app due to the inclusion of a core engine, framework, ICU data and LICENSE file.
MultiQoS app development rates vary depending on your specific requirements. Flutter app developers typically charge between $18 and $25 per hour, considering various factors such as the type of project and the specific feature requirements. These rates ensure customized and cost-effective solutions based on your project complexity and scope.
Yes, Flutter is an open-source framework. It is freely available and developed through contributions from Google, other companies, and individual developers.
The development timeline of a Flutter application depends on factors such as the complexity of the app, the required features, and the specifications provided by the client. Collaborating with the development company and discussing the project scope and goals will provide a customized estimated timeline based on your project's specific requirements.
Yes, MultiQoS is a top-tier mobile app development company with a skilled team of developers who are adept at managing projects of various sizes and complexities. They have the expertise and resources to efficiently and proficiently handle both small-scale and large-scale Flutter app projects.
Yes, MultiQoS has a remarkable history of collaboration with a wide range of industries, including healthcare, e-commerce, finance, real estate, education, sports, and fitness. With their team's extensive expertise, they excel at customizing their services to meet the specific needs of these industries. By leveraging their profound knowledge and experience, MultiQoS customizes Flutter applications to align precisely with the needs and objectives of various industries and niches.
MultiQoS Technologies provides a comprehensive range of services covering various stages of app development. These services include app design, development, quality assurance, testing, deployment, and ongoing support and maintenance. With their team of skilled developers, MultiQoS is well-equipped to handle all aspects of app development, ensuring a seamless and efficient process from start to finish.
Are you looking for Flutter Application Development?
Our skilled Flutter developers offer excellent Flutter development services with optimal application structure.
Your Trusted Tech Partner!
We develop digital products that enable you to embrace innovation and unlock opportunities.
Talk To Our Experts
Subscribe
Newsletter
Get our latest blog posts, research reports, and thought leadership straight to your inbox.