Mobile App
Top 10 iPhone (iOS) App Development Companies in 2023
Introduction The iOS platform is known for its sleek design and robust security features. And obviously a seamless user experience, which has captured the hearts of millions worldwide. Now, the…
7 July, 2023
7 minutes read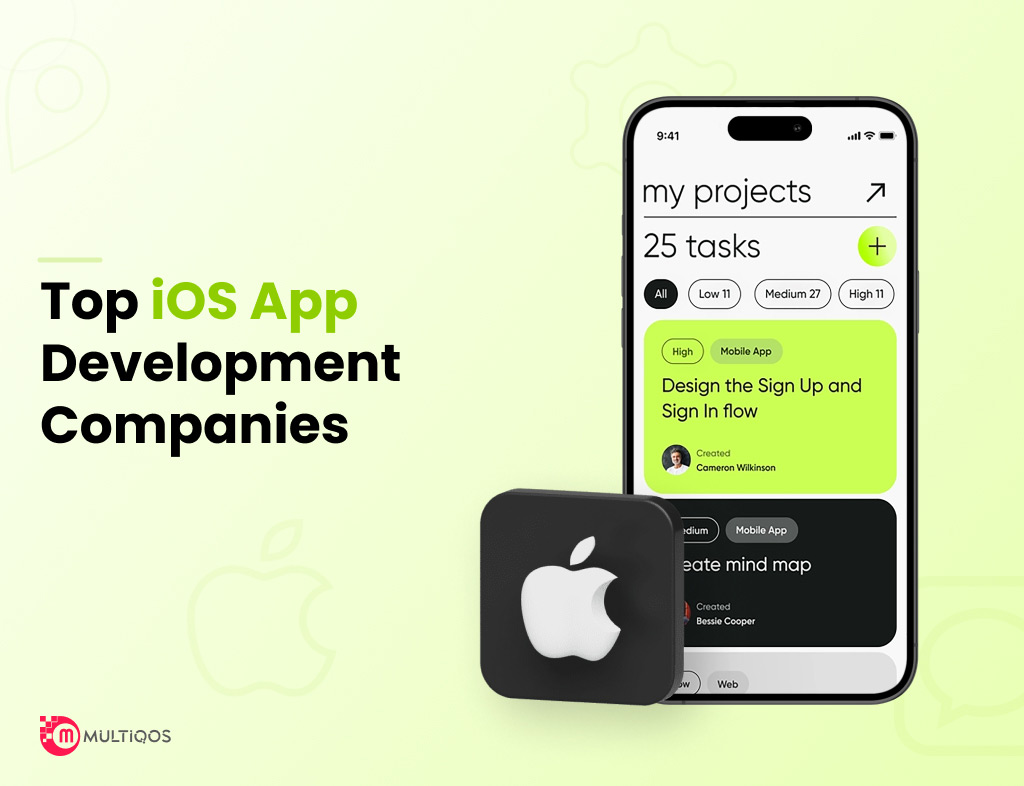 Table of Contents
Introduction
The iOS platform is known for its sleek design and robust security features.
And obviously a seamless user experience, which has captured the hearts of millions worldwide. Now, the app market is flooded with countless iOS apps, and each is vying for attention and success. To stand out in this competitive arena, it is crucial to partner with skilled and innovative top iOS app development companies that can transform your vision into a polished and functional user-friendly application.
How can you select the one that will properly connect with your demands and goals with so many Mobile app development companies dispersed out there? Well, the purpose of this blog is to help you out with that problem.
Importance of iOS App Development Companies
The importance of iOS App Development Companies has skyrocketed a lot, playing a crucial role in shaping the digital landscape. So why are iOS App Developing Firms so important? Well, firstly, these companies bring technical expertise and experience to the table; developing an iOS app requires a deep understanding of the platform's nuances and guidelines and even programming languages like Swift. By collaborating with an iOS app development company, you gain access to a team of skilled professionals with the knowledge and expertise to bring your app idea to life.
Factors to Consider when Choosing a Top iPhone App Development Company
In this huge sea of Top iPhone App Development Companies, standing out from the crowd requires an eagle's eye and a much stronger willingness to explore unconventional factors:
Design Thinking and User Empathy:
Look for a company that embraces design thinking methodologies, emphasizing understanding and empathizing with the end-users. 
Accessibility and Inclusivity:
Forward-thinking web and mobile app development services should deeply understand accessibility guidelines.
Localization and Global Reach:
In an increasingly interconnected world, catering to a global audience is essential for app success. 
Agile Collaboration and Co-Creation:
Collaboration is the key to success in any project. Seek a company that values open and transparent collaboration, fostering a true partnership between you and their development team.
Social and Environmental Responsibility:
In today's socially conscious world, aligning with a company that prioritizes social and environmental responsibility can enhance your brand image. 
Top iOS App Development Companies in 2023
Let's check out the Top 10 iOS App Development Companies In The World for the year 2023 as follows:
MultiQoS Technologies is a reputable mobile app development company specializing in comprehensive quality assurance and software testing services. Their expert team ensures software applications' reliability, functionality, and security through meticulous testing methodologies. By identifying and resolving potential issues, MultiQoS Technologies helps businesses deliver top-quality software products to their clients.
EmizenTech is an agile software development company known for crafting exceptional web and mobile applications. They employ the latest technologies and industry best practices to create highly scalable, intuitive, and feature-rich solutions. EmizenTech dedicated team of professionals collaborate closely with clients to understand their requirements and deliver innovative digital experiences that drive business growth.
Fueled is a renowned digital design and development agency that specializes in creating impactful digital experiences. With a focus on mobile app development, web design, and product strategy, Fueled helps businesses build intuitive and user-friendly solutions that resonate with their target audience. Their team of experts combines creative design, advanced technology, and strategic thinking to deliver outstanding results for their clients.
NetGuru is a software development consultancy that partners with startups and enterprises to build custom web and mobile applications. Their experienced team follows agile methodologies and emphasizes user-centered design to create cutting-edge solutions. NetGuru comprehensive approach includes strategy, development, and ongoing support, helping businesses leverage technology to drive innovation and achieve their goals.
Jafton is a trusted provider of custom software development services, catering to diverse industries. They offer end-to-end solutions tailored to each client's unique requirements. Jafton experienced team excels at developing robust applications, implementing advanced technologies, and delivering seamless user experiences. With a focus on quality and customer satisfaction, Jafton helps businesses achieve digital transformation and gain a competitive edge.
Cubix is a globally recognized software development company known for building scalable and intuitive digital products. Their expertise spans web and mobile app development, utilizing cutting-edge technologies to create innovative solutions. Cubix talented team works closely with clients to understand their vision and deliver exceptional software products that align with their business objectives.
NMG Technologies is a trusted digital solutions provider, offering customized software development and IT consulting services. Their team of skilled professionals specializes in developing tailored solutions using the latest technologies. NMG Technologies helps businesses achieve digital transformation, improve operational efficiency, and stay ahead of the competition through their comprehensive software development services.
Willow Tree is a premier iphone app development company known for creating engaging and user-centric digital experiences. They provide end-to-end app development services, including strategy, design, development, and maintenance. Willow Tree talented team of designers and developers works closely with clients to deliver high-quality mobile applications that exceed user expectations and drive business growth.
ZCO Corporation is a leading software development company with expertise in mobile app development, augmented reality (AR), virtual reality (VR), and enterprise solutions. With a proven track record of delivering high-quality software products, ZCO Corporation helps businesses leverage technology to enhance their operations and engage their target audience effectively.
Spec India is a technology solutions provider specializing in customized software development and enterprise mobility solutions. They leverage their extensive domain expertise, industry best practices, and advanced technologies to deliver robust and scalable software solutions. Spec India's comprehensive approach helps businesses streamline their operations, enhance efficiency, and achieve digital goals.
Emerging Trends in iOS App Development
Staying ahead of the curve is essential if you want to create apps that will resonate with users and meet their constantly evolving needs. As technology continues to advance, several emerging trends are shaping the future of the Best iOS App Development Companies.
Internet of Things (IoT) Integration:
The Internet of Things has gained quite significant momentum and is connecting devices and enabling seamless communication. 
The way people engage with digital material has changed dramatically, and mainly it's all happening as a result of the enormous popularity of augmented reality (AR) and virtual reality (VR) technology. 
The ease of mobile payments keeps changing and is nothing less than a luxury to thrive on, and it definitely deserves to be trending.
Cloud integration has become instrumental in iOS App Development Agencies, enabling seamless data storage, synchronization, and collaboration across multiple devices.
As the digital landscape continues to expand, ensuring high-level security has become a top priority for iOS app developers. 
Steps to Engage an iOS App Development Company
It's important to follow a well-defined process to ensure smooth and effective collaboration. Here are the key steps to engage an iOS App Developing Companies:
Define Your App Requirements:
Start by clearly defining your app requirements. Outline your app's purpose, functionality, target audience, and desired features. Consider factors like user experience, design preferences, and specific technical requirements. 
Conduct thorough research to identify an iOS app development cost  that aligns with your project budget. Consider their expertise, experience, client reviews, and portfolio as well.
Assess Technical Expertise:
Evaluate the technical expertise of app development companies. Check if they have experience with the latest Mobile Application Development technologies and programming languages like Swift. Consider their knowledge of Apple's guidelines and regulations. 
Request Proposals and Quotes:
Contact the shortlisted companies and request detailed proposals and project quotes. Provide them with a comprehensive overview of your app requirements and ask for their approach, timeline, and cost estimates. 
Conduct Interviews and Clarify Queries:
Schedule interviews or meetings with the top contenders to discuss your project in detail. Use this opportunity to ask questions, clarify doubts, and gauge their understanding of your app concept. 
Why Choose MultiQoS as Your iOS App Development Partner?
You need an iOS App Development Agency that meets your expectations and brings a fresh perspective and a unique approach to the table. That's where MultiQoS stands out from the crowd. With their unrivaled passion for innovation and a steadfast commitment to pushing boundaries, MultiQoS emerges as the ideal choice for businesses and individuals seeking groundbreaking iOS app solutions. Here's what sets them apart:
Innovation-Driven Mindset:
At MultiQoS, innovation is at the core of everything they do. They thrive on exploring the uncharted territories of the Best iOS App Developers, constantly seeking new ideas and pushing the envelope to deliver extraordinary experiences. 
MultiQoS is at the forefront of embracing and harnessing the power of next-generation technologies. Their team of visionaries constantly explore emerging trends like machine learning, artificial intelligence, blockchain, and augmented reality. 
User-Centered Design Thinking:
MultiQoS firmly believes that the user experience is the cornerstone of successful mobile app development in india. They go beyond creating visually appealing designs and dive deep into understanding user behavior, preferences, and pain points. 
Advantages of Hiring iOS App Developers from MultiQoS
To bring your app vision to life and ensure its success, you need a team of skilled and experienced top dedicated developers. Look no further than MultiQoS, a leading provider of exceptional app development services. Here are the advantages that set MultiQoS's iOS app developers apart from the rest:
When you hire mobile app developers from MultiQoS, they bring a wealth of experience to the table. They have successfully delivered a diverse range of iOS apps across various industries and niches. This extensive experience equips them with the insights and know-how to handle complex app requirements.
At MultiQoS, the iOS App Developers For Hire team understands that every app has unique requirements. Their iOS app developers excel at tailoring solutions to meet your specific needs. They take the time to thoroughly understand your business goals, target audience, and desired features. 
Cutting-Edge Technologies:
MultiQoS stays at the forefront of the latest iOS app development technologies advancements. Their developers actively explore emerging trends and integrate innovative features into your app. 
 Agile Development Methodologies:
MultiQoS follows agile development methodologies to deliver projects with speed and flexibility. Their iOS app developers embrace an iterative approach, breaking the development process down into manageable sprints. 
Ongoing Support and Maintenance:
MultiQoS's dedication to client satisfaction extends beyond the app development phase. Their iphone app developers provide ongoing support and maintenance services to address any issues or enhancements that may arise post-launch. 
Conclusion
It all comes down to the fact that MultiQoS emerges as a clear frontrunner in iOS app development. By choosing MultiQoS, you can access a collaborative and agile development process where your vision is valued and incorporated at every step. Their focus on user-centric design ensures that your app delivers a seamless and delightful experience to your target audience, setting you apart from the competition.
FAQ on Best iOS App Development Company
Frequently Asked Questions (FAQs)
MultiQoS stands out due to its innovation, expertise, and user-centered approach.
MultiQoS ensures success through technical proficiency, cutting-edge technologies, and ongoing support.
Choose MultiQoS for customized solutions, quality, and a commitment to client satisfaction.
Are you looking for iOS Application Development?
Our skilled iOS developers offer excellent iOS development services with optimal application structure.
Your Trusted Tech Partner!
We develop digital products that enable you to embrace innovation and unlock opportunities.
Talk To Our Experts
Subscribe
Newsletter
Get our latest blog posts, research reports, and thought leadership straight to your inbox.