Digital Transformation
An Ultimate Guide to Creating an Efficient Crypto Payment Gateway
Blockchain has already revolutionized various domains, such as supply chain management, retail, entertainment, and healthcare. Its transformative potential is now poised to permeate the realm of financial transactions. As emerging…
10 July, 2023
6 minutes read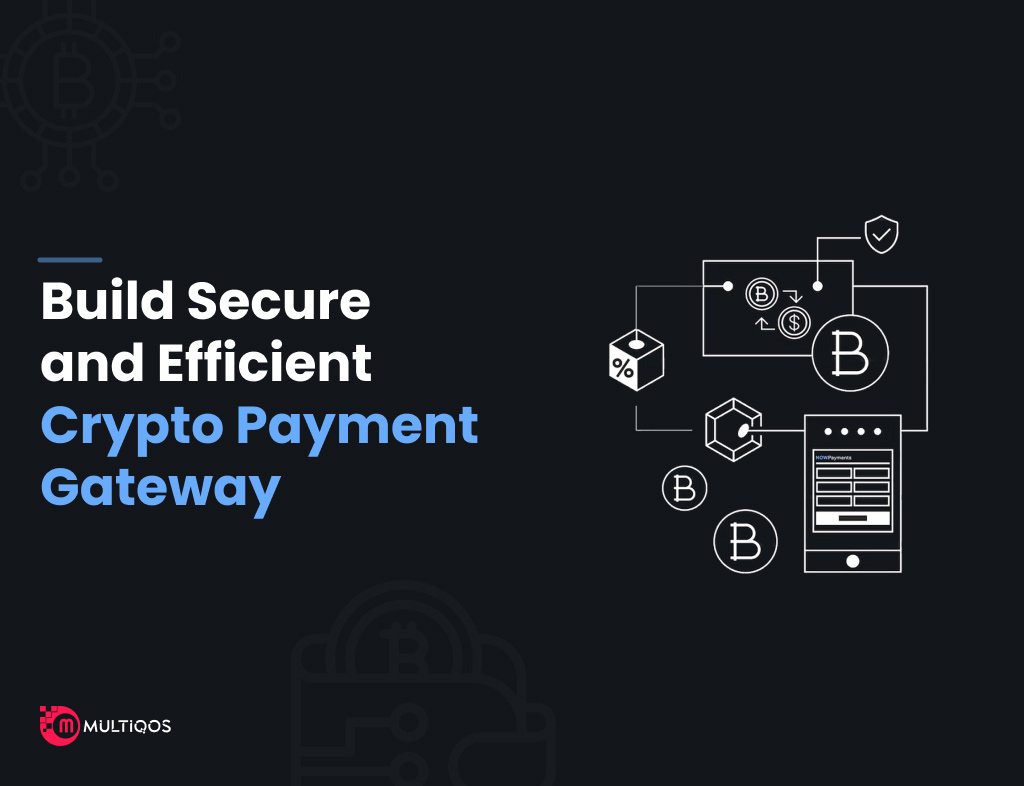 Blockchain has already revolutionized various domains, such as supply chain management, retail, entertainment, and healthcare. Its transformative potential is now poised to permeate the realm of financial transactions. As emerging virtual cryptocurrencies gain more mainstream acceptance, they are supplanting government-issued legal tenders for some transactions. 
Although vastly efficient in myriad regards, conventional monetary conveyance approaches retain inherent deficiencies, among which rank intermediaries' engagement, border-traversing transactional retardations, and automation's absence. The world's businesses are aware of these difficulties. Thus, they also want a better payment system to balance the movement of money and products in areas like retail and supply chains.
According to Insider Intelligence, the global cryptocurrency transaction value is expected to show substantial growth between 2018 and 2023. The following statistics highlight the projected transaction values in billions during this period:
In 2018, the global cryptocurrency transaction value reached approximately $1.43 billion.
By 2019, it experienced a notable increase, reaching around $1.85 billion.
The upward trend continued in 2020, with the transaction value surging to approximately $2.2 billion.
In 2021, the cryptocurrency transaction value witnessed further growth, reaching an estimated $6.10 billion.
Looking ahead, the projection for 2022 indicates a substantial increase, with the transaction value expected to reach approximately $10.40 billion.
By 2023, the global cryptocurrency transaction value is anticipated to reach a significant milestone, with a projected value of around $16.16 billion.
These statistics highlight the continuous expansion and adoption of cryptocurrencies, showcasing the increasing value and importance of digital transactions globally. It signifies the growing trust and acceptance of cryptocurrencies as a means of conducting financial transactions in various industries and sectors.

Understanding Crypto Payment Gateways:
A Customizable infrastructure for payment processing is known as a "crypto payment gateway." It enables retailers and providers to accept payments in different cryptocurrencies without taking any security risks. It makes the process of direct money transfers between Bitcoin wallets simpler for customers. 
In addition to their primary function, these payment gateways have a secondary obligation to transmit sensitive wallet information from the payer to the merchant's software. In an effort to provide customers with expedient, secure, and beneficial payment methods, companies across the spectrum are progressively turning to said payment networks. Essentially, the foundation for crypto payment gateway solutions is laid by Blockchain technology. It is renowned for providing benefits, including immutable records and transparent transactions. Unlike conventional monetary transfers, which rely on intermediaries, the distributed design of blockchain obviates the participation of financial institutions and other intermediaries in the actual exchange of funds. 
The expedited pace at which payments are executed due to the reduction in the requisite procedural steps consequently accelerates the velocity of commercial exchanges. Though initially catering only to a niche base of early adopters, in the broader scope, this strategy could catalyze far greater mainstream participation by fostering wider receptivity to the decentralizing potential of cryptocurrencies. Additionally, crypto payment gateways provide a few more advantages to consumers and merchants in addition to quickly validating transactions and removing third parties from the payment system.
Also Read: Top eCommerce Payment Gateways in UAE
How does a cryptocurrency payment gateway function?
The Cryptocurrency Payment Gateway functions quite like its conventional payment processor. It transforms cryptocurrencies into fiat or vice versa and takes them instead of traditional currency. 
If you use a cryptocurrency payment gateway, the exchange procedure is as follows:
Step 1. Purchasers can pay using fiat currency or cryptocurrencies.
Step 2. If your crypto payment gateway gets Bitcoins, Ethereum, or other cryptocurrencies, it instantly changes them into cash by the digital currency's market value. Similarly, if the gateway receives fiat funds, they are converted into cryptocurrencies at the going rate.
Step 3. Your account receives that sum in fiat currency. It gets into your cryptocurrency wallet, speaking of which.
To ensure the seamless and secure operation of your solution, as well as its essential functionality, it is of paramount importance to grasp the step-by-step process of constructing a best fintech application development services. Before delving into this enlightening journey, let's explore the pivotal features that your cryptocurrency payment gateway might encompass…
Exploring the Core Features of a Cryptocurrency Payment Gateway
Businesses may take payments directly from clients via a peer-to-peer network by integrating a decentralized payment gateway into their current payment strategy. Two significant benefits of this attribute that accelerates transaction times are quicker transactions and secure access to the payment gateway.
The role of mediators and third parties in the payment system is eliminated by crypto payment solutions. Consequently, a client can easily avoid paying transaction fees by paying a business directly using his wallet.
International Swift Transactions:
A currency transaction typically takes five to fifteen days to complete, whereas a crypto transaction is completed within a matter of minutes. Thanks to these rapid transactional speeds, businesses of all sizes—whether small, medium, or large—can promptly initiate payments for importing and exporting commodities. For additional efficiency enhancements, you might even consider exploring the benefits of artificial intelligence consulting services. These services can provide valuable insights and strategies to optimize your payment processes, further streamlining your international trade operations.
Integrating cryptocurrency payment channels into an existing application is easy. The business may start taking Bitcoin payments by integrating the cryptocurrency plugin into the platform they intend to utilize.
Real-Time Conversions and Price:
In the volatile cryptocurrency market, the value of currencies can fluctuate significantly. In these circumstances, the real-time exchange functionality of a payment gateway facilitates the immediate conversion of coins into physical money.  
Decentralized payment gateways are entirely compatible with the Android, iOS, and Windows operating systems. Merchants don't need to make configuration changes to integrate the payment gateway into an application or device.
Users may quickly connect payment gateways to exchanges to convert cryptocurrencies into cash, stablecoins, or traditional currencies, all while facilitating a smooth digital transformation in financial services. A configurable auto-setup option makes it feasible. Users may trade tokens for USD, TUSD, USDT, and USDC by connecting a Payment gateway with well-known cryptocurrency exchange platforms like Binance and Bittrex.

The Typical Process for Cryptocurrency Payment Gateway Development
Now that you know what Cryptocurrency Payment Gateway is all about and what features you need to integrate for improved efficiency, it is time to develop a crypto payment gateway. Time to get started!
Step 1: Research
First, evaluate the requirements of your crypto payment platform. You need to undertake extensive study and analysis before producing an outline to achieve the intended result. You can connect with an experienced crypto payment development company to gather and analyze your needs. The teams will next work together to carry out a product feasibility study.
Step 2: Planning
Before starting your design, gather all the software prerequisites and explore possible concepts. The dangers of the project are then identified after considerable investigation. The specialists shall clearly identify and record the needs and plans for your approval.
Step 3: Development
Blockchain programmers make sure the product is constructed with cutting-edge features. The creators meticulously craft the Bitcoin payment gateway platform while adhering to the concept, ensuring it can be altered as necessary.
Step 4: Testing 
To ensure no problems or faults, the testing team tests the product in several environments. The testers carry out usability and performance testing. Now that the product has been demonstrated, it's ready for sale.
Step 5: Deployment
After reviewing the comments and receiving your approval, the Crypto expert developers will install the crypto gateway for payment. After the release, they would also provide maintenance services.
Types of Cryptocurrency Payment Gateway
A Cryptocurrency payment gateways should provide consumers with a range of practical payment options, such as QR codes, NFC, and URLs. It must also complete transactions fast to enable real-time settlement and simplify payment processes. Currently, businesses employ two crypto gateway types:
Crypto Payment Gateway DeFi
Users may manage their money with DeFi crypto payment gateways with encrypted private keys. These are non-custodial and provide specific security that is integrated for user ease. Users may collaborate to use a fully open, decentralized financial environment.
Multi-Crypto Transaction Gateway
Businesses looking to expand their reach may accept many cryptos as payment, enabling customers to pay in different cryptos. The integration of a multi-crypto payment gateway, which seamlessly supports various cryptocurrencies, might be especially valuable for retailers engaged in international commerce. This strategic integration empowers them to accept payments from clients worldwide without incurring network costs. Notably, the inclusion of a multi-crypto payment gateway also eliminates the requirement for intermediaries, such as other blockchain-based wallets and payment gateways. For added flexibility, businesses can even consider the option to hire offshore developers to optimize the performance and adaptability of their payment gateway setup.
Leveraging MultiQoS for Your Crypto Payment Gateway Development Needs
Your business strategy, product vision, and technological solution must all harmonize to create a dependable, effective, and secure crypto payment gateway. You can seek expert assistance from a digital transformation company like MultiQoS. As a custom software development company, we are well-equipped to collaborate with you in devising an efficient and secure solution. This solution not only empowers consumers to conduct Bitcoin transactions legally and transparently but also ensures compliance with bank and payment system requirements.
Conclusion
One of the most practical international payment methods is gradually evolving to be cryptocurrency payments. Unquestionably valuable is a crypto payment gateway tailored to your business' requirements. Companies that wish to expand their operations must include decentralized or blockchain-based apps in their present payment system and opt to develop a functional custom crypto payment gateway. With the aid of a crypto payment development business, now is the ideal moment to introduce your cryptocurrency payment gateway and start making significant earnings.
Frequently Asked Questions (FAQs)
FAQ on Crypto Payment Gateway Development
Some of the most popular blockchain payment solutions are Blockonomics, Bitpay, Coinbase, and Nowpayments.
Yes. You can accept crypto payments without developing your own token only if you intend to create defi-blockchain apps.
You must keep a wallet address on the site to start accepting cryptocurrencies, as it would include unwanted manual labor, complicated regulations, and tax uncertainties.
Yes! Merchants can control crypto payment options by implementing a dedicated admin area. This specialized feature empowers merchants to manage and handle cryptocurrency funds, granting them enhanced control and flexibility over their payment processes. By offering this capability, merchants interested in cryptocurrencies can effectively manage and utilize crypto payments to their advantage.
Using a secure crypto payment gateway offers several benefits, including protecting sensitive user data, instilling customer trust, preventing fraud, safeguarding against financial losses, and ensuring compliance with regulatory requirements.
To ensure efficiency, it is imperative to optimize infrastructure and processes. It is also important to employ a user-friendly interface, integrate with reliable blockchain networks, monitor performance, and provide responsive customer support.
To enhance security, it is important to employ robust encryption protocols, implement multi-factor authentication, conduct regular security audits and vulnerability assessments, utilize secure storage solutions, enforce rigorous user verification processes, and stay up-to-date with security patches.
Prioritize security by implementing robust measures to protect user data. Provide transparent company information, including details about the team, mission, and values. Display trust badges to assure users of your platform's safety and reliability. Partner with reputable service providers to enhance the overall user experience. Offer responsive customer support to address any concerns or issues promptly. Lastly, take user feedback seriously and make necessary improvements promptly.
To ensure compliance with regulations, it is imperative to implement robust Know Your Customer (KYC) and Anti-Money Laundering (AML) procedures. This can be achieved by staying informed about the latest regulations, collaborating with legal and compliance experts, maintaining comprehensive records, and regularly reviewing and updating compliance processes.
Cryptocurrency Integration for Your Business?
We are an experienced web and mobile app development company specializing in blockchain app development.
Your Trusted Tech Partner!
We develop digital products that enable you to embrace innovation and unlock opportunities.
Talk To Our Experts
Subscribe
Newsletter
Get our latest blog posts, research reports, and thought leadership straight to your inbox.