Mobile App
MobileAppDaily Listed MultiQoS Among The Top Flutter App Development Companies in 2023
MultiQoS Technologies, a popular name among the leading Mobile app development companies has been ranked in MobileAppDaily latest edition of the directory titled "Top Flutter App Development Companies". With offices…
12 July, 2023
3 minutes read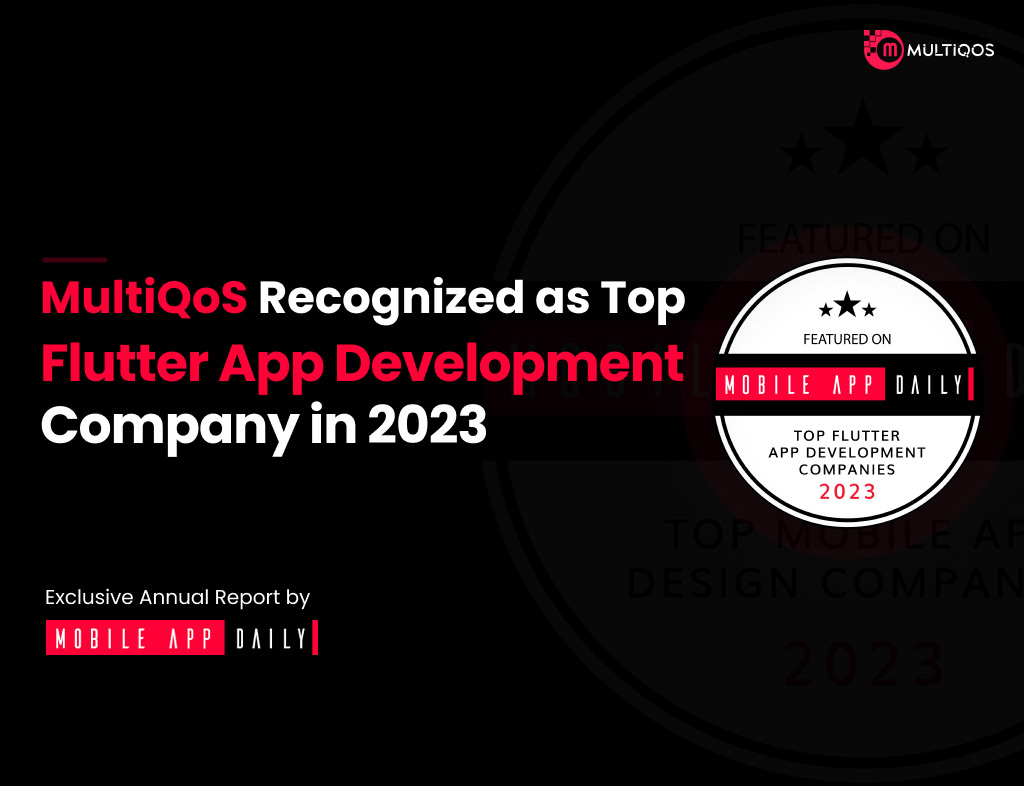 MultiQoS Technologies, a popular name among the leading Mobile app development companies has been ranked in MobileAppDaily latest edition of the directory titled "Top Flutter App Development Companies". With offices in India, Germany, and the USA, MultiQoS Technologies is now aimed at going global by increasing its visibility on global marketing platforms like MobileAppDaily. 
MultiQoS has delivered over 170 projects for 125+ happy clients from different corners of the world and industries. As for services, MultiQoS is a leading mobile app development company, a web development company, and a UI/UX designer company as well. For high-quality Flutter projects at reasonable costs, MultiQoS is the perfect existing option at the moment.
Which Factors Influenced MobileAppDaily Decision to Choose MultiQoS?
MobileAppDaily is a well-known name among businesses, IT experts, tech enthusiasts, and other such user groups. The website is visited by a massive number of people who like to keep up with the latest evolving technologies and trends. These groups include CEOs, CTOs, managers, and even students including other groups.
MultiQoS, a top Flutter app development company, is a leading software development company specializing in creating high-quality Flutter applications, is proud to announce its inclusion in MobileAppDaily prestigious Top Flutter App Development Companies 2023 Report. This recognition signifies MultiQoS commitment to delivering exceptional Flutter app solutions and dedication to excellence in the industry.
MobileAppDaily, a trusted mobile app industry platform, conducts extensive research and analysis to identify the top players in various Flutter app development niches. MultiQoS inclusion on their exclusive list is a testament to the company's expertise, innovation, and consistent delivery of high-quality Flutter apps.
Flutter, the open-source UI software development kit pioneered by Google, has achieved remarkable global popularity among developers. It allows for seamless development of cross-platform applications with stunning visuals and native-like performance. As a result, businesses across industries are increasingly turning to Flutter app development companies like MultiQoS to enhance their digital presence and engage users on multiple platforms.
In other words, the platform is the perfect source of information for anyone that is interested in finding new tech partnerships, looking for tech companies to hire, reading about new tech trends, exploring industry statistics, etc. Now, getting ranked in MobileAppDaily directory titled Top Flutter App Development Companies gives MultiQoS the opportunity to infiltrate a wider market by being more visible across its potential customer groups. 
MultiQoS has proven its prowess in Flutter app development through a portfolio of successful projects across diverse domains. The company's team of skilled developers possesses a deep understanding of Flutter's capabilities and leverages its potential to craft elegant and feature-rich mobile applications. By harnessing Flutter's rich set of customizable widgets, MultiQoS ensures that each app it develops aligns perfectly with the client's brand identity and user experience goals.
The recognition by MobileAppDaily Top Flutter App Development Companies Report serves as a validation of MultiQoS consistent focus on client satisfaction, technical expertise, and innovation. The company's commitment to providing end-to-end app development services, from ideation to deployment, has garnered it a reputation for delivering exceptional results.
Through its inclusion in this esteemed report, MultiQoS aims to upscale its visibility across industries and further establish itself as a top player in the Flutter app development space. This recognition not only highlights the company's capabilities but also serves as a valuable resource for businesses seeking reliable Flutter app development partners.
With its recent accolade, MultiQoS is poised to attract new clients from various industries, including e-commerce, healthcare, finance, The company's ability to understand clients' unique requirements, create intuitive user interfaces, and build scalable, robust custom mobile application positions it as a preferred choice for businesses seeking cutting-edge Flutter solutions.
As MultiQoS continues to grow and expand its service offerings, it remains dedicated to pushing the boundaries of Flutter. By staying at the forefront of emerging trends and technologies, MultiQoS ensures innovative solutions that meet their present needs. In addition, it ensures that its clients future-proof their applications.
In conclusion, MultiQoS inclusion in MobileAppDaily Top Flutter App Development Companies Report signifies the company's commitment to excellence. It also signifies its position as a leading player in Flutter app development domain projects. With a focus on client satisfaction, technical expertise, and innovation, MultiQoS is well-equipped to provide exceptional Flutter solutions that empower businesses across industries and enhance their digital presence.
Frequently Asked Questions (FAQs)
FAQ on Flutter Mobile Application Development Company
MultiQoS gained recognition due to its exceptional expertise and proficiency in leveraging the Flutter framework to create high-quality mobile applications.
Flutter, an open-source UI software development kit developed by Google, is highly popular among developers because of its ability to create visually appealing and natively compiled applications for various platforms, including Android, iOS, the web, and desktop.
MultiQoS distinguishes itself through consistent delivery of exceptional solutions and meeting client requirements. The company's skilled developers use Flutter's capabilities and extensive widget library to create feature-rich and visually stunning applications.
Our Flutter Development Services Includes:
Flutter Consulting Services
Cross-Platform App Development
Flutter App Design Services
Flutter App Upgrade
Flutter App Migration
Hire Flutter App Developers
Support and maintenance
To find more information about MultiQoS services, visit our service page. Our service page provides comprehensive details about the company's expertise, services offered, case studies, and portfolio. Additionally, you can explore our blog section, which contains informative articles and insights related to app development and industry trends. Feel free to reach out to MultiQoS directly through the contact form or contact information for any specific inquiries or further assistance. Contact our experts today! Reach out via email at: biz@multiqos.com or call us at:+91 88666 87330.
Looking for a top Flutter app development partner?
Experienced Flutter developers at MultiQoS stay updated with the latest trends and best practices in app development.
Your Trusted Tech Partner!
We develop digital products that enable you to embrace innovation and unlock opportunities.
Talk To Our Experts
Subscribe
Newsletter
Get our latest blog posts, research reports, and thought leadership straight to your inbox.