Mobile App
MultiQoS Ranked #1 Among Top iPhone And iOS App Development Companies by MobileAppDaily
Founded in 2020, MultiQoS Technologies has received another achievement by being included in MobileAppDaily Top iPhone and iOS App Development Companies report. This achievement stands as a testament to the…
19 July, 2023
2 minutes read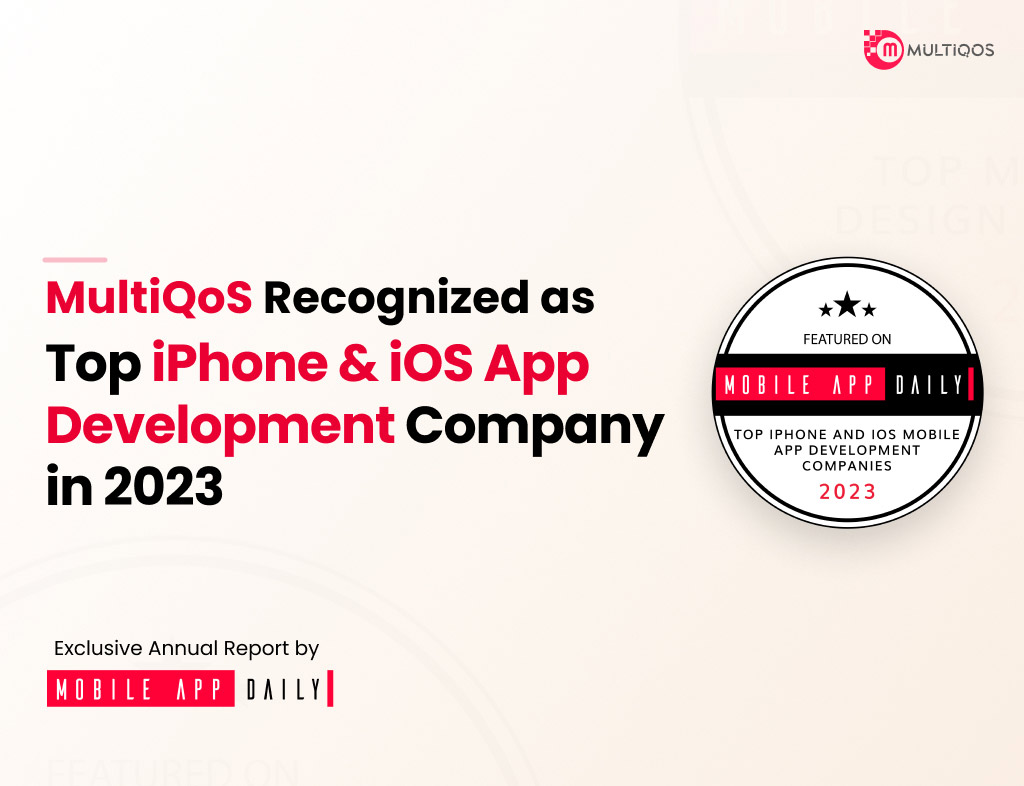 Table of Contents
Founded in 2020, MultiQoS Technologies has received another achievement by being included in MobileAppDaily Top iPhone and iOS App Development Companies report.
This achievement stands as a testament to the unwavering dedication and hard work demonstrated by MultiQoS Technologies in the pursuit of providing exceptional services to our clients. Whether it involves building digital products from scratch or improving existing solutions, our experts excel at tackling any challenge that comes their way.
Throughout our journey, we have consistently assisted clients in maximizing their return on investment (ROI), catering to startups and Fortune 500 companies. MultiQoS collaborations have paved the way for significant growth and opportunities for our valued clients. This has resulted in exceptional ratings and reviews on various company review platforms.
Why Did MobileAppDaily Pick MultiQoS as Top iPhone App Development Company?
MobileAppDaily has an established audience base of visitors from all over the world. These visitors include CEOs, CTOs, managers, students, and other such user groups that like to keep up with the evolving tech world. MultiQoS holds a special position in their report titled "Top iPhone and iOS Mobile App Development Companies" due to our remarkable impact on the IT industry. Our services are not only affordable but also receive exceptional ratings and reviews from past clients on platforms like Clutch.
MultiQoS is a leading name in the app development industry and has offices in India, the USA, and Germany. The company is well-known for its affordable app And web development and design services that contribute to boosting the growth of its client organizations. MobileAppDaily exclusive report on top iPhone and iOS app developers can help MultiQoS to make its high-quality service base visible to a wider audience. 
Also Read: MultiQoS: Top Flutter App Development Company by MobileAppDaily
The tech expertise of MultiQoS is not limited to iOS App development. It is known for building CMS solutions, Frontend development, Backend development, wireframes, and other such tech products that can help upscale the productivity of its client organizations.
Led by highly experienced industry professionals, our team offers a diverse range of services, including website development, mobile app development, AI & ML solutions, cloud computing and DevOps solutions. Over time, we have experienced remarkable growth, enabling us to deliver top-notch digital products and services at impressive speed.
We Wholeheartedly appreciate the recognition from MobileAppDaily and eagerly anticipate the numerous achievements ahead on our journey.
Frequently Asked Questions (FAQs)
FAQ on iOS Mobile Application Development Company
MobileAppDaily assessed various factors, such as project success, client satisfaction, innovation, and overall performance, to determine MultiQoS position as the top-ranked company.
MultiQoS stands out due to its commitment to delivering high-quality, cutting-edge solutions, coupled with a track record of meeting and exceeding client expectations.
Yes, MobileAppDaily recognition of MultiQoS as the top-ranked company validates their trustworthiness and expertise, making them a reliable choice for your app development projects.
By selecting MultiQoS, you can expect a seamless app development process, innovative solutions, and a final product that aligns with the latest industry standards, ensuring success for your business.
Looking for a best iOS app development partner?
At MultiQoS, skilled iOS developers remain abreast of the latest trends and best practices in app development.
Your Trusted Tech Partner!
We develop digital products that enable you to embrace innovation and unlock opportunities.
Talk To Our Experts
Subscribe
Newsletter
Get our latest blog posts, research reports, and thought leadership straight to your inbox.