Mobile App
Top Ideas Ideas for Grocery Delivery App in 2023 and Beyond
Introduction We are all aware of cab services and food delivery services. It is time now to get yourself acquainted with grocery apps. The demand for online shopping groceries is…
28 September, 2022
5 minutes read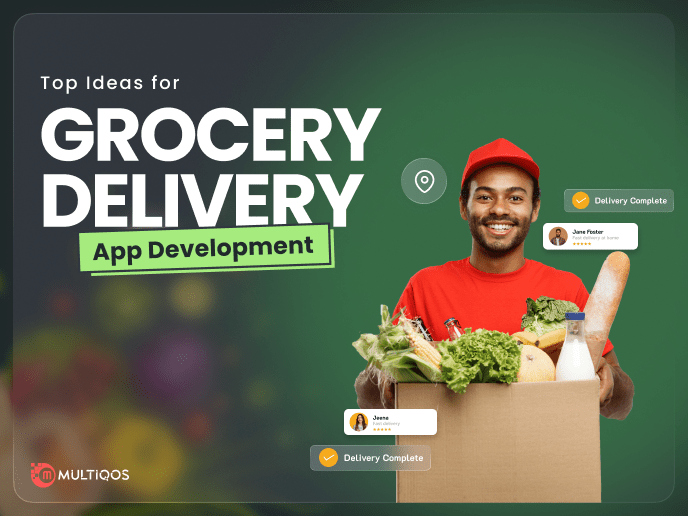 Introduction
We are all aware of cab services and food delivery services. It is time now to get yourself acquainted with grocery apps. The demand for online shopping groceries is on a surge. It saves time from wandering from one shop to another and is cost-effective. With the help of Grocery Delivery App Development, you can have your favorite groceries in the comfort of your house.
Therefore, a grocery app will always make a difference to your company whether your grocery business is small or big. People in the recent past have become habituated to various apps; hence, a grocery app will be a welcome relief. Also, if you plan to make a grocery shopping app, it must be apt for the customers and be user-friendly. But first, we must understand what a grocery shopping delivery app is and the next section is there to help you.
What Are On-Demand Grocery Apps?
Since we are so busy with work, we hardly get time to visit the market and choose our requirements. Hence, we end up purchasing groceries that are not of the standard. The recent advent of the grocery shopping app has been a boon, especially for working-class people.
They can choose the items of their choice at any length of time and get them at their doorsteps instantly. Though there are various grocery apps, some on-demand apps are top-rated primarily because of their products and services. A recent study reveals that the Walmart grocery app is at the top of the list, followed closely by Amazon.
Big Basket and Grofers are also making some waves in online grocery delivery; Since food is an essential requirement for us, the demand for groceries will always touch new horizons simply because there is a substitute for food.
Market Overview
There has been a sudden rise in the demand for grocery shopping delivery apps primarily because of the sudden rage of the pandemic. It made the people aware of the time they spent in traditional marketing of groceries. It gave a chance to various stores to develop an app for grocery businesses to reach the potential customers at their doorstep and satisfy their needs. Following is the market overview of online groceries:
Online Groceries Will Stay on Top:
Since the outrage of the pandemic has been minimized, many customers still prefer to purchase their groceries online. One of the valuable benefits is that instead of buying groceries in a hurry-scurry way, you can now carefully choose the items of your need in your spare time and make the purchases from the comfort of your house. 
The Surge in Fresh and Frozen Food:
One of the prime advantages of purchasing groceries online is that you will get them fresh. You can now not only order your favorite veggies but also meat and milk products. Moreover, some apps offer rebates on certain items, which is a way to attract customers and enhance your business.
Customers Are Willing to Pay Extra:
One of the benefits of purchasing groceries online is that it saves a lot of time. Hence, customers are willing to pay extra to get quality food at their doorstep. Therefore, it is essential that if you want to gain the confidence of your customers, you need to give services at the right time and at the same time provide fresh food.
Also Read: How Much Does It Cost To Develop A Location Tracking App?
Top Ideas For Grocery Delivery App Development
We are in the midst of a digital revolution. Apps are more in trend now than in traditional markets, and it is because it saves you time as well as energy. Moreover, in the present era, everything we need is just a tap away. So, if you are in the process of developing an app for your grocery delivery following are some guidelines on how to make grocery shopping apps successful.
Grocery Delivery Apps:
With the help of grocery delivery apps, you can explore the market without putting your foot outside the house. It allows you to choose from the various lists and add them to your shopping cart. The primary reason people prefer apps is that it is just a tap away.
Hence, if you plan to expand your business with the help of apps, you must use mobile app developers. They will guide you in making one of the best grocery development applications so that your business touches new horizons. The app must allow users to choose from various items easily.
Grocery Rebate App:
The grocery rebate app allows customers to save money and sometimes get discounts on certain items. It helps them to purchase groceries on the list, sometimes at a rebate. It enhances the customers' confidence who will start visiting your app regularly. Moreover, you will soon gain more customers with word of mouth.
Price Comparison App:
With the help of a price comparison app, customers can check various items' prices and exciting benefits. With the advent of different grocery apps, customers are constantly checking the prices so that they can purchase groceries at a rebate and thus save money.

Shopping List App:
With the help of a Mobile app development company, you can now create an app that gives the users freedom of choice. Hence, one of the features of a grocery shopping list app is to provide the benefit to the customers of not typing in the items every time they want to make a purchase.
With the help of mobile app development, you can use the same thing and, if necessary, add or remove any items during purchase.
MultiQoS Expertise in Grocery App Development  
There are many types of grocery apps that you will find online. However, the cost to develop an app for grocery delivery entirely depends on the app development company.
Hence, hiring a full-stack Mobile App Development Company is advisable for the best results. Following are the benefits of hiring a professional team to create your grocery app.
Developers with Knowledge of Database Development
The primary advantage of hiring a full-stack developer is that you will get a chance to know the skills and expertise of the professionals. They have a broad knowledge of the technology and creativity that will enhance your business. Moreover, the developers have a comprehensive understanding of the front and back end of the database.
Cost-Effective and Economical Option
One of the prime reasons to work with professionals is that the cost of grocery apps can be cost-effective in the long run. Once the app is created, it is perfect for launch, and your entire project will be cost-effective.
Hence, it is advisable that before you choose various experts, you can hand over the whole project in one hand. Your cost to develop an app for grocery delivery will undoubtedly be according to your budget.
Expertise in the Design Structure
Your one-stop solution is to hire a professional team with expertise and knowledge to create the best grocery app. Moreover, the app must be flexible and reliable so that you can make the changes quickly.
One of the advantages of hiring expert developers is that they have a better understanding of the coding and can handle complex databases.
Take Responsibility for Project Development
Once you hand over the entire project to the developers, they will take complete control of the whole process. It is their responsibility to develop a grocery app that is functional as well as user-friendly. It must give positive results to the company so that gradually it reaches new horizons. 
Delivery on Time
The advantage of hiring a reliable and professional developer is that you will get the delivery of your app on time. A whole stack development team will offer you fast, effective, and efficient delivery of your app. They work diligently to ensure that your app is ready to launch appropriately.
Maintenance and Upgradation Expertise
The app development team will test the app before the final launch. However, the work does not finish here. The developers will constantly be at your services as they are also responsible for the app's maintenance and upgradation of the app so that it does not move out of track. 
Also Read: How Much Does it Cost to Build an Online Marketplace?
Final Thoughts!
Online grocery stores are gradually moving sharply on top. Customers are willing to pay extra if they receive fresh groceries at their doorstep. Moreover, it saves them a lot of time as they do not have to visit the market physically, allowing them to make wise decisions before purchasing groceries online. Hence, it is essential to connect with the target audience with the help of your grocery app so that you can convert them into potential customers.
Frequently Asked Questions (FAQs)
FAQs on Grocery Delivery App Development
People prefer to stay indoors rather than visit the crowded marketplace, allowing them to choose the items at ease sitting in the comfort of their house.
Following are some of the reasons for choosing grocery apps:
It is convenient and easy to order online.

You will get a wide variety to choose from various items.

Sometimes you will receive discounts and rebates.
To gain the customers' confidence, you must create an on-demand app for your business, which will gradually enhance your business's growth.
Launch Your Online Grocery Store!
Ready to Build Your Grocery Business with an Innovative Grocery App?
Your Trusted Tech Partner!
We develop digital products that enable you to embrace innovation and unlock opportunities.
Talk To Our Experts
Subscribe
Newsletter
Get our latest blog posts, research reports, and thought leadership straight to your inbox.