Mobile App
Top Innovative Mobile App Ideas for Agritech Industry
Introduction Whether you are the owner of an agricultural company and have been wondering if there is any way to address a particular issue, we can guarantee you that it…
26 October, 2022
5 minutes read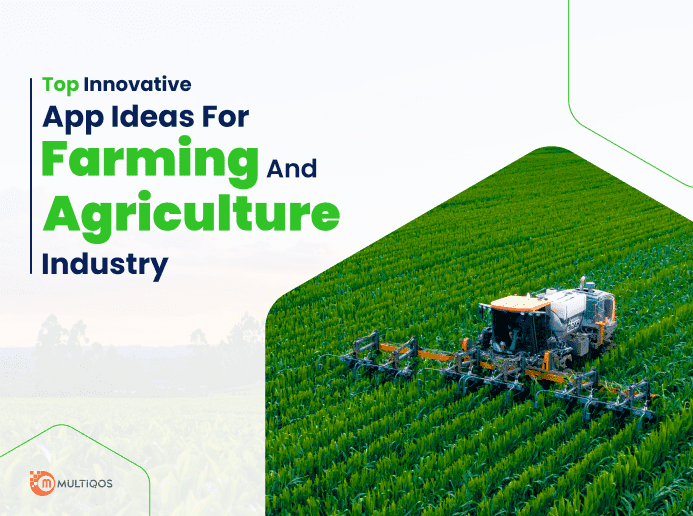 Introduction
Whether you are the owner of an agricultural company and have been wondering if there is any way to address a particular issue, we can guarantee you that it is possible to do so in the form of a smartphone app and that it is something that you should consider. Today, hundreds of apps can be used in agriculture to help with problem-solving, data collection, crop management, aerial observation, and the development of intelligent methods for improving agricultural operations for producers, distributors, farmers, and large agricultural corporations. Producers, distributors, farmers, and large agricultural corporations can use agriculture app development. 
Agritech Industry: Trends and Future
Agriculture mobile app development solutions are being developed by startups and scaleups to assist farmers. These technologies will automate farm chores and increase agricultural production. The Internet of Things (IoT) is the buzzword of the moment because it enables farmers to monitor their crops and animals more precisely. This is one of the reasons why it is so popular. Farmers may realize savings in both time and money via the use of automated irrigation systems, agricultural machinery, and harvesting practices. 
In addition, crop surveying is a work that takes a significant amount of time, but drones make it more efficient. AI and ML advancements increase the dependability of predictions and shed light on previously unreachable areas like the classification of crops and the spread of zoonotic diseases. The expansion of precision agriculture is yet another significant trend that Agritech Software Development Company has widely observed in the agricultural industry. Hence, businesses can also incorporate cutting-edge cultivation techniques such as hydroponics and aquaponics by creating environmentally friendly agriculture solutions.
Top Agritech Apps & Software Ideas for Startups
App with GPS and Location-Based Services
It's unusual to come across agricultural software that doesn't include with a map of some form. Farmers now have access to a wide variety of location-based services due to the Agriculture Mobile App Development with mapping services, including the ability to monitor drone investigations and see regional weather forecasts. A location-based service may be used to detect trouble regions and segment a field into smaller polygons that are easier to maintain. Utilizing maps makes it possible to locate specialty crops, individuals who apply pesticides, and various other services with relative ease.
Apps for Making Forecasts of the Weather
Developing an application that may be used in agriculture requires accurate weather forecasting as an essential component. Farmers who used these skills would be able to determine in advance whether or not the circumstances were suitable for the development of crops with the help of such Agriculture Software Solutions. This would enable them to take preventive measures.
Apps with Imaging Technologies
The combination of visual information and machine learning in agritech software development allows farmers to more readily detect plant illnesses in their earlier stages, identify weeds, monitor nitrogen levels, and evaluate leaf damage. In addition, machine learning may help farmers identify weeds. To determine which open-source library is superior for machine vision, it is advisable to seek the advice of professionals in software development.
You should investigate the use of a pre-built machine vision library if you want your app to be able to detect ailments in plants and provide therapies for such illnesses. This is made possible through machine vision, an application of machine learning. The most challenging aspect of working in this industry is gathering enough information to train a machine learning system properly. On the other hand, information on plants, plant diseases, and other relevant subjects is easily accessible. If you make use of these resources, you may be able to develop agricultural applications that operate in the cloud and offer aid to farmers.

Apps for Pest Control Management
A big advantage of investing in an app for the farming and agriculture industry is that it makes it possible for farmers to contact specialists who can provide advice on how to control crop diseases promptly and uncomplicatedly. By establishing a connection with them via video chat, this game-changing agriculture app for farmers would make it possible for farmers to receive guidance from professionals without having to leave their fields.
App with Agricultural Product Catalogues
One kind of application is the creation of markets for agricultural products such as fertilizer, seeds, and equipment. Because they bring together buyers, sellers, and producers, agricultural marketplaces allow farmers to compare shops for the best pricing. A photograph of each item for sale in a marketplace app should be included, in addition to information on the goods, their delivery, and other relevant details. Such a smart agriculture market will help boost the business's revenue effortlessly.
App for Keeping Track of Agricultural Analytics
Most agriculture applications designed to assist in workflow management are smart to invest in analytics. The information gained via analytics needs to be instructional and valuable, bringing fresh insights on problems such as resource allocation, crop health, climatic fluctuations, and so on.
Farmers may use analytics to assess their precision farming strategy and make adjustments to it so that it can be used more effectively in the future to boost the success of their farm management apps and agriculture startups. When developing an agriculture app, you need to keep marketing in mind. You need to incorporate your own metrics to see how well your app is being used. Analytics may give statistics such as the number of users who use your app, the average time they spend using it, and which features are most often used. Using these facts, you may modify your app to satisfy the market's requirements better.
Want to Start Agritech Startups?
Due to rising population needs, the agriculture industry is being pushed to integrate mobile technologies, Big data, and the Internet of Things. With the help of Agritech Software Development Services and mobile applications, farmers may improve their efficiency in the field. China, the United States, Ukraine, India, and several African nations are among the leaders in embracing mobile technology for use in agriculture.
MultiQoS Expertise in Agritech Solutions
With its robust agricultural development services, MultiQoS helps farmers of all scales, from solo operations to multinational conglomerates, to achieve their full potential. Our services provide farmers with cutting-edge tools, including worldwide coordination and communication, robotic process automation, and global positioning system hardware to locate marketplaces for agricultural goods.
Expert designers and developers here at our On-Demand App Development Company specialize in tailoring our services to the unique needs of the agricultural industry. MultiQoS Mobile App Developers create tailored agricultural software to improve a company's agri-marketing operations. We guarantee that the software you get from us is high-quality, expert-level software to help your company succeed. Consult with our team of highly skilled consultants, big data analysts, designers, and developers to create tailor-made solutions for your agribusiness.
Conclusion
A wide variety of software is designed for use in farming and agriculture businesses, each of which is intended to help farmers overcome a specific obstacle they face and improve their ability to work more effectively while increasing their output. Even though the agricultural industry already uses a variety of mobile software applications, there are some domains in which it seems that the creation of farm apps may be particularly beneficial. If you decide to enter this new industry in the future, getting a head start on the competition by planning your farming app right now will benefit you.
Frequently Asked Questions (FAQs)
FAQs on Agriculture Application Development
To simplify farming and to aid in producing more food is the primary objective of all technology solutions. The proper software may help you decrease the environmental effect of agriculture by relieving your staff's workload, tracking important metrics linked to animal and crop farming, monitoring water and fertilizer consumption, and automating certain critical activities.
The agricultural apps streamline business operations by giving farmers instantaneous access to comprehensive field data. They lessen the danger, save expenses, and make sure standards are fulfilled all at once.
The time required to create an app may range from four to six months, depending on its features, complexity, technological stack, and target platforms.
Develop Your Own Agritech Mobile App?
Start work on your AgriTech App right away!
Your Trusted Tech Partner!
We develop digital products that enable you to embrace innovation and unlock opportunities.
Talk To Our Experts
Subscribe
Newsletter
Get our latest blog posts, research reports, and thought leadership straight to your inbox.