Tech
List of Top 10 Software Development Companies In USA 2023
If this article has captured your attention, it's likely that you're currently searching for the top software development companies in the USA. In 2023, the demand for high-quality software is…
11 August, 2023
10 minutes read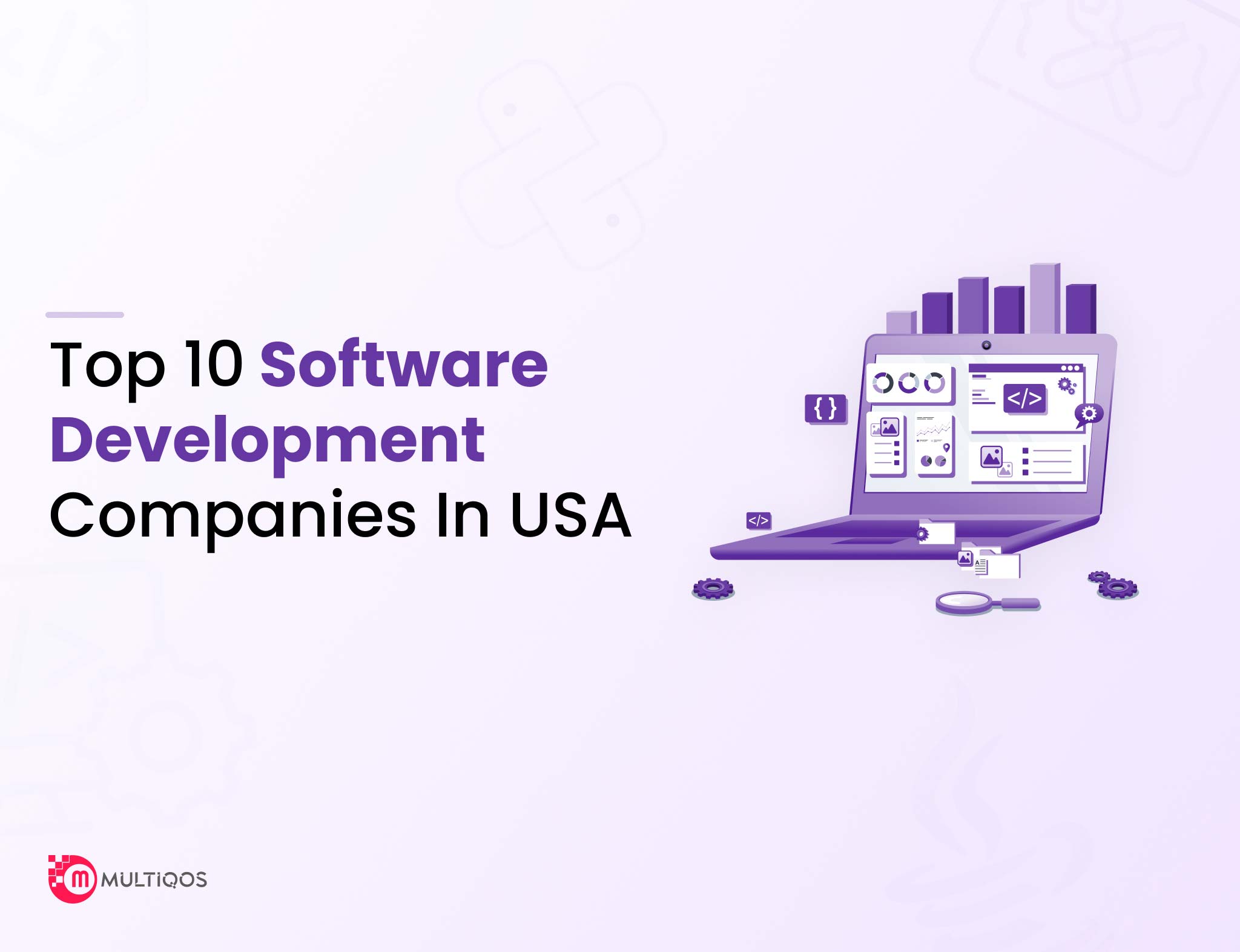 If this article has captured your attention, it's likely that you're currently searching for the top software development companies in the USA.
In 2023, the demand for high-quality software is expected to reach unprecedented levels, driven primarily by the ongoing advancements in the software development industry. As we navigate through the current technological era, the significance of software development has become a fundamental consideration for businesses of all sizes. It's not just an aspect of operations; it's a strategic imperative that influences competitiveness and drives innovation. Within this context, the selection of a skilled and suitable software development company has become a crucial factor in the overall success of any project.
The landscape of the United States is adorned with a rich diversity of software development firms, each showcasing its own unique specialties and offerings. This vast array of options can often be overwhelming for individuals looking to find the ideal software solution for their needs. With the aim of simplifying this complex task, we proudly present a carefully selected compilation of the top software development companies for the year 2023.
This comprehensive guide is designed to highlight the leading software development companies in the USA. Today's intricate fabric of functionality, spanning businesses, corporations, educational institutions, and even the daily intricacies of human life, is intricately woven with technology. In this orchestra of progress, computers wield an unmistakable conductor's baton, orchestrating the symphony that shapes our technological landscape. The pivotal role they play in shaping this landscape underscores the inseparable relationship between technology and progress.
To enhance their operational effectiveness and capabilities, businesses need to collaborate with proficient software development companies. In fact, these companies house experts who specialize in aiding businesses to incorporate technology in alignment with their specific requirements.
If you are worried about the time-consuming selection process, we have curated a comprehensive list of the top 10 software development companies in the USA for 2023. But before getting started with it, let's take a sneak peek at the market overview of software development. 
Software Development Market Statistics in the United States
According to

Grand View Research

, the global business software market was valued at USD 474.61 billion in 2022, with an expected CAGR of 11.9% from 2023 to 2030.
The Software market is estimated to achieve a revenue of US$338.20 billion by 2023.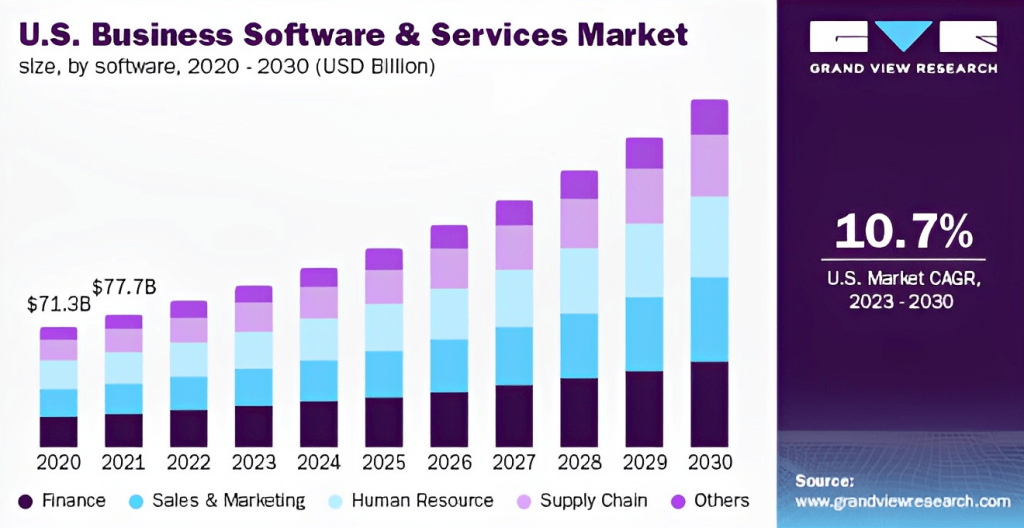 The dominant segment within the market is Enterprise Software, which is expected to reach a market volume of US$139.20 billion in the same year. 
Over the period of 2023 to 2028, revenue is anticipated to exhibit an annual growth rate (CAGR) of 4.16%, leading to a market volume of US$414.70 billion by 2028. 
In terms of global comparison, the United States is projected to generate the highest revenue, amounting to US$338.20 billion in 2023.

Benefits of Using Software Applications for Modern Businesses
In the rapidly evolving landscape of modern business, software applications have emerged as indispensable tools that offer a multitude of benefits to enterprises. These applications serve as powerful enablers, driving efficiency, innovation, and growth. Using software applications offers numerous benefits for modern businesses. Here are some key advantages:
Software applications automate manual processes, streamline operations, and improve overall efficiency. They can handle complex tasks quickly and accurately, saving time and reducing human errors.
By automating repetitive tasks, software applications free up employees' time, allowing them to focus on more valuable and strategic activities. This leads to increased productivity and enables employees to accomplish more in less time
Software applications provide access to real-time data, analytics, and reporting, empowering businesses to make informed decisions based on accurate information.  
Although the initial investment in software applications may appear substantial, the long-term advantages outweigh the expenses. Reducing operational expenses, optimizing resource utilization, and automating manual processes contribute to significant cost savings over time.
Global Reach and Connectivity
In a connected world, businesses can expand their reach beyond geographical boundaries. E-commerce platforms, online marketplaces, and communication tools enable companies to access global markets and interact with customers and partners worldwide.
Enhanced Customer Experience
Software applications enable businesses to deliver personalized and customized experiences to their customers-managing customer interactions, tracking sales leads, and providing better customer support.
Software applications can be easily scaled to accommodate business growth. They provide the flexibility to add new features, modules, or users as needed, allowing businesses to adapt to changing requirements and expand their operations seamlessly.
Overall, software applications empower modern businesses to operate more efficiently, make data-driven decisions, enhance collaboration, and deliver superior customer experiences. They play a vital role in improving productivity, competitiveness, and the overall success of a business in today's digital age.
What to Look for in Software Development Companies in USA?
When looking for software development companies in the USA, it's crucial to consider several essential factors. Here are vital aspects to keep in mind:
Expertise and Specialization
Evaluate the company's proficiency and focus on the specific technology stack, programming languages, and platforms relevant to your project. Assess their experience developing similar software solutions.
Track Record and Experience
Assess the company's past performance and industry experience. Review their portfolio, case studies, and client testimonials to gauge their capabilities and track record of success.
Development Methodologies
Inquire about the company's development process and methodologies. Agile approaches like Scrum or Kanban are famous for their iterative and adaptable nature in software development.
Quality Assurance and Testing
Understand the company's quality assurance and testing approach. A reliable software development company should have established practices to ensure software quality through comprehensive testing.
Scalability and Future Support
Assess the company's ability to scale the project if required and provide ongoing support and maintenance after development. Discuss their post-launch support services and commitment to long-term partnerships.
Discuss the company's pricing structure and ensure it aligns with your budget. However, be cautious of highly low-cost options that compromise quality or project delivery.
By Considering these factors, you can make an informed decision and select a software development company in the USA that best fits your project requirements and aligns with your business goals.
List of Top Software Development Companies in USA 2023
1. MultiQoS Technologies
In the realm of software development, few companies stand as tall as MultiQoS Technologies. Renowned for its exceptional contributions and unwavering commitment to innovation, MultiQoS Technologies has emerged as a true leader in the field, earning its place as the premier software development company in the USA. With a track record of delivering projects on time and within budget, MultiQoS plays a crucial role in helping companies differentiate themselves in a competitive marketplace. They collaborate with a broad spectrum of clients, from large enterprises to small and medium-sized businesses, empowering them to enhance their value by adopting cutting-edge technology, making them an ideal choice for those searching for top-tier software development service providers. 
MultiQoS achievements extend beyond its remarkable software development skills. The company's reputation for reliability, on-time delivery, and maintaining the highest quality standards has solidified its position as a trusted partner for businesses of all sizes. Its unwavering dedication to client satisfaction has earned it accolades and long-lasting relationships across various industries.
Founded in – 2020
Clutch Rating – 5.0
Projects Completed – 500+
Avg. Hourly Rate – < $25 / hr
Min Project Size – $1,000+
Employees – 120+
2. Highland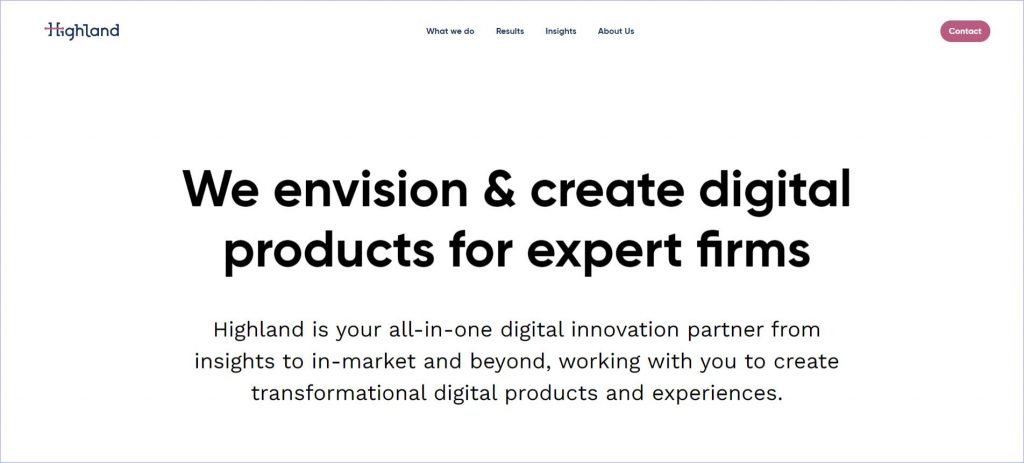 Highland is a renowned global provider of IT business solutions designed to streamline administrative and commercial processes. With a team of highly skilled IT engineers, business Consultants, marketing experts, and other professionals, they have offered software solutions to over 40,000 enterprises worldwide, contributing to numerous challenging and prosperous IT projects. At the heart of Highland success story lies a dedication to pushing the boundaries of technological possibilities. With a proven track record of delivering cutting-edge software solutions, Highland has consistently demonstrated its ability to stay ahead of industry trends and deliver transformative products.
Founded in –1999
Clutch Rating – 4.4
Projects Completed – 300+
Avg. Hourly Rate – $150 – $199 / hr
Min Project Size – $25,000+
Employees – 40+
3. Emergent Software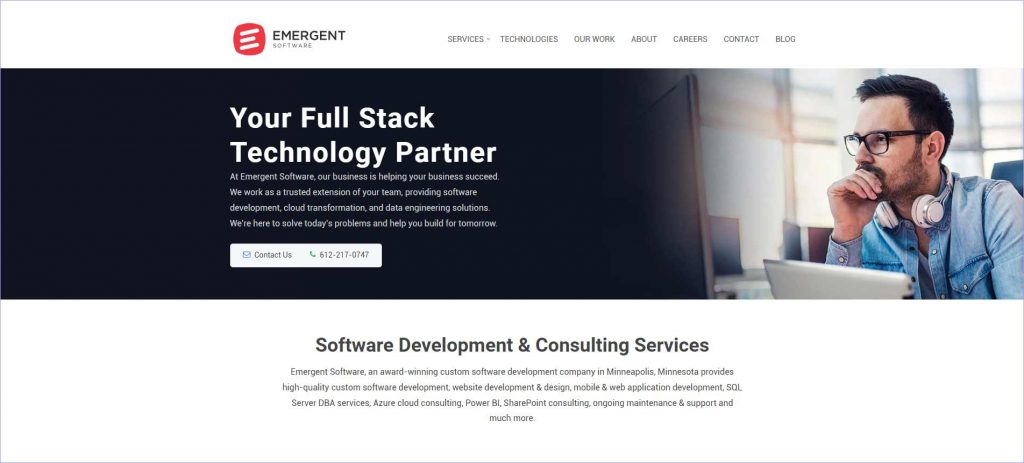 Ranked among the top software development companies in the USA, Emergent Software offers innovative solutions that deliver exceptional results for its clients. This company excels in providing exceptional development and design services, spanning from mobile app development to the creation of NFT marketplaces, utilizing state-of-the-art technology. The mission entails equipping businesses with cutting-edge technology that serves to optimize efficiency, streamline operations, and promote expansion. This is supported by a team comprising skilled software engineers, designers, and strategists who transform concepts into practical, user-centric applications, thereby delivering unparalleled value.
Founded in – 2015
Clutch Rating – 4.9
Projects Completed – 350+
Avg. Hourly Rate – $150 – $199 / hr
Min Project Size – $25,000+
Employees – 50+
4. ELEKS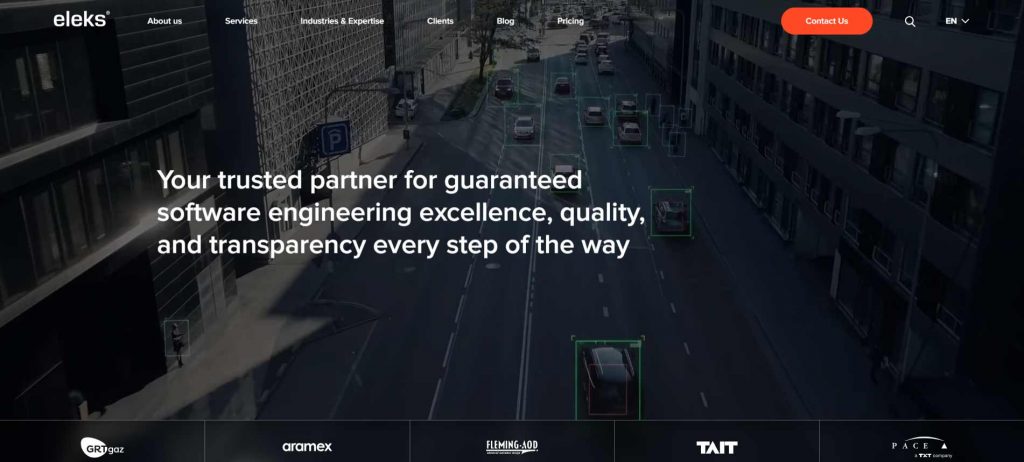 Recognized as a top software development company in USA, ELEKS has a team of skilled professionals delivering diverse software services. Their extensive service portfolio includes custom software development, quality assurance, product design, data science, R&D, innovative team collaborations, and support and maintenance services. At ELEKS, innovation is embraced, nurtured, and translated into impactful solutions that drive business success. Through passionate commitment to technology and collaboration, 
Founded in – 1991
Clutch Rating – 4.8
Projects Completed – 1000+
Avg. Hourly Rate – $50 – $99 / hr
Min Project Size – $50,000+
Employees – 1500+
5. Savas Labs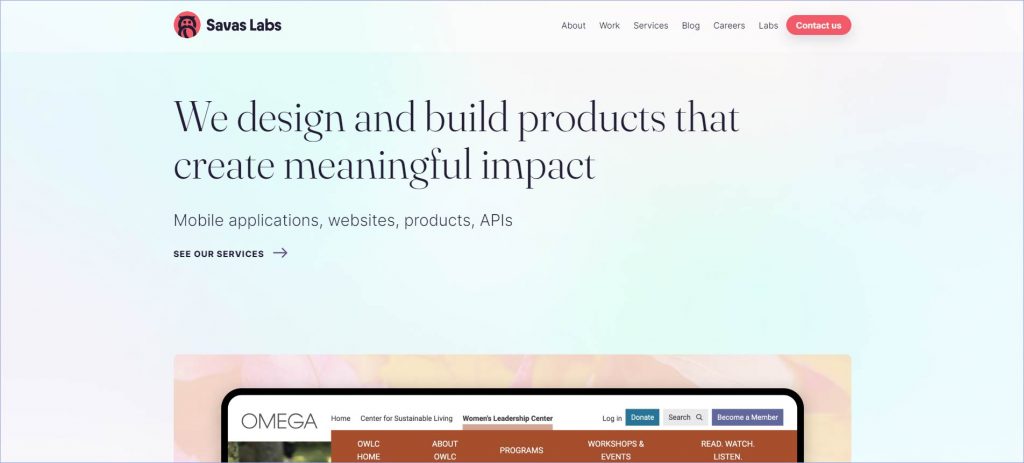 Savas Labs offers web and mobile app development solutions to clients across various industries. They specialize in crafting customized software solutions and employ a collaborative development approach, fostering close customer interaction. From designing intricate online solutions to strategic thinking, this software development company excels in a wide range of capabilities. Renowned for its unwavering commitment to crafting innovative solutions, Savas Labs has emerged as a trusted partner for organizations seeking to elevate their digital presence and capabilities.
Founded in – 2013
Clutch Rating – 5.0
Projects Completed – 200+
Avg. Hourly Rate – $150 – $199 / hr
Min Project Size – $25,000+
Employees – 25+
6. Intellectsoft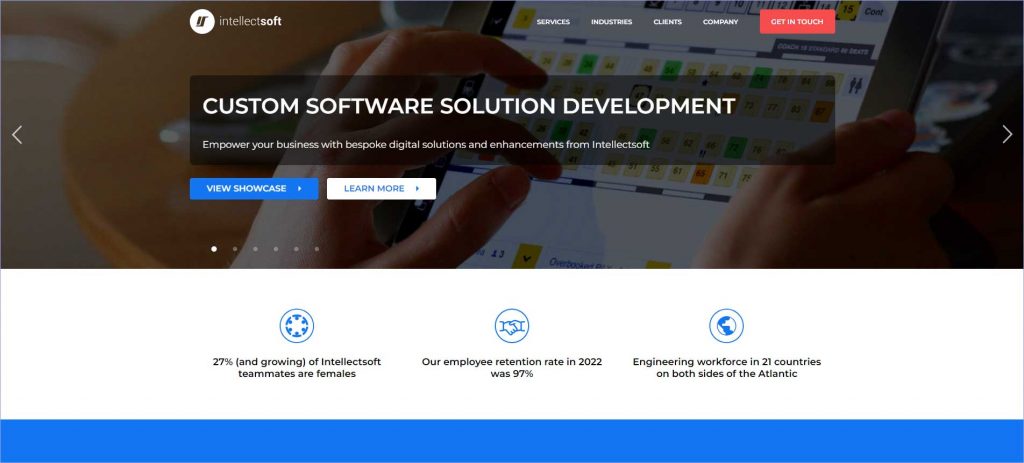 Recognized as a rapidly expanding software development company in the US, Intellectsoft is highly regarded for its exceptional digital transformation services, encompassing software development, IT consulting, enterprise software development, and more. Their official website offers a comprehensive overview of the services they provide. With a history of delivering tangible results and a vision set on a future of continued innovation, Intellectsoft is poised to shape the landscape of digital transformation for years to come.
Founded in – 2007
Clutch Rating – 4.9
Projects Completed – 660+
Avg. Hourly Rate – $50 – $99 / hr
Min Project Size – $50,000+
Employees – 180+
7. Goji Labs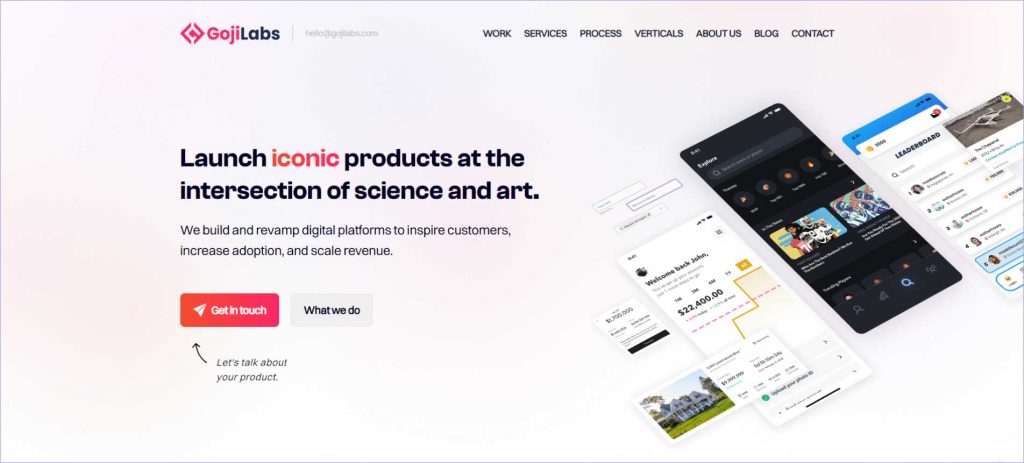 Goji Labs is a startup based in Los Angeles, owning expertise in apps and software development. They offer a range of services, including product strategy consulting, user experience, interface design, and mobile app, web, and Internet of Things (IoT) development. Goji Labs is a dependable partner that paves the way for success. With a history of impactful solutions and a commitment to shaping the future through technology, Goji Labs continues to redefine the boundaries of digital evolution. 
Founded in – 2014
Clutch Rating – 5.0
Projects Completed – 200+
Avg. Hourly Rate – $100 – $149 / hr
Min Project Size – $25,000+
Employees – 25+
8. Sumatosoft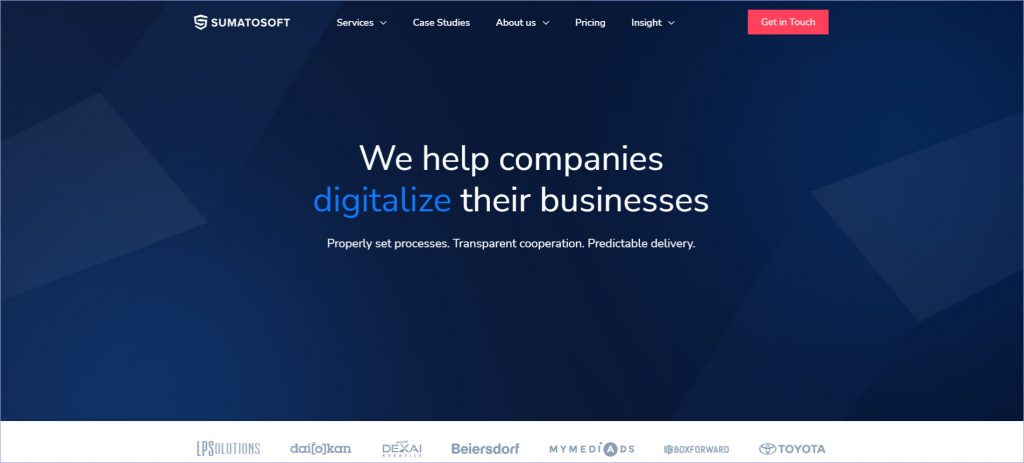 SumatoSoft is among the leading software development companies renowned for their expertise in crafting custom software applications tailored to the specific needs of businesses. They prioritize gaining a deep understanding of the customer's requirements, ensuring that the final solution precisely aligns with their unique specifications. The ever-evolving nature of technology drives Sumatosoft commitment to continuous learning. Staying ahead of industry trends ensures that the company's solutions remain at the forefront of innovation.
Founded in – 2012
Clutch Rating – 4.8
Projects Completed – 100+
Avg. Hourly Rate – $50 – $99 / hr
Min Project Size – $25,000+
Employees – 55+
9. Trigent Software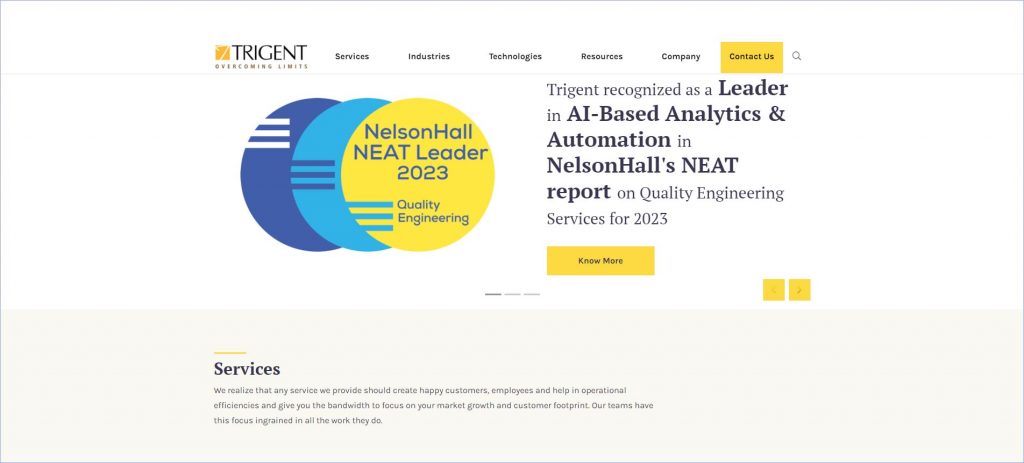 Trigent Software is a trusted software development company in the USA that you can confidently rely on. Their winning combination of passion, innovation, and trust ensures guaranteed success. With their expertise in the dynamic realms of technology and business, they assist in predicting trends and securing a strong position in a fiercely competitive market. Renowned for its strategic acumen and technical excellence, Trigent Software has emerged as a steadfast partner for enterprises seeking to navigate the intricacies of the digital landscape.
Founded in – 1995
Clutch Rating – 4.8
Projects Completed – 500+
Avg. Hourly Rate – $25 – $49 / hr
Min Project Size – $10,000+
Employees – 550+
10. Itransition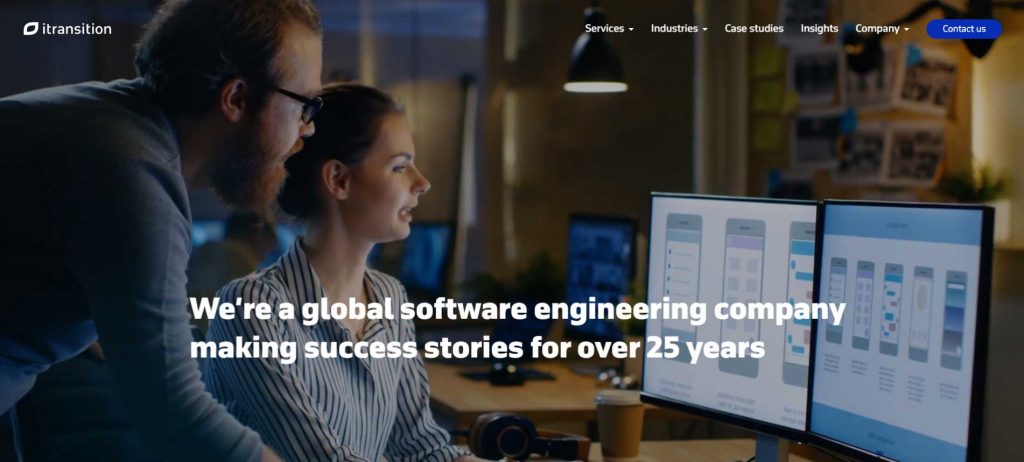 Itransition has a proven track record of working with leading industries such as oil and gas, construction, healthcare, and non-technical sectors. If you seek expert assistance for your medium-sized business, Itransition is the ideal choice. They possess the expertise and experience necessary to provide valuable support to help your business thrive. With a passion for technology and a customer-focused approach, the company continues to empower businesses worldwide with transformative solutions that drive efficiency, growth, and success.
Founded in –1998
Clutch Rating – 4.9
Projects Completed – 600+
Avg. Hourly Rate – $25 – $49 / hr
Min Project Size – $25,000+
Employees – 1000+
Emerging Trends in Software Development in 2023
Looking ahead to 2023, the field of software development is expected to be influenced by several emerging trends. Here are some noteworthy trends to keep an eye on:
Low-Code and No-Code Development
Adopting low-code and no-code development platforms will continue to soar. These platforms empower the best software developers and non-technical users to build software applications with minimal coding, expediting development cycles and facilitating rapid prototyping.
Artificial Intelligence (AI) and Machine Learning (ML)
AI and ML technologies will play an increasingly significant role in software development. Developers will leverage AI and ML algorithms to enhance applications with intelligent features such as natural language processing, image recognition, predictive analytics, and automation.
Internet of Things (IoT) Integration
As the IoT ecosystem expands, software development will focus on seamlessly integrating and harnessing the potential of IoT devices and data. Developers will create applications interacting with connected devices, enabling smooth communication, data exchange, and automation across various domains.
Focus on Cybersecurity and Data Privacy
With growing concerns surrounding data breaches and privacy, software development will prioritize robust cybersecurity measures. Software developers will integrate advanced security features and encryption protocols to safeguard sensitive data and ensure compliance with evolving privacy regulations.
DevOps and Continuous Delivery
The adoption of DevOps practices will persist and accelerate, emphasizing collaboration, automation, and continuous delivery. DevOps enables faster and more frequent software releases, improving agility, quality, and customer satisfaction.
Evolution of Blockchain Development
Blockchain technology will continue to evolve, with a heightened focus on developing decentralized applications (DApps) and smart contracts. Developers will explore blockchain platforms to create secure, transparent, and tamper-resistant applications.
Embracing these trends can empower organizations to stay competitive, deliver innovative solutions, and leverage the full potential of emerging technologies.
What Makes MultiQoS a Top Software Development Company in the USA?
Amidst the competitive software development field, MultiQoS shines as an exceptional entity. It's not only carved a niche but is also renowned as a top-tier US software development company. Fueled by steadfast dedication to quality, innovation, and client contentment, MultiQoS holds a prominent position in the technology landscape. Once you hire software developers from MultiQoS encompasses technical expertise, cost efficiency, time savings, flexibility, access to cutting-edge technologies, and ongoing support. This allows you to leverage their skills and experience in developing high-quality software solutions while optimizing your resources and focusing on achieving your core business goals.
Advantages of Hiring Software Developers from MultiQoS
Engaging the services of the best software development companies like MultiQoS can provide businesses with various benefits. Here are some key advantages:
MultiQoS employs highly skilled and experienced software developers who comprehensively understand diverse programming languages, frameworks, and technologies.  
Hiring software developers from MultiQoS can prove to be a cost-effective solution compared to establishing an in-house development team.    
Their expertise and experience enable them to work efficiently, reducing development time and accelerating the time-to-market for your products or solutions.
Flexibility and Scalability
Whether you require a small or larger team, they can quickly adapt and allocate the appropriate resources to meet your evolving needs.
Access to Cutting-edge Technologies
By hiring them, you gain access to their knowledge and expertise in implementing state-of-the-art technologies, ensuring that your software solution remains innovative and future-proof.
They conduct thorough testing and ensure compliance with coding standards, resulting in a high-quality end product that meets your expectations.
Following the development phase, MultiQoS offers ongoing support and maintenance services to ensure the smooth functioning of your software solution.  
Conclusion
There you have it, the best software development companies in the US for various types of software. The presented list highlights prominent firms, each boasting distinctive strengths. This array offers you the autonomy to choose the perfect match in accordance with your inclinations. Every showcased company delivers unparalleled benefits, work philosophy, and modern approaches to enhance your product development and expand your global market influence. Moreover, the realm of computers and software continues to be a realm of unceasing innovation.
In order to create outstanding corporate software solutions, a software development company needs to possess a team of developers who stay updated with the ever-evolving technologies, languages, and platforms in the software industry. Considering your business requirements and budget, selecting a provider from the following list who specializes in developing tailor-made software solutions is advisable.
Frequently Asked Questions (FAQs)
FAQ on Top Software Development Companies in USA
Certainly, the process of software development involves a sequence of stages that cover the inception, coding, testing, and continuous upkeep of software. These stages usually entail tasks like collecting requirements, conducting analysis, designing, implementing, testing, deploying, and maintaining software over time.
The practice of outsourcing software development brings forth a multitude of advantages that can notably influence a company's efficiency, innovation, and cost-effectiveness.
24/7 Operations

Cost savings in software development

Access to Global Talent

Faster Time-to-Market

Access to the Latest Technologies

Reduced Management Burden

Language and Cultural Fit
The timeframe for custom software development is subject to considerable variation, contingent upon the intricacy and scale of the project. Factors like team size, project requirements, and the chosen development approach can impact the duration significantly. While smaller projects can be completed within weeks to a few months, larger projects may span several months or even years, depending on your requirements. MultiQoS engages in close collaboration with clients, providing accurate estimations customized to their distinct project requirements.
Software development costs in the USA vary from thousands to millions of dollars, determined by factors such as application complexity, features, technologies, and programming languages used. Drawing from our expertise, the estimated range for software development costs typically falls between $25,000 and $250,000.
MultiQoS stands out as a premier selection of software engineers in the USA. With a team of more than 120 developers and a proven track record of successfully completing over 600 projects, the company's 10+ years of industry experience truly shine. Importantly, MultiQoS has applied its expertise across various verticals, including Fortune 500 companies. The company implements a meticulous three-step onboarding process, guaranteeing a thorough evaluation before embarking on your software engineering voyage.
The software development life cycle includes deep analysis, system design, coding, testing, deployment, and maintenance. These stages establish a structured and systematic approach to software development.
Ready to Build a Custom Software Solution?
Empowering growth and consistency through our specialized software development services for your business success.
Your Trusted Tech Partner!
We develop digital products that enable you to embrace innovation and unlock opportunities.
Talk To Our Experts
Subscribe
Newsletter
Get our latest blog posts, research reports, and thought leadership straight to your inbox.