Web Development
Top 10 Custom Web Development Companies in the USA 2023
With the increasing availability of the Internet, companies have come to understand the importance of establishing and maintaining an online presence. This realization has led them to embrace online marketing,…
23 August, 2023
10 minutes read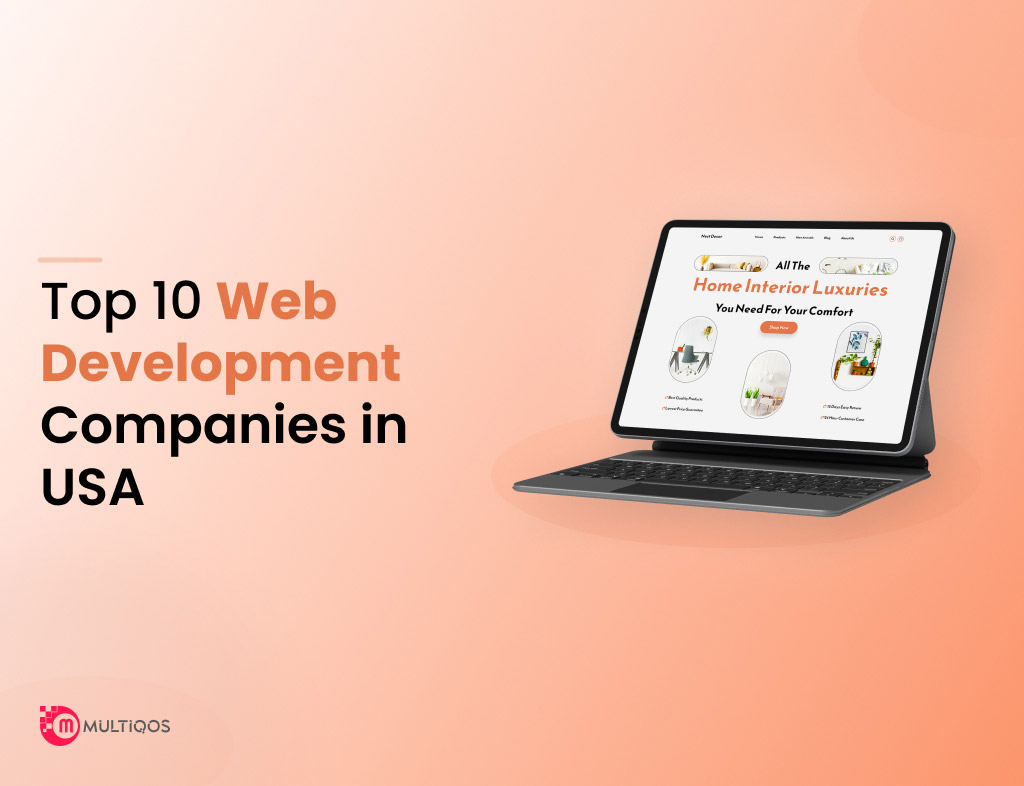 With the increasing availability of the Internet, companies have come to understand the importance of establishing and maintaining an online presence. This realization has led them to embrace online marketing, social media, and other means of connecting with their audience. Among these, a well-designed and functional website is a must. Enriched with customer reviews, a website holds the power to captivate more clients compared to those businesses lacking an online presence. Thus, it serves as a crucial link between the company and its potential customers, fostering clear communication.
Given the significance of having a website, businesses of all kinds now prioritize its creation. If you're a business looking to take the next step but unsure where to find a top web development company in USA, this blog will significantly assist you. But before starting with it, let us first learn about the market overview of web development.
The Evolving Web Development Landscape in the USA
Here are some popular statistics specifically related to the web development industry. These stats highlight the significance of content and user experience in influencing users' actions while providing insights into the current web development landscape.
The US web design services market size is estimated to be

$40.8 billion

. (IBIS World)
68% of consumers have raised their expectations for businesses' digital capabilities since the COVID-19 pandemic. (Salesforce)
On average

, users spend approximately 5.94 seconds viewing a website's main image and 5.59 seconds on its written content. (SWEOR)
Pages containing videos hold users' attention for

88% longer

than pages without videos.
54% of users prefer a personalized online experience. (Social Media Today)
These statistics emphasize the importance of creating compelling content and ensuring exceptional user experience in web development. Additionally, they shed light on the significant growth and potential of the web development industry in the United States.
Why is Selecting the Right Web Development Company so important?
Selecting the appropriate web development company in the USA plays a pivotal role in the success of your project. It guarantees the construction of your website or web application with expertise, customizing it to suit your specific needs and incorporating the latest technologies. Additionally, making the right choice saves valuable time and resources, offers continuous support, and fosters a long-term partnership that can contribute significantly to your business's growth and overall success.

Web development is a multifaceted process that demands technical skills and knowledge. You can tap into their vast expertise and benefit from their extensive experience to create a high-quality website or web application by choosing the right company.
Customization and Scalability
A reliable web development company will take the time to understand your specific needs and offer customized solutions to your business. They can assist you in creating a website that reflects your brand identity, fulfills your functional requirements, and delivers a seamless user experience.  
Professional developers adhere to established processes and workflows, ensuring timely project delivery. They possess the tools and frameworks to streamline development, eliminating unnecessary delays and minimizing the risk of errors. Although the initial investment may appear higher, it can prevent costly revisions or redevelopments in the long run.
Access to Latest Technologies
A reputable web development company in the USA stays updated with these advancements and incorporates them into their projects. By collaborating with such a company, you can leverage the latest technologies, ensuring that your website or application remains competitive and provides an exceptional user experience.
Building a website requires ongoing support and maintenance to ensure smooth functioning and security. The right Web Development Company will offer post-development support and maintenance services, providing regular updates, bug fixes, and security patches. 
What Should You Look for in Web Development Companies in the USA?
The rapidly changing online business landscape can make it tempting to choose a web development firm based on promises alone. However, it's essential to consider certain qualities when selecting a web development company to avoid potential pitfalls and unnecessary expenses.
Here are some essential qualities to keep in mind when choosing a web development company in the USA:
Website software development should be tailored to your company, industry, and target market. Look for a web development agency with specific technical expertise in your industry. It is essential to assess their mastery of web development technologies like JavaScript, PHP, Node.js, React, and Angular, ensuring they are up-to-date with the latest trends and technologies to attract more customers to your website.
During the early stages of development, you may want to make changes to the critical features of your website. Choose a web development company that is flexible and accommodating. A company with this quality will have professional web developers who are willing to make necessary adjustments to meet your preferences, saving you time, effort, and unnecessary stress.

A web development company in the USA with a strong work ethic will deliver reliable, high-quality results. Look for a company whose staff demonstrates dedication and commitment to bringing your project to success. Such a company will also be communicative and responsive to your needs, ensuring a smooth and productive collaboration.
Effective communication is vital in web development due to the involvement of multiple stakeholders and complex processes. Opt for an experienced web development company with excellent communication skills. Language barriers should not be a concern, as reputable web developers are accustomed to working with clients from diverse backgrounds. 
By considering these essential qualities, you can choose the right custom web development company that meets your specific needs and ensures the success of your online business endeavors.
List of Top Web Development Companies in the USA
1. MultiQoS Technologies
MultiQoS prioritizes financial success, customer satisfaction, and building long-term relationships.  They have a team of experienced developers offering seamless service. They attract and retain talent by utilizing cutting-edge resources, agile coding practices, and offering diverse career paths. Their team of highly skilled web developers in the USA strives to create a perfect balance between creativity and meeting clients' specific requirements, showcasing their proficiency in the field. MultiQoS envisions a tomorrow where enterprises seamlessly traverse the digital terrain, benefiting from peak network performance, fortified security measures, and unparalleled user experiences. 
MultiQoS stands as a significant technology entity collaborating with businesses to furnish holistic quality of service solutions. Through its unwavering commitment to clients, technical prowess, and relentless drive for innovation, the company equips organizations to thrive in an environment driven by technology.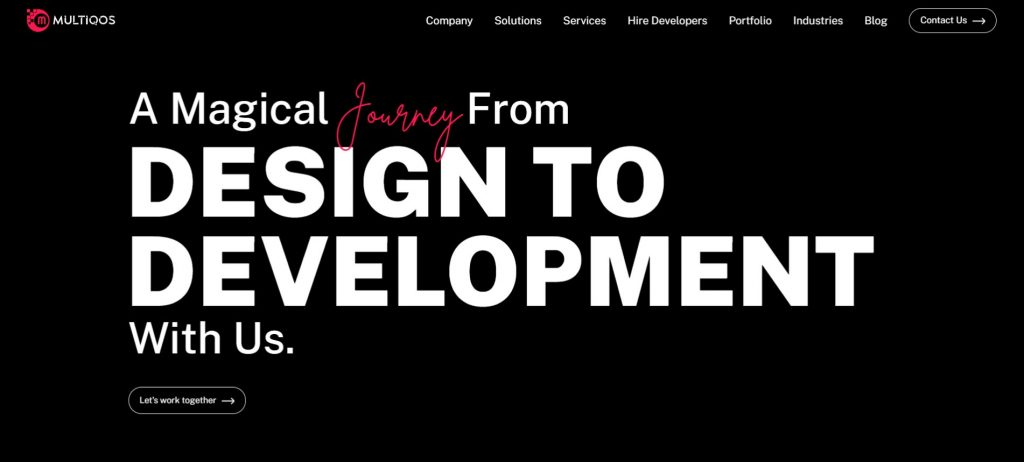 Founded – 

2020

Rating on Clutch –

 5.0

Avg. hourly rate –

$25 – $49 / hr

Team Size –

120+

Completed Projects –

550+

Minimum Project Size –

$5,000+

Offered Services: 

UX/UI Design,

Web Design,

Web Development,

Mobile App Development,

E-Commerce Development.

Software Development,

Application Testing
2. Techugo
Techugo is a prominent mobile app and software development company renowned for its creation of robust and pioneering digital solutions tailored to businesses of all scales. With a firm emphasis on fostering creativity, technical acumen, and client satisfaction, Techugo has cemented its status as a reliable ally in steering digital transformation consulting. The company envisions a digital realm where enterprises leverage technology to establish meaningful connections and instigate transformative shifts. Pioneering at the forefront of technological trends, Techugo continually pushes boundaries through its innovative solutions.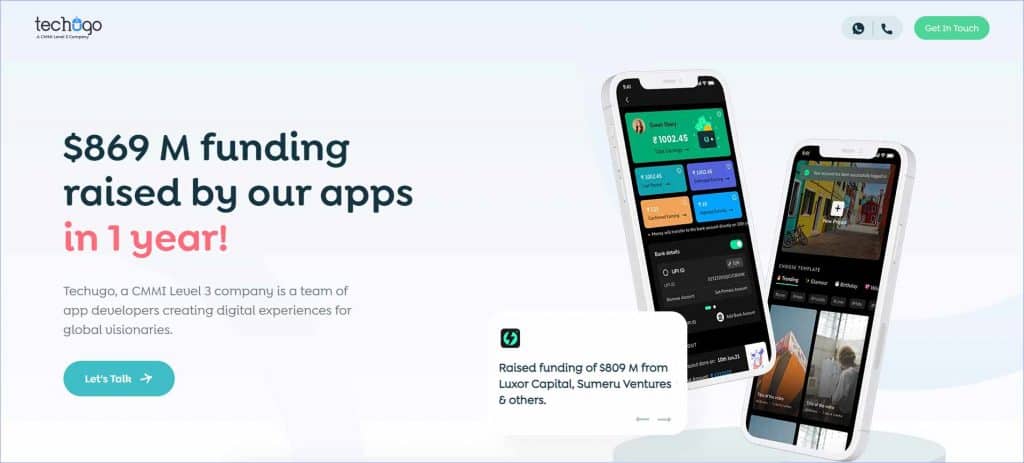 Founded – 

2015

Rating on Clutch –

4.8

Avg. hourly rate –

< $25 / hr 

Team Size –

100+

Completed Projects –

250+

Minimum Project Size –

$10,000+

Offered Services:

Mobile App Development, Web Development
3. Utility
Utility is an innovative digital product agency that collaborates with businesses to create impactful digital experiences through design and technology. With a focus on user-centric design and cutting-edge solutions, the company empowers organizations to thrive in an increasingly digital and interconnected world. Utility collaborates with cutting-edge businesses, providing breakthrough mobile and web applications. The company aims to remain at the forefront of design and technology trends, continually pushing boundaries to create solutions that drive meaningful change. 
Founded – 

2013

Rating on Clutch –

4.8

Avg. hourly rate –

$100 – $149 / hr

Team Size –

120+

Completed Projects –

300+

  
Minimum Project Size –

$50,000+

Offered Services:

Mobile App Development, UX/UI Design, Web Development, Custom Software Development, Web Design
4. ChopDawg
ChopDawg stands as an innovative digital development agency that excels in forging state-of-the-art mobile applications and web solutions across businesses of diverse dimensions. Earning a reputation for its delivery of top-tier, bespoke technology solutions aligned with each client's unique demands, ChopDawg thrives on excellence and innovation. In a swiftly evolving digital landscape, the company is dedicated to equipping clients with the necessary tools to flourish.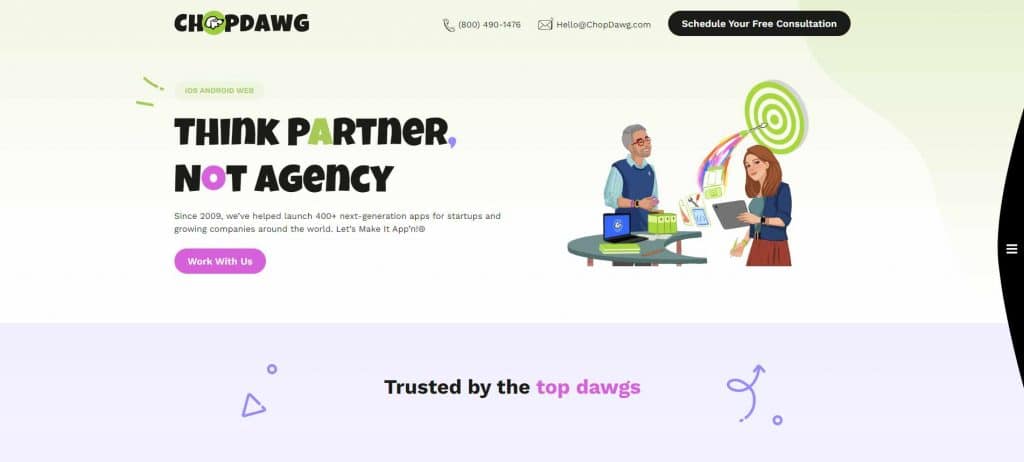 Founded – 

2009

Rating on Clutch –

4.9

Avg. hourly rate –

$25 – $49 / hr

Team Size –

60+

Completed Projects –

400+

Minimum Project Size –

$5,000+

Offered Services:

Mobile App Development, Web Development
5. Flatirons Solutions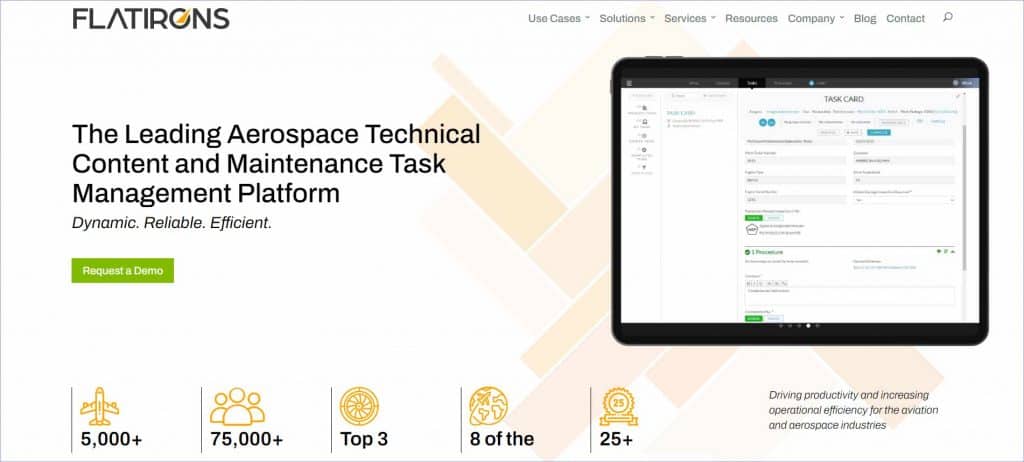 Flatirons Solutions holds a prominent position as a leading technology entity, specializing in furnishing content lifecycle management solutions tailored for intricate, information-intensive industries. Underpinned by expertise and innovation, Flatirons Solutions emerges as a reliable ally for organizations striving to optimize their content management processes. By blending cutting-edge technologies with strategic consulting, the company aims to streamline operations, elevate compliance, and unlock the latent value of information assets.
Founded – 

2017

Rating on Clutch –

5.0

Avg. hourly rate –

$50 – $99 / hr

Team Size –

40+

Completed Projects –

50+

Minimum Project Size –

$50,000+

Offered Services:

Web Development, Mobile App Development, Custom Software Development, IT Staff Augmentation, UX/UI Design, Web Design
6. Liventus
Liventus, a dynamic technology solutions provider, excels in delivering comprehensive custom software development services, IT consulting, and business process outsourcing services across a spectrum of industries and company sizes. Nurturing innovation and adopting a customer-centric ethos, Liventus stands as a trusted partner in optimizing technology-driven operations. Through customized solutions and strategic collaborations, the company empowers clients to maintain a competitive edge in an ever-changing digital landscape.
Founded – 

2002

Rating on Clutch –

4.8

Avg. hourly rate –

$100 – $149 / hr

Team Size –

140+

Completed Projects – 

500+

Minimum Project Size –

$5,000+

Offered Services:

Web Development, Custom Software Development, E-Commerce Development, CRM Consulting and SI
7. Emergent Software
Emergent Software distinguishes itself as a progressive software development company that specializes in delivering tailor-made software solutions and consulting services. Serving businesses eager to harness technology for growth and innovation, Emergent Software positions itself as a reliable collaborator in the dynamic landscape of digital transformation. Through a fusion of agility, excellence, and technical prowess, the company drives efficiency, enhances user experiences, and uplifts clients' competitive positioning.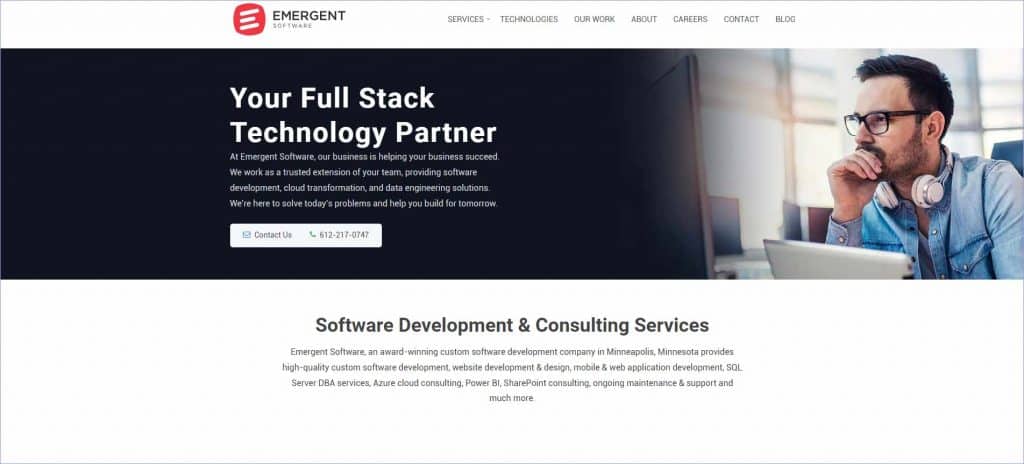 Founded – 

2015

Rating on Clutch –

4.9

Avg. hourly rate –

$150 – $199 / hr

Team Size –

40+

Completed Projects –

150+

Minimum Project Size –

$25,000+

Offered Services:

Custom Software Development, Cloud Consulting & SI, Web Development, Application Management & Support, IT Managed Services
8. AllianceTek
AllianceTek, a dynamic software development enterprise, stands as a provider of comprehensive technology solutions and consulting services aimed at optimizing business processes and efficiency. A dedication to innovation and a client-centric philosophy position AllianceTek as a dependable partner in navigating the course of digital transformation. Through innovative approaches, customer-oriented practices, and a commitment to excellence, the company empowers organizations to prosper in the digital era.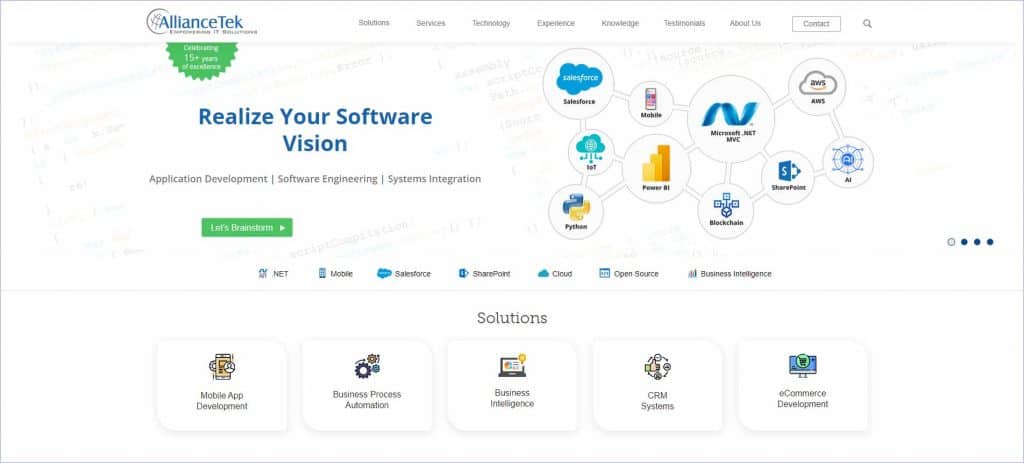 Founded – 

2004

Rating on Clutch –

4.9

Avg. hourly rate –

$25 – $49 / hr

Team Size –

50+

Completed Projects –

300+

Minimum Project Size –

$25,000+

Offered Services:

Web Development, CRM Consulting and SI, Custom Software Development, Mobile App Development
9. Savas Labs
Savas Labs is a forward-looking web development agency specializing in crafting impactful digital solutions for nonprofits, educational institutions, and mission-driven organizations. With a strong commitment to accessibility, sustainability, and innovation, Savas Labs takes on the role of a trusted partner in aiding clients in achieving their objectives in the digital realm.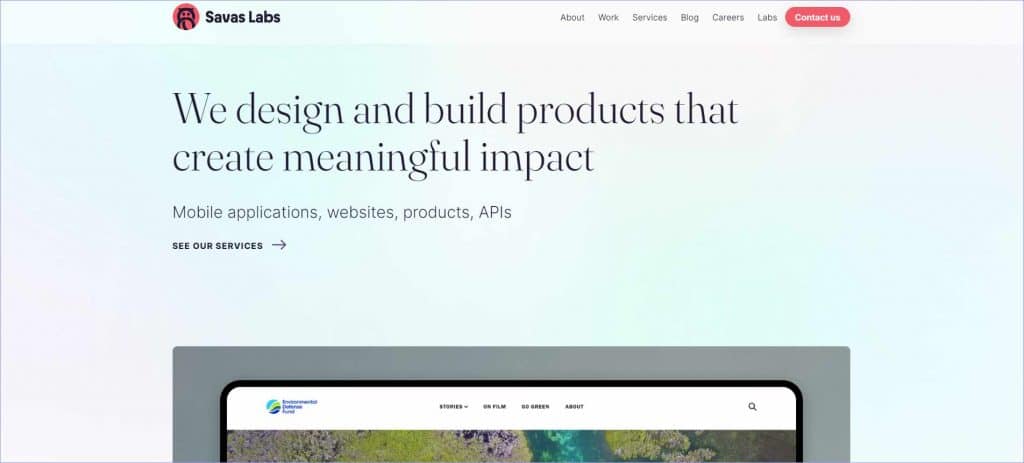 Founded – 

2013

Rating on Clutch –

5.0

Avg. hourly rate –

$150 – $199 / hr

Team Size –

30+

Completed Projects –

100+

Minimum Project Size –

$25,000+

Offered Services:

Web Development, Mobile App Development, Web Design, Custom Software Development, Digital Strategy
10. Outliant
Outliant, a dynamic technology consulting firm, stands as a beacon of innovation, providing inventive solutions and strategic guidance to businesses seeking optimization of their IT infrastructure, cybersecurity, and digital operations. With a focus on efficiency, security, and growth, Outliant positions itself as an essential ally in guiding clients through the intricacies of the digital landscape. With a focus on technology optimization, cybersecurity, and digital transformation, Outliant serves as a results-driven technology consulting entity.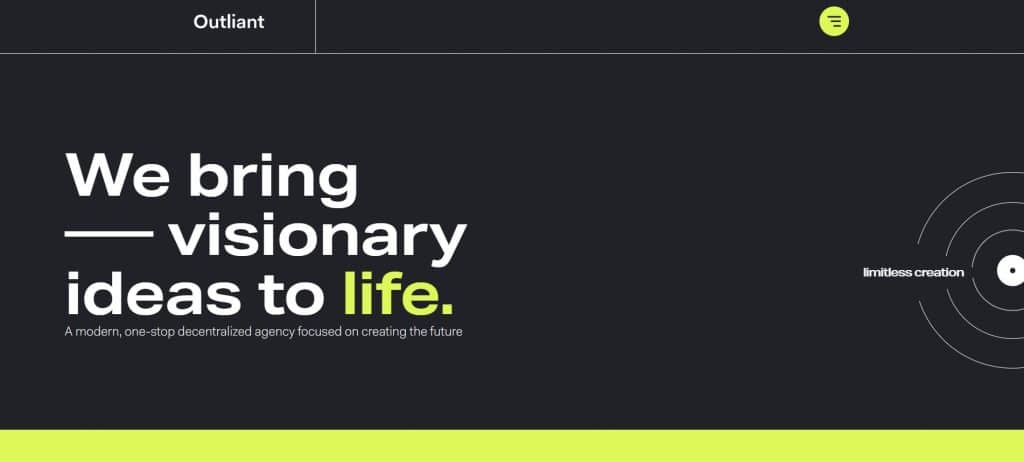 Founded – 

2019

Rating on Clutch –

5.0

Avg. hourly rate –

$150 – $199 / hr

Team Size –

40+

Completed Projects –

50+

Minimum Project Size –

$50,000+

Offered Services:

UX/UI Design, Web Development, Digital Strategy, Mobile App Development 
Emerging Trends in Web Development in 2023
In 2023, the web development industry in the USA anticipates a few fresh and exciting trends. Let us go through it. 
Progressive Web Apps (PWA)
PWAs offer users an experience akin to native apps, blending the strengths of the web's accessibility and reach with the engagement and functionality of native applications. PWAs deliver a quick, intriguing, and reliable experience even when users are offline.
Augmented Reality (WebAR)
WebAR allows developers to create AR experiences accessible directly from a web browser, eliminating users needing to download separate apps. By leveraging WebAR, web developers can craft interactive experiences that engage users in novel ways.
Artificial Intelligence (AI) Assistants
One fascinating application is the creation of AI assistants offering personalized advice and support to users. These assistants can guide users through web applications, furnish information, and perform tasks, enhancing user interactions.
Making web applications voice search-friendly will simplify users' search experiences, while designing more conversational and natural user interfaces will further leverage voice interactions.
Developers can build web applications that offer consumers individualized experiences using data and AI. This could encompass personalized recommendations and customized user interfaces.
JavaScript frameworks provide a structured approach to building complex web applications, facilitating faster development of high-quality products. Popular frameworks like React, Angular, and Vue will likely see increased adoption.
Google's introduction of Core Web Vitals brings a new set of metrics to assess the user experience of web applications. Metrics such as page load time, interactivity, and visual stability will be crucial in 2023, with developers paying closer attention to these factors and optimizing their web applications accordingly.
What Makes MultiQoS a Top Web Development Company in USA?
In the USA, known as the IT hub where it all began, you can find web development companies with extensive experience and a commitment to staying at the forefront of the latest trends in the industry. Among them is MultiQoS, offering the best web development services. Our web developers in the USA possess significant experience and expertise across major platforms, including Android, iOS, and Windows Phone. They are well-versed in the latest mobile app development tools and technologies, enabling them to deliver high-quality and cost-effective development services.
Holistic Tech Proficiency
Our top-ranked web development company shines in the USA due to its broad expertise, spanning both front-end aesthetics and intricate back-end mechanics.
Personalized Client Focus
What elevates our company is its unwavering focus on understanding client needs, translating them into custom solutions that perfectly align with goals.
Innovative Problem Solving
Renowned for its out-of-the-box thinking, our firm consistently delivers inventive solutions that tackle complex challenges head-on.
A standout feature is its unwavering commitment to timely project delivery, backed by a united team that values both efficiency and quality.
With collaboration at its core, our company thrives on transparent communication and efficient project management that ensures consistent results.
The satisfaction of our clients speaks volumes about our capabilities. Their testimonials highlight how we transform ideas into functional realities.
Beyond project completion, our commitment endures. We provide continuous support, ensuring solutions remain adaptable in the face of evolving needs.
Advantages of Hiring Web Developers from MultiQoS
Here are some potential advantages:
Expertise in Web Development:

MultiQoS developers are skilled in web development frameworks and tools, allowing them to create seamless applications across multiple platforms.
Consistent User Experience:

Our web development solutions provide a consistent user experience across different devices, ensuring a uniform look and feel for all users.
Access to Latest Technologies:

MultiQoS developers stay up-to-date with web development trends and tools, ensuring that your website benefits from the most modern and effective technologies.
Dedicated Support and Maintenance

: We offer ongoing support and maintenance services for your website, ensuring it remains up-to-date, secure, and optimized for performance.
Transparent Communication:

MultiQoS prioritizes clear and transparent communication throughout the development process, keeping you informed about the progress and involving you in decision-making.
Customized Solutions:

Our developer team can tailor their web development services to meet your requirements, ensuring the final product aligns with your business goals.
By choosing MultiQoS as your web development partner in the USA, you can leverage our expertise, dedication to the latest technologies, and commitment to providing a consistent user experience for your app across various platforms. With ongoing support and transparent communication, we ensure that your app remains at its best, effectively meeting your unique business needs.
Conclusion
Embark on a journey through this curated compilation as we unveil the trailblazing 10 web development companies spearheading the realm of custom web and software solutions for businesses and enterprises. Selecting the ideal web development agency from the vast pool of companies can be challenging and tricky. However, we have simplified the entire process for you. By reading this article, you can now hire a web development company in the USA that aligns with your budget, requirements, and constraints. Additionally, you can engage our offshore software development company, allowing us to cater to your needs effectively.  
Witness the convergence of innovation and expertise as we craft web solutions designed with precision, bringing forth performance, scalability, and cost-efficiency as our hallmark. Ready to dive in? Secure your complimentary consultation with our professional experts and breathe life into your unique web vision through insightful discussions.
Frequently Asked Questions (FAQs)
FAQ on Top Web Development Companies in USA
Access to a skilled and experienced pool of web developers, along with the opportunity to leverage the latest technological advancements, trends, and industry best practices prevalent in the dynamic USA market.
Responsive web design is essential as it ensures that websites and web applications adapt and display correctly across various devices. This enhancement in user experience and accessibility increases user engagement and retention.
SEO (Search Engine Optimization) is vital in web development as it optimizes websites to achieve higher rankings in search engine results.
AI-integrated and decentralized systems appear promising for future web technology.
The timeline for creating a website in the USA is influenced by numerous factors, including complexity, scope, and desired features. While the timeframe can vary, a rough estimate suggests that it generally takes between 5 and 25 weeks to successfully complete a website development project in the USA.
The cost associated with developing a website in the USA varies depending on a range of factors, including the project's scope, functionality, and design complexities. Broadly speaking, a rough estimate indicates that the costs can range from $7,000 to $100,000 or potentially even higher, depending on the specific requirements of the project.
Want Custom Web Development Assistance?
With top-notch strategies, our web development service efficiently fulfills your digital project needs.
Your Trusted Tech Partner!
We develop digital products that enable you to embrace innovation and unlock opportunities.
Talk To Our Experts
Subscribe
Newsletter
Get our latest blog posts, research reports, and thought leadership straight to your inbox.