IoT Development
Impact of IoT on the Business Sectors to Watch in 2023
Introduction Internet of Things forms a quintessential part of the innovative technologies of artificial intelligence, data, machine learning, and others. The Internet of Things market was worth $389 billion in…
8 June, 2022
7 minutes read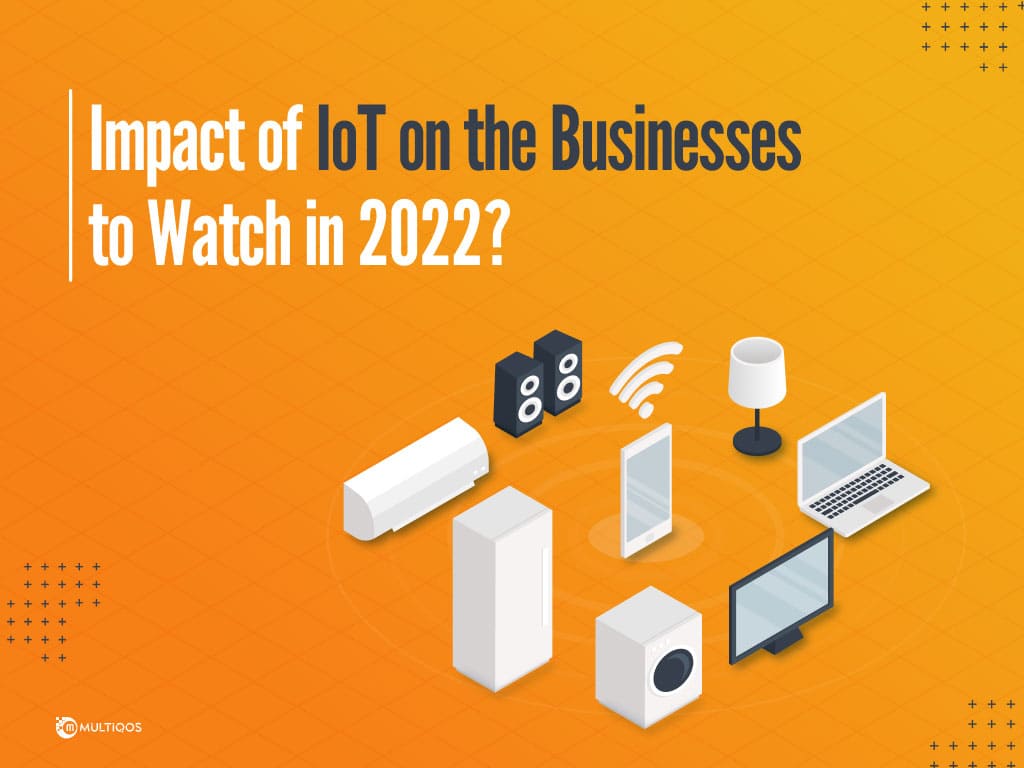 ---
Introduction
Internet of Things forms a quintessential part of the innovative technologies of artificial intelligence, data, machine learning, and others. The Internet of Things market was worth $389 billion in 2020 and is expected to be worth more than $1 billion by 2030. It influences the success of other advanced technology. Businesses rely largely on IoT to change their operation and function in a more advanced direction. Industrial processes and our everyday routines are both benefiting from the proliferation of the Internet of Things (IoT). The IoT Business Applications is a creative method for the technologies and would pave the path for success. In retail, manufacturing, healthcare, and many other areas IoT is making an incredible impact. Regardless of sector, 94 per cent of businesses have already affirmed rates of return on their IoT investment. Read ahead to understand the most effective IoT Application Development Services implementation. 
IoT Technology: A More Connected World
The 'Internet of Things,' often known as IoT, is a vast network of electronic gadgets that are all linked together through the internet. Connected devices that can interact with one another and execute a variety of functions make up the Internet of Things (IoT). Every device in the IoT network is linked to a sensor, which sends and receives data from other devices. 
By 2026, Mordor Intelligence predicts that the IoT industry will be worth $1.39 trillion. It is possible that a variety of reasons have contributed to this phenomenal rise, including:
The COVID-19 pandemic has sped up the development of remote monitoring, smart home devices, and data analysis solutions.

Businesses are striving to develop improved artificial intelligence alternatives. Within the context of IoT, this often necessarily involves a network of advanced sensors and edge computers.

IoT networks can perform some work more proficiently than centralized solutions.
How Is IoT Being Used in Business Sectors?
In the commercial world, IoT has a wide range of applications. When machines can interact with one another, it can increase efficiency, better operations, and higher revenue. Gradually, Industries are moving away from a monolithic, single-device model and toward a more modular, microservices approach. IoT also enables continuous process maximization and affects employee engagement and performance. When specific criteria are met, IoT in business can instruct processes to autonomously perform transactions in supply chain operations in particular industry sectors.
IoT is more than just data collection. Data must also be analyzed and enriched to provide actionable insights to businesses. That's where artificial intelligence, robotic process automation, and data analysis come in. Such tools are used by intelligently designed software to unearth hidden patterns, optimize business processes, and assist workers. Manufacturers can make more informed decisions and design more efficient processes by centralizing all of their data. As a result, they're able to keep up with the rising demand for high-quality, personalized items while also saving money and time.
Here are some of the ways how IoT is being used in business sectors:
Helps in Cost Reduction: IoT solutions help to improve current systems in production, supply chain, manufacturing, and other industries. Streamlined operations reduce downtime and costs. Predictive maintenance technology is used in factories to reduce downtime by up to 20-50 per cent and save 5-10% on maintenance costs.
Boosts Productivity and Profitability: Through automation, IoT aids in the creation of optimized workflows. It reduces repetitive tasks and allows for the most optimization of resources and machinery. Organizations benefit from optimization by reducing wasted man-hours and increasing operational efficiency.
Creates New Business Opportunities: For profound analytics, IoT integrates hardware, software, and machine intelligence. Companies could use IoT to boost their operations into the future due to improved insights. Businesses create new and innovative products and revenue models based on advanced patterns.
Promotes Optimal Asset Utilization and Tracking: Every component, device, asset, machinery, or equipment can be linked to a single network via IoT. Companies then can track assets and control equipment using smart sensors. Real-time insights and self-control cut waste and maximize the entire workflow. 
Increases Security and Reduces Vulnerabilities: IoT decreases security threats and hazards through sensors designed for live monitoring in physical locations.
Industries That Will Benefit The Most From Applying IoT
Retail Industry:
The Internet of Things helps to produce and deliver goods and is an excellent sales assistant.
Storage and Selling Circumstances:

Due to the need to strictly adhere to the requisite storage conditions, selling perishable goods is fraught with danger. Smart sensors can handle this. They can continuously measure temperature, humidity, and other essential indicators and modify them to attain the optimum conditions for selling products.

Usage of Beacons:

Push alerts may be sent to cellphones in a specified area using low-energy Bluetooth beacons. Visitors are enticed to make a purchase by receiving timely offers or discounts, receiving real-time information on product prices, and seeing any other information that might tempt them to do so.

Smart Surveillance: Image recognition-enabled sensors like cameras may help you collect important information about your visitors, their behavior, and their preferences. Your sales and marketing efforts can be improved by using this data.
Agriculture:
The agriculture sector has advanced significantly to the Internet of Things. Here are some applications of IoT:
Crop Monitoring: Drones are used to analyze soil, spray plants and inspect crops. Large-scale observation allows you to detect crop diseases in their initial stages and combat them successfully. This reduces the risk of harvesting.
Agricultural Drones: Sensors and cameras are built into agricultural drones, then used for farm imaging, mapping, and inspecting. Aside from surveillance, drones can perform various tasks that typically require human labour, such as crop planting, pest management, agriculture spraying, crop monitoring, and so on.
Livestock Surveillance:

Cattle may be tracked with the help of IoT devices. Animal health monitoring is now simpler and more reliable. Sensors, for instance, could be used to monitor animal pregnancies and act quickly when something goes wrong.

Smart Greenhouses: Typically, greenhouse environments are manually controlled. Even so, modern technologies enable you to delegate this task to software. Sensors monitor the climate within the greenhouse and can modify it to meet the needs of the growing plants. Manual intervention is no longer required, saving both time and money.
HealthCare:
The spread of COVID-19 has accelerated the evolution of this technology, and this is one of the industries most impacted by IoT technology. IoT sensors and systems have evolved into professional health assistants that collect and transmit biometric information to doctors. Here are some of the usages of the IoT in healthcare: 
Reduced cost for patients

Drones can transfer human organs between hospitals in the event of emergency surgery. 

Sensor data is critical to gaining a better knowledge of a patient's health. Doctors can make much better diagnoses as they have real-time information about a patient's biometric information owing to the availability of the Internet of Things and Big Data synergy. 

In addition, patients can receive more individualized care with the use of wearable medical devices such as fitness bands, blood pressure monitors, heart rate monitors, and glucose meters. These gadgets may also remind you of calorie counts, doctor's visits, and workout routines, among other things.

Smart healthcare delivery and patient happiness are both dependent on connected healthcare.

Internet-of-Things (IoT) technology in healthcare is used to improve patient treatment, diagnostics, medical diagnostic equipment maintenance, and remote procedures.

Hospitality:
The use of IoT App Development has reformed the hospitality industry. IoT technology allows for a more personalized experience for guests while also reducing waiting time. Hotels can create highly personalized rooms with the assistance of IoT applications. Controlling the room's functioning is as simple as swiping a guest's smartphone or tablet. The IoT-enabled rooms would:
Greet the visitors when they enter

Send location information to guests for a more seamless arrival.

Allow guests to adjust the temperature and ventilation in their rooms and save their preferences for future check-ins.

Predict device repairs and maintenance and notify maintenance personnel on time.
Smart Homes:
We get home automation by bringing unique smart devices together, such as a smart thermostat or any smart refrigerator. It is possible to connect smart light switches, door locks, thermostats, refrigerators, and other smart appliances to a single system (typically a mobile application). In 2023, home IoT technology will be able to control a wide range of products, including lighting, appliances, and even home security systems. Between now and 2025, the smart home industry, according to Mordor Intelligence, is expected to develop at a CAGR of 25%, reaching a value of $246 billion. IoT networks in smart homes are now broadening their capacity to automate lighting, temperature control, and security tasks.
Self-Driving Cars Industry: 
IoT software development services can also be used in the self-driving car industries where remote control and monitoring have been widely used as the initial phase of car automation. Most modern cars have an abundance of sensors that allow them to monitor their surroundings and drive safely with little or no human input. In 2020, the autonomous (driverless) vehicle market was estimated to be worth $20.97 billion.
Smart Cities:
The smart city notion is a relatively new IoT trend that has yet to gain traction. Smart cities are built on technological advances designed to manage the entire city's life, such as automotive street light adaptation, traffic congestion regulation, waste management, and so on. Monitoring traffic with sensors placed throughout the city allows for better control over intersections and better traffic optimization.
Also Read: What Is the Difference Between IoT and AI?
Create Powerful IoT Applications with MultiQoS
You can hire a reputed Mobile App Development Company like MultiQoS, which provides extensive Web Development Services pertaining to IoT app development platforms. We can guide you through the IoT and mobile app development for any sector. We have experience and expertise in IoT app development services catering to several industries. MultiQoS believes in turning your vision into a reality. An entire software development team of agile-minded, competent, and certified experts are present with us. As an IoT App Development Company, our app developers are here to assist you with all aspects of your IoT App Development For businesses.
Conclusion
The Internet of Things is expected to expand further, bringing significant benefits to businesses across all industries. The future of IoT technology lies in each of the preceding trends and even beyond, with potential options broadening into many areas such as retail and indoors. It is also critical to recognize that the Internet of Things is not a stand-alone technology in many cases. Combining technologies such as IoT and AI allows businesses to foster innovative thinking and remain competitive. The future of IoT for small and medium-sized businesses is unquestionable. As more devices connect to the internet and use cases become more sophisticated, the efficiency of its implementation will increase. You can hire any Mobile Application Development or Web Development Company if you want to get started with your IoT app development today. 
Frequently Asked Questions (FAQs)
FAQ on IoT Influence in Business Sectors
IoT is a network of interconnected devices that interact with each other in order to execute various tasks. Every device in the IoT network is linked to a sensor, which sends and receives data from other devices.
Some of the essential benefits of the IoT are:
Improve the Customer Experience and Service
Increase the number of new business and revenue opportunities
Enhance Business Safety and Security
Increase your productivity and competence.
Reduce Operational Costs
Gather Information for Business Decisions
Increase Business Mobility and Agility
The number of active IoT devices is expected to exceed 25.4 billion by 2030.
IoT stats indicate that this technology will serve a significant role in the future. IoT is all about broadening the internet's power beyond computers and mobile phones to a much broader range of things for various purposes.
Let's Create Big Stories Together
Mobile is in our nerves. We don't just build apps, we create brand. Choosing us will be your best decision.
Your Trusted Tech Partner!
We develop digital products that enable you to embrace innovation and unlock opportunities.
Talk To Our Experts
Subscribe
Newsletter
Get our latest blog posts, research reports, and thought leadership straight to your inbox.