Mobile App
How Much Does It Cost to Build a Home Maintenance Service App like Fanni?
What is a Fanni App? If you are looking forward to getting help to do household chores while maintaining the balance between work life and home, then taking assistance from…
24 February, 2023
6 minutes read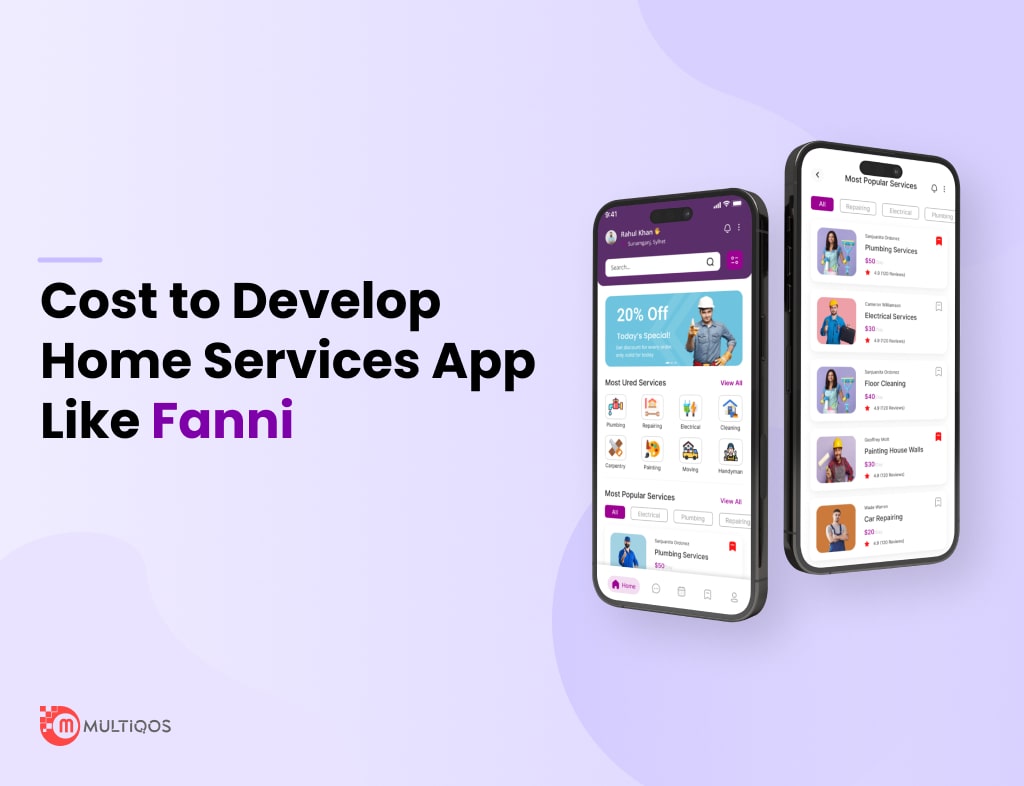 What is a Fanni App?
If you are looking forward to getting help to do household chores while maintaining the balance between work life and home, then taking assistance from home service provider apps like Fanni can be quite useful. Fanni is a popular mobile application that is used by millions of people as it offers a lot of beneficial services.
In today's time, an online home-based app like Fanni is a million-dollar industry as it has cracked its way to reach users' homes by offering help for day-to-day household activities. These home service applications offer different categories and subcategories to ease users and provide them convenience in doing their household chores. In this blog, we would discuss how to build an app like Fanni and the cost to create an online service provider app like Fanni.
What Are the Services Available in Fanni?
Fanni app offers a variety of services such as Electricity problem solutions, home appliances, Insect and pest control, painting, Furniture transferring, cleaning, floor tiling, surveillance cameras, satellite devices, and much more. Whenever you place a request for a specific service, the app forwards the request to the service provider.
Business Models for Home Maintenance Service Apps
Fanni, like home maintenance service applications, can adopt several business models such as the On-demand service model, subscription model, and Freemium model depending upon the revenue streams, cost structures, and target audience. Each business model is described briefly below.
On-Demand Service Model: this is the model which allows users to book services and pay for them while they use them. The app acts as a link between service providers and clients searching for services such as gardening, electrical work, plumbing, and clearing. These apps charge a commission for every successfully completed service and the rest is paid to the service provider.
Freemium Model: this is a new emerging model where the company offers a set of free services but charges some amount for the premium services and features. For example, if you book a cleaning service, then you might get some free services and get charged for the additional services.
Subscription Model: this model helps customers to buy a subscription on a monthly or annual basis and get access to a variety of services like emergency support, repair services, and routine maintenance. This model can help companies to have predictable cash flow and recurring revenue. 
You can discuss with the mobile app development solutions more about choosing the correct business model.
How Does Home Maintenance Fanni App Work?
Fanni has three simple step processes, making it easier for consumers to easily avail of home maintenance services.
Step 1: The very first step is to choose the type of service required. It offers a wide range of services clearing plumbing, landscaping, electrical work, and much more.
Step 2: After choosing the service, the homeowner can put their location accurately. This ensures that service providers reach the location easily without any trouble or delay and offer the required service.
Step 3: Service provider Shortlisting: The Fanni App matches the service provider to the homeowner in real-time. Homeowners can choose the right service providers that are first for their needs based on various factors like reviews and ratings, rates, and distance.
Soon After the service provider is selected, homeowners can relax and sit back while a highly skilled service provider comes and offers the best in class service. Fanni makes sure that the prices of the application are quite competitive. 
Also Read: How To Build a Smart Home Automation App?
How to Develop a Home Service App like Fanni?
The answer to how to create an app like Fanni involves different steps. Here is a small overview of the complete process.
Define the app features and scopes
The very initial step is to determine the features and scope of your application. It involves determining the target audience, services, and needs. Also, you would need to segregate the necessary features and features which can be added later.
Hire an on-demand app development company.
Once you have clarity on the features and scope you would need to hire the developers or an on-demand app development company that has experience building Fanni-like home maintenance services applications. The mobile application company in Dubai can help you to refine app concepts, and design and develop the app's features and functionalities.
Designing a prototype for an online home-based service app like Fanni would give you some idea about how your app works and looks. It can help you to know areas of improvement and any flaws before you actually start coding.
After the prototype is completed, the development team can begin coding the application. They can work on the backend and frontend functionality of the applications.
Soon after the application is developed, it is important to test and make any refinements. You would also need to figure out usability issues or bugs before you launch in the market.
After you have developed and tested the application it is important to launch it on the app store. You can take the help of android app development services to promote your application and encourage downloads.
Developing a home maintenance service application is always a daunting process but with the correct app Development Companies in UAE, you can always make a profitable and successful application. 
Must-have Features of an On-demand App Like Fanni
In the previous section we discussed how to develop an app like Fanni, here we will discuss the features that you should include in your application.
User Registration: this feature should allow users to register on your application by creating an account and providing information like payment method, location, and contact details.
Service Provider Registration: This app should have similar features for the service provider also to register on the platform and provide information such as pricing package, service offered, and contact details.
Service Selection: next comes the feature that would allow users to select the kind of service they want to avail like landscaping, electrical work, plumbing, and clearing.
Match for the Service Provider: The app should have a feature that can match the user request with the required service provider and provide the complete list of available service providers.
In-app Communication: this feature would allow users and service providers to communicate with each other through a chat or call to discuss service scheduling and details.
Review and Payment Systems: A lot of iPhone app developers

and android developers suggest having this feature by utilizing third-party platforms that can process payment instantly. 

Technology Stack to Include in Home Maintenance Service App Development
While developing home maintenance service applications Android App development services and iOS app development services use both backend and frontend technology to build a robust application.
Depending on the platform you can choose the backend programming language like Kotlin, React Native, Java, and Swift. 
You might also want to use frameworks like Vue, js, React, or angular to create applications. For building the backend you can consider using Node.js, Django, and Laravel Frameworks.
Further, you can also leverage the cloud-based infrastructure such as Azure, Google cloud platform, or Amazon Web Services to provide reliable, secure, and scalable hosting of your application. Most of the on demand app development solutions utilize such cloud-based platforms and third-party APIs for payment gateways and real-time tracking.
The technology stack highly depends on the developer's expertise at a mobile application development company in Dubai or any other location from where you hire along with other factors like budget, app requirements, and features.
How Much Does It Cost to Develop a Home Service App Like Fanni in Dubai?
The cost to develop an app like Fanni can depend on various factors like app complexity, features, and technology stack. Some other factors which can affect the cost are development team expertise, hourly rate, and location.
Generally, the Fanni-like app development cost is between USD 20000 and USD 100000. Hoover the cost can also be lower or higher depending on the app's complexity and feature. It is important to get an accurate cost estimation for developing a home service application like Fanni, you should consult with mobile app development companies in UAE for complete estimations and a breakdown of the home service provider app like Fanni Cost.
Also Read: Top Important Mobile App Development Questions to Ask
MultiQoS Expertise in Service App Development
MultiQoS is one of the best mobile app development companies in Dubai, UAE that offers the best mobile development services and specializes in Demand App Development services. Their development team has got experience in building applications that can handle different types of services and offer best-in-class service.
Wrapping Up
In conclusion building an home service application like Fanni can be a quite valuable addition to the home services industry, offering users an easy-to-use and convenient platform to access a wide range of home maintenance services. To develop a successful on-demand application like Fanni it is essential to consider different factors like development cost, technology stack, and features. Incorporating the must-have features and great user experience would help you to build a successful and scalable application like Fanni.
Frequently Asked Questions (FAQs)
FAQs for Home Maintenance Service App Development
A few of the essential services are secure payment options, user ratings and reviews, a scheduling system, and service provider management.
The technology stack includes different programming languages like swift or Java, database management systems, cloud storage, third-party API Integrations for location services, and payment gateways.
The complete development time to build a home service provider app like Fanni can take up to 4-6 months based on the development team's expertise, technology stack, and complexity.
To choose the best e-commerce mobile apps development team for home service applications look for companies that offer technology stack proficiency, relevant experience, and a proven track record of delivering the best applications.
Want to build your on-demand home service app?
Get in touch with us to build tailored on-demand home services apps that meet the needs of an ever-growing household.
Your Trusted Tech Partner!
We develop digital products that enable you to embrace innovation and unlock opportunities.
Talk To Our Experts
Subscribe
Newsletter
Get our latest blog posts, research reports, and thought leadership straight to your inbox.