Mobile App
How Much Does It Cost To Build A Marketplace App Like Airbnb?
What is Airbnb? Airbnb is a lodging marketplace where people worldwide can list and find apartments to rent. This service provides excellent online markets for short-term rentals or lodging. As…
22 February, 2023
5 minutes read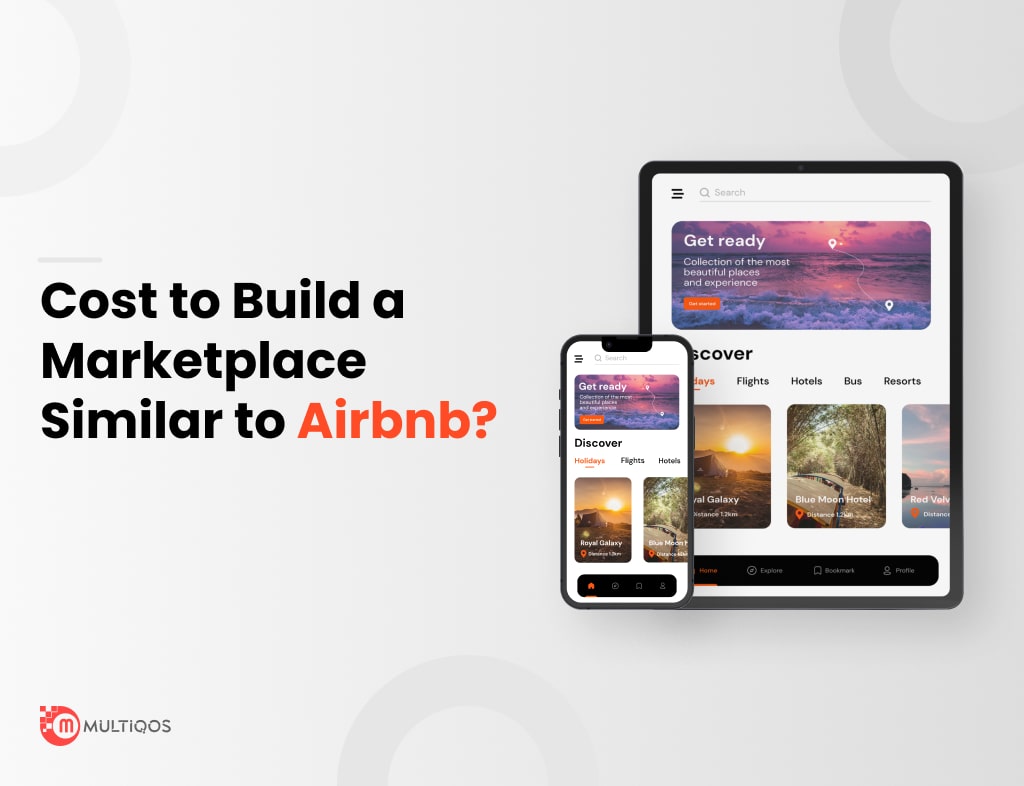 What is Airbnb?
Airbnb is a lodging marketplace where people worldwide can list and find apartments to rent. This service provides excellent online markets for short-term rentals or lodging. As a result, when you create an Airbnb-style app, you're connecting folks who want to rent out their vacation homes with others who need a place to stay.
How exciting Airbnb's premise is, it has completely altered how people search for apartments. An example is the Airbnb-like app development from scratch experience afforded to guests by renting a private room from a local family while abroad. The students experience cultural immersion for the first time. As a result, they will get a genuine sense of the area.
Airbnb's Business Model & Revenue
Airbnb follows the same strategy, linking the various aspects of the business together through a central internet hub. Hosts and guests are the bedrock of the Airbnb system. To put it simply, Airbnb connects hosts with guests. When people host on Airbnb, they open their homes to those looking for a place to stay. Due to their proximity to residents, Airbnb hosts gain a valuable perspective. 
Airbnb has professional photographers on staff to capture stunning images of its listings. Visitors can view the locations for themselves, facilitating an informed choice. Compared to the world's largest hotel chain, Marriott, Airbnb's business model is exponential in practically every respect. Airbnb addresses a problem (and handles the ambitions of many people). Just do it. 
The Airbnb business model was developed with scale in mind. It's also a novel method of linking broad consumer marketplaces (travellers, hosts, and experience providers). Through its star rating system and ability to personalize stays, Airbnb has developed communities of customers across all its user bases. Regarding business strategy, Airbnb is all about exponential growth. Airbnb understands the interdependencies of its business elements and is always innovating to strengthen those ties.
Airbnb Revenue Model
Airbnb relies on service fees paid by hosts and guests to generate income. It's a lot like Post mate's business model in that respect. Postmates can also earn cash from additional charges. Airbnb makes money from host fees and guest payments. Listings and reservations can be made through Airbnb. Airbnb generates revenue in this manner.
How Does Airbnb Work?
This website will provide separate user and host control panels (host). If you're an on-demand Airbnb-like app development firm looking to create a service like Airbnb, you should study how the service works, as it gives its users a wide variety of features.
There are typically five main steps in an Airbnb transaction
Step 1: Essential facilities such as meals, Wi-Fi, number of bedrooms, and more, as well as host requirements, may all be found on the Airbnb website.
Step 2: High-resolution images of a certain place are submitted to the platform, and the photographer is dispatched there.
Step 3: Tourists peruse the site to choose a suitable rental house for them. Before making a deposit, they select the arrival date, length of stay, and total number of visitors.
Step 4: Payment is processed with a few extra costs once the host has authorized the stay.
Step 5: After the reservation, the platform compensates the host after deducting its share of the commission.
Also Read: A Complete Guide to Hyperlocal Delivery Business Model
Must-Have Features for an App Like Airbnb
An application's features and functionality are a big part of what makes it special and different from others. Make sure you have all the essentials on your list before beginning Airbnb clone app development for Android or iOS.
Customers need to sign up for services like Airbnb before using the app. The most common alternative is to provide users with email addresses and passwords. In addition, while onboarding Airbnb app development, it's vital to create a 'Term and Policy,' as users must agree with the app's usage plan.
After registration is complete, users must successfully log in. To that end, it's preferable to give customers many login options, such as email, Google, and Facebook.
This feature is necessary for any booking services. It makes more sense to establish a serious pursuit structure quickly.
This is a great function for sharing economy apps like Airbnb because it allows users to vote on and recommend their favourite locations. After that, they'll have an easier time locating these centres.
After bringing up a stay, the host and guest can start a conversation to go into greater detail. It is common practice to provide opportunities for the transmission of visual content.

There are two users for the Airbnb app: guests and hosts. Both parties need a chance to update their profiles and provide the necessary personal information.
The process can be made easier and safer by giving them several various payment methods to choose from. Similarly, there should be times when Visas are granted and revoked.
Mentioning orders or bookings is the app's final main focus. Customers choose their preferred floor or home and book it for the desired dates if the service is available.
For Hosts
It's a crucial aspect of the on-demand development company that the host must think about. All the fine details, such as choosing the type of home and the number of guests, must be portrayed.
Every request made by a customer or other user must be shown on a screen for the proprietor to see. There is also a time to respond to and decline a request.

This capability will greatly benefit any future improvements that make helpful apps like Airbnb. 
Customers can check out the neighbourhoods they're interested in staying in, as well as find nearby lofts, exciting attractions, restaurants, and more. These key elements can help your software stand out from the competition and become a favourite among users. Then, you can apply several advanced highlights to make it stand out. On-demand app development company always add GPS systems to their app.
Tech Stack Required to Build an App Like Airbnb
The Airbnb app development for an android or iOS app process requires several different technologies.
Languages for creating software: JavaScript, Kotlin, or Swift

Angular, React.js, and Express.js as front-end frameworks.

Ruby on Rails, Django, Node.js, and Meteor are all examples of backend technologies and frameworks.

Server-side technologies, including Amazon Web Services (AWS), Microsoft Azure, OpenStack, Digital Ocean,

API-based marketplace software

and Google Cloud.

Providers of caching services at the network level include Nginx and Redis.

MySQL, Microsoft SQL Server, MongoDB, Azure Document DB, Cassandra, and PostgreSQL are all necessary databases.
How Much Does It Cost to Create an App Like Airbnb?
The overall price of web app development is affected by several different variables. There are numerous Airbnb app samples from which to select. As a result, Airbnb app development cost are associated with developing their mobile app. The primary factors that may determine how much does it cost to build an app like Airbnb line are as follows:
The Size of the Development Staff
If you are interested and dedicated enough, you can join the project management team and help oversee the complete operation and take app development offerings. Except for programmers and artists, a small, diverse crew works best. 
If you'd like your version of the Airbnb app to look different from the norm, custom photos and tools can help. Design for the app development process is most crucial part.
Whether or not your program takes advantage of particular functionalities is up to you. Please rank the complexity of these qualities from simple (low) to complex (high). It has repercussions on the Cost to Create an App Like Airbnb is $25,000-$30000. However, picking both the iOS and Android platforms with extensive functionality can treble the direct costs, potentially reaching $5000 to $600,000. This contrasts with constructing an app development company in usa with simple capabilities, costing as little as $10000.
How can MultiQoS help you build an app like Airbnb Marketplace?
Many app stores provide access to numerous hotel booking and vacation rental apps. Before developing an app like Airbnb, research on features, pricing, and other factors is essential. The on-demand app developers at MultiQoS can assist you in creating a top-notch product that can successfully compete in today's market and bring your organization widespread acclaim.
Also Read: How Much Does it Cost to Build an Online Marketplace?
Let's Wrap Up
The best part is the sleek and intuitive user interface design. This app can help you locate a variety of low-cost lodging options in the location you're visiting. Marketplace App development solutions are very much important for making an Airbnb app.
Frequently Asked Questions (FAQs)
FAQs on Airbnb Marketplace Development
The original estimate of 1150 hours to create a minimum viable product (MVP) for an Airbnb-style app on Android has since been revised upwards. Developing a server for an app that will function like Airbnb on android app or iOS app development may take up to 300 hours.
Airbnb is a community-based web platform for renting out private residences. It acts as a middleman between hosts and renters without owning the rooms themselves. It also encourages a sharing economy by letting homeowners rent out individual units.
Using the Airbnb app, guests can connect with their hosts, receive up-to-the-minute information on the status of their booking, and make the most of their trip by gaining insight about the area from locals.
Want to Build Your Own Marketplace?
Consult with our experts. Discuss your product, and we'll provide a free estimate.
Your Trusted Tech Partner!
We develop digital products that enable you to embrace innovation and unlock opportunities.
Talk To Our Experts
Subscribe
Newsletter
Get our latest blog posts, research reports, and thought leadership straight to your inbox.