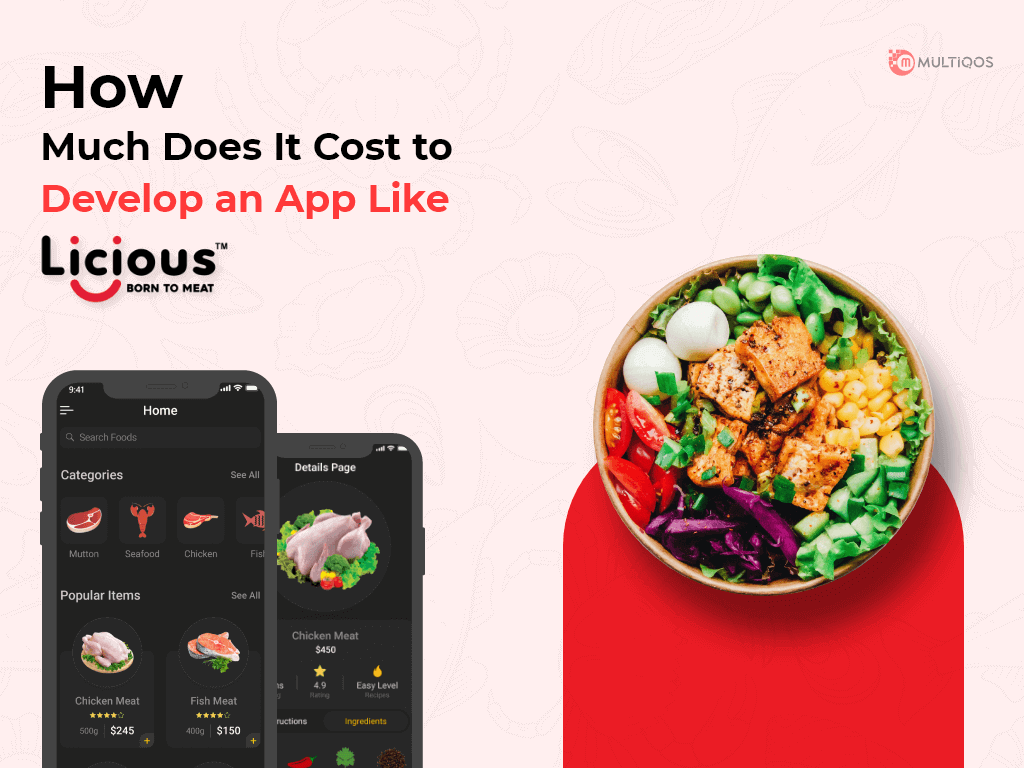 Mobile App
How Much Does It Cost to Develop an App Like Licious?
Visiting the butcher shops and meat markets can be difficult, and people usually want the things to be delivered to them easily. Licious is a Meat Delivery App Solution that…

Parth Thakkar
Visiting the butcher shops and meat markets can be difficult, and people usually want the things to be delivered to them easily. Licious is a Meat Delivery App Solution that enables customers to easily get fresh chicken, meat, egg, and fish delivered to their homes. Meat is one of the essential foods for the people and is consumed in large quantities, and everyone wishes to have the freshest and most tender meat delivered to their home. This is what Licious does since it helps people get the meat and other proteins delivered to their homes 24/7. These on-demand applications aid any type of company by enhancing the brand's profitability in the marketplace.
Furthermore, these ensure that high-quality products are delivered to consumers in accordance with the most recent food safety regulations. If you want to invest in an on-demand meat delivery app development, you can take your inspiration from Licious. Here you will find the detailed guide to make an app like Licious App produced for a reasonable price and the features that will make it appealing to users.
Summary
Customers' increasing demand for online meal delivery has opened the eCommerce market to a slew of new ideas. With meat markets providing home delivery services, the sector is booming with potentiality for other players. Licious is the biggest inspiration for businesses that want to invest in online meat delivery businesses that can meet their online food delivery needs. Several features and functionalities are included in the applications, and it is also regulated by the cost to develop an app like Licious, which shall be reflected in this article. 
What is an Online Meat Delivery App?
The online meat delivery app is like any other on-demand application that aims for delivering your required meat or fish, seafood at your homes. Customers search for their preferred meat variety using various criteria and place orders utilizing the on-demand meal delivery service app with a single click. The customers can comfortably and easily buy raw meat and fish from these apps and get them delivered to their location. You can save yourself some time from going to the indigenous market. You need to get them delivered and use them to prepare your meals. 
Purchasing high-quality meat through online meat delivery services may quickly add up, and some alternatives are less expensive than others. Whatever option you choose, the meat will be frozen and packaged in recyclable and compostable materials.
Let Us Look at a Few Statistics
The online platform of Licious is spread all across India in 15 different cities today after its emergence in 2015 in Bengaluru. It has grown by 500 percent in the last year and now has a customer base of almost 2 million. The fastest delivery of the freshest meat, chicken, fish & seafood, and ready-to-eat food products to your home is what makes Licious the greatest online meat delivery app. 
Processed meat's market value is expected to grow at a CAGR of 14% from 2016 to 2022, reaching $1.5 trillion. According to a Statista survey, the global market share of meat is over 38%. As a result, thousands of meat vendors have begun to establish a meat ordering app like Licious for their businesses, anticipating the increase.
Must-Have Features in Your Meat Delivery App
You should hire mobile app developers who need to note the below-mentioned features and functionalities to ensure that your meat delivery app development is a success and is streamlined to meet all customer needs. The features shall be divided into 4 panels in the app: the customer, vendor, admin, and the driver. 
Customer Panel

Registration
The first thing a user sees is the option to register for the application, and the user can use the credentials to log in or sign up for the app. You can also provide signing in via google or their social media accounts to make the process easy.
Online Booking
Placing and paying out purchases should be simple and straightforward. Before checking out a purchase, the customers should fill in no extraneous information. Rather the process should be convenient for the users.
Real-Time Tracking
Customers should be able to monitor and track their orders using GPS tracking to see where they are in the process (to know if the order is shipped, canceled, delivered, or the status of the order, etc.). They should be able to track the driver's progress toward the objective.
Various Payment Option
The meat delivery app development should include incorporating several standard payment gateways that allow users to make payments using whatever manner is most convenient for them. For example, online payment, credit cards, net banking, cash on delivery, and other payment methods are available.
Feedback and Rating
Users must rate and provide valuable feedback on the services supplied to them. They should also be able to rate the delivery agents and the products.  This would also assist the administrator in implementing any necessary adjustments and work on the feedback to understand customer needs better and improve the services.
In-App Payment
The Meat Buying application must provide a payment method that allows customers to pay without difficulty from inside the app.
Save Location
The save location feature is a user-friendly tool that allows customers to register their regularly used delivery places, such as their house or workplace, to save time.
Also Read: The Ultimate Guide to Launch a Meat Delivery Service in 2024
Vendor Panel

Real-Time Order Tracking
The status of the order can be monitored by real-time order tracking, and this also enables the vendor to see the real-time dashboard and update the status of the orders.
Push Notifications
These are some of the important features that the meat delivery app development company should incorporate. Customers will be notified about any deals, discounts, and other information via push notifications. This enables you to remind the customers about different deals and interact with them easily by conveying your message. 
Stock Management
The vendor should keep track of product inventory and set product availability.
Report
The vendor must review the expense reports and make plans for the next stages. The vendor must also keep an eye on the vendor's advanced analytics.
Product and Cost Management
The vendor should have the ability to add or remove any product that he desires. The vendors for the customers can also add specific pricing for the goods. 
Admin Panel

Store Management
The store management feature would enable the admin to monitor and manage the store. They can also make changes to save information such as the address, ranking, etc.
Order Tracking
The administrator should follow clients' orders in real-time. If the item has been shipped from the store or delivered to the consumer, they can see it.
Customer Management
The administrator ought to keep track of customer information. The customer's profile must be visible to the administrator.
Analytics
From the dashboard, the administrator will analyze the insights that provide company information such as expenses, profits, and sales.
Multiple Payment Options
The meat delivery application should be connected with the regular payment gateway. Users will be able to pay using various methods, such as online payments, net banking, plastic cards, cash on delivery, and others.
Delivery /DriverAgent Panel

Profile Management
The drivers should keep track of their own personal profile, visible to users. They should also keep their status updated, indicating whether they are available, occupied, on leave, or otherwise.
Delivery Status Updating Tool
This feature would require the driver agent to keep the order status updated so that the customers are aware of the status of their order. Users must give their digital signature as a confirmation after the order has been successfully delivered to the address to establish a level of validity.
Route Optimization
To reach their target audience easily and swiftly, the drivers should adopt an optimum route discovered through real-time monitoring to ensure fast and easy delivery. 
Payout
Payout is a fantastic feature that allows delivery agents to sync their bank account information so that they can get money from the admin. It may provide numerous payment alternatives, and choose one as the default for easy tracking.
Shortest Route
The shortest and quickest route for delivering an order is calculated and displayed using the Shortest Route Tracking function.
Technology Stack to Create a Meat and Fish Delivery App Like Licious
Despite the abundance of cutting-edge advanced technology accessible for application development, the appropriate combination of alternatives can provide a great user experience. Let's look at the various technologies required to construct a cutting-edge app like Licious.
Utilities- Google Analytics, Google Maps, and Google Tag Manager Deployment Platforms- iOS, Android

NGINX is a web server.

New Relic One's Data Integration

Gmail and Google Fonts are examples of business tools.

jQuery, Slick, and Animate.css are examples of applications and data.

Amazon/machine Learning/data science

Tableau software for data analytics

Clever Tap in Mobile Analytics

Cloudflare – Web Performance

Lead generation and sales

Salesforce.com, Salesforce Data.com, Salesforce CRM
Know A Little More About Licious
This fresh meat app receives at least 17,000 orders every day, and its annual revenue has already surpassed 180 crores in the year 2019. With over 300,000 clients, this business with a customer online meat market is a huge success amongst the customer base. Licious has partnered up with 150+ meat shops and vendors who have been extensively trained in meat handling practices in accordance with international standards to ensure the safest meat being delivered to the people. 
Licious is aiming for India's 92 percent unorganized meat retail market. It has received $192 million in funding in the last six years. This would assist the online seafood selling platform in expanding its business beyond South Asia.
How Much Does It Cost to Build an App Like Licious?
The ideal strategy is to evaluate the cost of developing a basic meat delivery app and then increase your budget to incorporate more options and features. If all you want to Develop Online Meat and Fish Delivery App with simple and basic functionalities, a sum of $12,000 in your wallet will suffice as the cost. The Cost to Develop Meat Delivery App like Licious App depends on the features and functionalities you include in the application to make it user-friendly and convenient. On the other hand, if you're looking for something more sophisticated, such as an app with a lot of advanced features, expect to pay at least $40,000. Furthermore, the cost to create an app like Licious shall also depend on the location of the business, which is one of the most crucial aspects in determining the cost of developing an app. 
The location of the developers is essential in determining the price. For example, if you're developing an app in India, you'll spend around $80 for an hour's worth of work. Whilst if you're thinking about developing an app in Europe, expect to pay $100 to $150 per hour. And if you want your software produced in the United States, expect to pay significantly more per hour, with prices ranging from $200 to $250 per hour.
Some of the factors which shall significantly influence the Meat Delivery App Development Cost are: 
Period of time

Number of team members

Stack of technology

Development team's hourly rate

Designing a product

Specifications of the product

Size and complexity of the project

The development team's location
MultiQoS Expertise in Delivery App Development
MultiQoS is the leading mobile app development company that provides pre-built solutions for meat delivery apps like licious. Get in touch with us to discuss your ideas with our team, and we'll make sure you have the best online meat store possible. Our staff is comprised of competent specialists that are always receptive to new concepts and entrepreneurs. Each project at MultiQoS is viewed as a potential market gamechanger. We assist our clients in achieving success by helping them through the process of transforming their concepts into tangible products. Our company is built on an in-depth understanding of several industries and entrepreneurial concepts startups use. In addition, we employ flexibility to help you respond to the evolving requirements of the digital economy by increasing the pace of your business.
Final Words
It is quintessential to remember that the meat delivery application should adhere to Indian norms and safety considerations. For this engaging a meat delivery application development company for your meat delivery service might be a wonderful place to start since they have the expertise and experience to provide the best results. If you want your application to be a commercial success. In that case, you need to adhere to the latest technologies to make it more convenient, such as Digitization, the integration of artificial intelligence (AI), Data Analytics, direct partnerships with fishers, cattle, etc., and poultry farmers. Additionally, you may incorporate additional features to enhance the application's usability and convenience for clients.
Interested in Food Delivery App Development?
Boost your food business growth with our mobile app development services.
FAQ on Meat Ordering Apps
While it is difficult to come up with an exact cost of building an app, when you are during the planning phase, you can always get a good idea of how much something will cost by contemplating and estimating the features you would like to start with. So, take the time to develop a list of everything you'll need and the costs associated with each.
So, when you Develop Meat Delivery App like Licious App, certain things should be considered, such as the location, design, size, features of the application and the number of team members you have hired and their cost, as well as the complexity of your product, and finally, the location where you'd like to start.
Yes, the process of testing the application is essential. The majority of the successful applications in the market are those that have undergone extensive testing from the start. Proper testing of your app would reassure you that the app will operate more smoothly once it's launched, and you'll avoid issues like bugs. Moreover, periodic testing after the application has been released is also critical to ensure that it runs smoothly.
Build Your Team
Book a Consultation Now!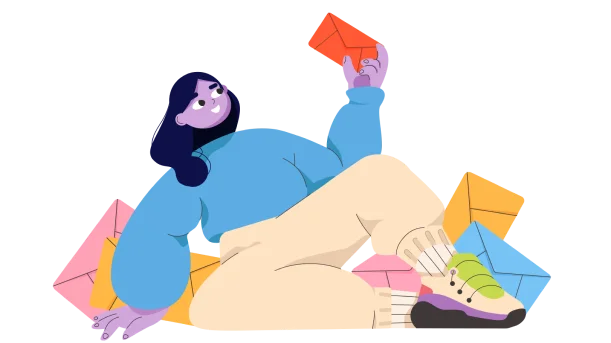 Don't Miss Out!
Your Inbox's New Best Friend. Subscribe Now and Never Miss a Beat!
Read More Blogs