Industries
How Much Does School Management Software ERP Cost?
Introduction Regardless of its applications or sectors, technology is playing a significant role in the digitalization of numerous areas at different levels. Our ecosystem has seen extensive terrain changes as…
14 November, 2022
5 minutes read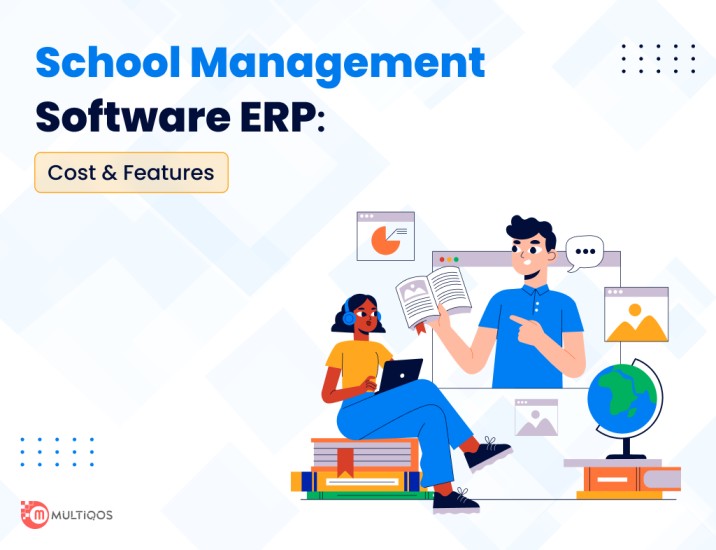 Introduction
Regardless of its applications or sectors, technology is playing a significant role in the digitalization of numerous areas at different levels. Our ecosystem has seen extensive terrain changes as a result of digitalization, which is contributing to its improvement. All of the traditional methods that were in use have been altered, making space for technology. It simplifies the whole procedure, which has been in place for a while, increasing production and operational effectiveness. The system as a whole is now more transparent with technology.
This blog tells you about the finest use of technology that is incorporated into the traditional frameworks of the school administration system. Here, we'll go over all the essential features and important components that an ERP solution for school management has to have. We will also look at school management software prices. So let's get going and learn more about this subject.
What is School Management System Software?
A set of computer instructions created specifically to handle the daily administrative responsibilities of schools are known as school management system software. School management software enables the management of all resources and data on a single platform, as well as digital monitoring of everyday operations. School administration software is used in modern schools to increase efficiency and productivity while decreasing the amount of time required to execute various administrative activities. Additionally, these programs assist in easing the burden of handling massive amounts of student data.
School administration software allows schools to automate a variety of tasks, such as keeping track of students' attendance and printing attractive report cards with a single click. Parents may simply monitor their children's progress and take care of their academic demands. Not to add that the pen and register technique of data administration has been correctly replaced by school management systems, lowering the likelihood of mistakes throughout the process. Additionally, significant time and money savings enable the school personnel to do more work with greater precision in less time.
While the entire administrative process operates without a hitch, schools can now give students a more productive and positive academic experience than ever before, giving every student a more customized educational experience.
What is School ERP Software?
School ERP software is a powerful, cloud-based, tried-and-true educational ERP system with cutting-edge modules that let instructors and educators digitize everyday work processes in educational institutions. It is intended to monitor and document the administrative work done by educational institutions like schools. It contains every module that educators and support workers require to manage all student data, including those for preserving academic records, admissions, online fee collecting, timetable planning, etc.
The school management system is designed to reduce administrative burdens and increase effectiveness and productivity. It supports a variety of contemporary technologies, including mobile apps, RFID smart cards, online payment gateways, and so forth.
Benefits of Using School Management System Software
Knowing the advantages and the return on investment (ROI) for your institution is crucial before assessing the cost. The purpose of school management software is to address the major administrative challenges, admissions challenges, and management challenges. Everything is accessible and transparent thanks to it. This implies that everything can be managed, watched over, and tracked with a single click.
Let's have a look at them:
Schools are paper-based. Paper is a significant expenditure that most schools deal with, covering everything from student files to applications to report cards. Everything online is organized and managed by school administration software. Schools might save thousands of dollars only on paper thanks to this, and it also helps the environment.
Cut Back on Employee Hours:

 
Automation cuts back on employee hours. Let school administration software handle the hard lifting if you're still using hourly workers to complete jobs that have been digitized. By converting to an automated system, you may save money on overtime, benefits, and compensation.
Regular meetings are necessary for the operation of every school, right? The majority of school administration software alternatives offer simplified communication channels so that parents, educators, and administrators may collaborate without wasting time in person. When it comes to software, effectiveness reigns supreme, and school administration software reduces the amount of time spent on communication throughout the academic year.
Software for managing schools frees up more time for useful work and offers affordable maintenance costs. Whether your student body is expanding or contracting, the systems can often grow with the school. Due to all of these factors, purchasing school management software is typically more advantageous than costly.
How Much Does School Management Software Cost?
There are several methods for calculating school management software costs. 
Some software vendors impose a set monthly price for each pupil. This might cost each kid anything from $0.50 to $22 per month. For each student, there can even be a separate yearly charge. The basic and add-on modules that are available, as well as a number of other criteria that we shall discuss at the conclusion of this blog, may account for the price discrepancy.

Another choice is to pay for the program all at once. If your institution has reservations, this is a smart choice because it will provide you with a significant discount and save you the hassle of having to renew on a regular basis. Depending on the features you choose, this might cost anywhere from $1,500 to $6,000. The typical one-time cost for a school management system is $4,000
Monthly or Yearly Charges

: 
Regardless of the number of pupils you have, some suppliers demand a monthly or annual fixed cost. The annual payment price might be $900 to $2,000 and the monthly flat payment could be between $50 and $150. It is also feasible to combine a monthly flat cost with a per-student fee.
Building Your Own School Management Software
All of the aforementioned alternatives fall under the category of SaaS (Software as a Service). This indicates that the software provider creates generic software that is suitable for use by a variety of educational institutions and offers it as a standard product with little to no configurable capabilities. 
The option of creating your own program is also available, although it is not at all suggested. Since creating software from scratch is a highly technical procedure, mobile application development company in Houston is suited to handle it. Some large colleges may choose this option if they need specialized software. This might cost hundreds of thousands or millions of dollars.
It's possible that you observed from the table above how expensive ERP school management software may be. So, do not be perplexed. Any of the following features might be the cause of the pricing variation. Before choosing a school management system, you should take into account the following factors:
Tech Support:

Check the extent of technical assistance the seller is offering after the transaction. Is the training online, on-call, or in-person? The quotation will increase in value if post-sale support is provided.

Cloud Service: Do you need to buy your own server space or does the software vendor offer cloud service? Software costs will be higher without cloud services.
User-friendly:

Your personnel will find ERP systems with simple user interfaces easy to use and won't need any training. Where it is necessary, the cost of employee training is occasionally included in the price.

Modules:

Compare the modules that are mentioned in the quote at all times. Some manufacturers could provide more affordable options for fundamental modules while charging more for supplemental modules.
However, based on these capabilities, the average cost of a school management system ranges between $10,000 and $50,000.
Also Read: How to Create an Educational App in 2023
MultiQoS Expertise
It is quite common to get confused while making the decision to purchase school administration software with so many models available in the market. However, you can check out MultiQoS's free school administration software directory, where you can filter your selections depending on what you want your solution to perform for your school.
Our ERP software solution was specifically created to provide end-to-end services and enable management to operate institutions in the most productive manner. MultiQoS stands apart from other random ERP for school administration service providers thanks to its highly qualified staff and accessibility to a wide range of services, including cutting-edge technology.
Wrapping up!
Automation is a crucial technical advancement in the education sector. Most schools are able to quickly automate the majority of their everyday, important activities with efficient education ERP software.
It not only allows you more time to do other chores, but it also dramatically lowers your annual spending. You must pick the appropriate software for your educational institution in order to take advantage of it, and there is no better way to accomplish this than to test the program out beforehand. You can determine whether or not school ERP software has the functionality you need by taking a free trial.
Frequently Asked Questions (FAQs)
FAQs on School Management ERP Software Development
A system called school management software is created to handle and make simpler the regular administrative and non-administrative tasks of a school. With the help of school administration software, schools can keep an eye on regular tasks like managing timetables and daily attendance from a single, centralized location.
The process of implementing ERP is renowned for being drawn out and expensive. Costs comprise customization – For their unique business operations, many organizations need customization, which comes at a price. Businesses should be careful to only add the functionality they actually need.
Your personnel do not need to have any technical training. The posting of all fee transactions into accounts happens automatically. It is an extremely quick student fee management program. Speed is crucial for fee collecting software since it processes hundreds of students' fees every day, just as at any school or institution. 
Have an EDTech Project Idea?
Contact our project managers to determine the best architecture and technology stack for your online education project.
Your Trusted Tech Partner!
We develop digital products that enable you to embrace innovation and unlock opportunities.
Talk To Our Experts
Subscribe
Newsletter
Get our latest blog posts, research reports, and thought leadership straight to your inbox.