Mobile App
How Much Does It Cost to Build a Car Rental App Like Ekar?
What Is Ekar App? An on-demand mobile app with features similar to car-sharing is called Ekar. Designed by the UAE-based Ekar LLC mobile app development company in Dubai, it offers…
10 March, 2023
5 minutes read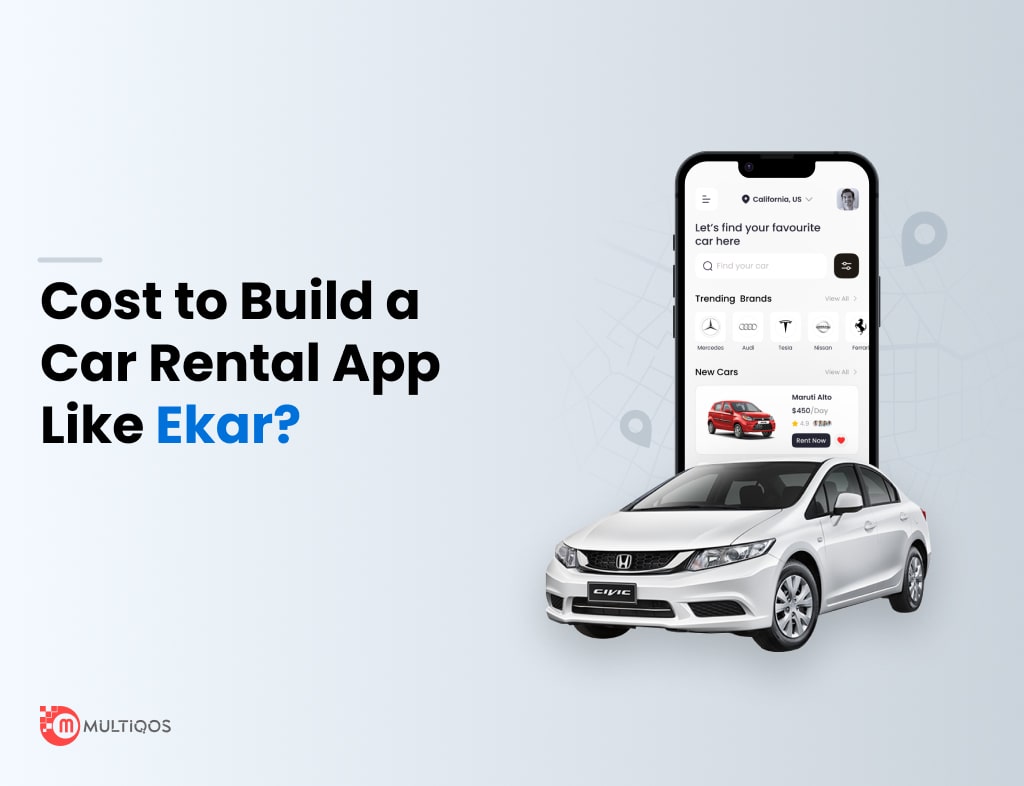 What Is Ekar App?
An on-demand mobile app with features similar to car-sharing is called Ekar. Designed by the UAE-based Ekar LLC mobile app development company in Dubai, it offers residents of the UAE a practical means of transportation. In essence, the software allows users to select an automobile from a selection of thousands with a few quick taps. Through the Ekar app, users may book, unlock, and pay.
Car Rental App Like Ekar Clone App is very easy to use. Users must first identify any nearby locations that provide automobile sharing. Next, reserve your self-driving vehicle for your needs and wait for delivery to your home or walk-in travel. Finally, unlock the car using the Ekar app.
How Does Ekar App Work – UAE Car Business Model
Ekar LLC, a self-drive mobility startup, developed a smartphone app in Dubai in 2015 to revolutionize how UAE citizens access transportation. The app quickly became the most popular automobile rental app in the Middle East and the United Arab Emirates, with over 500,000 customers nationwide. The app's leading drivers in the UAE's success are its user-friendly features, such as quick signup, free parking, easy online payments, ride updates and notifications on bookings, alerts on trips, etc. Ekar's services are now available outside of Dubai, allowing users with Android and iPhone smartphones in Riyadh, Dubai, Abu Dhabi, and Sharjah to quickly reserve a variety of rental automobiles. Creating Android/iPhone apps like Ekar would bring about excellent commercial benefits.
How to Develop a Car Rental App like Ekar?
Ekar-like Car Rental Application Development involves several steps. Please consider the following KPIs before making one for your company. 
Before developing a car rental mobile AI that performs similarly to Ekar, it is essential to establish your niche, assess your concept, and include crucial in-app features. Consider the general layout of a car-sharing rental app, then model your own after it.
You must carefully evaluate your target market, competition, legal concerns, speciality trends, and local factors when designing a car rental app similar to Ekar. Conduct thorough market research and analysis of the competition.
There is direct competition with top-tier companies like Ekar, Udrive, and eZhire since the market returns are highly astute and aggressive. Do thorough research on the tactics and procedures employed by your competitors. Making better plans and tactics and putting yourself in the right direction may both be done with this information.
With the features and technology stack they've selected, the application development partner can produce a minimally viable product with the necessary features and capabilities. Building a database, integrating APIs, and developing the backend are all tasks that may be taken to receive real-time user feedback and assess how well the app functions.
Based on the functions and success of the MVP product, the development team will work to generate the improved and final version of the application. The product may be enhanced based on examining the problems with the MVP at this stage.
Find an App Development Company
One of your first considerations should be selecting an On-demand app development company and How Much Does It Cost To Develop Ekar app and implement the same. There are several Mobile application development services to choose from. The success of your project will depend on how well they carry out their responsibilities.
How to Monetize a Car Rental Platform like Ekar?
Vehicle owners may list their automobiles on rental car applications. Service fees are given to app owners as a predetermined percentage of their revenue.
Car rentals may charge a nominal membership fee to provide their most valuable customers access to upgraded features, like other on-demand services. Conversely, automobile owners who promote the sharing of their vehicles may do so in return for a listing fee. Car owners with a more significant number of listed vehicles may be eligible for discounts and other exclusive offers.
Businesses can make money by leasing their vehicles to drivers hired via apps or renting them to users. When passengers pay for their trips, the corporation, the drivers, and other parties all profit.
Also Read: What is the estimated cost of developing a Waterless Car-Wash app?
How Much Does it Cost to Develop an App like Ekar?
The list of features and functionalities determines the construction cost of an Ekar car rental application. Additionally, to understand how much does it cost for Ekar, analyze the technology stack you select for making the Ekar clone app will affect the cost of developing a car rental app in the UAE. Further, the location, staff size, and hourly rate of the Ekar like Car Rental Application Development Company  you choose will significantly impact the price of developing a vehicle rental app like Ekar.
Ekar-like Car Rental Application Development in the UAE is expected to cost between $45,000 and $95,000. Depending on the complexity of your application and your business needs, the Cost To Develop A Car Rental App Like Ekar may fall within the projected ranges or exceed them. Don't be alarmed if the Ekar app development cost exceed $150.The cost of Ekar clone app development will increase if you include features like speech recognition, location monitoring, and in-app chatbots.
Factors Affecting the Car Rental App Development Cost
Real-time analytics: Cisco, Spark, Apple Flink, BigData, and Hadoop

Databases: Postgres, HBase, MongoDB, Cassandra, and MailChimp Integration

Voice, SMS, & Phone Verification: Twilio, Nexmo

Payments: PayPal, Stripe, Braintree, and e-Wallets

Cloud Environment: Azure, Google, and Amazon Web Services (AWS)

 Push Notifications: Twilio and Push.io

Team Structure
To know How Much Does It Cost To Develop A Car Rental App Like Ekar that works abd makes wonders for your business, you must collaborate with an experienced of Front-end development company. The company would have a team of managers, testers, and designers, in addition to competent and productive developers, who would apply the best product development techniques to turn your app idea into a reality.
The bare minimal team composition to create a successful car rental app would include the following:
 2-3 developers for iOS and Android

One UI/UX designer

One project director

 

Two QA experts

Location and Hourly Rates of the Hired App Development Company
The cost of an Ekar-like trending car rental application is impacted by the stark differences in hourly compensation among app developers worldwide. Employing Mobile App Developers might run between $150 and $250 per hour in the US but between $120 and $180 in Europe. The country's economy is the only variable influencing the price difference.
The features of a car rental app are a crucial component that considerably affects How Much Does It Cost To Develop an app Ekar. While having only a few fundamental features can reduce the Ekar clone App cost doing so is crucial to compete in the fierce vehicle rental market.
How can MultiQoS help in car Rental App Development?
The market for automobile rental apps is expanding at an unheard-of rate. You can now enter the market with a competitive mobile app when considering the automobile rental industry's existing and future market scenarios. MultiQoS is the right place if you're seeking a software business to create a car rental app similar to Ekar. With more than five years of experience in the field, they have the knowledge and tools to make your app idea a profitable reality. The MultiQoS team will guide and assist the process and create the most effective application for your company.
Frequently Asked Questions (FAQs)
FAQs on Car Rental App Development
There are numerous advantages to creating a car rental app for your company. In addition to making renting a car easier, it also makes ride details transparent, offers automatic rate calculations, and raises customer satisfaction.
For the safety of both customers and drivers, you can enable in-app calls and panic buttons, allowing them to contact managers immediately in case of an emergency without giving out their actual phone numbers. For a better user experience, make things accessible and create a comprehensive app.
The car rental app's revenue streams are derived from
The passenger pays for the journey.

Drivers are provided with commission fees.

Surge pricing may apply if a ride takes longer than expected due to weather, traffic, etc.

Through your advertisement, brands acquire customers, and you make money.
Do You Want to Develop Your Own On-Demand Car Rental App?
Our expertise lies in creating personalized and readily deployable mobile apps for car rental businesses worldwide.
Your Trusted Tech Partner!
We develop digital products that enable you to embrace innovation and unlock opportunities.
Talk To Our Experts
Subscribe
Newsletter
Get our latest blog posts, research reports, and thought leadership straight to your inbox.