Mobile App
How Much Does It Cost to Create a Waterless Car-Wash App in UAE?
Introduction Do you have any idea - What is a Waterless Car Wash App?  A waterless car wash business is a modern-day, efficient, and life-saving method to cope with water…
3 March, 2023
4 minutes read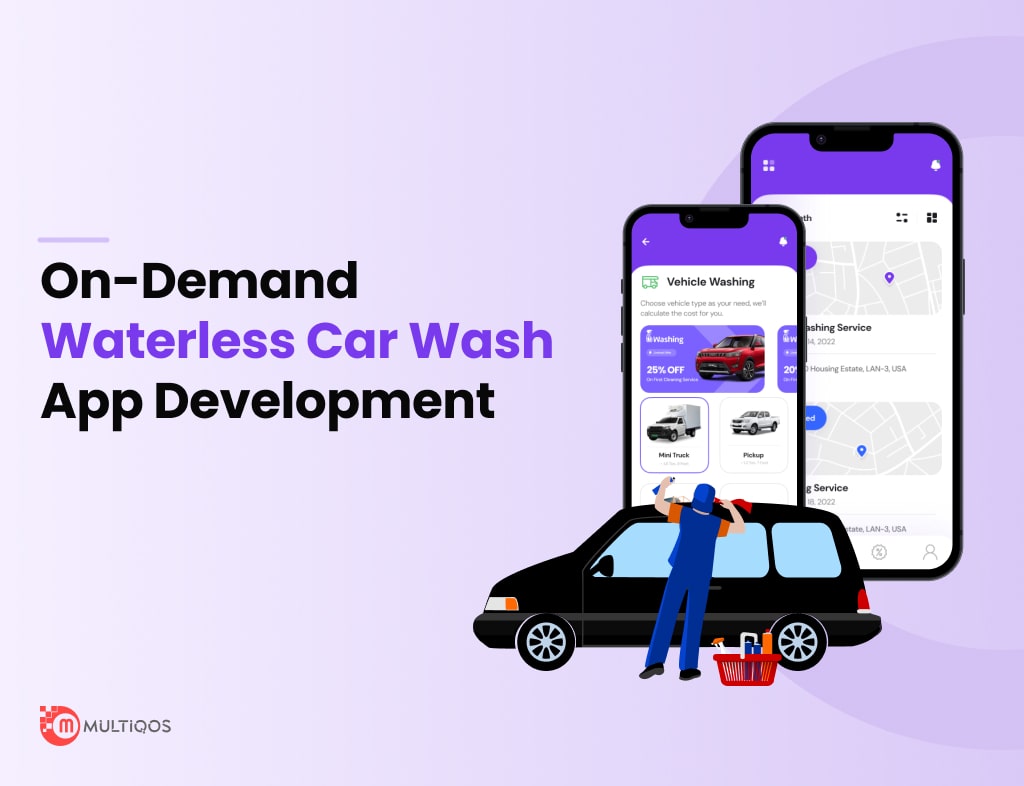 Introduction
Do you have any idea – What is a Waterless Car Wash App? 
A waterless car wash business is a modern-day, efficient, and life-saving method to cope with water scarcity. It's especially for nations with a scant water supply, such as gulf nations – UAE, Saudi Arabia, etc. The gulf nations are a better market for waterless car wash services. This is because they have a scarcity of water and cars are used in huge markets.
In addition, the statistics suggest that UAE, along with other middle-eastern nations, is the best candidate for Waterless Car wash applications. It is reported that residents of the UAE wash approximately thrice every month. Statistics suggest that the sale of cars in the UAE alone has also seen appreciable growth every passing year.
For every thousand people, more than 250 people will have a car in 2022 and around 200 in 2021.
How Does Waterless Car Wash Process Work?
Do you wish to create waterless car wash app?
As the name suggests, a waterless car wash app business uses the minimum amount of water possible for washing cars. But how does it work? Consequently, let's look at the workings of the waterless car wash process.
1. Spraying High-Lubricant Cleaners on the Car
First, highly lubricant car cleaners are sprayed over the car's entire body. After that, these cleaners react exceptionally to stains, dirt, and dust because of their lubricant feature. However, this way, all the easy-to-remove dust, and dirt are removed. Besides, if the problem is more prominent, you may have to find another solution.
2. Use of Microfibre Towel
All the wet and complicated dirt that keeps sticking to the Car is removed using Microfibre Towel. Also, microfibre towels are sound absorbent. They are made of very soft fabric, so they can easily absorb all the sticky dirt and do not harm the car's frame.
What are the Benefits of having a Waterless Car-Wash App?
With the initiation of a waterless car wash system, water pollution is reduced. Thereupon, a massive amount of water is saved from waste. In a nation like UAE, where water is already a big problem, that problem is a bit solved with the waterless car wash business.
In a water wash of cars, it takes much time since at first cleaners are applied. Then water is used to remove the cleanser. However, in the case of the Waterless Car-wash, it doesn't take more than 30 minutes because it is a more straightforward process where either high-lubricant cleaner or microfibre towels are used.

Protects Car from Damaging and Discoloring
Frequent water and jet spray can reduce the Car's body life. This is because over-frequent water use will start corroding the body of the car, and jet spray can harm the car's color. However, in the case of Waterless Car-wash, the execution is done efficiently, and it doesn't break the car's body in any way.
Reduces the cost of Car Wash
In water-scarce regions, water use is already costly, so it saves the cost of water. Besides, once polished with the high-lubricant car can run for a more extended period without asking for a wash.
What are the features of a Car Wash Mobile App?
Car location-sharing feature
Nowadays, On-Demand Car Wash App Development comes with a GPS option so you can always know where your car is. Thus, it keeps you safe from losing your vehicle, and you can also trust the Car washing agency.
Booking Technician and time-slot option
You can book the technicians just by checking their ratings. But the better the technician's rating, the higher their bookings will be. So, you can check their time slots and date availability, thus making your Car wash booking a stressful process.
Embedded Voice Calls and Chat Options
With the help of voice calls and chat options, the customers' privacy is protected. It also helps them to connect with the technicians, and if they wish to add any tips for them or have any other queries, these can be quickly sorted.
Also Read: How to Develop a Home Maintenance Service App like Fenni?
How Much Does It Cost to Develop a Car-Wash App in the UAE?
Are you planning to invest in the Car Wash App Development Process?
Besides, if you then wish to launch a Car-wash app in UAE, it might cost you approximately between ten thousand dollars to thirty-five thousand dollars. Each feature will cost you a different sum of money and, depending upon what technology you will use, will enhance the overall cost factor.
Let's look at the general features to estimate the Car Wash App Development Cost.
UI/UX Development

– It will cost $1200 – $3000 for the complete UI/UX development.

Front and Back-end Designing – Front and backend development will cost approximately $10000 to $12000.
Testing & Debugging

-Testing and Debugging charges are based on the number of hours. For 75 to 80 hours, it costs around $1800 to $3000.
As you add features, the cost of your waterless car wash Dubai app will also increase.
Further, there are other features as well that need to be added, such as push notifications. These also will have their price tag you may consider while investing in this on-demand car wash app development. So, it will cost you a maximum of $30000.
Why Choose MultiQoS for a Waterless Car Wash Business App?
You are at the ideal point if you opt for MultiQoS to get your Waterless Car Wash application designed. Because MultiQoS offers you a great portfolio related to on-Demand App Development Solutions. Additionally, they have experienced mobile app developers for all the required features, such as UI/UX development and front-end and back-end development.
The experienced team of this mobile app development company in UAE will deliver you the application that will be designed ahead of time. It will be equipped with all the additional features people might ask for in the future. Therefore, you should try MultiQos to develop your application that will stand different from others.
Wrapping Up!
The waterless car wash app business is a business that is going to keep booming. This is because of the increasing population and the higher demand for cars. It will save the earth from dying out of thirst. So, if you are investing in this business, go with it with a proper plan, workplace, and application. If you pay attention to all these things, your investment will yield very high returns.
Frequently Asked Questions (FAQs)
FAQs for Waterless Car-Wash Application
If you are looking for waterless washing, start with the most demanding cars on the road. This will give you the best return.
You can wash your car after more than a month if you opt for a waterless wash.
Want to develop an on-demand app for your business?
With our on-demand app development services, we help your business reach out to customers.
Your Trusted Tech Partner!
We develop digital products that enable you to embrace innovation and unlock opportunities.
Talk To Our Experts
Subscribe
Newsletter
Get our latest blog posts, research reports, and thought leadership straight to your inbox.