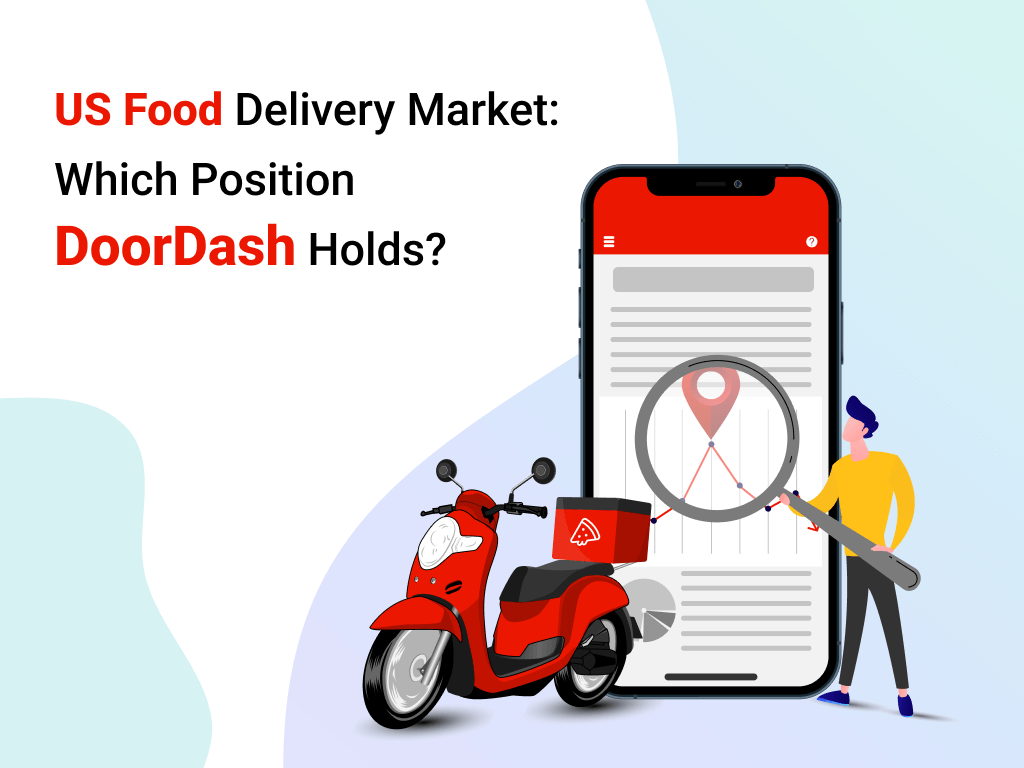 Work Culture
US Food Delivery Market: Which Position DoorDash Holds?
Introduction The year 2020 has changed eating habits drastically. Indeed, modern technology solutions and increasing penetration of mobile application development services have changed people's lifestyles, and now they want instant…
Prashant Pujara
---
Introduction
The year 2020 has changed eating habits drastically. Indeed, modern technology solutions and increasing penetration of mobile application development services have changed people's lifestyles, and now they want instant gratification for everything, but the sudden corona outbreak has added fuel and compelled customers to go online and order food using websites and apps have become a norm.
The restaurant industry has undergone a significant revolution over recent years, from online ordering and takeaway to social media presence and cloud kitchen. Customers now no need to visit restaurants physically to change their taste buds as using websites and apps, they can place the order and get them delivered at their doorsteps in no time.
The growth rate of online food ordering and restaurant takeaway has increased over the past few years. And this trend is not about the specific region but impacting the global restaurant industry. For example, uberEats, Zomato, Postamtes, DoorDash, etc., are developed by Android or iOS developers. They are popular food delivery apps that connect customers with restaurants and get food in less than an hour.
And if we talk about the USA online food delivery market, the sector is significantly contributing to the growth of the US market. The North American food delivery market is bolstered by the applications such as UberEats, DoorDash, GrubHub, Postamates, etc. Other factors positively influencing the market growth include a hectic schedule and a shortage of domestic help in urban areas.
This blog will go through some critical US food delivery statistics and where DoorDash stands in this list.
USA Food Delivery Market – Industry Overview
The global online food delivery market projected to be about $113 billion in 2020 is one of the rising industries growing at a double-digit compound annual growth rate. Undoubtedly, the online food delivery business was growing, but the pandemic has accelerated this growth, and we witnessed some exciting facts regarding online food ordering.
Along with online food delivery, the propensity to make the online payment has also increased instead of cash.
USA Food Delivery Penetration to Rising From 9% to 21% in 2025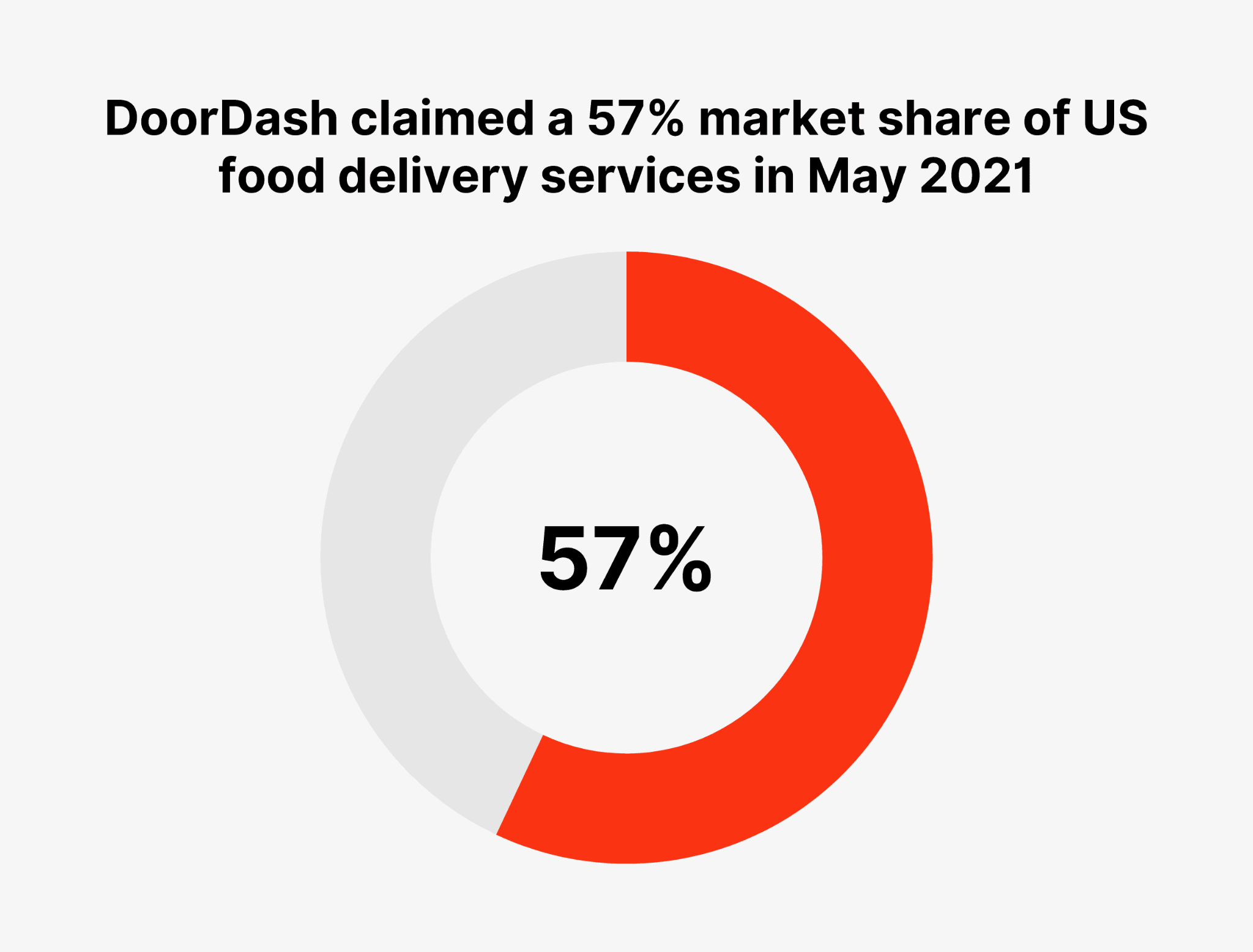 Source: Backlinko
The USA is the world's second-largest food delivery market, and it is estimated to grow by 7.4% in 2021. And this growth would push the online food delivery revenue for the year to $28.49 billion.
According to the study conducted by Morgan Stanley, the USA online food delivery penetration rate was at 9% in 2019 before the pandemic, but it reached 20% in 2020 and could go as high as 23% by 2025.
UberEats, DoorDash, and GrubHub are top players and dominate the US food delivery market. According to Statista, these three delivery apps held a 70% market share in 2018.
Among these three delivery apps, DoorDash was in the lead with a 45% market share, according to Business of Apps. Whereas UberEats consists of a 30% market share and GrubHub has less than 20%.
There are many food delivery apps in the USA but the above figures show that DoorDash stands first and continually serves delicious food to millions of people.
Still not convinced? Let's go through some jaw-dropping statistics that will demonstrate the popularity of DoorDash in the USA food delivery market by top app development company in USA.
DoorDash: Definition, Usage Statistics and More
DoorDash is a mobile app that connects customers with restaurants and allows them to browse the digital menus, place an online order, make payment, and get the order delivered at their doorsteps in the least possible time.
Initially launched in California, DoorDash operates in more than 4000 cities, and it is a publicly-traded company. It would not be wrong to say that Doordash is powering the USA on-demand food delivery market and enticing entrepreneurs to join the race by developing food delivery apps like Doordash as it holds the capabilities to double up revenue and give the desired results.
Now continue reading and find the interesting statistics about the DoorDash.
DoorDash is the most popular food delivery app across the United States.
The company claims 75% market share across the US and operates in three other nationalities, including Japan, Canada, and Australia.
To date, the platform boasts 20 million active users and processed $9.9 billion in gross order value in the first quarter of 2021.
Monthly, more than 20 million consumers use DoorDash to place an online food order.
It has kept a steady footing in the delivery market, as it went from Palo Alto Delivery to DoorDash. A billion-dollar publicly-traded company was probably not at the forefront of the creators' vision for Palo Alto Delivery. But hard work, vision, and the pandemic have created their strong feet in the food delivery market by hire android app developers.
Summary
DoorDash has proved itself in the food delivery market by gaining market share and maintaining a consistent revenue growth track record. However, the meal delivery sector is highly competitive, but it would not be wrong to say that DoorDash will sustain its growth by introducing innovative features and services.
Let's Create Big Stories Together
Mobile is in our nerves. We don't just build apps, we create brand. Choosing us will be your best decision.
Build Your Team
Book a Consultation Now!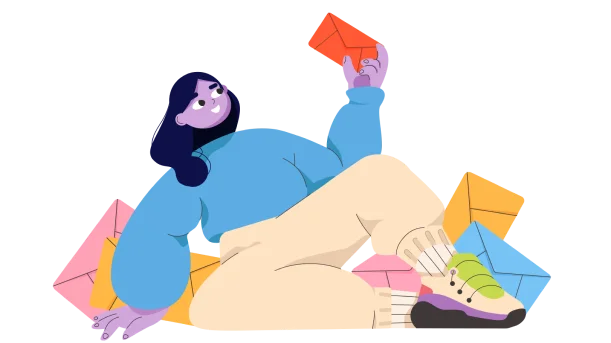 Don't Miss Out!
Your Inbox's New Best Friend. Subscribe Now and Never Miss a Beat!