Mobile App
How to Start an Online Shoe Store Business: A Complete Guide
Introduction Footwear is an essential commodity of human life. Not only is it a necessity, but it has also become an item of fashion. People buy footwear almost every day…
23 December, 2022
6 minutes read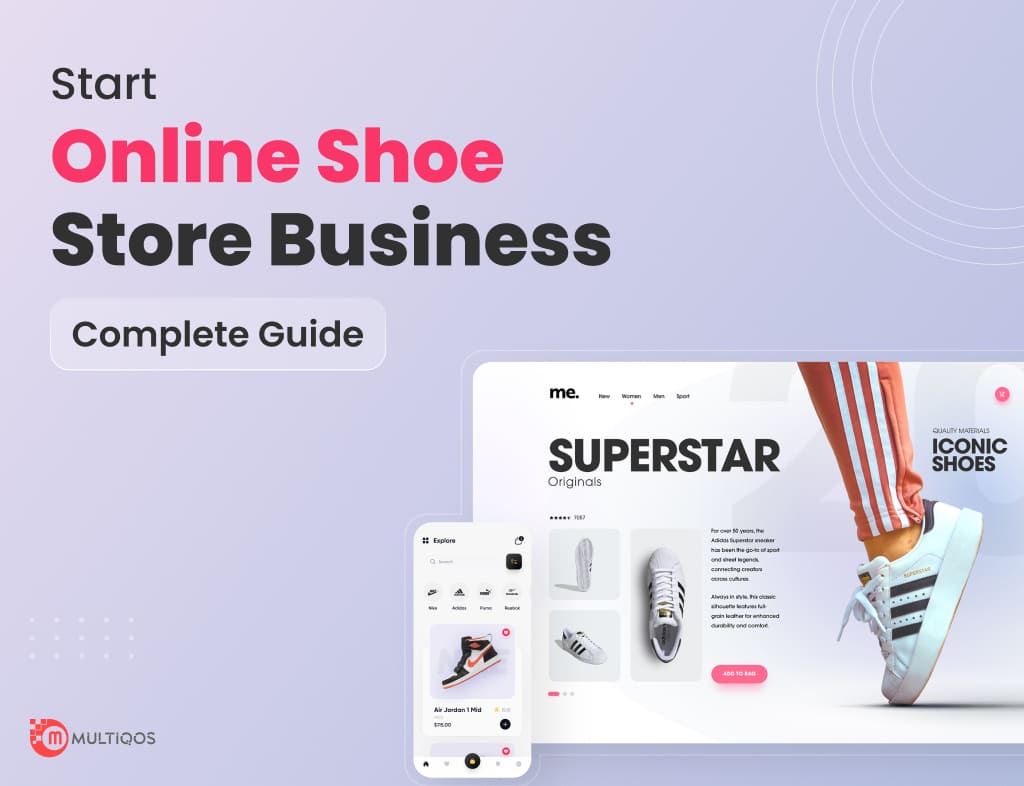 Introduction
Footwear is an essential commodity of human life. Not only is it a necessity, but it has also become an item of fashion. People buy footwear almost every day globally. The footwear industry is one such industry that is evergreen. It is forecasted that by 2025, its global revenue will be about 138 million dollars. So, the footwear business in the current market is highly profitable.
One can either set up a physical store or can sell online. One can create an individual website or go for a Marketplace Application to sell online. The marketplace app development company in India acquires many sellers and buyers with its apps. In this modern era, one can boost their business just by taking their business on the internet by building a commercial website, customer-friendly policies, and comfortable and fashionable shoes.
Moreover, the Marketplace App Development Solutions helps one to create such applications with various B2B, B2C, and C2C clients, thus boosting one's business. Here's a complete guide:
Latest Trends in the Footwear Market
For a successful custom mobile marketplace development in the footwear industry, it is crucial to keep an eye on the latest trend in the market. Also, you must know the taste of your target audience in footwear.
Then again, a question arises: why is it necessary to know about the latest trends?
To answer that, let's take a look at the lives of the people of Arab and the people of the Indian Subcontinent. The Arab world lives an extravagant life and always looks for luxurious things, so it is necessary for a footwear business to sell elegant footwear to make more revenue.
But on the other hand, the Indian Subcontinent requires all kinds of shoes, luxurious and economical. In that case, one must make sure they have economical shoes. These minor differences can make or break a business, so always research before you start with your Fashion ECommerce App Development.
Different Trendy Footwear of the Day
Sneakers

– Sneakers are one of the favorites of youngsters and teenagers. One of the advantages of sneakers is that most sneakers are unisexual and can be worn by men and women.

Oxfords

– Oxford is a type of shoe that goes best with suits and formal dresses. So people going to work mostly prefer formal dresses and oxford shoes.

Loafers

– Nowadays, youngsters have started to take a liking to Loafers. It looks good and comes in different colors, thus having a wide range of choices.
People nowadays look for elegant, stylish, and comfortable shoes. So whichever type of shoes provides all three of them, people go after that. So make sure you go with the trend.
Why Should You Sell Shoes Online?
But is it really profitable to sell shoes on the internet being a Fashion App Development Company? Isn't it risky to do business over the internet? Isn't fraud crimes high when it comes to online business?
It is time to break all the stereotypes regarding eCommerce app development companies in India. Indeed online business is precarious, but only when done without proper policies or strategies. Otherwise, online business is safe, profitable, easy to manage, and helps widen the range.
Various other reasons to sell shoes and provide eCommerce Mobile App Development Services are:
Shoes are an all-time requirement of humans. Earth's population is eight billion, so one can imagine the demand for shoes and how profitable the shoe business can become.

Shoes have a wide range. There are different types of shoes designed for other occasions. These different shoes again have different colors and different designs, so one can have to decide their niche and start selling.

One more advantage and reason you should sell online is that you can buy shoes from wholesalers, suppliers, or manufacturers. So, you don't need to set up an entire facility and invest all your fortunes.
Also Read: Top Ecommerce Apps That Can Revolutionize Your Business
How to Start an Online Shoe Business?
Are you convinced by the idea of an online shoe business? Do you wish to go forward with it and don't know how to start a shoe store online and where to begin? In that case, look into the following steps:
Run thorough Market Research
Before buying the stock of shoes, you need to decide your target audience and accordingly know their taste and what people in your region are looking for. If you conduct the research thoroughly, you will get an idea of the shoes you need to stock.
To investigate the current market trends, you can follow the following methods,
Looking into various marketplace apps and e-commerce websites and knowing what they sell and what people like and buy more. This way, you will get an approximate idea of their likings. Then you will also be able to find out the price range of the general masses and would be able to plan accordingly.

Then, you can start an online survey and spread it among your targeted audience to know their taste and price ranges; thus, you can prepare likewise.

Lastly, you can also take help from google or another web browser that provides various marketing tools such as Google Analytics, SEM, or SEO.

Getting the Shoe Stocks from the Right Place

Once you get a complete idea about the market, you will have to get the item from which you will sell for profit, i.e., shoes. So you will have to conduct research again. You must start comparing prices and the quality of products by different wholesalers and manufacturers.
Also, it would be best if you considered other costs, such as you get the stock for as minimum price and better quality as possible. So, you can get shoes from different places; let's look into the options.
The first and best option is to get shoes from the manufacturer as they will come first-hand and at a very economical cost, thus making you eligible to compete in the market. But if you are buying from the manufacturer, you will have to buy a considerable lot of stock which will cost you a colossal capital; thus, it isn't a wise choice for newcomers to start big.
If not manufacturers, can we go to the wholesaler? Yes, you can go to the wholesaler and buy a small lot of stock. But again, it is a good option for those who fully devote themselves to this business and have space to store the shoes.
What if we look for an online shoe business as a source of side income? In that case, where will I have to go? Then you can ask the retailers to drop-ship your orders where you are selling the shoes, and your supplier is shipping it to your customer's location.
If you are an artist looking for a way to earn, you can start customizing the shoes by sending your design to the shoe printing facilities and selling shoes with your trademark.
Lastly, you will have to decide how to sell online. There are three options to do that.
As the name suggests, a marketplace has many stores with different products. There are many marketplace applications, including eBay, Amazon, etc. So, take amazon as an example. If someone searches for a pair of shoes and your product comes up and, if found suitable, is sold.
So, though there are many options for buyers, sellers also get a higher audience, thus creating a better chance of your product getting discovered and sold. Nowadays, there are a lot of Marketplace app development companies in India, so if one wishes to get high traffic, then one can contact Ecommerce Mobile App Developers and get their work done.
An E-commerce platform is used to develop an e-commerce website and application. A good thing about an E-commerce platform is that it provides features that can help build the site quickly, even if one doesn't know much about coding. There is various fashion E-commerce mobile app development company in india such as Shopify, Dukaan, etc.
It gives you the freedom to lay down your policy, but it has less possibility of getting discovered. Once you get found and earn the trust of customers, then there is no looking back.
Also Read:Top Mobile App Ideas That Will Inspire You In 2023
How to Make Your Shoe App Store Successful?
If you want to see your shoe app store succeed, then you must lay down a plan. Let's look into the structure of the plan.
Create a marketing strategy

Allot a capital amount

Set up target sales

Opt for planning offers and discounts and then set them into motion
Wrapping Up!
With all the bits and pieces of suggestion, you would have a rough idea about the footwear industry, and you might be ready to start your venture. The time is now to create a shoe business, as the predicted footwear industry market will grow. But make sure that you strategize well and keep your capital strong.
Frequently Asked Questions (FAQs)
FAQs on Shoe Fashion Store App Development
To start a business on Amazon, you will have to make an account on Amazon business, and you will also have to provide the GST number to do business on Amazon India.
Yes, nowadays, there is a new trend of reselling Nike shoes. There is much business emerging in this field.
It depends on you. The marketplace app is suitable for those who want to play safe, but an E-commerce platform is a better option for those who want to make it an independent business.
Want to Develop a Top-Notch Footwear Shopping App?
Turn Your Ideas a Reality with a Top-Rated App Development Company.
Your Trusted Tech Partner!
We develop digital products that enable you to embrace innovation and unlock opportunities.
Talk To Our Experts
Subscribe
Newsletter
Get our latest blog posts, research reports, and thought leadership straight to your inbox.