Industries
Top Trending Fitness App Ideas for a Successful Startup in 2023
Introduction Mobile apps are where it's at in the information technology business and for the foreseeable future. It doesn't take a genius to figure out that mobile applications are where…
4 November, 2022
5 minutes read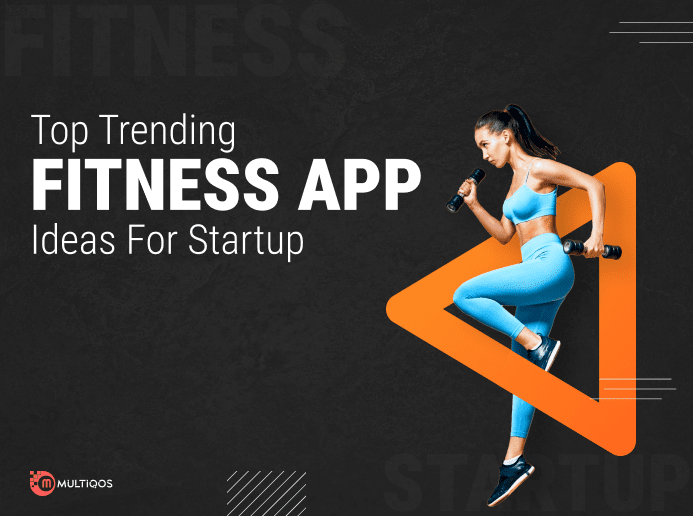 Introduction
Mobile apps are where it's at in the information technology business and for the foreseeable future. It doesn't take a genius to figure out that mobile applications are where it is at. Because it enables them to have an open line of contact with the clients most suited for their business, companies of all sizes are rapidly entering the world of mobile applications. According to projections, there will be 6.6 billion smartphone users all over the world by the year 2022. Additionally, between the years 2020 and 2023, it is anticipated that yearly global sales of fitness app development company will rise by at least $100 billion.
It is not easy to conceive of a winning app idea that can be turned into a profitable business and sold for millions of dollars. In today's competitive market, just using health and fitness app development is essential to your company's success, and having the right mobile app may do wonders for your business. Your ideal clients may have an easier time finding what they want with the assistance of a mobile app built just for them, and your company may provide them personalized attention as a result.
Wellness & Fitness Industry Market Overview
Not just sports and fitness enthusiasts make use of mobile apps; there are a lot of other kinds of people who do so. Fitness application development provides the most effective means for fitness trainers, individuals, and nutritionists to track their health and fitness goals and progress. Mobile devices have evolved into an essential component of everyone's day-to-day lives as a direct result of the emergence of apps specifically devoted to sports. 
CBS News reports that 56 percent of people in the United States are interested in sports and fitness mobile app development. Fifty percent of the people living on our planet like participating in some kind of athletic activity. Every day, around half an hour is spent on various sports applications.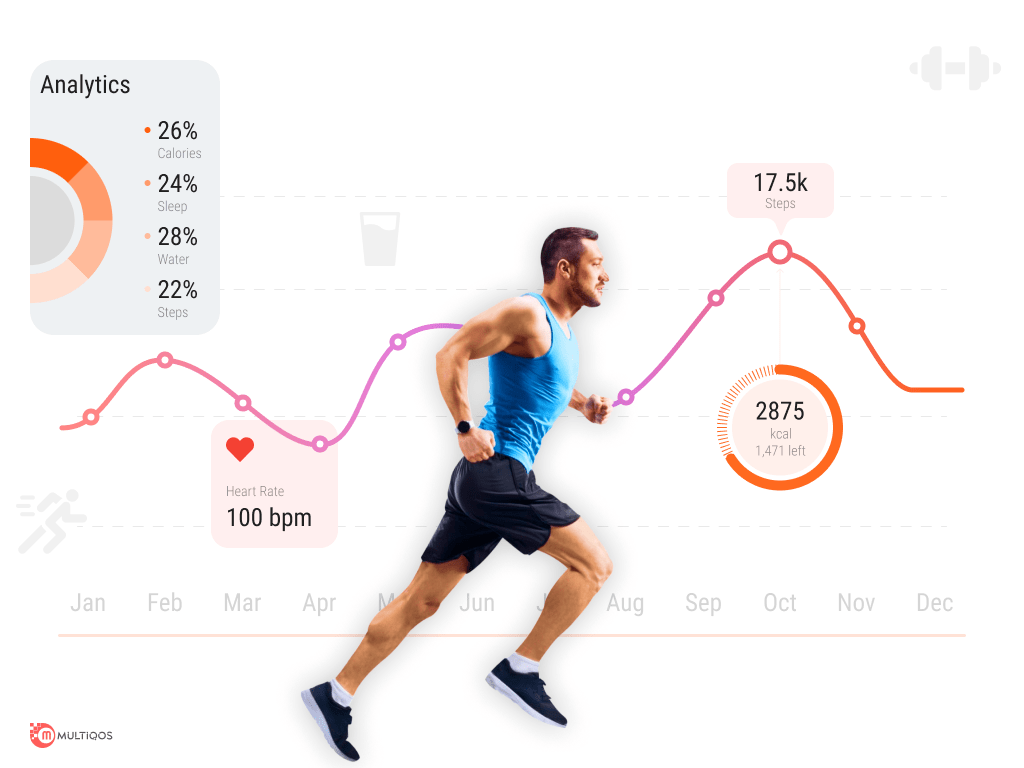 According to projections, the global market for Fitness Solutions applications is anticipated to have robust growth between 2019 and 2027. The market expansion may be directly attributable to the fact that people are becoming more receptive to adopting better lifestyles, adopting smartphones, and having quick access to sports apps. It is estimated that by the year 2027, the market for sports on a worldwide scale will have a value of USD 17,436.4 million.
According to projections, the sports business would have had 2,033.9 million downloads by 2022. It's possible that by 2022, the paid app market for the sports business will be worth $188 million.
Also Read: The Ultimate Guide To Sports App Development Solutions
Inspiring Examples for Fitness and Wellness App for Startups & Enterprises
Connected fitness apps are helping to bring the realms of technology and exercise closer together. Users may experience something similar to going to the gym without having to leave the comfort of their homes. Linked fitness apps are made better by the Internet of Things (IoT), machine learning (ML), and artificial intelligence (AI). 
People have been increasingly resorting to programs and workout gear linked to the internet throughout this outbreak. According to research, the market for exercise machines linked to the internet was estimated to be worth $3.8 billion in 2021. It is anticipated that this market will have significant growth and a decrease in fitness app development cost in 2023.
On-Demand App Development Company has made it possible to do portable workouts in a very convenient manner. Consumers have more opportunities than ever to exercise in various settings, including at home, at conventional fitness centres, or in some mix of the two.
There are many different uses for AI by Mobile App Development Company. Apps in the fitness industry powered by artificial intelligence (AI) provide several benefits to their users, including a more individualized training experience, increased levels of pleasure and engagement, the ability to work out from the convenience of one's own home, and other similar benefits. Video assistants driven by artificial intelligence may take over the function of personal trainers and modify your exercise regimen without you having to do anything.

If you want to get the most out of your workouts and see actual progress, downloading a customized build fitness tracker app might be a big help. Even for great athletes, it may be tough to plan workouts, vary daily training, and build the physique of one's desires. This is why personal fitness apps, which link users with qualified fitness trainers, are so beneficial. Personal fitness apps and fitness tracker app development connect users with certified fitness trainers.
Meditation and Mindfulness Apps
There is evidence that apps that promote meditation and mindfulness may benefit stress and anxiety levels, as well as concentration and sleep. During the time of the epidemic, the research found a large increase in the number of people using meditation and mindfulness apps.
Want to Start a Fitness & Wellness Startup?
It is excellent that your app store provides access to a plethora of apps pertaining to health, fitness, and physical activity. When searching for an app and fitness app name ideas relevant to your health, the best place to start is by compiling a list of the precise aspects you would want the app to focus on. Alternately, if you are looking for a highly specialized app, such as one that can assist you in managing your diabetes or ensuring that you take your meds as prescribed. In that case, you may need to narrow the scope of your search for Mobile App Developers. 
Inquire about fitness app ideas, the app's usefulness, the quality of the expected user experience, and any difficulties or complaints they may have had with other apps. Before developing any app or fitness tracking app ideas for wearable devices, make sure you have researched and read any available reviews. You can pick the app that best suits your needs using your ideas and information.
Also Read: How Much Does it Cost to Make a Fitness App from Scratch in 2023?
MultiQoS Expertise in Fitness App Development
Although there are no concrete rules or recommendations to build a fitness tracker app that is effective, several elements may be used to boost the number of people who download and use your app. MultiQoS has been in the business of developing mobile applications for more than a decade, and our fitness app developers can assist you in bringing your idea for an app to fruition. You are more than welcome to contact us so we can set up a meeting and discuss your goals.
Conclusion
Web and mobile app platforms are attracting more and more enterprises with their ideas for promoting fitness apps. The notion of creating a smartphone app for sports fans looks like it may be worth a billion dollars. You may create a sports app if you are a company owner.
The most recent sports industry trends we've covered above will help you provide your consumers with the best possible fitness app ideas 2023 for sports and gaming experiences. In addition, companies may experiment with the concepts mentioned above and provide their customers with a premium service by creating a sports app with advanced capabilities. Your existing app may also benefit from these suggestions.
Frequently Asked Questions (FAQs)
FAQ About Fitness App Ideas
As a consequence of the global lockdown, fewer individuals were able to go to the gym before or after work, leading to a sharp spike in the number of people signing up for online fitness applications that can be used to exercise at home and plan trips to the gym for when restrictions are released.
The first step for most new businesses, big or small, is to create an app for one of the popular operating systems. Before starting development, you should do extensive market research to determine who will use your app. At that point, you may start thinking about assembling a stellar development team or contracting out part of the work involved in the pre-and post-launch phases to an outsourcing firm.
There are three primary categories of fitness ideas app, each with its own unique data processing and storage mechanisms:
Mobile applications for working out

Applications for monitoring dietary intake

Smartphone applications that monitor physical activity
Want to Develop a Custom Fitness App?
Providing flexible schedules, thorough reporting, and progress tracking is our focus.
Your Trusted Tech Partner!
We develop digital products that enable you to embrace innovation and unlock opportunities.
Talk To Our Experts
Subscribe
Newsletter
Get our latest blog posts, research reports, and thought leadership straight to your inbox.