Industries
9 Hottest Social Networking App Ideas for startups in 2023
Introduction Social media applications are today's most popular and widely used applications.Social network app development has drastically changed many people's lives and made them more manageable. Like other applications, social…
7 November, 2022
5 minutes read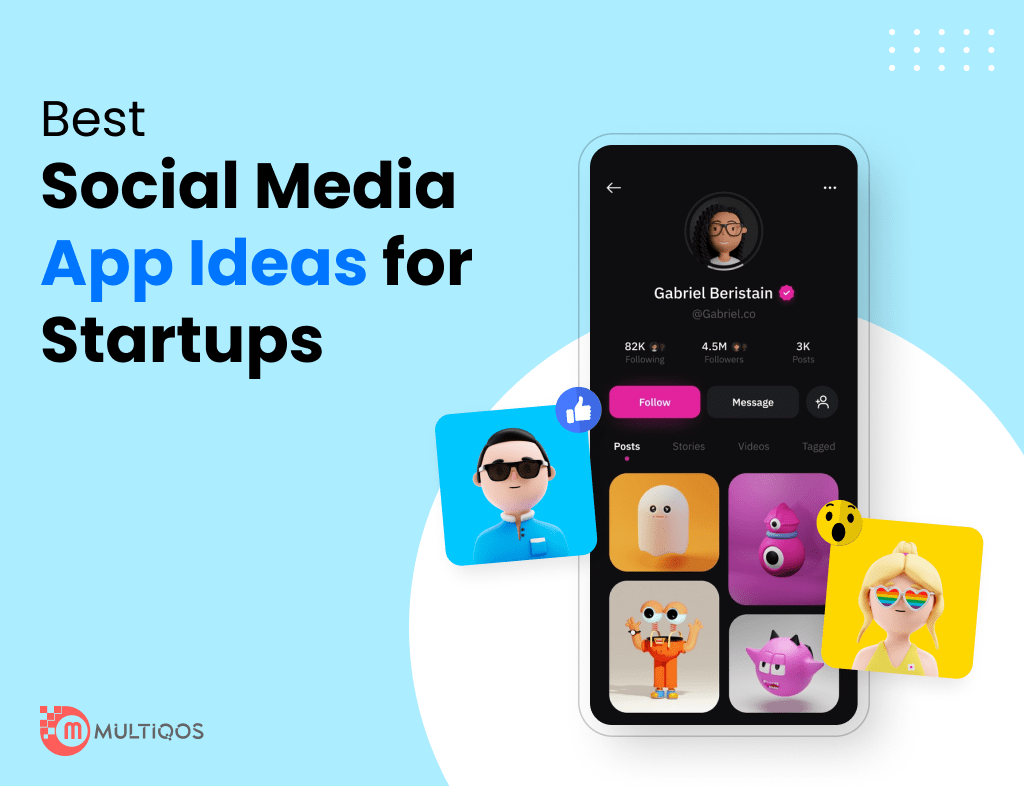 Introduction
Social media applications are today's most popular and widely used applications.Social network app development has drastically changed many people's lives and made them more manageable. Like other applications, social media applications also have positive and negative outcomes. These apps were popular, but the craze for using those increased during the pandemic. People of all ages were engaged in their phones because of their unique UI/UX design, attractive features, and benefits. 
Almost all the social media app development companies are using this opportunity to grow in the market. They are trying to figure out the main attraction of the social media apps like Instagram, Snapchat, Snapchat Plus with planet order additional features so that they can use them and create their application with additional features to get the public's attention and time. As the latest technologies and trends are evolving rapidly, users expect more exciting features from the application 
Developers are working hard to create the latest application that includes all the exciting features. If you also own a startup company, you can easily compete with the market by launching your social media startup. This blog will discuss a few best social media networking app ideas. 
The Growth of Social Media Networking
Following up on the latest news, it is evident that social media applications are climbing up the growth stairs with consistent steps. Moreover, the pandemic has increased the usage of social media applications. 
Social media apps play a vital role in our lives because of the exciting benefits and usage offered by the social media app development company. Nowadays, social media applications are not just used to connect people but also to advertise the commercial offering, skills of knowledgeable people, etc.  
Social media app developers need to create features based on their target market, and they also need to provide additional benefits so that people choose their social media startup among so many applications. 
Before you create a social media app, you need to focus on many factors that include
Cost of developing the app

Availability of your social media app on both iOS and android

Target market
Best Social Media Networking App Ideas
According to the reports, it has been seen that 90% of the population uses social media and 70% of the mobile app development company use social media platforms for marketing. With the increasing market, there are certain things that you need to keep in mind.
Rather than following the current trends, focus on your target market. Once you understand their needs, you will know what kind of platform and content you should pay attention to. 
These are the first and the most famous types of apps available in the market. We all know that people love connecting with friends and family and exploring the entire feed. Apps like Twitter and Facebook are known for creating personal connections.
In contrast, LinkedIn is mainly used to create a professional life as skilled professionals can connect in just a few clicks. We all remember what Mark Zuckerberg said: In general, every one of us is a part of the social network. These social media applications can be used in many positive ways:
Help you connect many individuals

Helps you in creating a blasting professional life

You can also promote your brand by using these social media platforms.
Media sharing networks captured the entire world in just a few years. They owe their approval to one simple fact; young people choose media over written content. Unfortunately, they love sharing the media file if it is interesting and doesn't like delaying it. Some media-sharing networks that broke all the bars and took this network to a different level include Instagram, YouTube, and TikTok. 
Keeping many factors in mind, almost all the countries have banned the usage of Tik Tok; on the other hand, people earn money through YouTube and Instagram. If you plan to create a media sharing network, you must connect with iOS app development and Android App development to increase your reach quickly.
Discussion and Community Forum
If you are the one who thinks that the forum where the community discusses various issues and share their experience is no longer available, then we are sorry to say that you are in the wrong direction. Just prefer looking at the great variety of topics on Quora or Reddit.
These platforms are probably the best way to interact with others and educate them about various things. These types of apps fall under the category of on-demand app Development Company. You can prefer starting a startup on this as it can help you earn more profit in the short run.

Network for Consumer Review
You must be familiar with customer reviews if you're involved in a resort or restaurant business. A few famous networks for customer review include Tripadvisor, Yelp od, etc. You can expect a better marketplace and a profitable business by asking your clients to fill up the feedback form.
On the other hand, due to the increased workload, it is not always possible for the owner to ask the user to fill up the form. You can use the help of mobile app developers to create an application for customer review. 
The journal-like basic page has become a very trustworthy and popular media platform. These days, blogs come from famous and well-respected platforms like Tumblr and mediums. On these platforms, you can find various topics and search for your topic on the search bar.
Adding these features to your startup can benefit you in many ways. You can also follow the latest trend made by on-demand app development to gather knowledge on things to do.
Anonymous Social Networks
A wide group of people loves staying anonymous while texting someone. These networking sites are usually famous among teenagers and youngsters. If you plan to create a social media startup whose target audience is youngsters or teens, then you should create a network called Whisper, After school, etc.
When creating this app, you must be very careful with your security and ensure that no one uses your app to harm anyone's feelings.
Also Read: Healthcare App Ideas for Startups in 2023
Nowadays, many people are using these social media platforms to search for a partner for themselves, and the report says that it has been seen that youngsters are searching for some great relationship apps.
Suppose you plan to open a startup that will allow people to connect, mostly in a romantic manner. Then you should prefer taking social media app design ideas from popular apps like Badoo, Bumble, Tinder, etc.
We all know that youngsters are not interested in watching TV as they get all the necessary information on their phone. You can find many news apps that will inform you about the latest and current events.
Apps like inshort have created a massive market in this field, so you can use the social media apps ideas shared by their developers to understand what mistakes you should avoid.
There was a time when these apps used to be very famous. These apps used to allow their users to communicate via text call, and they also used to allow them to share files such as audio and video.
Some of the popular messenger apps include Telegram, WhatsApp, etc. These apps can help you capture the market as these apps fall under the category of on-demand app ideas for a startup.
Wrapping Up!
It is tough to answer the most popular social media apps, as all the apps are doing great in their field. We all know that social media is the key to success in today's world and can make or break a brand. If you're planning to build a startup, follow the above-given new social media app ideas startups to grow faster. You must follow a few terms, so it doesn't harm humankind. You can study the social networking app ideas to create a blasting startup that will blow up everyone's mind.
Frequently Asked Questions (FAQs)
FAQs About Social Media App Ideas
According to the reports, more than 3.81 billion people use social media platforms; 48% of the population uses social media platforms to stay connected. So, developing an excellent social media app can create a boom in the market.
Considering all the factors and calculations, Instagram is among the highest growing and most used social media startups. However, the development of TikTok broke all the bars as it gained popularity in just two years.
You need to follow many terms while developing a social media platform. You need to figure out your target audience, and if your apps have some exciting features, then no one will compete with you in the market.
The cost of developing a social media startup depends on the features and user interface you offer clients. You can still browse the internet to get an average value.
Looking for Social Media App Developer?
We Provide a Highly Skilled Social Media Application Developer Team to Ensure the Success of Your Project in the Market.
Your Trusted Tech Partner!
We develop digital products that enable you to embrace innovation and unlock opportunities.
Talk To Our Experts
Subscribe
Newsletter
Get our latest blog posts, research reports, and thought leadership straight to your inbox.