eCommerce
The Storming Role of Big Data in Retail and Ecommerce Industry.
Introduction The amount of data produced each day shows a significant increase in volume, which has become rather challenging for businesses to keep track of. And one of the major…
25 November, 2022
5 minutes read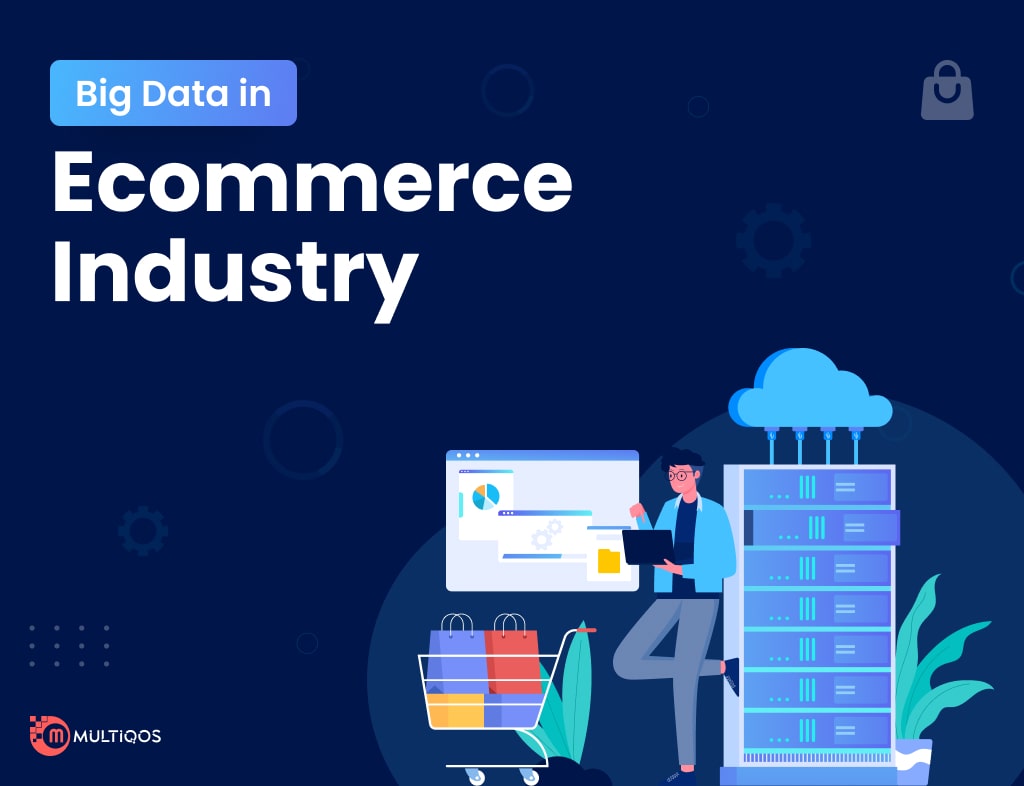 Introduction
The amount of data produced each day shows a significant increase in volume, which has become rather challenging for businesses to keep track of. And one of the major sectors which have shown an insane volume in the rise of data is the retail and eCommerce industry. That is why businesses hailing from these industries want to try the latest process of big data analytics in eCommerce.
Big data is said to be the future of the eCommerce industry, as portrayed by various businesses looking to implement its service in their mode of conduct. Hence, if you have a limited number of ideas about big data and are curious to know about it better, then here in this article, we have discussed the importance of data analytics in eCommerce.
What is Big Data In eCommerce?
Big data allows all eCommerce companies to improve their decision-making tactics and gain an edge over the market competitors and other operations going through the company. Additionally, it helps predict the behavioral pattern of the customers interested in your company and analyze different ways of keeping them engaged throughout.
The 3Vs present significant data volume, velocity, and variety making data analysis and interpretation of eCommerce more convenient and impactful. It allows access to all sorts of customer preferences, experiences, transactions, and industry competitiveness more easily understood.
Even though the different ample data resources are becoming more and more useful as each day passes, still, some e-commerce companies need help controlling the massive amount of data produced daily. The tools offered in big data allow businesses to create discounted coupons, carry out a predictive analysis, and target audiences seamlessly.
Also Read: D2C: A Guide to Direct-To-Consumer eCommerce Business Models
How To Use Big Data to Predict Trends and Forecast Demand?
The extensive data resources the businesses collect, if used correctly, would greatly help them in the long run. Conducting thorough research and analyzing them will help you understand the immense impact of big data on an eCommerce business.
Let us look at the different ways through which it can predict recent trends and forecast demands accordingly: –
Providing Users with a Seamless Shopping Experience
Big data's first and foremost role of big data in eCommerce is crucial in providing users with a rich shopping experience. Using big data, eCommerce companies in the sector understand their customers broadly and efficiently, depending upon the actual expectations of the customer's needs and requirements.
One of the most common instances where big data would help you is planning the best way to deliver your products effectively. The proper analysis of extensive data resources by various companies could help you know the net promoter score and read the surveys and customer reviews of the different people engaging with your website.
Creating a Better Personalization Mechanism
One of the biggest marketing trends that many eCommerce companies have followed is a mechanism of better personalization and advertising to the target customers. Those marketers who understand the importance of big data analytics in eCommerce are said to have a better virtue about the personalization experiences for delivering target advertisements efficiently.
Suppose you are looking for ways to grow your business, then you can definitely have a shot towards it through big data techniques. Using the effective personalization mechanism, eCommerce professionals can get information about customer browser requests, allowing them to create marketing campaigns more effectively for customer profitability.

Predicting the Customer's Buying Nature
When it comes to predicting the nature of customers' buying preferences, no other artificial intelligence method can do it more efficiently than big data. Through predictive algorithms, big data can have all B2B eCommerce solutions for tracking every piece of customer information.
It includes their personal information like contact details and the income bracket they fall into. These methods will help better understand customer preferences and know which products are to be marketed towards them.
Moreover, eCommerce professionals can better understand predictive lead scoring using big data tools. Through predictive lead scoring, marketplace app development would know beforehand if the prospects provided by the company are valid or not.
Providing Enhanced Customer Service
Big data technicalities have entirely changed how different eCommerce companies provide customer service. Through big data, multinational companies can quickly analyze their report data. They use email letters, campaigns on social media, and self-servicing tools. Also, the data collected through all the above ways will let you identify all the drawbacks of customer service.
Suppose you have an idea about which plan will work and which shall not enable you to change and improve customer service more efficiently. You can convert the collected data into educational reports and magazines for better customer service representation and eCommerce app development solutions.
Optimize the Pricing of Products
Large quantities of data are produced with each working day comprising the reports that have taken place through previous purchases. It allows companies to make an efficient plan for product pricing. Moreover, data back price management techniques have surged in immense popularity recently due to their practical nature in the eCommerce industry.
After completing the analysis, the e-commerce development company can set the prices of the products in a more optimized manner. Additionally, it even allows eCommerce companies to know through big data that when discounting products can affect their business in a profitable way possible.
How Does Big Data help the eCommerce Industry? – Benefits of Using Big Data in eCommerce
There are many ways through which different eCommerce companies can enjoy the exploits provided by using big data techniques: –
Make Better Strategic Decisions
The most beneficial way of using big data resources is the chance to make better and more enhanced strategic decisions for the company. Also, most of the data collected are used to make better decisions that are profitable to the company. Using these big data techniques, marketing professionals can better understand the customers.
Moreover, one can sometimes identify long-term value customers using the big data resources collected by eCommerce executives. Knowing this will allow the companies to leverage more of their investment in retaining this base of customers. Also, these customers will regularly provide profit to the company.
Understanding the Customers Better
The eCommerce sector works in such a way that data plays a critical role within it. By analyzing the information efficiently, companies can understand customer preferences. Also, they can work out ways through which the business model can have steady growth.
However, by using big data services, companies can analyze customer needs, preferences, and experiences in the most effective way possible.
Cost Reduction for the Company
One of the effective ways through which big data is beneficial to companies is the opportunity for cost reduction. Also, if you are not using big data, you might have to hire third-party companies to collect your company's data.
However, if you start using the model of big data technologies, the extra cost of hiring a third party can save from the profits of the company.
Also Read: eCommerce App Development- A Complete Guide in 2023
Are You Ready to Implement Big Data in Your Ecommerce Business?
Suppose your company needs to help understand customer preferences inhibiting the company's growth. Then, it is time to implement big data in your eCommerce business.
Also, by exploiting the resources of big data companies, you can have a piece of better knowledge. Moreover, then, you can decide on a good model for maintaining steady growth in the ever-growing retail and eCommerce industry.
Summary
People can significantly observe the impact of big data in the retail and eCommerce industry today. Hence, if your company was still contemplating different ways, there could be steady growth. In such a scenario, big data will be the ideal solution for it.
After reading the above article, you will understand how big data makes waves in the retail and eCommerce industry daily. Predicting the recent market trends and forecasting the demands are some of the advantages of using it. It further involves knowing customer preferences.
Frequently Asked Questions (FAQs)
Big Data uses in Ecommerce Industry
Companies access information about purchasing history and customer preferences through extensive data analysis in retail industries. This unique information allows companies to enhance consumers' shopping experiences.
Different data sets like sales, inventory and pricing are collected by the retail industry using techniques provided by big data. It allows the companies to know the recent trends and outcomes of marketing and make better strategic decisions.
Using big data analysis techniques, different retail companies can provide an excellent shopping experience to customers. Collecting information from various sources allows retail businesses to have more excellent product pricing and provide efficient customer service to online purchasers.
Different machine learning algorithms are used in the eCommerce industry. Through this machine learning, businesses can identify the images clicked by the customers. Also, this way, they can provide a better understanding of it.
It allows the companies to provide a better shopping experience to the customer throughout their time on the website.
Big data resources provide lots of insights, which helps retailers in the industry in many ways possible. It helps them get a good hold of the inventory issues, avoiding the disruption caused to customer satisfaction. And increase brand loyalty and revenue generation effectively.
Want to Develop a B2B Ecommerce App?
Make Your Idea a Powerful E-commerce App with Our Holistic App Development Solutions.
Your Trusted Tech Partner!
We develop digital products that enable you to embrace innovation and unlock opportunities.
Talk To Our Experts
Subscribe
Newsletter
Get our latest blog posts, research reports, and thought leadership straight to your inbox.