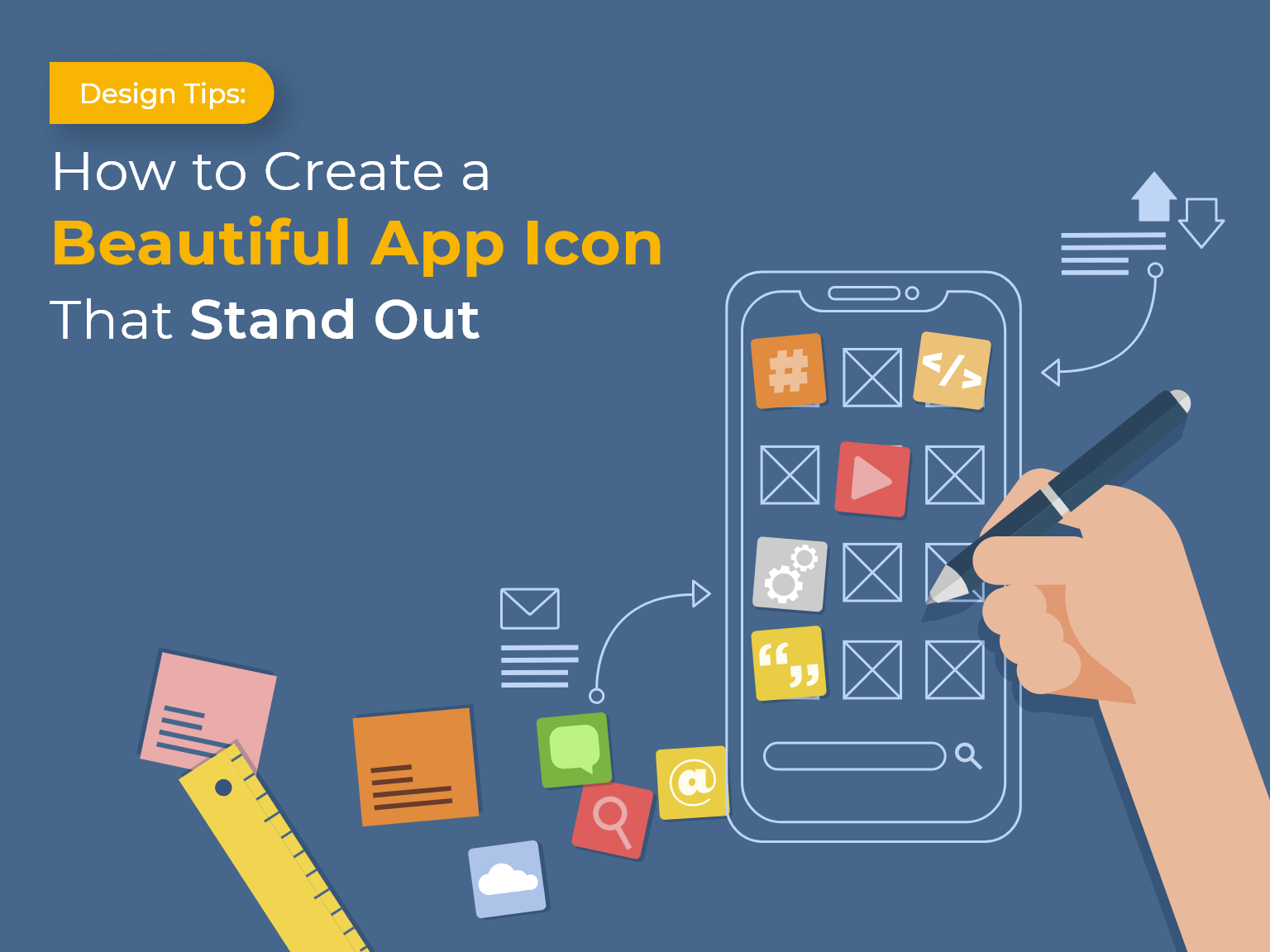 Design
How to Create a Beautiful App Icon That Stand Out: Design Tips
Overview The mobile development process entails a lot of requirements that need to be completed besides having a high-quality, usable application. Above all, having the appropriate app design icon is…

Parth Thakkar
---
Overview
The mobile development process entails a lot of requirements that need to be completed besides having a high-quality, usable application. Above all, having the appropriate app design icon is certainly the most important first impression. The symbol of your applications represents this. App icons can be defined as the small image representing the application's logo found in App stores or Google Play Store. When you develop an app icon, you need to make it unique to stand out from the other applications. The app icon should be attractive enough to draw the users' attention. As a general tendency, the users are prone towards selecting the applications based on their icon image. The more composed, informative, and unique your app icon is, the more it reeks of usability and high quality while also expressing the message of the product's professionalism and dependability. This is why you need to have the appropriate app design icon for your app. 
Your app icon should be detailed, informative, and representative of your brand name. According to research, 92.6 percent of those polled feel that visual considerations are the most important when purchasing. In fact, a study shows that while making buying decisions, 92.6 percent of respondents prioritize visual considerations. An average smartphone user would generally have nearly 40 applications on their phones, and you need your icon image to be attractive enough to draw their attention. 
The Universal Icons
Universal icons are generally the icon app images that are easily recognizable for iOS and Flutter Mobile App Development, and their functions are clear and arguably understood by all. Everyone generally recognises icons such as printing, home, or search options. They are rare, and they can be confusing at times. Moreover, they can have different meanings and interpretations based on the interface types.
The Conflicting Icons
The problem arises when you employ a widely recognized symbol with contradictory interpretations. The star and the heart are both excellent examples of conflicting icons. Not only does the use of these icons differ from one program to the next, but they also compete with one another. As a result, these symbols are difficult to decipher properly. Even within the context of a single software, these symbols might be perplexing when the user expects one thing and gets something else. This makes it difficult for users to grasp these icons and prevents them from using them in future interactions.
Unique Icons
Brands generally use unique icons are they are unique in nature. Any other brand or company does not use them, and they are specially designed for any specific app. 
Tips to Design a Catchy Icon That Will Help Increase the Downloads
Keep it Simple:
Ensure that the logo you design is simple and not overcrowded with unnecessary graphics or colors. You can plan on using a range of graphics or colors; however, with the use of fine icons, you can concentrate on a single concept or element rather than forcibly bringing together various features into one icon. When you want your icon to be instantly recognizable, it requires that people be able to figure out the details of the icon easily; however, if they struggle to do so, then your icon is not catchy. Thus, you need to plan the details of the icon very minutely to give it a precise and composed look that can attract people's attention.
Use Vibrant Colors:
You need to find the best color combination and coordination. Check to see if your app icon suits any range of background colors. Any bold and dark colors would make them stand out from the app icon of other applications that they have downloaded. Put enough thought into choosing the color that best suits your app icon and your brand. For example, applications like Gmail, Snapchat, Spotify, and others top mobile app development company generally have a specific color with not more than two colors.
Avoid Using Too Much Text:
Besides informing the users about the name of the applications, they also provide space for app description and tagline for the applications. This is where you need to avoid using any words in the icon you design for your ios and android app development. The addition of any words would lead to visual congestion making it difficult to read and comprehend for the users. Consequently, they increase the cognitive burden and visual strain by conditioning the mind to take the time to understand when there is text. Further, if you plan on writing the texts in small font, it might frustrate the readers. So, when you're contemplating how to create an app icon and anchorage feature for your app selection, concentrate on giving your app a captivating name and keeping it solely in the application name part.

Source : Icon Sets
Use Logos only in Strong Branding:
The use of logos for app icons can help in increasing brand loyalty and provide a stronger image. Adding a logo would not be effective if the logo is not popular and known amongst the customer. If your brand isn't recognizable, it won't hold consumers' attention, and they'll move on to the next app. Using the logo in the icon image would help the users recognize the app if your app is popular. 
Design for Dark Mode:
Several smartphones use the Dark Mode features, which use a dark system-wide appearance. You need to keep this in mind while you create your app icon. You need to design your icon image in such a way that it stands out against a white or black backdrop rather than fade in. If you think about your colour selections early, you may prevent a lot of headaches later on.
Update Your Icon for Seasonality:
You need to update your icon symbol on times of specific occasions. Occasions such as new Year, holidays, Christmas, or during festivals, any update of change in your icon would attract the users. You need your customer to understand that you're always adding new functions and interacting with them. Customers prefer it when businesses put in the effort to provide timely information. Icon modifications don't have to be changed entirely. The users must observe that the icon is still comparable and familiar, but it has a seasonal twist.
Differentiate Your Icon from Competitors:
To set yourself apart from the competition, consider using a unique color scheme depending upon your brand and intended audience. You need to research to look at your competitors' icon images, which is one of the most critical steps. This would enable you to ensure that you do not make an app icon that looks similar to your competitors. Keeping your color choices in mind from the start will help you avoid a lot of problems later on. You might get ideas for how to separate or strengthen your icon by keeping a watchful eye on your competition. Your objective is to set yourself out from the competition by giving your icon a particular feature.
Learn From Competitors' A/B Tests:
When you develop an icon for your app, you might encounter several perplexing questions that can blur your thoughts and ideas. Thus, you should remove the uncertainty and rely on concrete solutions like A/B testing to decide the optimal course of action. When deciding between two options, A/B testing is the most effective technique to identify which option your consumers will choose. You can conduct a beta launch of your applications with both the icons where one icon would be witnessed by half of the users while another half user would see the other half. The testing tools would generally let you get the data to see which icon was successful in drawing more attention, and this can help you figure to which app can be suitable for your application. 
Test Your Design and Learn:
Allowing personal preference or prejudice to come in the way of your exchange rate when choosing your icon is a big downturn. You can go for an A/B test for your icon to see which version encourages consumers to download your application the most. You can experiment with various aspects like color, backdrops, and other attributes or personalities to see your application's functionality and preference rate. Your app's popularity may be gauged by how many downloads it receives.
Also Read: Top Swift Design Patterns for iOS App Development in 2023
How to Create the Perfect App Icon Design
Here are the steps that you would need to create the perfect app icon design for your application:
Conduct a Research:
Research is a vital preventative measure against intellectual dead ends and the production of art that has previously been overrepresented. You need to conduct basic google research to see similar applications that work on the same niche or space as yours. When you plan on creating an app icon, think about the app's success, how your product performs annually, and how you can convey that through the image. Your research would give you an idea of how you shall go about the app icon. You can have a few suggestions about areas to explore at the end of your investigation, as well as a few items you'd seek to avoid.
Keep Background Simple:
Keep the background of your applications simple and avoid any form of cluttering. The icon should be opaque and avoid making it transparent. 
Recognisability of App:
Recognizability is an amorphous idea related to your icon's capability to reconnect the user with the application it symbolizes. It has to do with concept clarity and how well you've conveyed that information in your implementation. The name and brand of your company should click in the minds of the users when they witness your application. 
Scalability Factor:
Scalability is among the most crucial features of an icon since the icon will be displayed in multiple locations across the platform and at various sizes; your design must retain its readability and originality. Different devices would generally have varying icon sizes, and thus, you need to create an icon that would work well in a diversified range of platform sizes. They should be recognizable and noticeable even when the size is extremely small. Overly intricate icons that try to pack too much information onto the canvas are prone to scalability issues. A significant portion of the conceptual stages of app icon design should be devoted to determining whether or not a specific design scales elegantly.
Uniqueness:
Uniqueness is a difficult aspect of design because it depends not only on your abilities but also on the decisions of others attempting a similar task. It must, however, become part of our lexicon while evaluating concepts and creating renderings. There's no sure-fire way to stay original, but doing thorough research and avoiding overused themes are smart places to start.
Why Does App Icon Design Matter?
There are a lot of mobile apps out there, and there must be a compelling reason for customers to select you above the competition. For Google Play Store and App Store, the design and image of the app icon are essential. Unlike written descriptions and pictures, which are intended to entice users to download the software, icons have a broader role to play in representing and promoting your brand name. You need to primarily focus on creating a strong and impressive first impression on them. The app icon would be the first thing the users would come across when searching for applications. As a result, your app symbol must captivate, tell a tale, and, most importantly, elicit specific feelings in consumers, pique their interest, and entice them to learn more about your app. It must, above all, visually express your brand and what you stand for. Thus, you need to choose a mobile and web development company or freelancer to help you achieve the desired results. 
Also Read: Top UX Mistakes to Avoid When Designing an App in 2023
How to Design an App Icon?
Your app icon is the first thing that the users would see when they search for you on the Play Store, and thus, you need to be potentially fit in terms of your icon image to attract them. If you are pondering how to make an app icon, there are many icons making services that you can hire or use the icon-making templates to create one for you. If you are willing to work out the techniques of creating one, you can use the icons for app development templates. Template-based options from icon-making applications will almost actually give you some rough options, and nothing truly unique will emerge from them.
You need to start with basic research of the app icons and see what your competitors are up to. Remember to update your app icon on special occasions to attract customers and keep them engaged through your relevant content and information. If you are still debating how to design an app icon, you can hire UX/UI designers who can help you with user experience design and develop a logo that would attract the users. 
Conclusion
An icon is a small brand marketing element that should catch the eye right away, stand out among a sea of comparable icons, interact with the significance of your app, and be meaningful and easy to remember. Your icon forms the primary part of promoting your brand name. Icon design is a crucial phase that involves much thinking and knowledge of your brand and the key demographic. You can hire a web and mobile development companies with expertise and experience with icon designing and creation. Inquire about the business model, key demographic, market features, and pricing, as well as any marketing-related facts. Overlooking this knowledge is the equivalent of trying to hit a target while blinded. Furthermore, color coordination and design coherence are crucial for your android and iOS app development and design. 
Let's Create Big Stories Together
Mobile is in our nerves. We don't just build apps, we create brand. Choosing us will be your best decision.
FAQ About How to Design Mobile App Icons
Build Your Team
Book a Consultation Now!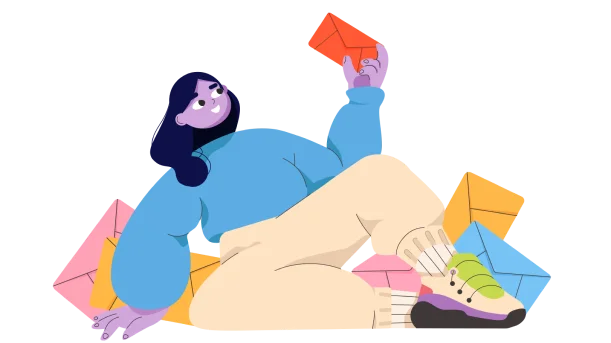 Don't Miss Out!
Your Inbox's New Best Friend. Subscribe Now and Never Miss a Beat!
Read More Blogs