Mobile App
How to Protect Your Data Privacy on Tablets and Mobile Apps
Overview Apps are notoriously hard to believe when it comes to data privacy. You cannot know how much tracking an app is doing, even if the user tells it to…

Parth Thakkar
---
Overview
Apps are notoriously hard to believe when it comes to data privacy. You cannot know how much tracking an app is doing, even if the user tells it to cease. In a world of continually changing technology, a security solution cannot be guaranteed to operate. While an app now operates admirably, it is possible that the firm that built it gets sold alters direction or winds up in a condition of compromise owing to a mistake.
For those who often use mobile apps, it is possible that a harmful software may be mistakenly installed on your device. There is also a chance that even trusted apps you're using may be victims of data breaches, making you at risk. Whatever the case, protecting your privacy when using mobile apps is crucial.
In reality, most users use tablets and smartphones to be their first choice to connect to the internet. Also, in certain countries, especially those developing with internet connectivity, the population has already surpassed desktop users and shifted to mobile.
In reality, your personal and financial data is only the essential part of the picture. Privacy breaches and android tablet application data leaks can have much more severe implications. Talking about an instance, Aspire News App, an application designed for victims of domestic abuse, experienced a breach of data in June of 2020. Susceptible data about thousands of victims of domestic abuse was leaked. Hence, make sure to protect the data and information from hackers, thereby giving a significant hit to your business.
Points to Look at How You Can Protect Your Privacy Online
While the most reputable android and iOS app developers are doing all they can to safeguard your privacy on the internet, there are a couple of steps you, the user, could take on your own to ensure your privacy. To ensure the safety of your personal information, there are a few easy measures you may take.
If your phone permits users to download programs that aren't available in the apps store on it, you should not. The app store of your phone provides some security against malware. In addition, mobile applications go through a check for malware before being included in the app store, but it could also continue to check the apps installed to ensure that they're secure for your phone. Like direct downloads from third-party websites, other sources cannot guarantee the same degree of protection.
In the case of Android, and you can disable your phone's "Unknown Sources" option under your phone's security settings.
Be sure to use only Trusted App Stores
Almost a decade ago, Apple introduced an App Store, and our lives were forever transformed. Google also followed suit and created its own App Store. Alternative app shops, such as the Windows Store and a slew of others, are readily available these days.  It is best to use the most well-known app stores that reliable firms own from a privacy perspective. Apps' quality and reliability that are available on less popular app stores might be in doubt, and so too are their security and privacy policies.
If you download your apps only from apps available on Apple or Google app stores will give you a minimum of security against threats; being aware that these stores go through stringent quality control before releasing an application on their platforms. This is also true for apps stores owned by companies like Samsung and Windows to a great extent.
Review and compare the scores of the app, and verify its legitimacy before downloading apps for your phone. It is a secure option from a security and privacy perspective to download apps from popular App stores in the best possible way.
Don't sign up Automatically with Social Media Accounts
If an app allows us to sign in by using the social network's settings that we already saved on smartphones, this helps us avoid the hassle of entering email addresses and phone numbers to sign in again. However, a few minutes can cost you much more in the near future.
By logging into an app through the social media platform can allow the app permission to access our social profiles, which certain apps can completely misuse. They may gain an access point to all of your private details, including your photos, memories, contacts, and many more.
Social sign-in is an enigma for privacy and is something you should avoid unless you're entirely sure of the application. Utilizing an email address and a personal password to sign in is undoubtedly the best method to use an application.
Also Read: How to Build Security into Your Next Android and iOS Mobile App in 2023
Make use of a VPN for using Public Wifi. 
If you're going to access a public wifi network while using your smartphone instead of using your smartphone's mobile network, the experts recommend using the VPN. The virtual private network can ensure that other people on the same network do not observe your information. 
If you're looking for a service, you should research the company's reputation to determine whether it's reputable and well-known. Many free VPN apps are available in the Apple App Store and Google Play Store, however there are others that have questionable activities, so be aware. Whatever frequency you intend to utilize the VPN, it is essential to go through the agreement to understand what information is stored and where it will be kept.
Make sure you Update your Apps
The apps you trust and use regularly could have bugs. The top mobile app development companies always look out for bugs and remove them when discovered. Your responsibility is to update your apps to correct bugs that have accidentally gotten your name, and your apps stay in good shape. The simple process of updating your apps can help protect your phone and your data securely.
It's recommended to erase apps you no longer need. Keep apps on your smartphone even when you do not use them. Not just from your storage space but also to ensure your privacy.
Wrapping Up
As you can observe, the data breach is an issue that is a major one. It can leave sensitive information such as complete names, addresses, photographs, social security numbers, personal banking details, and more, making you vulnerable to numerous security threats. It's time to be aware and be a part of the fight against these dangers. The positive side is that most attacks can be stopped when you're more cautious about what you are doing on your mobile. App developers for mobile are constantly trying to create entirely secure apps against privacy threats; using reliable apps can ensure that you are safe the majority time. In the meantime, there are steps that users can take to remain safe and more secure when engaging in mobile app use.
Let's Create Big Stories Together
Mobile is in our nerves. We don't just build apps, we create brand. Choosing us will be your best decision.
FAQ About Data Privacy on Tablets and Mobile Apps
Build Your Team
Book a Consultation Now!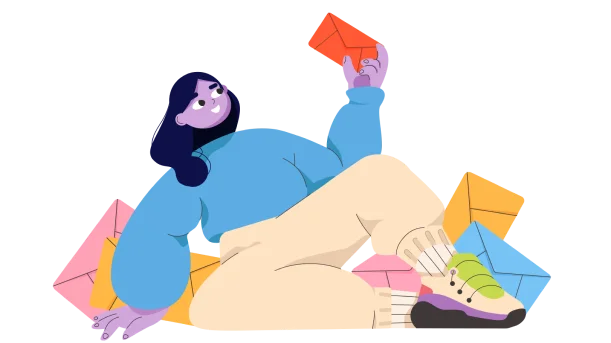 Don't Miss Out!
Your Inbox's New Best Friend. Subscribe Now and Never Miss a Beat!
Read More Blogs