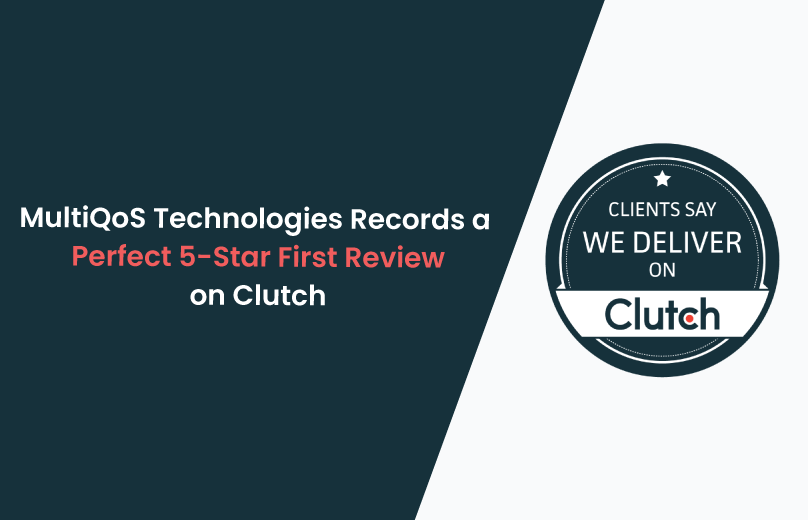 Achievement
MultiQoS Technologies Records a 5-Star Rated First Review on Clutch
Mobile applications have increasingly become one of the most crucial tools for any business in today's highly tech-dominated market.  Mobile apps have permanently changed the way we do business. Such applications…

Mitesh Modi
Mobile applications have increasingly become one of the most crucial tools for any business in today's highly tech-dominated market.  Mobile apps have permanently changed the way we do business. Such applications have aided clients in obtaining corporate information more quickly while also allowing them to stay connected and informed about their preferred brand. Applications are critical for growing a company's reach while also providing linked and widespread brand exposure. Whether it can be a start-up or a well-established large business, each business would require a mobile application.  It is the most dependable method of staying ahead of the competition and creating a position for your brand in the market. This necessitates the use of mobile apps.
A Look Through Our Exclusive Services
Business analytics has become an effective instrument in today's competitive business environment due to firms' massive volume of data across many industries. Data analysts who are proficient in understanding business information may assist organizations in improving their productivity by lowering costs and recognizing opportunities, as well as studying customer patterns and satisfaction to produce a better product and upgrade their products and services. MultiQoS is a customer-centric digital advertising and mobile application development company that assists clients worldwide in leveraging data to expand further and develop their business and create brand recognition in the competitive market. We follow the strategy of emphasizing data-driver DNA at the centre of corporate decision-making. Thus, this prompts us to deliver strategic advice, digital advertising, and analytics services to businesses worldwide. MultiQoS emphasizes studying and analyzing the brand presence online by comprehending the sales figure and establishing a growth-oriented marketing strategy using tailored Google Ads and Google Analytics services.
MultiQoS is the leading app development company with extensive expertise in delivering solutions to organizations in various industries. We provide assistance and services with iOS and Android mobile app development, UI/UX design, website designing, texting services, digital consulting and others. We work in close association with our clients to provide new and bespoke solutions that are tailored to your specific company requirements. Our staff works diligently on each project and gives the best solution with a transparent price regulation plan to help businesses thrive. Our primary focus stems from providing our clients with custom solutions such as native mobile apps, software/web app development, Internet of Things (IoT), AI implementation, machine learning.
Our Recommendations in Clutch
We are ecstatic to share that we have been recently received our first Clutch review, The Manifest. In every area conceivable, the Manifest features top enterprises in shortlists of the best-performing organizations. Our profile on The Manifest contains valuable information about our work with a previous client and some of our previous clients. Clutch, a B2B ratings and reviews site based in Washington, DC, published our most recent 5-star rated review recently. We have connected with thousands of clients all across the world, and it has been a pleasant journey over the years to receive such an overwhelming response. Receiving such positive feedback from our customers is always a pleasure. We try to deliver outstanding service to our clients and are delighted to achieve their goals. To ensure that our clients receive the best possible service, we work hard to help them achieve their goals. We appreciate our clients for providing us with their useful input that has made us featured in Clutch. As a result, the MultiQoS team continues to be praised for its effectiveness and high-quality services.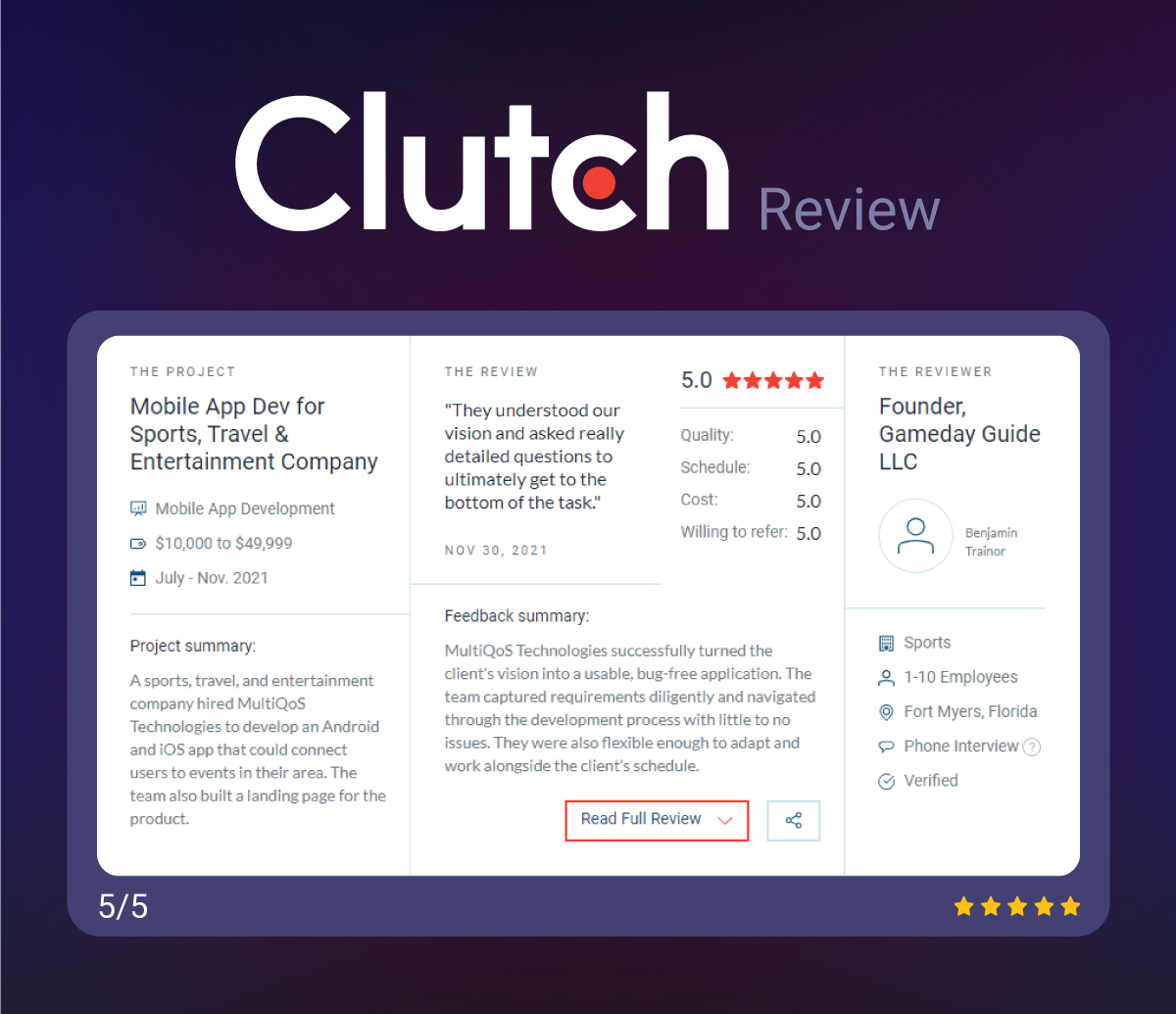 Clutch evaluates a company's market position, project experience, and quality of service, all of which are based on validated client reviews. We value our clients who have entrusted their projects with us and their trust in us and helped us reach such a position today, and we are delighted to continue working towards serving our clients with better and enhanced strategies. 
Takeaway Through Our Reputation Management Policies
In this era of digital advancement, when businesses are highly dependent on mobile applications, the competitive market demands the use of the latest technologies. It welcomes innovative ideas and strategies that shall attract customers. MultiQoS is devoted to providing the best strategy to its clients and assisting them in excelling in the competitive market. 
We are the leading global web, and mobile app development company made up of a collection of very talented web and mobile app developers that have joined forces to build world-class software for our clients. Our objective is to help our customers optimize their businesses, connect their customers, and try to make a difference by enabling them to streamline their operations. Further, our main purpose has been to help you become a game-changer in your field from the beginning. Our solutions enable you to combine all areas of the digital environment to achieve success. We assist you in identifying all potential difficulties prior to implementing your business solutions and addressing them in a timely and effective manner.
Businesses and companies want to increase their revenue generation, and finding an efficient procedure shall aid in more productivity and reduce the chances of loss. We have a team of professional experts with a clear objective to increase your business results by utilizing the most cutting-edge technologies available. We are a group of adaptable professionals who can tailor our development process to meet your individual needs. We've created a wide range of mobile apps and web applications over the years, appealing to a wide range of industry niches and business brands of all sizes. Our core competency is creating successful digital goods and solutions that shall aid in your business standing out from the crowd paving its path through the competitive market.
Wrapping Up
When it comes to developing cutting-edge digital solutions, our team takes great pleasure in our ability to think beyond the box. We assisted various Fortune 500 organizations, industry-leading brands, small and medium enterprises, and entrepreneurs by developing new mobile and web solutions based on original ideas. We're on a quest to take the best technology available and present it in the form of simple, succinct experiences that shall add value to your company or business. Our team has always been on the lookout for new collaborators and would be delighted to hear about any exciting project ideas you may have. Take a peek around our website to get a better idea of what we're all about. You can get in touch with us if you want to connect with us and get your business started on the path of success and development.
Let's Create Big Stories Together
Mobile is in our nerves. We don't just build apps, we create brand. Choosing us will be your best decision.
Build Your Team
Book a Consultation Now!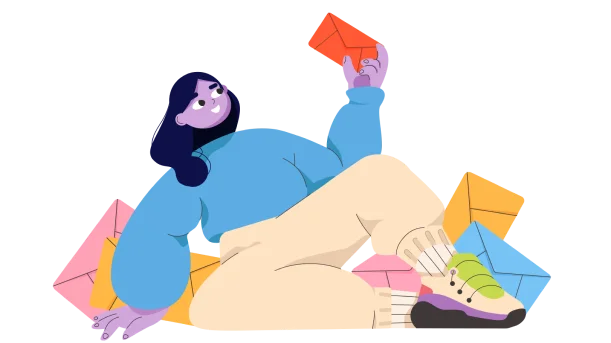 Don't Miss Out!
Your Inbox's New Best Friend. Subscribe Now and Never Miss a Beat!
Read More Blogs