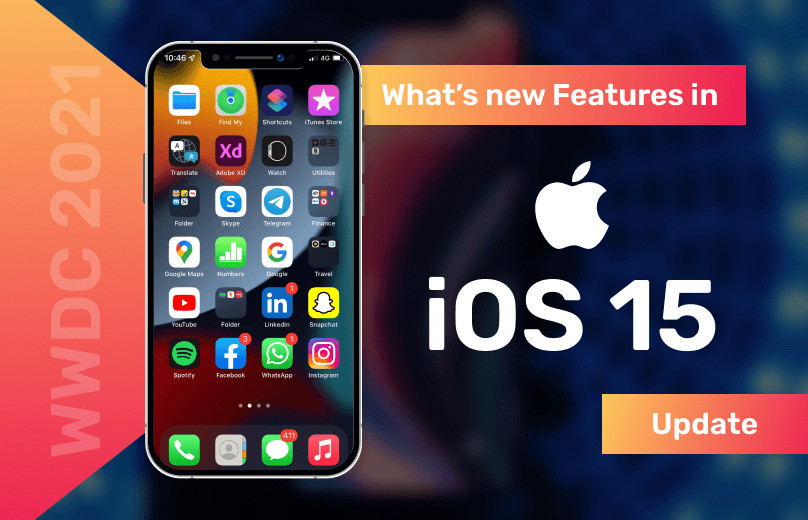 Mobile App
What's New Features in iOS 15 Update? For iOS Developers, What's New in WWDC 2021?
Overview About Apple iOS 15 In June 2021, Apple announced IOS15, the latest version of its iOS operating system, iOS 15. It was released on September 20, 2021. Are you…

Parth Thakkar
---
Overview About Apple iOS 15
In June 2021, Apple announced IOS15, the latest version of its iOS operating system, iOS 15. It was released on September 20, 2021. Are you as 15 offers new features for tools to reduce distractions, FaceTime calls, edit privacy features, and unique notifications experience, weather, complete redesigns for Safari and maps, and more.
A new design has been developed for notifications in iOS 15 that adds contact photos for people and more prominent icons for apps. And notifications summary collects notifications together for delivery at the proper time. It arranges notifications according to priority and helps in reducing distractions.
Features of iOS 15 for iPhone
FaceTime calls and other Shared Experiences with Share Play
In iOS 15, FaceTime is now offering spatial audio to ensure that the voices in the video call Seem as if they are coming from the exact location where the person is seen on the screen. New modes for microphones have been introduced that helps in separating a user's voice from background noise. It can even introduce background noise in wide spectrum mode if you wish to do so.
Share play
A new feature called share play allows the users to share experiences among themselves during FaceTime calls that include media like Apple  TV shows, Music songs, or movies. The media is played in synchronization with all the devices. The playback controls are also shared so that anyone participating in the share play session can pause, play or skip content and add to a shared queue.
Improve Your Focus
There is a new tool in iOS 15 that helps users in reducing distraction calls focus. Focus filters all the notifications, and the home screen page is according to our user's wish to focus on an app at a particular time while it still allows urgent notifications through. When users focus blocks incoming notifications, their status is automatically Sean to other people in messages indicating that they are unavailable unless it is an emergency.
You can use your Apple Wallet for storing your State Ids and Keys
In iOS 15, the Wallet app supports additional keys like office, home, hotel, or corporate keys.
The Wallet app is continuously expanding its support of car keys; now, it uses Ultra Wideband for unlocking, locking, and starting your car without needing to take out your iPhone from your pocket. The Ultra Wideband also aware is your precisely, which means that iOS will stop you from locking the car when your phone is inside or start your vehicle when your phone is outside.
Change the way you see the world with the newly redesigned Apple Maps
The Apple maps offer new features with an interactive globe and vitally enhanced details in a unique three-dimensional view for Commercial districts, neighborhoods, buildings, elevation, and more, along with new labels and road colors. It also features custom design landmarks and a new moonlit night mode.
Photo Search and Spotlight advancements in iOS 15
Spotlight now uses intelligence for searching photos by people, location, objects, or scenes, and with the help of the new live text feature, Spotlight can find handwriting and text in images. iOS App Developers have worked hard on components like these to make it better for iPhone users.
Spotlight now supports web image searches and considerably richer results for musicians, TV shows, actors, and movies. Enhanced outcomes for contact cards show shared photos, recent conversations, and location if shared through Find My.
Features of iPadOS 15 for iPad
iPad allows you to do so much very quickly. iPadOS 15 takes this to the next level, making it easier to get things done, find and organize information, and make the iPad even more capable.
Rethink iPad widgets with brand new iPadOS 15 widgets
No app library automatically organizes all the apps for you. The new widgets allow you to read the information at a glance precisely at your home screen. In WWDC iPhone was introduced along with the iPad, where Apple displayed all the new features in iOS 15.
You can now place widgets among the apps on your iPad. You can take complete advantage of the iPad's Canvas with a new larger visit size.
Contacts, Find My, AppStore, Mail, and game Centre all have new widgets.
Swift Playgrounds 4 and New Possibilities
Swift playground is a mesmerizing app for iPad and Mac that makes learning swift fun and interactive. Coding knowledge is not required, so it is perfect for students who are beginners. Swift is a powerful programming language created by Apple, and you can solve puzzles to master the basics. Swift is used by professionals to build most of the popular apps.
Features of WatchOS 8 for Apple Watch
WatchOS 8 allows you to stay connected, healthy, and active like never before. You can share your favorite memories with the help of the enhanced photos app. You can add fun to your texts. You can also find new ways to Centre yourself and stay active.
Improvements in Messaging and Contacts
Now you can use the digital crown for scrolling precisely to the spot in a message, And correcting errors in dictation becomes easier. iOS App Development has enhanced your experience with Apple Watch.
Focus for Apple Watch
With the help of focus, you can stay in the moment when you wish to concentrate, allowing the notifications you want. You can choose from the suggestions of focus apps like fitness or mindful Ness or create your home. Whatever settings you apply in focus, it automatically sinks your iPhone, iPad, Apple Watch and Mac.
Monitor your Sleeping Respiratory Rate
With the help of sleep in the Apple Watch, you can easily calculate your breaths per minute as your slumber, which is also known as sleeping respiratory rate. It gives you more significant insights into your overall wellness and sleep cycles. iOS Developers Have added new iOS features to sleep that helps you in monitoring your body more precisely.
Better Access with your Wallet
What is the latest iOS feature for watch following Wallet is that you can easily track all your keys to home, corporate, or even hotel room cards with your watch. All the details about your wallets on your iPhone can be easily controlled and tracked by the watch.
Revamped Home App
When you have one of your devices activated, the watchOS eight automatically gives you suggestions for others nearby. For example, if someone rings your connected doorbell, you may get options like turning on the entry lights or unlocking the door.
Features of Monetary for MacOS
macOS brings you refined design, intuitive customization, and robust controls. It also gives you options for the most advanced desktop operating system on the globe.
The new Xcode Cloud
The X code cloud is a continuous integration and delivery service built into X code and programmed exclusively for Apple developers. It enhances the development and delivery of high-quality apps by combining cloud-based tools that help you build apps, deliver apps to testers, run automated tests in parallel and manage and view user feedback.
Introducing AirPlay on Mac
Using AirPlay screen mirroring, you can easily show whatever is on your iMac on a big screen. You can easily connect your HGTV Apple TV to mirror the iMac screen on your TV and make sure that the Apple TV is on the same Wi-Fi network as your iMac. You can easily play web videos directly on your HDTV without displaying what's on your desktop. It is beneficial when you wish to play a movie but want to keep your work private.
On-Device Dictation with Monetary
Using voice control, you can easily navigate and interact with your Mac with the help of your voice rather than a traditional input device. The macOS monetary introduces voice control which is a new way of controlling your Mac entirely with your voice. Voice control uses the Siri speech recognition engine for improving the enhanced dictation feature that was available in earlier versions of macOS.
Portrait Mode on FaceTime
Among the new features of iOS 15 is the ability of using portrait mode in FaceTime and other video call apps that you can use like Google meet or Skype. This means that you will be able to blur out the background while you are face-timing with your family and friends. This will help you in hiding or Messi or distracting room.
Live Text in Photos
Live text is a new feature added in macOS Monterey that helps you to use that text in an image. This feature is quite helpful – for instance, if you ever attended a class or a meeting and took a picture of a whiteboard filled with information, you can now easily select the text in the photo, then copy it, and then paste it into a document wherever you need.
Maps for M1 Macs
In iOS 15, the Maps app is now added with a much more detailed design that includes select areas, improved driving directions, an interactive globe with better transit info, and much more. All of those same changes are available in macOS Monterey.
Object Capture in Monterey MacOS
Now, you can turn your photos from your iPad and iPhone into high-quality 3-D models that can be optimized for augmented reality. You can use the new object capture a PI on macOS Monterey To do this. Object capture uses photogrammetry for turning a series of pictures taken on your iPad or iPhone into USDZ files that can be easily viewed in an augmented reality quick look.
Privacy Features of iOS15
iOS 15 has launched recently, and the latest version of the mobile operating system and its equivalent iPad iOS 15.5 is rolling out the world. Has provided various new privacy features that are helpful.
Mail Privacy Protection
In iOS 14, Apple used to clean up app tracking. But this time, the hidden trackers data tucked away in the emails you send are being targeted. These trackers Mostly come in the format of pixels inserted into the body, footer, or header of emails which throw back information about you to the email Centre.
iOS 15 new mail privacy protection stops email Sanders from getting your IP address when you check the messages.
App Privacy Report
With the help of an app privacy report, users can check how often every app has used the permission they have previously granted to access their photos, camera, location, microphone, and contacts during the past seven days. Users can make sure whether this is useful and can take action by going to the app in settings if it feels doubtful.
Privacy with the new iCloud+
iCloud plus collaborate with everything that customers love about iCloud. It combines the new premium features loading hide my email, private relay, and expanded HomeKit Secure Video support without charging any additional cost.
Apple Developer Technologies and Updates
New APIs (List of APIs)
You can easily customize and automate your workflows so that focusing on great apps becomes easier. This standard-based API allows you to automate jobs across developer tools such as Xcode, App Store connect and certificates, profiles, and identifiers pharma to give you greater flexibility and enhanced efficiency in your flaws. You can use it for beta testing, development, reporting, managing app metadata, and more.
App Store Optimizations and Features
Apple gave developers a glance at the latest update on iOS last week at WWDC, indicating that this is not a maintenance update. There are significant improvements and new features for App Store that will resonate with almost everyone who is an iPhone user.
This is a piece of awesome news for developers because it means more downloads. But this is not all. Apple has also made changes to the app store that shall improve discovery and, best of all, tools developers can benefit from more of these downloads.
Wrapping up
So we have seen that iOS 15 is not just a facelift of iOS 14. Apple has worked hard to develop these ios and has worked on every detail. They have worked with every aspect like FaceTime, improving its quality and offering new features. Then comes the messaging that has become more interesting and interactive.
You can also see improvements among photos and media like live text in images. You can use share play for sharing screens with multiple devices to watch movies in our group. You can now share data and media easily through AirDrop and airplay in macOS. 
Not only this, but they have also worked on privacy features along with notifications. You have no more options to control your privacy with emails, text messages, and iCloud. They offer you advanced privacy settings in iCloud plus without any additional cost. In WWDC new iPhone was introduced along with new iOS features.
Let's Create Big Stories Together
Mobile is in our nerves. We don't just build apps, we create brand. Choosing us will be your best decision.
Build Your Team
Book a Consultation Now!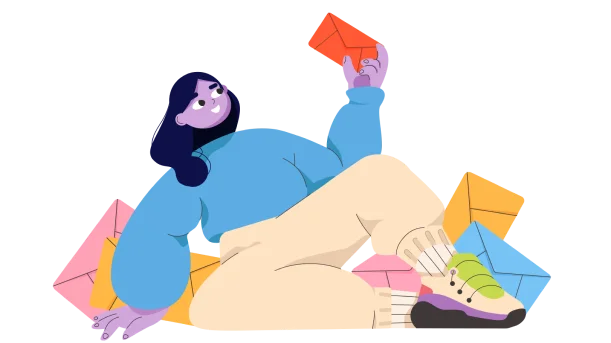 Don't Miss Out!
Your Inbox's New Best Friend. Subscribe Now and Never Miss a Beat!
Read More Blogs